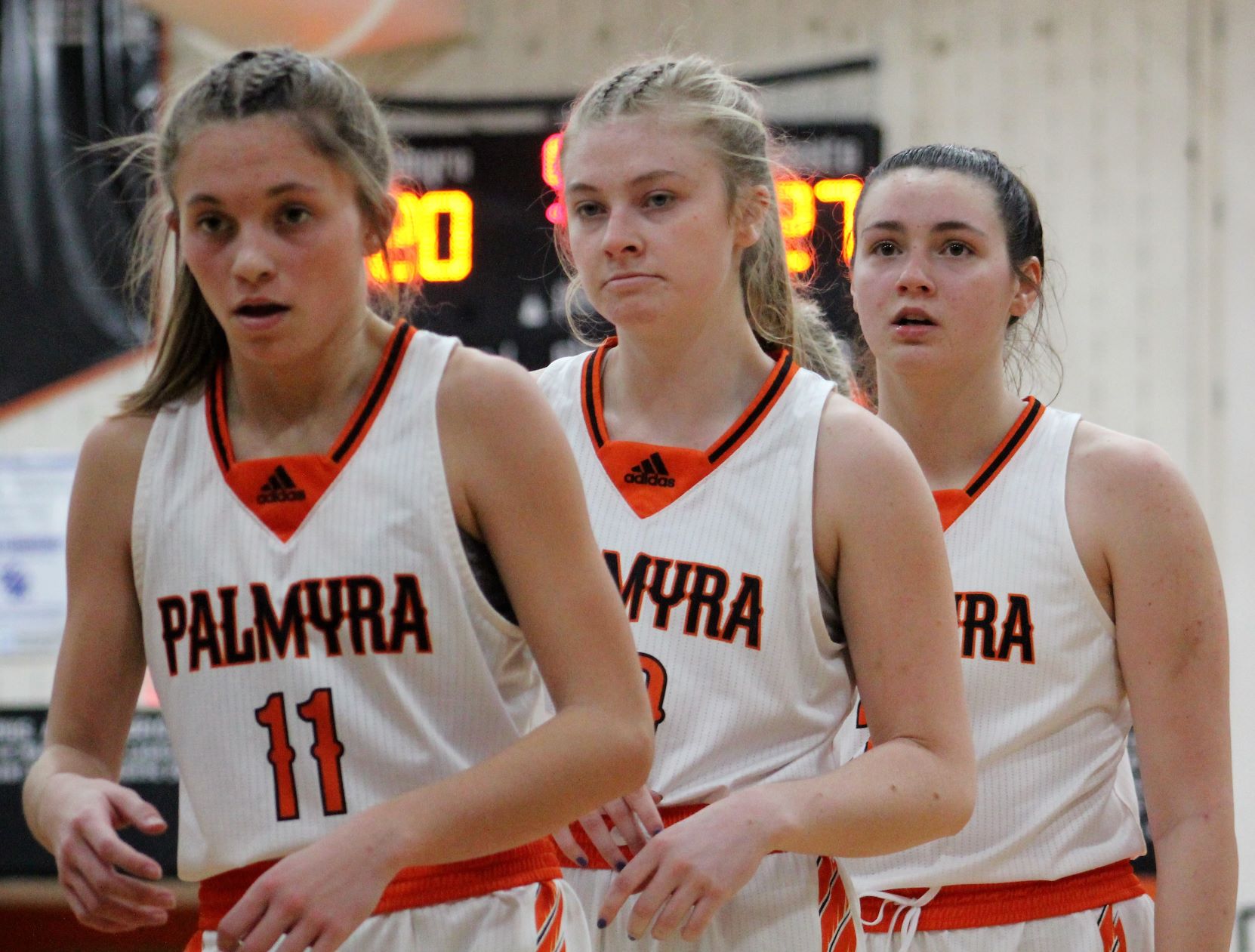 BY JEFF FALK
PALMYRA – There are a few games that the Palmyra girls' basketball team would like to have back.
They would also like to be more consistent.
And it would be nice to be a bit more advanced.
But to this point of the season, the Cougars have identified who they are and what they're all about. Not only is that no small task, it is a realistic mindset that will serve them well over the remainder of the year.
On Friday night at Palmyra High School, the Cougars did pretty much all they could, but dropped a 56-42 decision to a talented outfit from Mifflin County. Palmyra fell behind late in the first half and despite its best efforts and some serious runs could never catch back up again.
With the result, Palmyra slipped to 5-5 on the season and 1-4 in the Keystone Division of the Mid-Penn Conference. Mifflin County moved to 5-3 overall and 4-1 in the division.
"We're still where we want to be," said Palmyra head coach John Polly. "We lost some games early that we should've won. But our identity is something we've been able to identify. We're a good, in-your-face, defensive team. I think they've (his players) bought into that. We're going to compete, night-in and night-out.
"We had two returning varsity players, and you never quite know what you're going to get back," said Polly. "Obviously, we want to make districts and get as high a seed as we can. We've got to stay in the district hunt and let the cards fall where they may. We knew this stretch of the season was coming."
Palmyra led once, 4-3 on a Maddie Henry jumper two minutes in. The Cougars also forged a number of early ties, 6-6, 8-8 and finally at 15-all, on a driving lay-in from senior Zoe Smith three minutes into the second stanza.
But in the middle of the second quarter, Mifflin County pieced together an 8-0 run that gave it a 27-18 margin it would never relinquish.
"We got beat in transition," said Polly. "As part of their game plan, number 11 (the Huskies' Kate Knable) is going to sprint out off defensive boards. They get the ball to Marissa (Gingrich) and she has good vision. We gave up six or eight transition points right before halftime. The number-one thing on my board was transition defense.
"But I thought we played well overall," added Polly. "They competed. That's what I was most proud of. We kept making runs at them."
Smith poured in a team-high 16 points for Palmyra, while teammate Mallory Margut contributed ten points. The Huskies outscored the Cougars 21-12 from beyond the arc.
"Overall, I thought we did a good job defensively," said Polly. "We had a couple of lapses. But when we matched up in half court, I thought we did a good job on them. They (the Huskies) had to work for almost everything they got. They had long possessions. They knew we were there.
"I just told our girls after the game to hold their heads up high," Polly continued. "They competed like crazy. It's just the little technical things we have to fix. That's it."
Thanks to jumpers by Henry, the Cougars pulled to within 30-24 of Mifflin County late in the third period. But the visitors ended the quarter on a pair of three-pointers from Gingrich, and with a 36-26 advantage.
"Zoe got hot in the fourth quarter," said Polly. "I told Keely (Bowers) to keep shooting. She guarded Gingrich all night. She's a Division One talent and it took her legs away. But we got some nice contributions. Overall, I was pleased with the effort."
In the middle of the final quarter, a jumper by Margut and a Smith three-pointer pulled Palmyra to within 39-34 of the lead. But Mifflin County notched 14 of the game's final 21 points.
"It feels early because we've only played five league games," said Polly. "Now we're into the meat of our league season. I told the girls that it's a grind now. We're getting into that two-games, three-games-a-week part of the schedule, for the next four or five weeks. Their hard work and conditioning in practice is starting to pay off. They're ready for this grind,
"We've had some ups and we've had some downs," Polly added. "We're going through a rough stretch, opponent-wise. With Mifflin tonight, we knew they were a very good team. We're running the gamut. But as long as we compete, we'll win the games we should win. When you walk out of the locker room and you know you competed, it was a good night."
To purchase images in this article please email jeff@lebcosports.com.
2021-22 Palmyra Girls' Basketball
| | | | | | |
| --- | --- | --- | --- | --- | --- |
| 2021-12-10 | A | vs | Middletown(3) | W | 63-42 |
| 2021-12-11 | A | vs | Northern Lebanon(3) | W | 48-33 |
| 2021-12-14 | H | vs | Lower Dauphin(3) | L | 26-45 |
| 2021-12-17 | H | vs | Red Land(3) | L | 39-44 |
| 2021-12-18 | A | vs | Cedar Crest(3) | W | 34-32 |
| 2021-12-22 | A | vs | Hershey(3) | W | 34-32 |
| 2021-12-29 | A | vs | Manheim Township(3) | L | 30-43 |
| 2021-12-30 | A | vs | Whitehall(11) | W | 43-9 |
| 2022-01-04 | A | vs | Mechanicsburg(3) | L | 24-37 |
| 2022-01-07 | H | vs | Mifflin County(6) | | 0-0 |
| 2022-01-11 | A | vs | Cedar Cliff(3) | | 0-0 |
| 2022-01-14 | A | vs | Lower Dauphin(3) | | 0-0 |
| 2022-01-17 | A | vs | Milton Hershey(3) | | 0-0 |
| 2022-01-19 | A | vs | Red Land(3) | | 0-0 |
| 2022-01-22 | H | vs | Elizabethtown(3) | | 0-0 |
| 2022-01-25 | H | vs | Hershey(3) | | 0-0 |
| 2022-01-28 | H | vs | Mechanicsburg(3) | | 0-0 |
| 2022-02-01 | A | vs | Mifflin County(6) | | 0-0 |
| 2022-02-04 | H | vs | Cedar Cliff(3) | | 0-0 |
| 2022-02-05 | H | vs | Conrad Weiser(3) | | 0-0 |
| 2022-02-08 | H | vs | Muhlenberg(3) | | 0-0 |
| 2022-02-11 | H | vs | Milton Hershey(3) | | 0-0 |

Lebanon Federal Credit Union