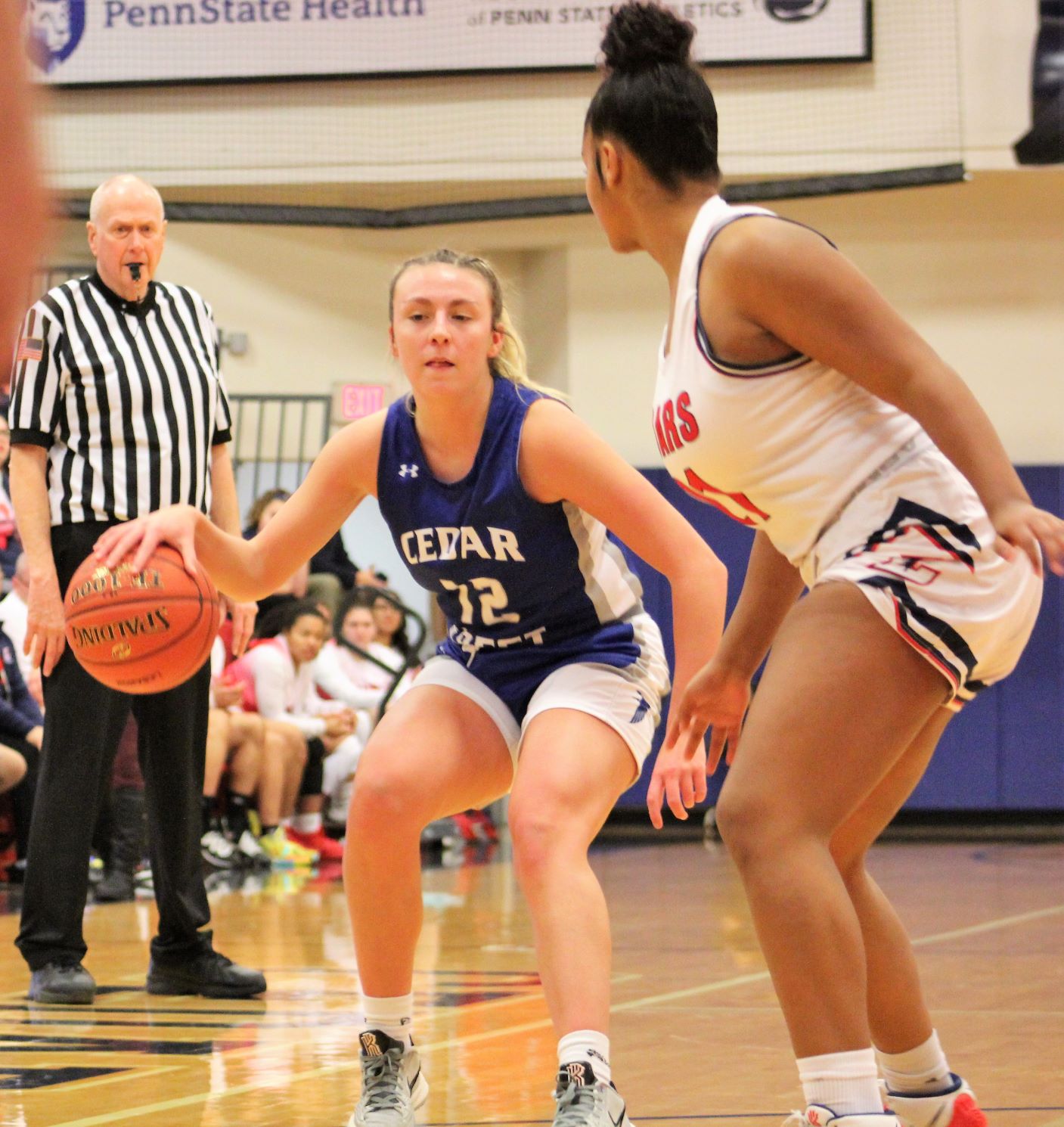 BY JEFF FALK
Editor
LEBANON – From the outside looking in, last night may have appeared to be all about Cedar Crest slowing Lebanon's roll. But despite the rivalry that exists between the neighboring schools, it really wasn't anything that personal.
The Falcons have their own lofty aspirations, and at this point of the season, they're very much focused on themselves.
On Friday night at Lebanon High School, Cedar Crest perpetuated its midseason improvement and in the process cooled off a red-hot Lebanon squad, during a 44-37 Lancaster-Lebanon Section One-Two crossover affair. The Falcons got the job done by playing as a unit, by putting forth an intense defensive effort, by controlling Cedar freshman standout Kailah Correa and through a career-high 17 points from senior Mallory Deiderick.
The triumph was Cedar Crest's third in-a-row and propelled it to 7-5 on the season and 3-2 in Section One of the L-L. In the most recent District Three power rankings, the Falcons were situated 12th in an AAAAAA classification which takes 12 for its postseason tournament.
The setback snapped Lebanon's seven-game win streak and dropped it to 10-3 overall and 5-1 in Section Two of the L-L. The Cedars stood eighth in those same Class AAAAAA power rankings.
"I don't think we're panicking as much," said Cedar Crest head coach Will Wenninger. "I think our sophomores have grown up a little bit. I think we're better defensively. I think we're putting things together on the offensive end. The kids want to be successful and they're self-less. They want to win.
"Our potential? If I knew that, I'd bottle it and sell it," continued Wenninger. "I think we can go as far as we're willing to prepare for. But success doesn't happy by osmosis. You have to be passionate about it."
"It's always a big rival game when we play Cedar Crest," said Lebanon head coach Jamie Walborn. "It's unfortunate that we weren't able to be at full capacity (due to COVID-19 concerns). But it's been a while since we've played in this kind of environment. Up until tonight, we had played a lot of close games, and in some we were down and came back. There were a lot of firsts for the kids tonight. So I think we'll learn from this.
"I thought our defense was really good," added Walborn. "The plan coming in was to take (Sarah) Batra away. She's a good shooter and a nice presence in the post. It definitely wasn't the result we were looking for, but at no point did I feel like our kids hung their heads. That's all you can ask of them night in and night out, to play hard."
After establishing a five-point halftime cushion, the Falcons took control of the outcome in the third quarter. An old-fashioned three-point play from Batra, a Deiderick lay-in and a drive by Lizzie Lowe added up to a 7-1 Cedar Crest run and a 33-22 Falcon lead.
Then the Falcons outscored Lebanon 11-4 to start the final quarter, and opened a 44-28 bulge on an inside deuce from Batra, with 1:51 to go.
"Numbers 50 (Liliana Harrison) and 13 (Dorthie Zechman) did a nice job on the boards for them," said Wenninger. "We got shoved around a little bit in the first half. Once started to match that, we were in much better shape. And we did a much better job of that in the second half.
"I thought we did play well," Wenninger continued. "As a coach, you're always looking to get better. I think our kids understand that. We're still in the hunt for an L-L League (postseason) spot and a district playoff appearance."
"I think we definitely hit a lull in the middle of the game," said Walborn. "We scored on a couple of early possessions, and then we started to turn the ball over a little bit. We couldn't get the ball to our 'bigs'. But in the second half, I thought we picked it up again.
"I thought they defended us well," Walborn added. "Their guards did a pretty good defending us. I thought Deiderick did a nice job of stepping up at the beginning. She was just hitting those little jumpers."
In addition to Deiderick's career-high, Cedar Crest received 11 points from Batra. The Falcons outscored the Cedars 36-22 on two-point field goals.
Dogged relentlessly by Kaya Camasta all night long, Correa was forced to work for her game-high 20 points. No other Lebanon scorer netted more than Maddie Bishop's eight points.
"I thought Mallory played pretty well," said Wenninger. "Sarah averages between 12 and 13 points per game, but we talked about how other people need to contribute. It's easier to take away post points than guard points.
"She (Correa) scores 45 percent of their points, so of course that's who you're going to focus on," added Wenninger. "If you're going to get beat, you know you've got to make someone else beat you. She's a nice player. She's a nice kid. Lebanon's going to be good for a long time."
"It's no secret any more," said Walborn of the importance of Correa to the Cedars' success. "But we have other kids who can score, other kids who can put us on their backs and carry us. They're all capable of leading us. We don't always have to look to our point guard.
"I don't think there's pressure on her (Correa)," continued Walborn. "But I think it motivates her. She feeds off of it. Clearly she's a gamer. I think she loves that feeling of 'I'm going to take over'. I don't think she feels pressure in a negative way."
It was Correa who had given the Cedars' their last lead of the evening, on a pull-up jumper 20 seconds into the second stanza. The Falcons netted the final seven points of the first half – courtesy of five points from Diederick and a bucket by Lowe – to take a 19-14 advantage to the break.
"We talked about what we wanted to do defensively and the kids went out and executed," said Wenninger. "I thought we did a really good job. We only had one day to prepare."
"Offensively, they were playing our guards tough," said Walborn. "We wanted to push the ball a little more in transition. I thought we did that late in the game."
Early on, the game was tied six different times, at two, four, six, eight, ten and finally at 12.
"It's Lebanon, dude," said Wenninger. "I'm not indigenous to Lebanon County, but I've lived here since 1999. I understand what it means. I understand rivalries. So, it's special.
"If you're going to walk around envious of anyone's success, you're not going to get far," Wenninger added. "I'm happy for Lebanon. They had some lean years. The better that all the Lebanon County teams are, the better for everyone."
"I wouldn't say it's gone beyond my expectations," said Walborn of her team's early-season success. "We're definitely happy where we're at. What I'm pleased about at this point are the wins we've had. We have a young squad, but even the veteran players haven't been in these situations before. But we've been able to adjust on the fly.
"Yeah, I think we've gotten some of the other teams' attention, because we haven't been a force in a while," Walborn continued. "I wouldn't say we have a target on us. We're happy with where we're at and where we're going. Tonight was a learning experience. All of our kids are going to have to step up."
To purchase images in this article please email jeff@lebcosports.com.
2021-22 Cedar Crest Girls' Basketball Schedule
| | | | | | |
| --- | --- | --- | --- | --- | --- |
| 2021-12-11 | H | vs | Harrisburg(3) | W | 42-13 |
| 2021-12-14 | A | vs | Wilson (3)(3) | W | 45-33 |
| 2021-12-17 | A | vs | Hempfield (3)(3) | L | 43-35 |
| 2021-12-18 | H | vs | Palmyra(3) | L | 34-32 |
| 2021-12-21 | H | vs | Penn Manor(3) | L | 39-25 |
| 2021-12-22 | A | vs | Reading(3) | W | 54-39 |
| 2021-12-29 | N | vs | Twin Valley(3) | W | 40-34 |
| 2021-12-30 | A | vs | Lower Dauphin(3) | L | 46-28 |
| 2022-01-03 | A | vs | Central Dauphin(3) | L | 54-29 |
| 2022-01-05 | H | vs | J P McCaskey(3) | W | 52-33 |
| 2022-01-12 | H | vs | Elizabethtown(3) | W | 55-30 |
| 2022-01-14 | A | vs | Lebanon(3) | W | 44-37 |
| 2022-01-17 | A | vs | Manheim Township(3) | | 0-0 |
| 2022-01-18 | H | vs | Ephrata(3) | | 0-0 |
| 2022-01-21 | A | vs | Warwick(3) | | 0-0 |
| 2022-01-25 | H | vs | Conestoga Valley(3) | | 0-0 |
| 2022-01-26 | H | vs | Mechanicsburg(3) | | 0-0 |
| 2022-01-28 | H | vs | Hempfield (3)(3) | | 0-0 |
| 2022-02-01 | A | vs | Penn Manor(3) | | 0-0 |
| 2022-02-04 | A | vs | J P McCaskey(3) | | 0-0 |
| 2022-02-08 | H | vs | Manheim Township(3) | | 0-0 |
2021-22 Lebanon Girls' Basketball Schedule
| | | | | | |
| --- | --- | --- | --- | --- | --- |
| 2021-12-10 | A | vs | William Allen(11) | W | 58-32 |
| 2021-12-11 | A | vs | Fleetwood(3) | W | 32-29 |
| 2021-12-14 | H | vs | Governor Mifflin(3) | L | 67-52 |
| 2021-12-16 | H | vs | Ephrata(3) | W | 49-42 |
| 2021-12-18 | A | vs | Reading(3) | L | 63-57 |
| 2021-12-21 | A | vs | Elizabethtown(3) | W | 50-44 |
| 2021-12-28 | H | vs | New Oxford(3) | W | 51-40 |
| 2021-12-29 | H | vs | J P McCaskey(3) | W | 55-43 |
| 2022-01-03 | H | vs | Carlisle(3) | W | 51-26 |
| 2022-01-04 | A | vs | Warwick(3) | W | 41-38 |
| 2022-01-10 | H | vs | Conestoga Valley(3) | W | 64-61 |
| 2022-01-11 | A | vs | J P McCaskey(3) | W | 58-53 |
| 2022-01-14 | H | vs | Cedar Crest(3) | L | 37-44 |
| 2022-01-18 | A | vs | Hempfield (3)(3) | | 0-0 |
| 2022-01-21 | H | vs | Penn Manor(3) | | 0-0 |
| 2022-01-24 | H | vs | Garden Spot(3) | | 0-0 |
| 2022-01-25 | A | vs | Ephrata(3) | | 0-0 |
| 2022-01-27 | A | vs | Manheim Township(3) | | 0-0 |
| 2022-02-01 | H | vs | Elizabethtown(3) | | 0-0 |
| 2022-02-04 | H | vs | Warwick(3) | | 0-0 |
| 2022-02-08 | A | vs | Conestoga Valley(3) | | 0-0 |
| 2022-02-10 | H | vs | Milton Hershey(3) | | 0-0 |
PIAA District Three 
Class AAAAAA Power Rankings
 (Top 12 Teams Qualify for Postseason)
| | | | | | | | | | | | |
| --- | --- | --- | --- | --- | --- | --- | --- | --- | --- | --- | --- |
| AAAAAA | School |  W |  L |  T |  Rating |  TWP |  OWP |  TWPW |  OWPW |  TWPL |  OWPL |
| 1 | Hempfield (3) | 9- | 0- | 0 |  0.823282 |  1.000000 |  0.607292 |  11.05 |  123.25 |  0.00 |  79.70 |
| 2 | Dallastown | 10- | 2- | 0 |  0.796264 |  0.888060 |  0.684068 |  11.90 |  164.45 |  1.50 |  75.95 |
| 3 | Cedar Cliff | 12- | 0- | 0 |  0.789719 |  1.000000 |  0.532708 |  14.20 |  119.30 |  0.00 |  104.65 |
| 4 | Cumberland Valley | 10- | 1- | 0 |  0.789418 |  0.942966 |  0.601749 |  12.40 |  127.30 |  0.75 |  84.25 |
| 5 | Red Lion | 10- | 1- | 0 |  0.789185 |  0.941176 |  0.603418 |  12.00 |  137.70 |  0.75 |  90.50 |
| 6 | Central York | 10- | 2- | 0 |  0.770800 |  0.888060 |  0.627483 |  11.90 |  153.20 |  1.50 |  90.95 |
| 7 | Central Dauphin | 5- | 1- | 0 |  0.757216 |  0.892857 |  0.591432 |  6.25 |  110.45 |  0.75 |  76.30 |
| 8 | Lebanon | 10- | 2- | 0 |  0.721508 |  0.890511 |  0.514948 |  12.20 |  118.85 |  1.50 |  111.95 |
| 9 | Governor Mifflin | 9- | 4- | 0 |  0.696564 |  0.772242 |  0.604070 |  10.85 |  142.50 |  3.20 |  93.40 |
| 10 | Wilson (3) | 7- | 4- | 0 |  0.680439 |  0.725322 |  0.625582 |  8.45 |  147.70 |  3.20 |  88.40 |
| 11 | Penn Manor | 7- | 5- | 0 |  0.676904 |  0.667969 |  0.687825 |  8.55 |  165.25 |  4.25 |  75.00 |
| 12 | Cedar Crest | 6- | 5- | 0 |  0.649986 |  0.648889 |  0.651327 |  7.30 |  147.20 |  3.95 |  78.80 |
| 13 | Manheim Township | 6- | 5- | 0 |  0.646495 |  0.654709 |  0.636456 |  7.30 |  155.90 |  3.85 |  89.05 |
| 14 | Reading | 5- | 5- | 0 |  0.587852 |  0.605263 |  0.566571 |  5.75 |  128.30 |  3.75 |  98.15 |
| 15 | Ephrata | 4- | 6- | 0 |  0.555717 |  0.489362 |  0.636818 |  4.60 |  146.50 |  4.80 |  83.55 |
| 16 | Conestoga Valley | 5- | 5- | 0 |  0.554359 |  0.601010 |  0.497342 |  5.95 |  112.25 |  3.95 |  113.45 |
| 17 | Harrisburg | 4- | 5- | 0 |  0.550886 |  0.532544 |  0.573302 |  4.50 |  111.45 |  3.95 |  82.95 |
| 18 | Carlisle | 5- | 7- | 0 |  0.550102 |  0.522321 |  0.584055 |  5.85 |  131.50 |  5.35 |  93.65 |
| 19 | William Penn | 4- | 7- | 0 |  0.514069 |  0.454106 |  0.587357 |  4.70 |  143.55 |  5.65 |  100.85 |
| 20 | Warwick | 4- | 8- | 0 |  0.495744 |  0.431193 |  0.574641 |  4.70 |  138.00 |  6.20 |  102.15 |
| 21 | J P McCaskey | 2- | 10- | 0 |  0.406273 |  0.224490 |  0.628453 |  2.20 |  144.45 |  7.60 |  85.40 |
| 22 | Chambersburg Area | 1- | 8- | 0 |  0.360646 |  0.157233 |  0.609262 |  1.25 |  130.90 |  6.70 |  83.95 |
| 23 | Muhlenberg | 2- | 9- | 0 |  0.352138 |  0.215385 |  0.519281 |  2.10 |  119.85 |  7.65 |  110.95 |
| 24 | Central Dauphin East | 0- | 12- | 0 |  0.290568 |  0.000000 |  0.645707 |  0.00 |  148.90 |  9.40 |  81.70 |
| 25 | York County School of Technology | 1- | 10- | 0 |  0.246912 |  0.094170 |  0.433596 |  1.05 |  101.70 |  10.10 |  132.85 |
Lancaster-Lebanon League
Section One Standings
Lancaster-Lebanon League
Section Two Standings

Lebanon Federal Credit Union