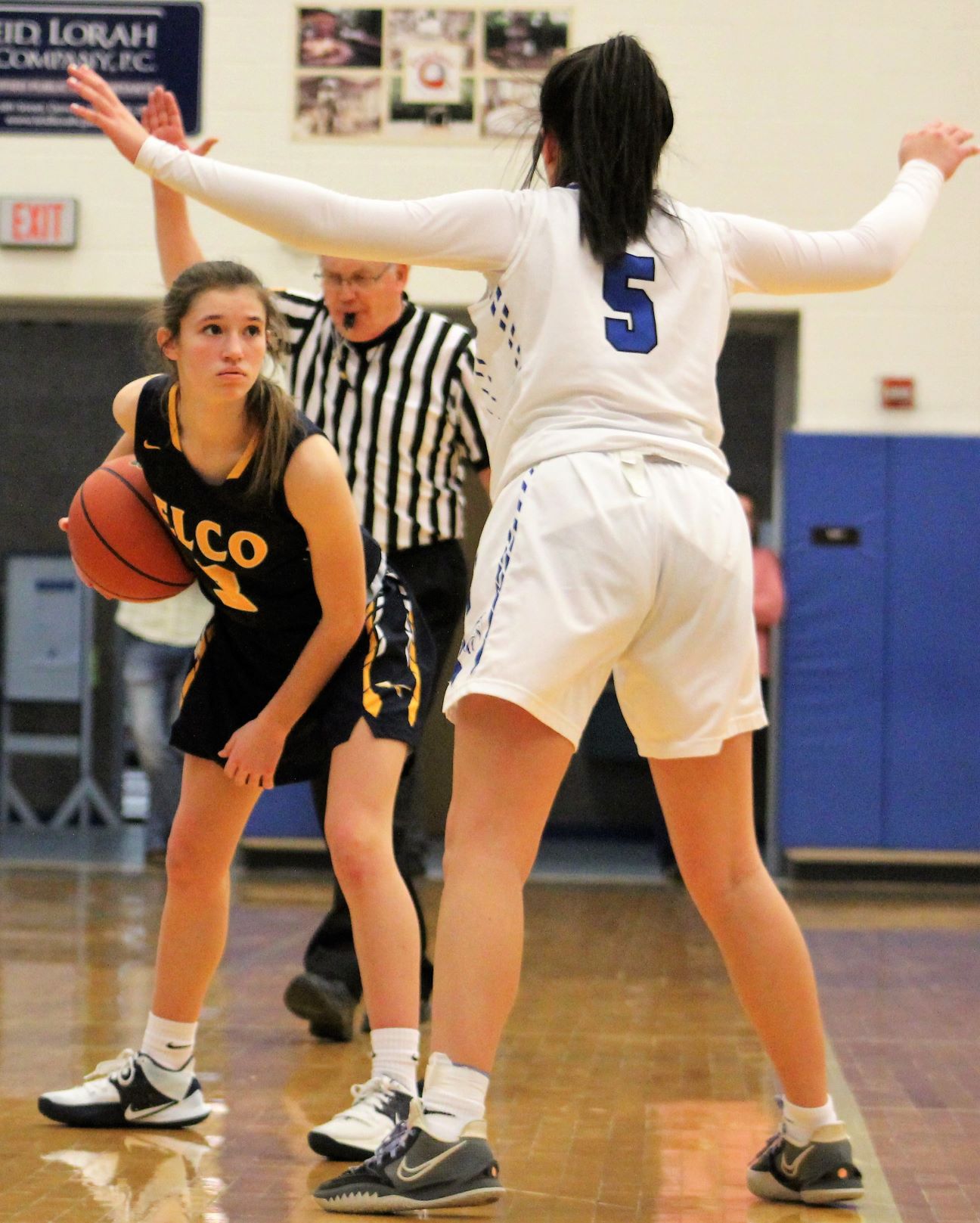 BY JEFF FALK
Editor
DENVER – There's never a good time to panic. But the Elco girls' basketball team is well beyond the point of concern.
Any moment now, the Raiders' sense of urgency is about to kick in.
Of course, none of this would matter if there weren't certain expectations or if they simply weren't capable.
On Tuesday night at Cocalico High School, the Raiders endured a critical and deflating blow in the form of a 32-31 road loss to the hometown Eagles. Cocalico's Tegan Sahm notched the game-winning bucket off an in-bounds play with five seconds remaining, after Elco had apparently worked through an up-and-down performance.
The  setback could prove debilitating to Elco's District Three Class AAAA and Lancaster-Lebanon League playoff expectations. It was their third loss in-a-row and dropped the Raiders to 5-7 on the season and 2-2 in Section Four of the Lancaster-Lebanon League.
In the latest District Three power rankings, Elco was situated 13th in an AAAA classification that takes ten squads for its postseason tournament. The Raiders would probably need to go something like 6-4 or 7-3 over their next ten or so games to have any sort of legitimate shot at qualifying for those playoffs.
With the crossover triumph, Cocalico improved to 3-7 overall and 2-2 in Section Three of the L-L.
"They're all important," said Elco head coach Ashli Shay. "It's a league game. We didn't want to come in here and lay an egg.
"I always feel a sense of urgency, myself." added Shay. "I always think you've got to win every game. They (her players) need to feel urgency and not let it happen. But we can't let it turn into panic."
After Elco had faced modest deficits earlier in the fourth quarter, Kailey Eckhart's old-fashioned three-point play with 34 seconds remaining put the Raiders ahead 31-29. Cocalico's Erin Henry converted one of two free throws with ten seconds left, but Elco turned the ball over.
Then out of the chaos and screens created by an in-bounds play, Sahm wiggled free and converted from in close to make the home side a winner.
"We both hit some shots down the stretch," said Shay. "But I'm not sure what happened on the screen call out of the inbounds play. I told them (her players) to watch the big kid (Sahm). She hit a big shot.
"We played inconsistent," continued Shay. "In some spots we played well. In some spots we didn't. We've got to play with more confidence. We can't turn the ball over."
"The intent was to draw the attention this way," said Cocalico head coach Andrew Garrett of the decisive play. "It's a dummy flash and one of our players sets a back screen. In those situations, there's going to be chaos, and the girls did a really nice job of executing it."
Up a deuce at the break, Elco extended its lead to 21-14 on an Abigail Sargent trey and an Eckhart post move early in the second half. Later in the third period, two free throws from Sam Nelson made the Raiders' advantage 23-16.
But Cocalico outscored Elco 10-2 over the first six minutes of the final period to take a 29-25 lead.
"Our offense has just been inconsistent," said Shay. "We need everyone to be confident, ready to go, ready to shoot.
"They (the Eagles) hit some shots," Shay added. "We knew who their shooters were and we gave them too much space."
Eckhart popped for 15 points to pace the Raider attack. Elco converted five of its six free throw attempts, but was outscored by a point at the line.
"I don't think anything (expectation-wise) has changed since the start of the season," said Shay. "We just need to be more consistent. We've got to figure it out on the fly. But there's going to come a point where we're either going to figure it out or not."
"They're really well-coached," said Garrett of the Raiders. "They play together. They know their strengths and weaknesses, and they play to their strengths."
Elco suffered through a slow start and fell into an early 11-4 hole.
But in the second period, the Raiders picked it up on the defensive end and notched ten unanswered points to establish a 14-11 advantage. Eckhart and Sargent nailed three-pointers in the stretch, while Nelson and Sophie Irvin each contributed a pair of points.
The Raiders led 16-14 at halftime.
"I don't think anyone is ever pleased when they're not winning games," said Shay. "We've seen some improvement this season in spots."
To purchase images in this article please email jeff@lebcosports.com.
2021-22 Elco Girls' Basketball Schedule
| | | | | | |
| --- | --- | --- | --- | --- | --- |
| 2021-12-11 | H | vs | Boiling Springs(3) | W | 52-20 |
| 2021-12-14 | A | vs | Fleetwood(3) | L | 24-39 |
| 2021-12-15 | A | vs | Linden Hall(3) | L | 27-39 |
| 2021-12-17 | H | vs | Donegal(3) | W | 55-46 |
| 2021-12-21 | H | vs | Northern Lebanon(3) | W | 40-37 |
| 2021-12-27 | A | vs | Pine Grove Area(11) | L | 30-31 |
| 2021-12-28 | A | vs | William Allen(11) | W | 57-25 |
| 2022-01-03 | A | vs | Lower Dauphin(3) | L | 29-40 |
| 2022-01-05 | H | vs | Hamburg(3) | W | 38-22 |
| 2022-01-07 | A | vs | Lancaster Catholic(3) | L | 39-57 |
| 2022-01-10 | A | vs | Pottsville(11) | L | 28-47 |
| 2022-01-11 | A | vs | Cocalico(3) | L | 31-32 |
| 2022-01-14 | H | vs | Manheim Central(3) | | 0-0 |
| 2022-01-18 | A | vs | Solanco(3) | | 0-0 |
| 2022-01-19 | H | vs | York Catholic(3) | | 0-0 |
| 2022-01-21 | H | vs | Lampeter Strasburg(3) | | 0-0 |
| 2022-01-25 | H | vs | Wyomissing(3) | | 0-0 |
| 2022-01-28 | A | vs | Donegal(3) | | 0-0 |
| 2022-02-01 | A | vs | Northern Lebanon(3) | | 0-0 |
| 2022-02-02 | H | vs | Conrad Weiser(3) | | 0-0 |
| 2022-02-04 | A | vs | Garden Spot(3) | | 0-0 |
| 2022-02-08 | H | vs | Lancaster Catholic(3) | | 0-0 |
PIAA District Three
Class AAAA Power Rankings
| | | | | | | | | | | | |
| --- | --- | --- | --- | --- | --- | --- | --- | --- | --- | --- | --- |
| AAAA | School |  W |  L |  T |  Rating |  TWP |  OWP |  TWPW |  OWPW |  TWPL |  OWPL |
| 1 | Delone Catholic | 10- | 0- | 0 |  0.793429 |  1.000000 |  0.540953 |  10.70 |  102.70 |  0.00 |  87.15 |
| 2 | Eastern York | 10- | 0- | 0 |  0.788138 |  1.000000 |  0.529195 |  11.10 |  107.85 |  0.00 |  95.95 |
| 3 | Berks Catholic | 7- | 1- | 0 |  0.746987 |  0.893258 |  0.568212 |  7.95 |  108.50 |  0.95 |  82.45 |
| 4 | Big Spring | 9- | 1- | 0 |  0.736816 |  0.891509 |  0.547746 |  9.45 |  97.80 |  1.15 |  80.75 |
| 5 | Schuylkill Valley | 10- | 1- | 0 |  0.701916 |  0.917749 |  0.438119 |  10.60 |  86.20 |  0.95 |  110.55 |
| 6 | Bermudian Springs | 8- | 3- | 0 |  0.669289 |  0.751131 |  0.569260 |  8.30 |  120.00 |  2.75 |  90.80 |
| 7 | Bishop McDevitt (3) | 9- | 3- | 0 |  0.653336 |  0.799145 |  0.475124 |  9.35 |  81.65 |  2.35 |  90.20 |
| 8 | James Buchanan | 7- | 3- | 0 |  0.646973 |  0.750000 |  0.521050 |  7.95 |  105.20 |  2.65 |  96.70 |
| 9 | Lancaster Catholic | 6- | 3- | 0 |  0.643047 |  0.719577 |  0.549510 |  6.80 |  112.10 |  2.65 |  91.90 |
| 10 | Susquehanna Township | 5- | 2- | 0 |  0.633814 |  0.744681 |  0.498309 |  5.25 |  95.80 |  1.80 |  96.45 |
| 11 | Hanover (3) | 8- | 2- | 0 |  0.632244 |  0.802198 |  0.424522 |  7.30 |  96.60 |  1.80 |  130.95 |
| 12 | Wyomissing | 5- | 4- | 0 |  0.552392 |  0.608939 |  0.483280 |  5.45 |  97.55 |  3.50 |  104.30 |
| 13 | Eastern Lebanon County | 5- | 6- | 0 |  0.460402 |  0.493333 |  0.420153 |  5.55 |  82.35 |  5.70 |  113.65 |
| 14 | Conrad Weiser | 3- | 6- | 0 |  0.450579 |  0.396648 |  0.516494 |  3.55 |  109.60 |  5.40 |  102.60 |
| 15 | Middletown | 4- | 8- | 0 |  0.402089 |  0.358974 |  0.454784 |  4.20 |  86.50 |  7.50 |  103.70 |
| 16 | Hamburg | 3- | 8- | 0 |  0.398421 |  0.279621 |  0.543621 |  2.95 |  111.85 |  7.60 |  93.90 |
| 17 | Kennard Dale | 2- | 9- | 0 |  0.393892 |  0.203046 |  0.627149 |  2.00 |  140.45 |  7.85 |  83.50 |
| 18 | Northern Lebanon | 3- | 7- | 0 |  0.357734 |  0.342105 |  0.376836 |  3.25 |  76.95 |  6.25 |  127.25 |
| 19 | East Pennsboro | 2- | 7- | 0 |  0.344604 |  0.218182 |  0.499119 |  1.80 |  99.20 |  6.45 |  99.55 |
| 20 | Boiling Springs | 1- | 9- | 0 |  0.339023 |  0.137363 |  0.585496 |  1.25 |  120.70 |  7.85 |  85.45 |
| 21 | Littlestown | 2- | 10- | 0 |  0.326930 |  0.182609 |  0.503323 |  2.10 |  109.80 |  9.40 |  108.35 |
| 22 | Octorara | 0- | 6- | 0 |  0.200491 |  0.000000 |  0.445535 |  0.00 |  65.85 |  6.10 |  81.95 |
Lancaster-Lebanon League
Section Four Standings

Lebanon Federal Credit Union