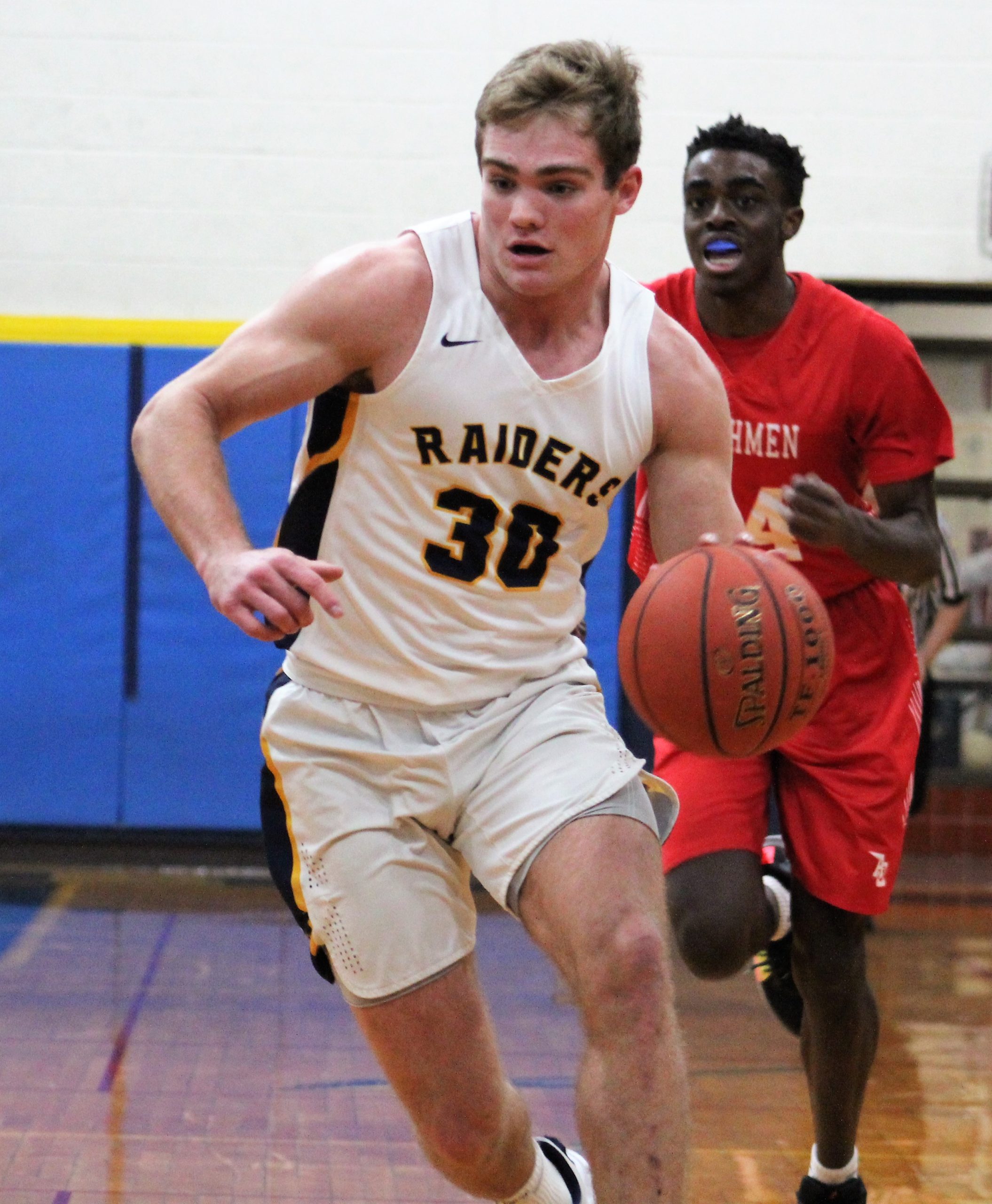 BY JEFF FALK
Editor
MYERSTOWN – You never really know. But there exists a distinct difference between 'hope' and 'expect'.
The Elco boys' basketball might have hoped to be this good. But the Raiders may not have expected to be this good.
On Monday night at Elco High School, the surging Raiders continued to roll along, with a 66-25 non-league dissection of Lebanon County rival Annville-Cleona. Elco jumped on the Little Dutchmen right out of the gate and never took its foot off the gas pedal.
With the victory, the Raiders improved to 6-2 on the season. Annville-Cleona's sixth straight loss dropped the Little Dutchmen to 1-7 overall.
"We're 6-2 and we probably could be 8-0," said Elco head coach Brad Conners. "We could've won both games we lost. We've been right there. They're (his players) gritty. They're a grind-it-out type of team.
"At the beginning of the season, we knew we were going to be big and we wanted to play to our strengths," added Conners. "The question was how to do that. We had a summer together, and it's showing. The expectations were that everything was wide open for us."
"Usually it is," said Annville-Cleona head coach Jason Coletti, of his program's annual goal of qualifying for the District Three Class AAA postseason. "But we're not even thinking about that. Until we compete for 32 minutes, the playoffs are the last thing we're thinking about.
"These guys have to learn how to compete in a varsity game," Coletti added. "It's night and day from JVs. We need to compete and to be focused. Until we learn to do that, it's small steps."
Ready to roll, the Raiders played equally as well offensively as they did defensively at the start.
Courtesy of six points from Luke Williams, an old-fashioned three-point play by Corey Attivo and a three-pointer from Dallas George, Elco jumped out to a 12-0 lead over the contest's opening 4:07. Annville-Cleona's Cash Anspach and Simon Domencic slowed the Raiders' momentum, but Elco tallied the final seven points of the initial period – on an Attivo three-ball, charity tosses from George and a Camden Marquette lay-in – to extend its advantage to 22-4.
"It felt like we jumped on them early," said Conners. "We missed a couple early, we got a couple of loose balls and then everything started falling. We made our lay-ups and the basket started getting really big. We kept scoring, and it was nice to see."
"We can't get down 10-0," said Coletti. "I called three timeouts in the first couple of minutes, and that's not a good sign. We're not ready to compete with the Elcos of the world. We're looking for kids who are going to compete.
"Turnovers have been killing us," continued Coletti. "That was part of the 10-0 start. We get off to terrible starts and that's a major concern."
Over the first couple minutes of the second quarter, Annville-Cleona managed to match the Raiders' scoring. But thanks to six points from Attivo, five points from George, four by Rheece Shuey and a Williams foul shot, Elco closed the half on a 16-2 spree and carried a 44-12 bulge to the break.
"We want to be us," said Conners. "We're working on some things. I told our guys, 'It's a game. Let's play. Let's work on some things.' It was helpful. Any time you can get out there and play and get up and down the court, it's great. We shot the ball well and I thought our big kids were pretty dominant from start to finish.
"With Rheece and Luke, they've been running the high-low since their sophomore year," Conners continued. "Playing to strengths is the high-low. Now you add Corey to the mix and you can see the chemistry developing. Those interior passes have been good for awhile. Part of that was our summer together."
"They're big," said Coletti of the Raiders. "They've got four seniors. They've got experience, and the point guard is pretty good. They have a nice squad. They're in the running in Section Four (of the Lancaster-Lebanon League) for a reason. "
Elco's scoring was very balanced. Attivo and Shuey both finished with 15 points, while Williams and George each contributed a dozen. Freshman Jonathan Shay notched 11 points for Annville-Cleona.
Elco connected on 15 of its 17 foul shots and outscored the Little Dutchmen by 15 points there. The Raiders also outscored Annville-Cleona 15-3 from three-point land.
"They play hard. They share the ball," said Conners of the Little Dutchmen. "I told our guys, 'You've got to win it with energy and enthusiasm. We have to work for it.' Jason always does a great job of getting his kids to play hard. It was just our night."
"We have a limit. But we're not playing close to our potential," said Coletti. "Elco is really good. They have a college front line. We challenged our guys to be more physical. But they (the Raiders) make life difficult for you."
The Raiders brought the mercy rule into play in the third quarter. An inside move by Shuey made it a 49-19 game, and another Shuey bucket and one from George pushed the Elco advantage to 55-21.
"The next step is our next game," said Conners of a non-league tilt at Hamburg on Wednesday. "We can't afford to go over there and not show up. We know Friday (at home to Lancaster Catholic) is there. We know it's coming. But we need to focus on us."
"I like that our younger players are coming around, but the seniors aren't leading them the way they need to," said Coletti. "We're taking this year as what it is. We just want to get better to play teams at our level. In some aspects, we have gotten better. In some aspect, we have not."
To purchase images in this article please email jeff@lebcosports.com.
2021-22 Annville-Cleona Boys' Basketball Schedule
| | | | | | |
| --- | --- | --- | --- | --- | --- |
| 2021-12-10 | A | vs | Brandywine Heights(3) | L | 66-29 |
| 2021-12-11 | A | vs | Northern Lehigh(11) | W | 39-31 |
| 2021-12-15 | H | vs | Columbia(3) | L | 70-37 |
| 2021-12-17 | A | vs | Pequea Valley(3) | L | 45-43 |
| 2021-12-20 | H | vs | Palmyra(3) | L | 53-33 |
| 2021-12-28 | A | vs | Tulpehocken(3) | L | 69-47 |
| 2021-12-29 | A | vs | Red Land(3) | L | 35-53 |
| 2022-01-03 | A | vs | Eastern Lebanon County(3) | | 0-0 |
| 2022-01-07 | A | vs | Lancaster Mennonite(3) | | 0-0 |
| 2022-01-10 | A | vs | East Pennsboro(3) | | 0-0 |
| 2022-01-11 | A | vs | Lancaster Country Day School(3) | | 0-0 |
| 2022-01-14 | H | vs | Antietam(3) | | 0-0 |
| 2022-01-18 | H | vs | Pequea Valley(3) | | 0-0 |
| 2022-01-22 | H | vs | Northern Lebanon(3) | | 0-0 |
| 2022-01-25 | A | vs | Columbia(3) | | 0-0 |
| 2022-01-27 | H | vs | Mount Carmel(4) | | 0-0 |
| 2022-01-29 | H | vs | Camp Hill(3) | | 0-0 |
| 2022-02-01 | H | vs | Lancaster Mennonite(3) | | 0-0 |
| 2022-02-05 | A | vs | Kutztown(3) | | 0-0 |
| 2022-02-07 | A | vs | Kennard Dale(3) | | 0-0 |
| 2022-02-08 | H | vs | Lancaster Country Day School(3) | | 0-0 |
| 2022-02-10 | H | vs | Oley Valley(3) | | 0-0 |
2021-22 Elco Boys' Basketball Schedule
| | | | | | |
| --- | --- | --- | --- | --- | --- |
| 2021-12-10 | A | vs | Red Land(3) | W | 45-33 |
| 2021-12-11 | A | vs | Lebanon(3) | L | 29-34 |
| 2021-12-14 | H | vs | Octorara(3) | W | 57-54 |
| 2021-12-17 | A | vs | Donegal(3) | W | 42-33 |
| 2021-12-21 | A | vs | Northern Lebanon(3) | W | 50-39 |
| 2021-12-29 | A | vs | Dallastown(3) | L | 46-48 |
| 2021-12-30 | A | vs | Spring Grove Area(3) | W | 48-39 |
| 2022-01-03 | H | vs | Annville-Cleona(3) | | 0-0 |
| 2022-01-05 | A | vs | Hamburg(3) | | 0-0 |
| 2022-01-07 | H | vs | Lancaster Catholic(3) | | 0-0 |
| 2022-01-11 | H | vs | Cocalico(3) | | 0-0 |
| 2022-01-13 | A | vs | Wyomissing(3) | | 0-0 |
| 2022-01-14 | A | vs | Manheim Central(3) | | 0-0 |
| 2022-01-18 | H | vs | Solanco(3) | | 0-0 |
| 2022-01-21 | A | vs | Lampeter Strasburg(3) | | 0-0 |
| 2022-01-25 | A | vs | Octorara(3) | | 0-0 |
| 2022-01-28 | H | vs | Donegal(3) | | 0-0 |
| 2022-01-29 | A | vs | Pottsville(11) | | 0-0 |
| 2022-02-01 | H | vs | Northern Lebanon(3) | | 0-0 |
| 2022-02-02 | A | vs | Conrad Weiser(3) | | 0-0 |
| 2022-02-04 | H | vs | Garden Spot(3) | | 0-0 |
| 2022-02-08 | A | vs | Lancaster Catholic(3) | | 0-0 |