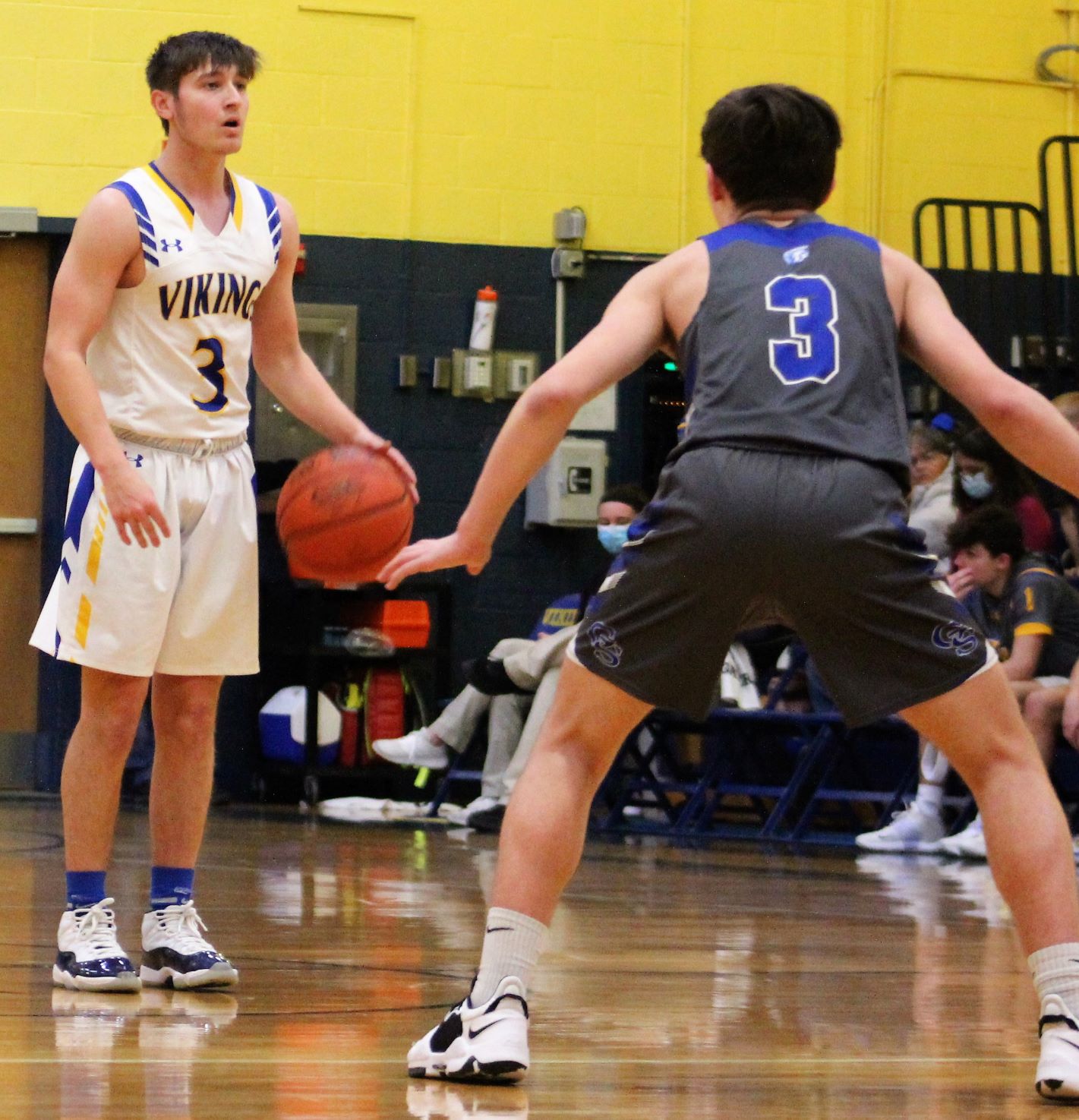 BY JEFF FALK
Editor
FREDERICKSBURG – This season hasn't quite unfolded the way the Northern Lebanon boys' basketball team would've liked. It's going to play hard anyway.
The Vikings have encountered their fair share of challenges and adversities. They're going to keep searching for positives anyway.
They're probably not going to reach many of their preseason goals. The Vikings are going to continue to improve anyway.
On Tuesday night at Northern Lebanon High School, the Vikings finally realized the fruits of their labor, with a 51-42 home triumph over Garden Spot. Northern Lebanon opened a manageable margin in the middle of the second quarter, then held off a number of charges by the Spartans.
The victory kept Northern Lebanon's fading chances for extending its season alive. But perhaps more realistically, the Vikings probably needed to register more similar results before last night.
At 4-9 overall and 1-7 in Section Four of the Lancaster-Lebanon League, Northern Lebanon would probably have to go something like 7-2 or 6-3 to have any realistic chance of qualifying for the PIAA District Three Class AAAA postseason. Class AAAA takes ten teams for its tournament and the Vikings were situated 17th in the latest District Three power rankings.
With the crossover result, Garden Spot slipped to 6-9 on the year and 4-3 in Section Three of the L-L.
"Obviously, the goal of making the playoffs at the beginning of the season is pretty far flung," said Northern Lebanon head coach Chris George. "We'd have to go on a pretty serious run to get there. We gave up some wins early. But as long as we're improving every day, I'm happy. I thought we could be around .500 and have a shot at the playoffs.
"This was the kind of game I thought we'd be in this year," continued George. "I thought we were right there with some of these teams, and we haven't been. We've had stretches and moments, but we haven't had entire games. So far, we've been a little disappointed. I'm just happy we're getting better. I've seen the growth."
Following a stalemate of an opening quarter, it was the shooting of marksman Peyton Wolfe that seemed to ignite Northern Lebanon. Wolfe drained no less than four three-pointers over the final four minutes of the second period, as the Vikings used a 16-6 spree to open a 30-20 halftime bulge.
Senior Simon Grimes accounted for the other Viking points during the decisive run.
"I think what happened was they tried to create a little chaos," said George of the Spartans. "We did an OK job with it. We turned it over a couple of times and there was a feeling like it was really ready to tip in their direction. But we answered back with a flurry, and a bunch of guys, including Peyton, stepped up.
"He's a great finisher," George continued. "I thought he came out guns blazing. In that run, he hit some big shots as well. Peyton Wolfe does not step on to a court without having someone standing next to him. His window for getting off shots is 1.5 seconds."
Wolfe finished with a game-high 18 points, a total which moved him to within 58 points of 1,000 for his career. James Voight tallied 13 important points for Northern Lebanon, while Grimes contributed ten.
Northern Lebanon outscored the Spartans 28-16 on field goals that came from inside the arc.
'I thought James Voight stepped up for us," said George. "He was that third scoring guy, which we've been looking for all year. But it wasn't just him. Mitchell Hetrick played really good defense, and Tyler Wolfe and Luke Shaeffer really stepped up as well. Obviously, we put a lot on Simon and Peyton, They're our two dudes.
"I thought we executed really well defensively," added George. "We have to do some different things defensively. We have to mix it up. Tonight, we missed very few assignments. We were really locked in."
The Vikings also did an admirable job of responding to the inevitable Garden Spot runs in the second half.
A driving lay-in from Voight three minutes into the third quarter made Northern Lebanon's lead 34-25. But the Spartans closed the stanza with an 8-4 spurt to pull to within 38-33 of the lead.
"It was a weird feeling because their defense was so strange," said George. "They didn't play us straight up. We lit up the box-and-one they were playing on Peyton. I didn't want to sit back and hold the ball, so we just had to answer what they were doing defensively."
The closest Garden Spot could come in the fourth period was 42-38, with 3:48 remaining. But Northern Lebanon netted its final nine points at 'the stripe', on nine-of-13 free throwing.
"We haven't played well," said George. "As coaches and as a team, it's been pretty frustrating. It's never been about the effort. They've (his players) played their butts off. But in almost every game, we've underachieved. I'm not too concerned about the wins and losses. I just want to play to the level of the competition. But they deserve to have something come out of that hard work.
"Our role guys have given us what we've needed all year," continued George. "They've been consistent. Simon and Peyton have been inconsistent. But we're asking a lot of them. They've been asked to shoulder so much of the load. It's not for a lack of effort. They're also seeing some weird things (defensively) from teams."
To purchase images in this article please email jeff@lebcosports.com.
2021-22 Northern Lebanon Boys' Basketball Results
| | | | | | |
| --- | --- | --- | --- | --- | --- |
| 2021-12-11 | A | vs | Pine Grove Area(11) | W | 55-47 |
| 2021-12-15 | A | vs | Lancaster Catholic(3) | L | 40-60 |
| 2021-12-18 | H | vs | Manheim Central(3) | L | 40-64 |
| 2021-12-21 | H | vs | Eastern Lebanon County(3) | L | 39-50 |
| 2021-12-23 | A | vs | Hamburg(3) | L | 48-52 |
| 2021-12-28 | H | vs | Red Land(3) | W | 36-29 |
| 2021-12-28 | P | vs | Annville-Cleona(3) | | 0-0 |
| 2021-12-29 | H | vs | Tulpehocken(3) | L | 34-42 |
| 2022-01-04 | H | vs | Octorara(3) | L | 35-58 |
| 2022-01-08 | H | vs | Williams Valley(11) | W | 64-30 |
| 2022-01-09 | A | vs | Donegal(3) | L | 45-57 |
| 2022-01-11 | H | vs | Lampeter Strasburg(3) | L | 44-74 |
| 2022-01-13 | A | vs | Cocalico(3) | L | 38-41 |
| 2022-01-18 | H | vs | Garden Spot(3) | W | 51-42 |
| 2022-01-20 | A | vs | Solanco(3) | | 0-0 |
| 2022-01-22 | A | vs | Annville-Cleona(3) | | 0-0 |
| 2022-01-25 | H | vs | Lancaster Catholic(3) | | 0-0 |
| 2022-01-29 | H | vs | Susquehannock(3) | | 0-0 |
| 2022-01-31 | A | vs | Schuylkill Valley(3) | | 0-0 |
| 2022-02-01 | A | vs | Eastern Lebanon County(3) | | 0-0 |
| 2022-02-03 | H | vs | Conrad Weiser(3) | | 0-0 |
| 2022-02-05 | A | vs | Octorara(3) | | 0-0 |
| 2022-02-09 | H | vs | Donegal(3) | | 0-0 |
PIAA District Three Class AAAA Power Rankings
(Top Ten Qualify)
| | | | | | | | | | | | |
| --- | --- | --- | --- | --- | --- | --- | --- | --- | --- | --- | --- |
| AAAA | School |  W |  L |  T |  Rating |  TWP |  OWP |  TWPW |  OWPW |  TWPL |  OWPL |
| 1 | Berks Catholic | 12- | 2- | 0 |  0.788055 |  0.894366 |  0.658118 |  12.70 |  170.65 |  1.50 |  88.65 |
| 2 | Middletown | 12- | 0- | 0 |  0.732705 |  1.000000 |  0.406010 |  12.70 |  92.55 |  0.00 |  135.40 |
| 3 | Eastern York | 10- | 3- | 0 |  0.687485 |  0.813187 |  0.533849 |  11.10 |  138.00 |  2.55 |  120.50 |
| 4 | Eastern Lebanon County | 9- | 3- | 0 |  0.661326 |  0.805785 |  0.484765 |  9.75 |  123.30 |  2.35 |  131.05 |
| 5 | Trinity (3) | 8- | 3- | 0 |  0.652531 |  0.735426 |  0.551215 |  8.20 |  127.00 |  2.95 |  103.40 |
| 6 | Littlestown | 10- | 3- | 0 |  0.647094 |  0.790875 |  0.471362 |  10.40 |  130.85 |  2.75 |  146.75 |
| 7 | Oley Valley | 7- | 3- | 0 |  0.590043 |  0.700980 |  0.454452 |  7.15 |  110.75 |  3.05 |  132.95 |
| 8 | Boiling Springs | 5- | 5- | 0 |  0.559054 |  0.579787 |  0.533712 |  5.45 |  136.15 |  3.95 |  118.95 |
| 9 | Wyomissing | 3- | 4- | 0 |  0.530708 |  0.496183 |  0.572906 |  3.25 |  135.75 |  3.30 |  101.20 |
| 10 | Bishop McDevitt (3) | 5- | 6- | 0 |  0.522866 |  0.502439 |  0.547833 |  5.15 |  137.15 |  5.10 |  113.20 |
| 11 | James Buchanan | 5- | 8- | 0 |  0.498251 |  0.453061 |  0.553482 |  5.55 |  127.55 |  6.70 |  102.90 |
| 12 | Kennard Dale | 5- | 9- | 0 |  0.483429 |  0.416667 |  0.565027 |  5.75 |  154.45 |  8.05 |  118.90 |
| 13 | Bermudian Springs | 5- | 7- | 0 |  0.455486 |  0.461864 |  0.447689 |  5.45 |  121.10 |  6.35 |  149.40 |
| 14 | Schuylkill Valley | 4- | 7- | 0 |  0.451544 |  0.389140 |  0.527815 |  4.30 |  116.70 |  6.75 |  104.40 |
| 15 | Susquehanna Township | 4- | 7- | 0 |  0.449353 |  0.368159 |  0.548590 |  3.70 |  135.20 |  6.35 |  111.25 |
| 16 | Hamburg | 3- | 9- | 0 |  0.375254 |  0.247899 |  0.530910 |  2.95 |  129.25 |  8.95 |  114.20 |
| 17 | Northern Lebanon | 3- | 9- | 0 |  0.373021 |  0.269912 |  0.499044 |  3.05 |  130.55 |  8.25 |  131.05 |
| 18 | Hanover (3) | 3- | 9- | 0 |  0.357235 |  0.237069 |  0.504104 |  2.75 |  141.25 |  8.85 |  138.95 |
| 19 | West Perry | 3- | 10- | 0 |  0.350379 |  0.246753 |  0.477033 |  2.85 |  117.35 |  8.70 |  128.65 |
| 20 | East Pennsboro | 0- | 12- | 0 |  0.212125 |  0.000000 |  0.471389 |  0.00 |  110.80 |  11.70 |  124.25 |
Lancaster-Lebanon League
Section Four Standings