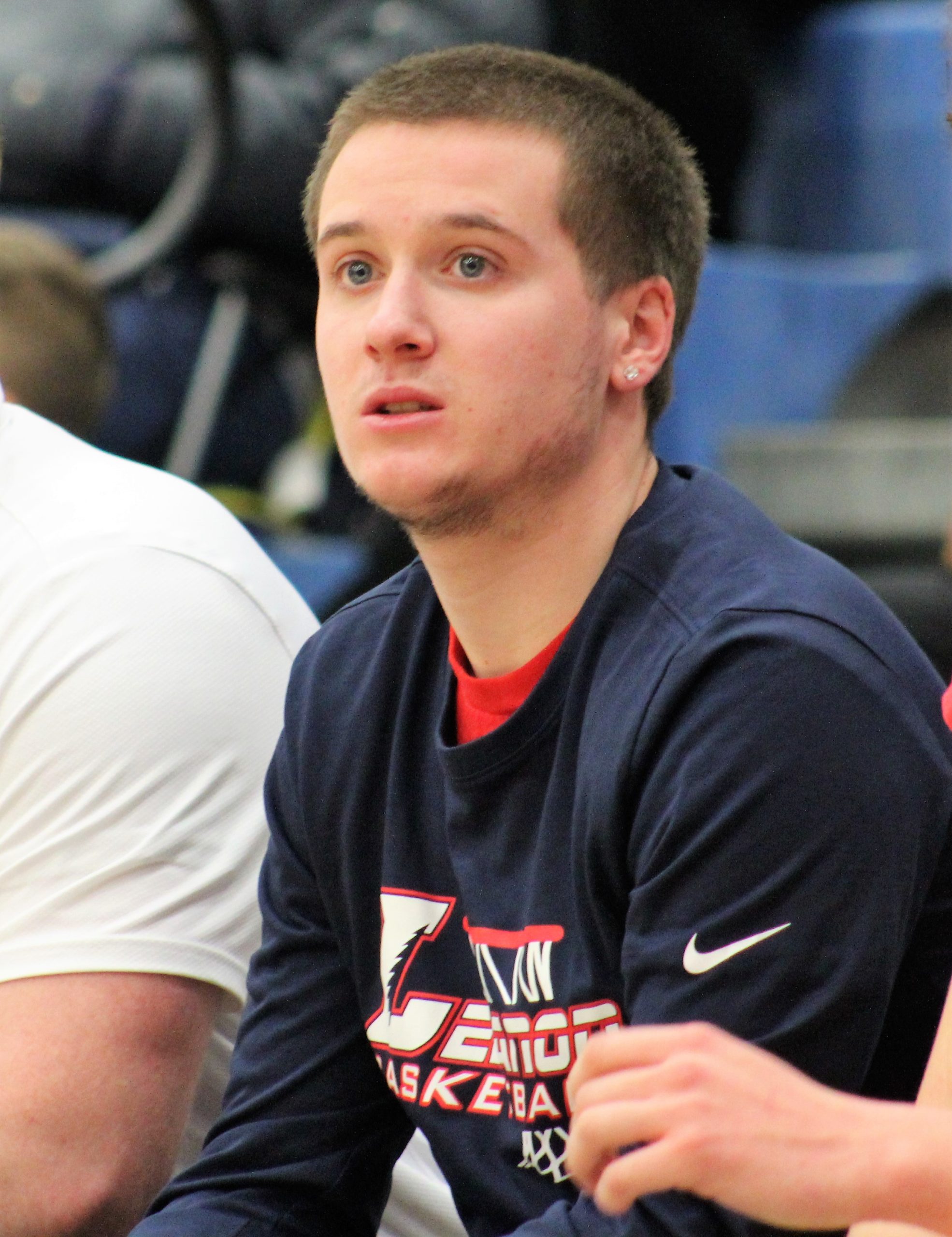 BY JEFF FALK
It hasn't been the season he envisioned or imagined, especially given the season he had last year. But it has been a good campaign, a memorable senior season.
Luke Collins has made sure of that, after having his competitive spirit challenged in a way that it had never been challenged before. He's pulled it off in true Luke Collins fashion, by controlling the things under his control, by identifying some very elusive positives and by rebounding the way only resilient kids can.
We're just past the halfway point of the local scholastic basketball season and Collins has watched almost every Lebanon boys' basketball game from the Cedar bench. It goes without saying that he'd rather be out there playing – knocking down 'threes', dropping 'dimes' to teammates and supporting them in more direct and hands-on ways.
But a serious knee injury took all that away from the senior guard.
What we've learned about about Collins is that he indeed bleeds, but not red. Collins bleeds red and blue.
"It's hard watching," said Collins. "At first, it really hit me. But I knew I had to get over it. I'm doing better now. I'm just going to keep recovering.
"Basketball is very important to me," continued Collins. "My whole family played. It's always been a big thing in my family I started playing when I was three. I love basketball a lot."
When it comes to resiliency, we could all learn from Collins' example. But Collins has doubled down on it, and taken resiliency to the next level.
Beyond simply taking it in stride and bouncing back, he has embraced it and made the best of it – and learned from it.
"Yeah, I thought about that," said Collins, when asked why this happened to him. "But everything happens for a reason. It happened to me, so I've just got to stay positive.
"Right now, I'm learning about coaching," Collins continued. "I was thinking about being a coach later in life, but even more now because of the injury. It's a learning experience because everything has changed."
What Lebanon has been able to accomplish to this point of the season without Collins in the lineup has been nothing short of amazing. The Cedars are currently 9-3 on the year, 4-1 and in first place in Section Two of the Lancaster-Lebanon League, and positioned sixth in the District Three Class AAAAAA power rankings.
Still, one can't help but wonder where the Cedars would be with Collins out there running the show.
"I think the season is going alright," said Collins. "I think we're doing well with me out of the lineup. But I think we'd have a different record if I was playing. I was the point guard and I was the leader of the team. I think the team chemistry would be better and things would run a little more smoothly if I was out there."
To offset Collins' absence, the Cedars shifted the talented Marquis Ferriera over to Collins' old spot at the point and senior Adrian Cruz has stepped up admirably as the two-guard. The inside development of seniors Kevin Smith and Nate Diaz has helped as well.
"My role on the team now is to be a coach and a leader off the court," said Collins. "Because of my experience, I try to help the guards as much as I can.
"There have been some games where we've had turnovers," added Collins. "Marquis was moved on the ball. I think he was more of a threat off the ball. But he had to take over my spot. He wasn't really used to that."
The date was September 19, 2021. The setting was an off-season shootout at Wilkes University in Wilkes-Barre, Pennsylvania.
Collins attempted an ordinary jump-stop and his right knee gave out.
"I knew something was wrong right away," said Collins. "The doctor told me I tore my ACL, and I was balling my eyes out. That's hard to hear.
"I've been going to PT (physical therapy) twice a week," added Collins. "I do what I've got to do because I want to get back. The doctors have told me I'm on track. They haven't given me a certain date that I can return, maybe April or May or June."
What made the tear even more devastating was the anticipation created by the success the Cedars and Collins enjoyed last year. Lebanon gelled and peaked at the absolute right time, and the result was the program's ninth Lancaster-Lebanon League Championship and its first in 17 years.
While Lebanon lost a few key pieces from last year's team, this year's group of seniors had been playing together since they were little Cedars.
"L-L champs. That's what sticks out to me about last year," said Collins. "I didn't care about how many points I scored. I just wanted to get to the L-L championship game. We did, and we won. That's all I cared about.
"This season I was going to be a senior," Collins added. "I really thought we could win it again this year. I think we still can. But if I was playing, it'd be a different story."
For some student-athletes, their high school playing days are a time of their life, an opportunity rarely afforded again. While Collins may never be able to get his senior season back, he has high hopes for a full physical recovery.
Collins said he would like to play basketball at a four-year college and is currently considering Arcadia, Elizabethtown, Eastern University, Penn State-Harrisburg and Alvernia.
"We've talked about after I'm fully recovered getting lessons to get back in shape," said Collins. "I just know that when I'm recovered, I'm going to be out there and working on my game."
Until then, there is the matter of back-to-back Section Two and Lancaster-Lebanon League titles that needs to be addressed. For Collins, it's all about support, the same type of support he has received from a close-knit Lebanon basketball community that has helped him through this trying time.
"Yeah, I do know that there are people out there pulling for me," said Collins. "They also made some 'Luke Strong' t-shirts to support me. I think people really do care for me and really want to see me play again. There have even been people who told me they're surprised by the way I've handled it. But I had to be positive. I had to help the team no matter what. I think I've handled it the best way I could have.
"What I want people to know is to not doubt on the Lebanon Cedars," concluded Collins. "It's not about me. I just want them (his teammates) to have success. I think they're going to go all the way."
Where there's a will, there's a way.
To purchase images in this article please email jeff@lebcosports.com.

Lebanon Federal Credit Union