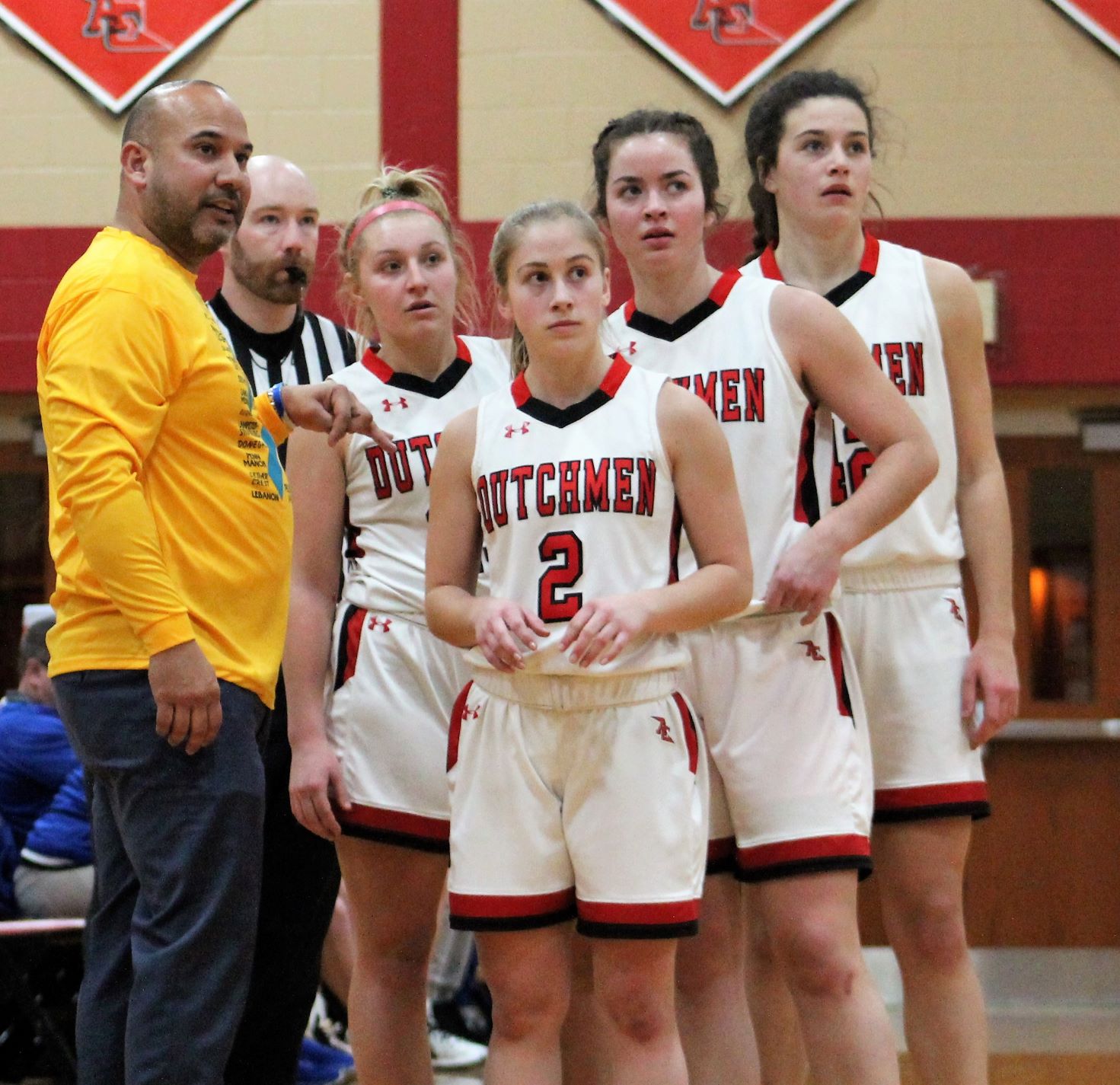 BY JEFF FALK
ANNVILLE – The Annville-Cleona girls' basketball team is coming – you can see it, you can feel it. It's arrival is imminent.
It's just a matter of when and how.
That's why the postseason is so important to the Little Dutchmen. Qualifying for the District Three playoffs can only expediate and intensify the process.
On Monday night at 'The Barn', on the campus of Annville-Cleona High School, the emerging Little Dutchmen took a critical step towards a postseason berth by edging Middletown 39-38. After trailing by a couple of possessions over the first three periods, the Little Dutchmen cranked up the defense in the fourth, and made enough plays and free throws to emerge with a win.
The outcome was crucial for an Annville-Cleona outfit long on potential but short on experience. The Little Dutchmen, now 6-7 on the year, were seated eighth in the latest District Three power rankings for an AAA classification which takes six for its postseason.
The loss dropped Middletown to 7-10 overall.
"I think it's been years since the Annville-Cleona girls' basketball team has made districts," said Little Dutchmen senior guard Erin Schrader. "I think these big games will make it easier to win in the future, and give the younger players more experience. This experience is only going to help in the future."
"We've just got to keep pushing," said Annville-Cleona junior Sarah Speraw. "Whether we're having a good day or a bad day, no matter what. We have a lot of strong freshmen coming up, and a lot of strong sophomores. I think it's going to be an interesting future."
While there were plenty of positives to take from the outcome, perhaps the most important one for the Little Dutchmen was that they found a way to prevail in crunch time.
Trailing 30-27, Annville-Cleona held Middletown score-less for a key 6:10 stretch in the fourth quarter. The resulting 8-0 run, which featured buckets from Claire Hoover, Schrader, Josie Clay and freshman Kendall Cooper, gave the Little Dutchmen a 35-30 advantage with two minutes to go.
Speraw netted Annville-Cleona's final four points, on four-of-six free throwing.
"I think we just calmed down," said Speraw. "We had to be patient with each other. We didn't push the ball. We didn't rush. We stayed connected."
"I think the atmosphere definitely helped us," said Schrader, of the Little Dutchmen's raucous student section. "The boys (basketball team) didn't have a game tonight. I think the students coming out helped us win."
Annville-Cleona trailed by as much as 27-18, two minutes into the second half. But the Little Dutchmen closed the third period on a 9-1 spree, courtesy of short jumper from Clay, an inside move by Cooper and free throws from Sage Sherk, Speraw and Ainsley Sellers.
"Every game is important," said Speraw. "You've got to put forth the effort every night. We've just got to play our game.
"I thought we picked it up a lot more in the second half," added Speraw. "We wanted this game. With the outcome, you could tell we wanted this game."
Seven different Annville-Cleona players found their way into the scorebook, including Speraw, who notched a team-high 11 points. The Little Dutchmen did not make a three-point field goal, but they did get to the foul line 30 times, making 19 attempts.
"Offensively, I think we were more patient in the fourth quarter," said Schrader. "We were relaxed. We all gave it our all."
"We played a really good game," said Spreaw. "Everyone played well and worked hard."
During the first two quarters, Annville-Cleona battled the Blue Raiders and themselves, committing turnovers and relinquishing offensive rebounds.
Middletown led 11-7 after eight minutes of action and 20-10 late in the first half. But that was before the Little Dutchmen netted seven unanswered points – four from Speraw and three by freshman Ava Hoover – to pull to within 20-17 of the lead.
"From Day One, we didn't know each other that well," said Speraw. "Now we know each other much better. We're like family now. It's easier to be connected. But we have a lot more improvement to make."
"One of the goals was to make the playoffs, and another was to have a winning season," said Schrader. "At the beginning, we didn't jell all that much. But as the season went on, I think we've gotten more comfortable with each other every day."
To purchase images in this article please email jeff@lebcosports.com.
2021-22 Annville-Cleona Girls' Basketball Results
| | | | | | |
| --- | --- | --- | --- | --- | --- |
| 2021-12-10 | A | vs | Hamburg(3) | L | 33-25 |
| 2021-12-11 | A | vs | Tri-Valley(11) | L | 37-31 |
| 2021-12-15 | A | vs | Columbia(3) | L | 63-18 |
| 2021-12-17 | H | vs | Pequea Valley(3) | L | 51-45 |
| 2021-12-20 | A | vs | Octorara(3) | W | 43-18 |
| 2021-12-28 | H | vs | Tulpehocken(3) | W | 44-29 |
| 2021-12-29 | H | vs | Littlestown(3) | W | 42-25 |
| 2022-01-05 | A | vs | Biglerville(3) | L | 62-48 |
| 2022-01-10 | H | vs | East Pennsboro(3) | L | 53-40 |
| 2022-01-12 | H | vs | Lancaster Country Day School(3) | W | 35-25 |
| 2022-01-18 | A | vs | Pequea Valley(3) | L | 40-35 |
| 2022-01-22 | H | vs | Lancaster Mennonite(3) | W | 33-24 |
| 2022-01-24 | H | vs | Middletown(3) | W | 39-38 |
| 2022-01-25 | H | vs | Columbia(3) | | 0-0 |
| 2022-01-29 | A | vs | Camp Hill(3) | | 0-0 |
| 2022-02-01 | A | vs | Lancaster Mennonite(3) | | 0-0 |
| 2022-02-03 | H | vs | Octorara(3) | | 0-0 |
| 2022-02-05 | H | vs | Kutztown(3) | | 0-0 |
| 2022-02-07 | A | vs | York County School of Technology(3) | | 0-0 |
| 2022-02-08 | A | vs | Lancaster Country Day School(3) | | 0-0 |
| 2022-02-10 | A | vs | Oley Valley(3) | | 0-0 |
| 2022-02-11 | H | vs | Camp Hill(3) | | 0-0 |
PIAA District Three Class AAA Power Rankings
(Top Six Qualify)
| | | | | | | | | | | | |
| --- | --- | --- | --- | --- | --- | --- | --- | --- | --- | --- | --- |
| AAA | School |  W |  L |  T |  Rating |  TWP |  OWP |  TWPW |  OWPW |  TWPL |  OWPL |
| 1 | Brandywine Heights | 11- | 2- | 0 |  0.669512 |  0.843137 |  0.457304 |  10.75 |  141.65 |  2.00 |  168.10 |
| 2 | Trinity (3) | 8- | 6- | 0 |  0.579481 |  0.584507 |  0.573338 |  8.30 |  169.45 |  5.90 |  126.10 |
| 3 | Pequea Valley | 8- | 8- | 0 |  0.507894 |  0.506173 |  0.509998 |  8.20 |  151.75 |  8.00 |  145.80 |
| 4 | York Catholic | 7- | 9- | 0 |  0.500008 |  0.437500 |  0.576406 |  6.65 |  195.20 |  8.55 |  143.45 |
| 5 | Susquenita | 5- | 5- | 0 |  0.444774 |  0.454082 |  0.433399 |  4.45 |  121.85 |  5.35 |  159.30 |
| 6 | Oley Valley | 6- | 9- | 0 |  0.437340 |  0.427046 |  0.449921 |  6.00 |  142.85 |  8.05 |  174.65 |
| 7 | Biglerville | 6- | 12- | 0 |  0.408154 |  0.323699 |  0.511376 |  5.60 |  167.45 |  11.70 |  160.00 |
| 8 | Annville-Cleona | 5- | 7- | 0 |  0.396834 |  0.397541 |  0.395970 |  4.85 |  120.85 |  7.35 |  184.35 |
| 9 | Upper Dauphin | 5- | 8- | 0 |  0.373783 |  0.345455 |  0.408406 |  4.75 |  109.80 |  9.00 |  159.05 |
| 10 | Lancaster Mennonite | 2- | 8- | 0 |  0.355701 |  0.200000 |  0.546002 |  1.90 |  140.65 |  7.60 |  116.95 |
| 11 | Camp Hill | 2- | 10- | 0 |  0.302962 |  0.159664 |  0.478105 |  1.90 |  133.20 |  10.00 |  145.40 |
| 12 | Tulpehocken | 3- | 11- | 0 |  0.299910 |  0.211111 |  0.408441 |  2.85 |  122.90 |  10.65 |  178.00 |
| 13 | Kutztown | 1- | 12- | 0 |  0.243620 |  0.067729 |  0.458599 |  0.85 |  140.40 |  11.70 |  165.75 |

Lebanon Federal Credit Union