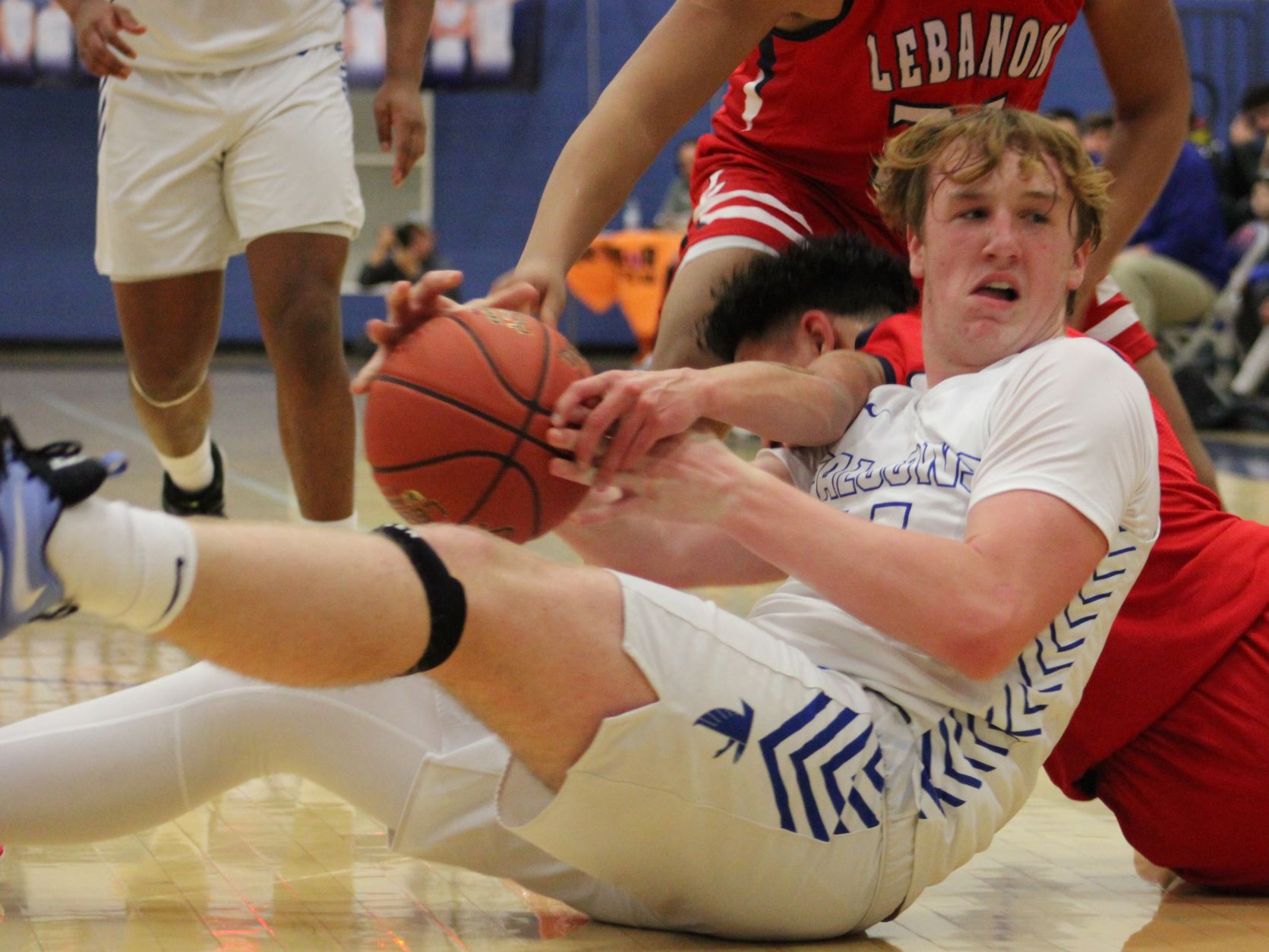 BY JEFF FALK
Editor
SOUTH LEBANON – Work hard, support each and do the right things. Sometimes things click, and sometimes they don't.
But when the light does go on, it's amazing and inspirational and rewarding. It's truly a sight to behold.
On Saturday night at 'The Cage' on the campus of Cedar Crest High School, the Falcons boys' basketball team's mid-season light continued to shine bright during an impressive 55-48 triumph over rival Lebanon High. Performing together, shooting the ball well and seemingly playing with an extra bounce in their collective step, the Falcons earned everything they got and outscored the Cedars 34-26 over the second 16 minutes of action.
Cedar Crest has experienced a drastic turnaround since dropping a 51-46 overtime decision to the same Cedars on December 28. Last night represented the Falcons' fourth straight victory, a streak which has lifted them to 7-6 overall, and to 4-1 and into first place in Section One of the Lancaster-Lebanon League.
In the latest District Three power rankings, Cedar Crest stood on the 13th-place line in an AAAAAA classification that takes 12 for its postseason tournament.
At 9-3 on the season and 4-1 in Section Two of the L-L, Lebanon is still in a very good place. The Cedars were situated fourth in those same AAAAAA power rankings.
"We're getting better," said Cedar Crest head coach Tom Smith. "Obviously, we would've like to have executed better early. But at the end of the day, these kids are fighting. They're buying in and understanding. They're taking those steps.
"I think it was right around that time (the Falcons' own holiday tournament) that we started to improve," continued Smith. "We've enhanced our pace of play. The kids are locked in with everything that we're doing. And it's really showing."
"I thought they played well," said Lebanon head coach Tim Speraw of the Falcons. "They knocked down the shots they needed to, and we didn't. They've been shooting the ball really well lately, and that continued tonight.
"When you have a young team like they do, you're going to see improvement every game," added Speraw.
Cedar Crest outplayed Lebanon in the second half and its depth may have worn down the Cedars just a bit in the final quarters.
For the Falcons, it was a 16-5 spurt in the middle of the third period that turned the tide. With Fernando Marquez scoring six points, Leo Tirado netting four and Jake Wolfe and Aiden Schomp each draining three-pointers, Cedar Crest opened a 37-29 margin with two minutes left in the quarter.
"I thought we played well," said Smith. "You didn't see the unforced errors in the second half. I thought we did a good job of taking care of the basketball. When we can get shots, we can knock them down.
"I thought we shot it well tonight," Smith continued. "In this little three-game stretch, we've been shooting it well. We started shooting it well at the end of the Lower Dauphin game and it propelled us into this week."
"I'm proud of the fight of the five kids who didn't come off the court," said Speraw. "They didn't quit. They didn't give in. We made too many mistakes in the second half to come away with a win. But I'm proud of the fight and the effort."
The Falcons did an admirable job of holding Lebanon at arm's length down the stretch.
A driving lay-in by Kevin Smith pulled the Cedars to within 44-40, 3:17 into the fourth quarter. But Cedar Crest answered with buckets from Marquez, J'Veon Reyes-Vega and Tirado in a 53-second span to push its lead back to double-digits.
"This was our second time playing Lebanon, but this was a league game," said Smith. "Any time you can beat Lebanon it's important. But it was the next game on our schedule. Not only is Lebanon a good basketball team, they were hot coming in."
"I thought in the first half we played really well defensively," said Speraw. "We made a couple of mistakes that gave them some points. But in the second half, I thought we just missed getting to some of their shooters."
Cedar Crest received points from eight different sources, including Wolfe, who canned a dozen points, and Marquez, who collected 11. Adrian Cruz struck for 20 Lebanon points.
The Falcons outscored the Cedars 18-12 from three-point land.
"Their guards (Cruz and Marquis Ferreira) are very good," said Smith. "They're as good as any two guards in the league. But I thought we made them earn it. Our keys were our depth and pace. Down the stretch, I thought they (the Cedars) were spent.
"Our guys were locked in, in executing the game plan," Smith added. "If you hold a good team like Lebanon to under 50 points, you did a good job defensively."
"It was the game we were playing tonight," said Speraw. "So that made it the most important one. It was typical Lebanon-Cedar Crest. It was a grind. At halftime, we knew the second half wasn't going to be any easier."
It was the Cedars who set the early pace. On four points from Ferreira and a Cruz three-pointer, Lebanon concluded the opening quarter on a 7-2 run and with a 12-5 lead.
"We're right in the hunt of things," said Smith. "But no one has won anything at the halfway point of the season. We have to stay hungry and humble, and everything will take care of itself. We've just got to keep our heads down and keep grinding."
In the middle of the second stanza, Cedar Crest embarked on an 11-3 journey that turned a 16-10 deficit into a 21-19 lead. Wolfe notched five Falcon points during that stretch, one that saw Owen Chernich, Jay Aviles and Marques also contribute scoring.
"I think we'll be OK," said Speraw. "We've got to get healthy a little bit and get more than five guys playing.
"With everything that's been going on with our roster, I'm happy with where we're at," continued Speraw. "I'm proud of our kids. We're thinking about Hempfield on Tuesday night, and that's it."
To purchase images in this article please email jeff@lebcosports.com.
2021-22 Cedar Crest Boys' Basketball Results
| | | | | | |
| --- | --- | --- | --- | --- | --- |
| 2021-12-10 | A | vs | Exeter Township(3) | L | 50-52 |
| 2021-12-11 | A | vs | Conrad Weiser(3) | W | 46-37 |
| 2021-12-15 | H | vs | Susquehanna Township(3) | W | 57-32 |
| 2021-12-17 | H | vs | Hempfield (3)(3) | L | 56-42 |
| 2021-12-21 | A | vs | Penn Manor(3) | W | 58-50 |
| 2021-12-28 | H | vs | Lebanon(3) | L | 51-46 |
| 2021-12-29 | H | vs | Exeter Township(3) | L | 41-59 |
| 2022-01-03 | A | vs | Central Dauphin(3) | L | 53-40 |
| 2022-01-05 | A | vs | J P McCaskey(3) | W | 59-55 |
| 2022-01-11 | H | vs | Wyomissing(3) | W | 64-34 |
| 2022-01-12 | A | vs | Elizabethtown(3) | W | 51-31 |
| 2022-01-15 | H | vs | Lebanon(3) | W | 55-48 |
| 2022-01-17 | H | vs | Manheim Township(3) | | 0-0 |
| 2022-01-18 | A | vs | Ephrata(3) | | 0-0 |
| 2022-01-21 | H | vs | Warwick(3) | | 0-0 |
| 2022-01-25 | A | vs | Conestoga Valley(3) | | 0-0 |
| 2022-01-28 | A | vs | Hempfield (3)(3) | | 0-0 |
| 2022-02-01 | H | vs | Penn Manor(3) | | 0-0 |
| 2022-02-04 | H | vs | J P McCaskey(3) | | 0-0 |
| 2022-02-08 | A | vs | Manheim Township(3) | | 0-0 |
2021-22 Lebanon Boys' Basketball Results
| | | | | | |
| --- | --- | --- | --- | --- | --- |
| | | | | | |
| 2021-12-10 | H | vs | Spring Grove Area(3) | W | 57-32 |
| 2021-12-11 | H | vs | Eastern Lebanon County(3) | W | 34-29 |
| 2021-12-14 | A | vs | Governor Mifflin(3) | W | 60-45 |
| 2021-12-16 | A | vs | Ephrata(3) | W | 63-34 |
| 2021-12-18 | H | vs | Hershey(3) | L | 59-46 |
| 2021-12-21 | H | vs | Elizabethtown(3) | W | 47-42 |
| 2021-12-28 | A | vs | Cedar crest(3) | W | 54-46 |
| 2021-12-29 | A | vs | Palmyra (3) | L | 47-36 |
| 2022-01-04 | H | vs | Warwick(3) | W | 58-43 |
| 2022-01-09 | A | vs | Palmyra(3) | W | 53-51 |
| 2022-01-11 | H | vs | J P McCaskey(3) | W | 59-46 |
| 2022-01-15 | A | vs | Cedar Crest(3) | L | 48-55 |
| 2022-01-18 | H | vs | Hempfield (3)(3) | | 0-0 |
| 2022-01-21 | A | vs | Penn Manor(3) | | 0-0 |
| 2022-01-24 | A | vs | Garden Spot(3) | | 0-0 |
| 2022-01-25 | H | vs | Ephrata(3) | | 0-0 |
| 2022-01-28 | H | vs | Manheim Township(3) | | 0-0 |
| 2022-01-29 | A | vs | Conestoga Valley(3) | | 0-0 |
| 2022-02-01 | A | vs | Elizabethtown(3) | | 0-0 |
| 2022-02-04 | A | vs | Warwick(3) | | 0-0 |
| 2022-02-07 | H | vs | Lower Dauphin(3) | | 0-0 |
| 2022-02-08 | H | vs | Conestoga Valley(3) | | 0-0 |
PIAA District Three
Class AAAAAA Power Rankings
(Top 12 Qualify)
| | | | | | | | | | | | |
| --- | --- | --- | --- | --- | --- | --- | --- | --- | --- | --- | --- |
| AAAAAA | School |  W |  L |  T |  Rating |  TWP |  OWP |  TWPW |  OWPW |  TWPL |  OWPL |
| 1 | Reading | 11- | 1- | 0 |  0.803566 |  0.926056 |  0.653856 |  13.15 |  128.45 |  1.05 |  68.00 |
| 2 | Chambersburg Area | 11- | 1- | 0 |  0.802960 |  0.946809 |  0.627144 |  13.35 |  146.25 |  0.75 |  86.95 |
| 3 | Central Dauphin | 7- | 2- | 0 |  0.768271 |  0.842365 |  0.677712 |  8.55 |  149.30 |  1.60 |  71.00 |
| 4 | Lebanon | 9- | 2- | 0 |  0.766353 |  0.862348 |  0.649026 |  10.65 |  164.95 |  1.70 |  89.20 |
| 5 | Cumberland Valley | 8- | 3- | 0 |  0.750735 |  0.808163 |  0.680544 |  9.90 |  162.65 |  2.35 |  76.35 |
| 6 | Cedar Cliff | 9- | 2- | 0 |  0.745927 |  0.861224 |  0.605007 |  10.55 |  152.25 |  1.70 |  99.40 |
| 7 | Hempfield (3) | 10- | 2- | 0 |  0.744329 |  0.883212 |  0.574583 |  12.10 |  122.30 |  1.60 |  90.55 |
| 8 | Warwick | 9- | 3- | 0 |  0.724551 |  0.822835 |  0.604426 |  10.45 |  143.40 |  2.25 |  93.85 |
| 9 | Waynesboro | 10- | 2- | 0 |  0.723483 |  0.881890 |  0.529874 |  11.20 |  134.80 |  1.50 |  119.60 |
| 10 | Muhlenberg | 10- | 3- | 0 |  0.698762 |  0.813559 |  0.558455 |  12.00 |  138.05 |  2.75 |  109.15 |
| 11 | Wilson (3) | 7- | 4- | 0 |  0.686247 |  0.716895 |  0.648788 |  7.85 |  151.20 |  3.10 |  81.85 |
| 12 | Red Lion | 10- | 4- | 0 |  0.672685 |  0.784314 |  0.536251 |  12.00 |  144.60 |  3.30 |  125.05 |
| 13 | Cedar Crest | 6- | 5- | 0 |  0.636299 |  0.635945 |  0.636731 |  6.90 |  141.80 |  3.95 |  80.90 |
| 14 | Manheim Township | 5- | 6- | 0 |  0.595250 |  0.551570 |  0.648637 |  6.15 |  151.10 |  5.00 |  81.85 |
| 15 | Governor Mifflin | 5- | 8- | 0 |  0.594438 |  0.489879 |  0.722234 |  6.05 |  172.00 |  6.30 |  66.15 |
| 16 | Conestoga Valley | 4- | 6- | 0 |  0.576170 |  0.484536 |  0.688168 |  4.70 |  167.50 |  5.00 |  75.90 |
| 17 | J P McCaskey | 4- | 6- | 0 |  0.565608 |  0.505376 |  0.639225 |  4.70 |  132.00 |  4.60 |  74.50 |
| 18 | Central Dauphin East | 4- | 7- | 0 |  0.556064 |  0.478469 |  0.650902 |  5.00 |  142.45 |  5.45 |  76.40 |
| 19 | Dallastown | 6- | 7- | 0 |  0.544377 |  0.536398 |  0.554129 |  7.00 |  144.60 |  6.05 |  116.35 |
| 20 | Carlisle | 3- | 6- | 0 |  0.539815 |  0.433962 |  0.669191 |  3.45 |  167.90 |  4.50 |  83.00 |
| 21 | Harrisburg | 3- | 7- | 0 |  0.516911 |  0.389535 |  0.672593 |  3.35 |  145.65 |  5.25 |  70.90 |
| 22 | William Penn | 3- | 7- | 0 |  0.468593 |  0.379121 |  0.577948 |  3.45 |  132.35 |  5.65 |  96.65 |
| 23 | Central York | 3- | 10- | 0 |  0.442746 |  0.295154 |  0.623136 |  3.35 |  165.10 |  8.00 |  99.85 |
| 24 | Penn Manor | 2- | 9- | 0 |  0.430327 |  0.256684 |  0.642556 |  2.40 |  159.90 |  6.95 |  88.95 |
| 25 | York County School of Technology | 4- | 12- | 0 |  0.351968 |  0.245161 |  0.482510 |  3.80 |  130.35 |  11.70 |  139.80 |
Lancaster-Lebanon League
Section One Standings
Lancaster-Lebanon League
Section Two Standings