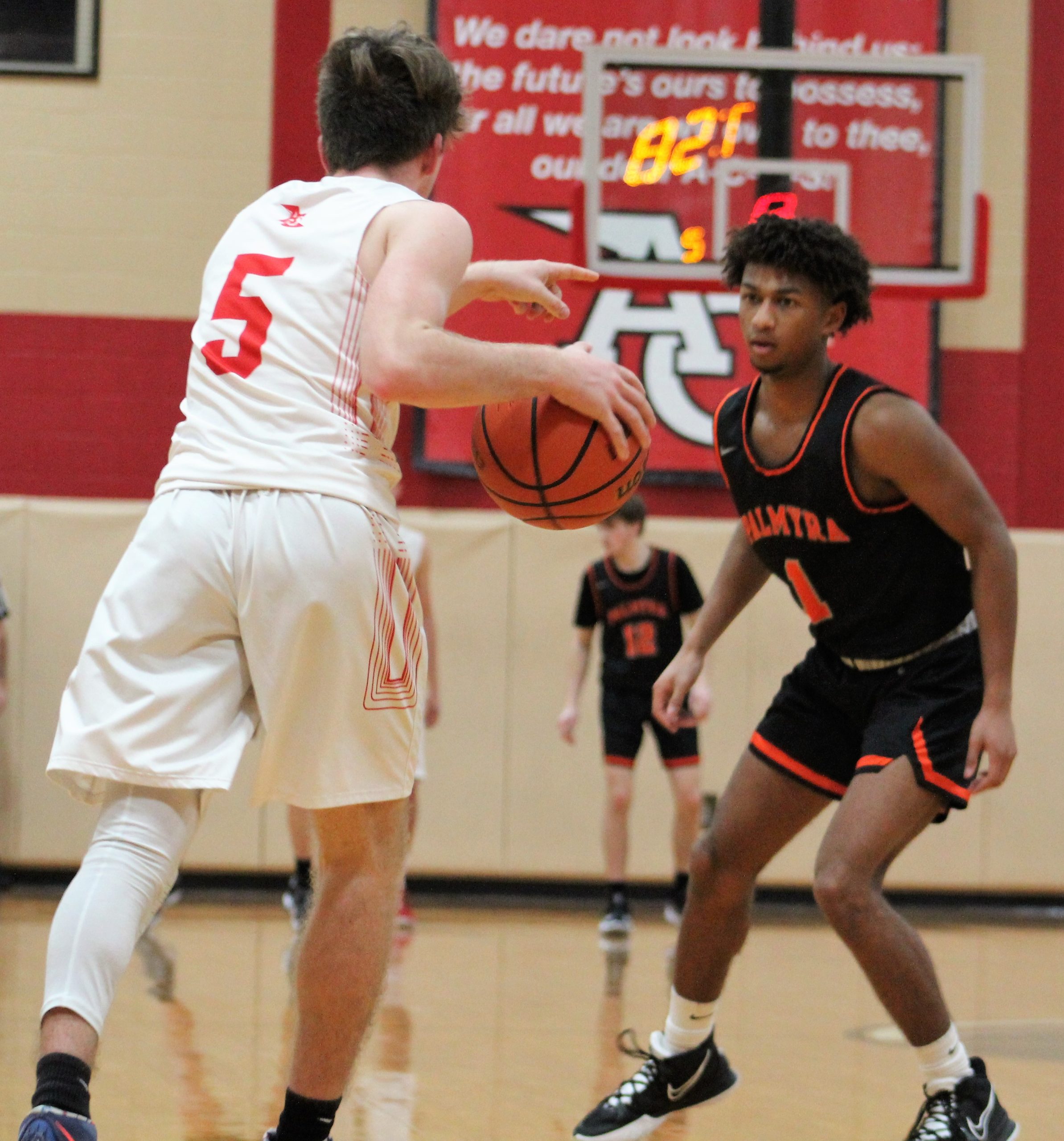 BY JEFF FALK
Editor
ANNVILLE – There are elements of the process that go beyond human control.
Because the process has a life of its own, it works on its own terms, and in its own time. The process is very important, so important that it transcends wins and losses.
On Monday night at 'The Barn', on the campus of Annville-Cleona High School, the Palmyra boys' basketball team's vaunted process produced its fifth straight win to start the season, a 53-33 dissection of the homestanding Little Dutchmen. By holding Annville-Cleona to just eight points through the first two quarters of action, the Cougars decided the outcome of the non-league contest with their neighbors by halftime.
Not only are the Palmyra boys still the only undefeated basketball squad in Lebanon County, the 5-0 Cougars are off to their best start in recent memory.  The loss was Annville-Cleona's third straight and dropped it to 1-4 overall.
"There was an old adage from Bobby Knight when he was coaching that said, 'the things you wouldn't accept while winning are the same things wouldn't accept from losing,'" said Palmyra head coach Pete Conrad. "I think that's the danger of it (being undefeated). We really try hard to guard against that. There's a human element you're always fighting against.
"Something that helps us is that we're a very veteran group," continued Conrad. "We want to impress upon them that not only are we going through a process, but we also have to be concerned with the details. We're getting guys to totally buy in. We've got a bunch of guys who are great teammates."
"Having (Chris) Edwards down low makes them really good," said Annville-Cleona head coach Jason Coletti of the Cougars. "You have to worry about him, and they also have good shooters on the perimeter. You've got to kind of pick your poison. We really banged and were physical with them in the first quarter. They're a very good team and they're well-coached."
Palmyra never trailed after Edwards nailed a three-point field goal 2:34 into the contest. But the Little Dutchmen did pull to within 3-2 on an inside move from Da'Modric Green, then to within 7-4 on a similar move by Green a minute later.
"I did think we played well," said Conrad. "Whoever you're playing, you're always meeting a standard you set for yourself. We lived up to the values we're aspiring to. We're pretty positive about tonight.
"We have a lot of respect for them (the Little Dutchmen) and Coach Coletti, and the program he has built," added Conrad. "Any time you match up with a neighbor and you're trying to live up to certain standards, we think that's significant."
"The first four or five minutes we were competing," said Coletti. "I liked our defense. They've got two big kids (Edwards, Eli Becker) down low, and I thought we did OK with that early. We don't see a lot of that in Section Five (of the Lancaster-Lebanon League).
"But we couldn't put the ball in the basket," Coletti continued. "Defensively, they're a good team. But we've got to find scorers out there."
The defining moment of the contest came in the middle of the opening quarter, when the Cougars turned up their full court pressure, created turnovers and scored easy baskets, some of which originated from offensive rebounds.
The result was a devastating 19 straight points over a span of 9:13 that pushed Palmyra's lead to 26-4. Featured in the run were eight points from Edwards, four by Becker, a Mark Roesch three-pointer and lay-ins from Daniel Baldo and Trey Hilbert.
Later, Palmyra led 30-8 at intermission.
"I don't think our zone attacks early were great," said Conrad. "But once we were able to pressure them, we were able to go at our pace. Once the game went back-and-forth, we kind of opened it up. We got some turnovers and easy baskets and offensive rebounds. That pushed us in the right direction."
"When they put on that 2-2-1, we struggled," said Coletti. "We've faced full-court pressure every game, and we've done better. I don't know why we didn't do it tonight. Their pressure rattled us. They got easy baskets. It was over from there."
Edwards canned a game-high 12 points and was supported by scoring from eight teammates. The Cougars outscored the Little Dutchmen 15-3 from beyond the arc.
"Every time we match up with them, their kids compete with class," said Conrad of the Little Dutchmen. "They have some guys with varsity experience. I think they're moving in the right direction. I think they've shown that in their results."
"We're here to get better," said Coletti. "I told our guys to just compete every possession. If we can compete against really good teams like Palmyra, it's going to be beneficial. If we battle, it's going to make us better."
Thanks to a pair of Gavin Bean three-pointers, Palmyra led 36-10, 2:09 into the third period.
Annville-Cleona outscored Palmyra 19-13 in the fourth quarter.
"Part of the process is you want to get better all the time," said Conrad. "Whether you're experienced or not experienced, you want to get better, and I think we have. That's the ultimate challenge for us.
"We want to go 1-0 every time we take the floor, but we also want to be conscious of where we are going as a team," added Conrad. "That's the challenge that's still facing us. We have veteran guys who are pretty bought in."
"We've played some really good teams," said Coletti. "We're just working on competing everyday in practice. We need our seniors to carry our younger players."
To purchase images in this article please email jeff@lebcosports.com.
2021-22 Palmyra Boys' Basketball Schedule
| | | | | | |
| --- | --- | --- | --- | --- | --- |
| 2021-12-10 | A | vs | Penn Manor(3) | W | 75-42 |
| 2021-12-11 | A | vs | Donegal(3) | W | 51-47 |
| 2021-12-14 | A | vs | Lower Dauphin(3) | W | 52-44 |
| 2021-12-17 | A | vs | Red Land(3) | W | 36-32 |
| 2021-12-20 | A | vs | Annville-Cleona(3) | | 0-0 |
| 2021-12-22 | H | vs | Hershey(3) | | 0-0 |
| 2021-12-28 | A | vs | Exeter Township(3) | | 0-0 |
| 2022-01-04 | H | vs | Mechanicsburg(3) | | 0-0 |
| 2022-01-07 | A | vs | Mifflin County(6) | | 0-0 |
| 2022-01-09 | A | vs | Lebanon(3) | | 0-0 |
| 2022-01-11 | H | vs | Cedar Cliff(3) | | 0-0 |
| 2022-01-14 | H | vs | Lower Dauphin(3) | | 0-0 |
| 2022-01-17 | H | vs | Milton Hershey(3) | | 0-0 |
| 2022-01-19 | H | vs | Red Land(3) | | 0-0 |
| 2022-01-22 | H | vs | Elizabethtown(3) | | 0-0 |
| 2022-01-25 | A | vs | Hershey(3) | | 0-0 |
| 2022-01-28 | A | vs | Mechanicsburg(3) | | 0-0 |
| 2022-02-01 | H | vs | Mifflin County(6) | | 0-0 |
| 2022-02-04 | A | vs | Cedar Cliff(3) | | 0-0 |
| 2022-02-05 | A | vs | Conrad Weiser(3) | | 0-0 |
| 2022-02-11 | A | vs | Milton Hershey(3) | | 0-0 |
2021-22 Annville-Cleona Boys' Basketball Schedule
| | | | | | |
| --- | --- | --- | --- | --- | --- |
| 2021-12-10 | A | vs | Brandywine Heights(3) | L | 66-29 |
| 2021-12-11 | A | vs | Northern Lehigh(11) | W | 39-31 |
| 2021-12-15 | H | vs | Columbia(3) | L | 70-37 |
| 2021-12-17 | A | vs | Pequea Valley(3) | L | 45-43 |
| 2021-12-20 | H | vs | Palmyra(3) | | 0-0 |
| 2021-12-28 | A | vs | Tournament() | | 0-0 |
| 2021-12-29 | A | vs | Tournament() | | 0-0 |
| 2022-01-03 | A | vs | Eastern Lebanon County(3) | | 0-0 |
| 2022-01-07 | A | vs | Lancaster Mennonite(3) | | 0-0 |
| 2022-01-10 | A | vs | East Pennsboro(3) | | 0-0 |
| 2022-01-11 | A | vs | Lancaster Country Day School(3) | | 0-0 |
| 2022-01-14 | H | vs | Antietam(3) | | 0-0 |
| 2022-01-18 | H | vs | Pequea Valley(3) | | 0-0 |
| 2022-01-22 | H | vs | Northern Lebanon(3) | | 0-0 |
| 2022-01-25 | A | vs | Columbia(3) | | 0-0 |
| 2022-01-27 | H | vs | Mount Carmel(4) | | 0-0 |
| 2022-01-29 | H | vs | Camp Hill(3) | | 0-0 |
| 2022-02-01 | H | vs | Lancaster Mennonite(3) | | 0-0 |
| 2022-02-05 | A | vs | Kutztown(3) | | 0-0 |
| 2022-02-07 | A | vs | Kennard Dale(3) | | 0-0 |
| 2022-02-08 | H | vs | Lancaster Country Day School(3) | | 0-0 |
| 2022-02-10 | H | vs | Oley Valley(3) | | 0-0 |