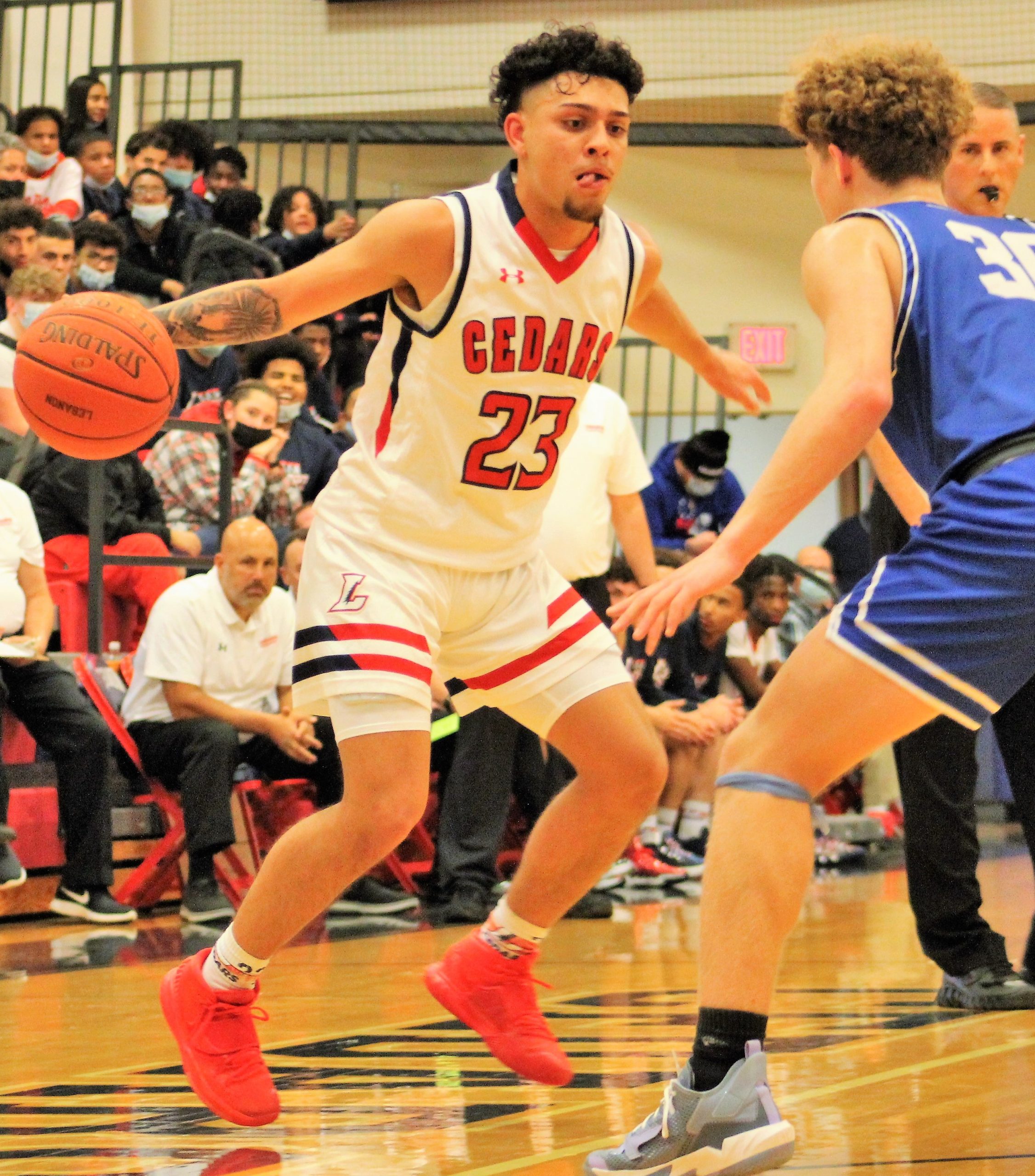 BY JEFF FALK
Editor
 LEBANON – It'll be the game within Lebanon's game all season long.
Night in and night out, the Cedars will conduct this informal, in-team competition to determine exactly who will complement senior Marquis Ferreira's scoring. Despite the fact that it should be a lot of fun, Lebanon doesn't really care who that guy is, just as long as the job gets done.
In Friday night's opening round of the 23rd Annual Lebanon Athletic Booster Tip-Off Tournament, the Cedars went with a committee approach to support Ferreira, during a 57-32 victory over Spring Grove. While Lebanon's scoring ran hot and cold, it played steady, sticky defense throughout.
In the absence of senior point guard Luke Collins, Ferreira paced the Lebanon attack with 14 points. But perhaps even more encouraging was the fact that nine other Cedars found their way into the scorebook.
The win propelled Lebanon into Saturday's 7:30 p.m. championship game of the tournament opposite Elco. The Raiders took care of Red Land 45-33 in Friday's other opener.
"I think it's going to be someone different every night," said Lebanon head coach Tim Speraw. "We have three or four guys in addition to Marquis who are capable of scoring. I'm not too concerned about it because I know it'll be somebody.
"We can't replace Luke," continued Speraw. "I thought Marquis did a good job of moving over to the point guard. But when you do that, you need someone for Marquis' spot, and I thought Adrian (Cruz) did a good job there. But you can't replace Luke's court IQ, because he's been our point guard for ten years."
A fast start provided Lebanon with an opportunity to enjoy success.
The Cedars trailed only once, at 3-2, then over the next 11 minutes of action held Spring Grove to a single basket, while opening a 21-5 bulge. Ferreira tallied 11 points during that decisive spurt, while Nathanael Diaz popped for four points and Cruz nailed a three-pointer.
"I'm happy with the way we played," said Speraw. "Coming in, I wasn't sure, because we had some holes to fill. We ran our stuff, and I was pleased with the effort, pleased with the attitude. But I think our effort was what I was most pleased about.
"We were all over the floor, we were on the boards, we shared the ball and we got the shots we wanted," added Speraw. "We took care of the ball. They (the Rockets) were physical, but we handled the pressure. It was just a lot of good throughout the game."
With Cruz tallying four points and Ferreira scoring on a driving lay-in, Lebanon ended the first half with a 6-3 spurt and a 27-11 margin.
"I don't think I'm ever comfortable," said Speraw. "The message at halftime was, 'keep your foot on the pedal'. We wanted to take care of the basketball and take care of ourselves."
It was an 8-0, third-period run that put the outcome on ice. Kevin Smith, Kameron Uffner, Diaz and Ferrira all notched inside buckets, as Lebanon expanded its lead to 37-12.
Then, when junior Emanuel Mason opened the final quarter with a three-point field goal, the Cedars were sitting on a 45-23 cushion.
"I thought we played well defensively in spurts," said Speraw. "There's some stuff that we need to clean up. I thought we gambled too much on defense. But overall I thought we did a good job.
"It's always good to play against someone in a different colored uniform," Speraw continued. "I thought we were ready to play. I'm pleased that we came out with the right attitude."
Lebanon out scored Spring Grove 30-14 on two-point field goals. The Cedars connected on nine of their 16 free throw attempts.
"They're big and strong," said Speraw of Saturday's match-up with the Elco Raiders. "He's (Elco's Luke Williams) a specimen. We're going to have to make sure we're boxing out."
To purchase images in this article please email jeff@lebcosports.com.
2021-22 Lebanon Boys' Basketball Schedule
Date
Opponents
12/10
7:30 pm
Spring Grove
at Lebanon
Nonleague
12/11
TBD
TBA
at Lebanon
Nonleague
12/11
TBD
TBA
at Lebanon
Nonleague
12/14
7:30 pm
Lebanon
at Governor Mifflin
Nonleague
12/16
7:30 pm
Lebanon
at Ephrata tournament
League
12/18
2:30 pm
Hershey
at Lebanon
Nonleague
12/21
7:30 pm
Elizabethtown
at Lebanon
League
12/28
7:30 pm
Lebanon
at Cedar Crest
Nonleague
12/29
TBD
Lebanon
TBA
at Cedar Crest
Nonleague
1/07
7:30 pm
Lebanon
at Conestoga Valley
League
1/21
7:30 pm
Lebanon
at Penn Manor
League
1/24
7:30 pm
Lebanon
at Garden Spot
Nonleague
1/25
7:30 pm
Ephrata
at Lebanon
League
2/01
12:00 pm
Lebanon
at Elizabethtown
League
2/04
7:30 pm
Lebanon
at Warwick
League
2/07
7:30 pm
Lower Dauphin
at Lebanon
Nonleague
2/08
7:30 pm
Conestoga Valley
at Lebanon
League