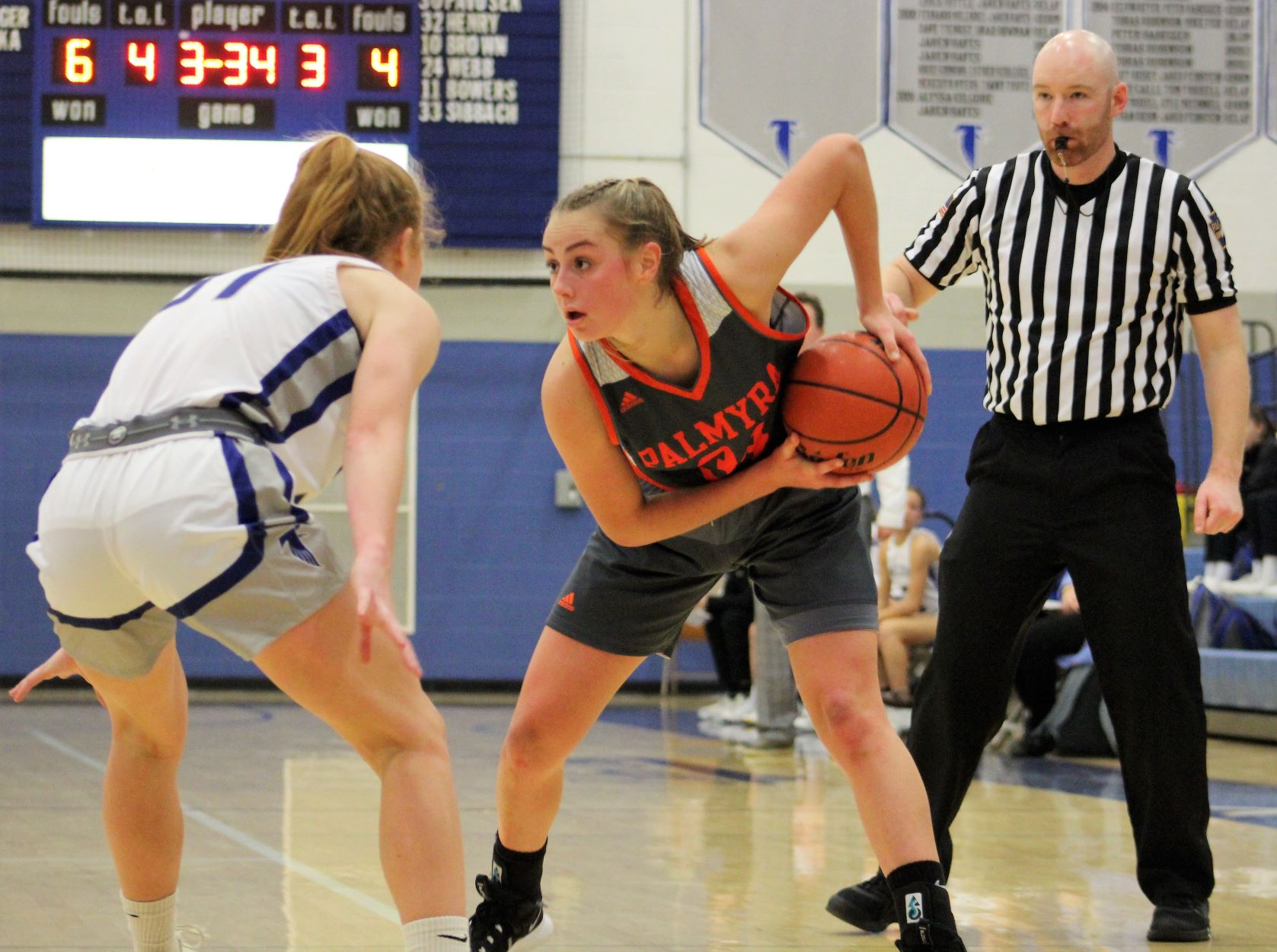 BY JEFF FALK
Editor
SOUTH LEBANON – It was a tough game. It was an intense game. It was an even game.
It was a defensive game. It was a close game.
It was a good game.
It was a game decided by one good play, made by one good player, at one critical moment.
On Saturday night at 'The Cage', the Palmyra girls' basketball edged Cedar Crest 34-32 on senior guard Zoe Smith's floater from the baseline with 12 seconds remaining. Smith's game-winning shot settled a hard-fought contest in which neither side ever led by more than a couple of possessions, one which on a number of occasions looked like it might be headed to overtime.
"That was a defensive game," said Palmyra head coach John Polly. "We won the game with defense. We slowed them (the Falcons) down. We wanted them playing at an uncomfortable pace.
"We needed this game, morale-wise," added Polly. "We won the Northern Lebanon tournament, then lost two games at home. This could be a defining moment for this team. We could've seen the season go south real quick. To bounce back against a team that's off to a quick start is a positive."
"It was just one of those tough defensive battles," said Cedar Crest head coach Will Wenninger. "At times, we struggled to score points. Palmyra is a well-coached team. They did a nice job on us defensively and I didn't make any adjustments.
"This is the second night in-a-row that I let my kids down," Wenninger added. "I didn't do a very good job of managing the last three minutes of the game."
With the result, Palmyra improved to 3-2 overall. The setback evened Cedar Crest's season at 2-2.
"Zoe made a heck of a shot," said Polly. "If that doesn't go in, we're probably still playing. Then, after that might have been the ten best seconds of defense we've played all year.
"But I thought we played inspired all game," Polly continued. "It was something we lacked against Lower Dauphin and Red Land. I told the girls, 'stop playing for me, stop playing for yourself, stop playing for your coaches and go play for each other'. We were locked in from the opening tip-off, and it never stopped. We just kept getting good shots."
"She made a tough shot going left. She pulled up from 12 feet," said Wenninger of Smith. "She's a nice player. She's a nice kid.
"I should've called a timeout with 14 seconds left, and worked the ball up the floor," continued Wenninger. "I should've called a timeout to settle down our kids. When you go back and think in your mind about how many errors I made, it's embarrassing."
Down three, Palmyra opened the final quarter on a 7-0 run highlighted by four points from Smith, to take a 30-26 lead. But with 32 seconds remaining, Mallory Deiderick tied the game at 32 for the Falcons with a move inside.
"I don't think anyone had more than a four-point lead," said Polly. "Every possession could be a deciding one. Tonight, we worked harder for shots. We were moving the ball, penetrating and finding open people, and when you do that, shots are going to go in."
It was the Falcons who tallied the first two baskets of the second half – both on inside moves from senior forward Sarah Batra – to establish a 21-17 advantage. Then after Mallory Margut, Maddie Henry and Smith retaliated for the Cougars, Batra nailed a three-pointer to give Cedar Crest a 26-23 edge.
"I think we're getting where we need to be," said Wenninger. "I think we have some things to work on offensively. We need to shoot better foul shots. We need to finish around the rim."
Smith's total of 13 points led Palmyra's balanced attack, while Batra's 19 points led all scorers. The Cougars outscored the Falcons 24-20 on two-point field goals.
"Zoe played Batra all game," said Polly. "She made her work for everything she got. I thought she did a fantastic job on her. I was very pleased. It was a great team effort.
"Mallory was everywhere," added Polly. "I thought there were three of her out there on defense. I thought Maddie Henry played well as well."
After Cedar Crest netted the initial five points of the contest, Palmyra responded with a Margut bucket, Kaylee Brown's steal and lay-up and a charity toss from Smith. But the Falcons ended the first eight minutes of action with an 11-9 lead, courtesy of a Batra jumper.
"This was a confidence builder for us," said Polly. "They're (the Falcons) in a good place, and we beat a quality six-A team in their gym. It feels different than our first couple of wins. Now we know we can win any game if we show up. Hopefully we can carry this momentum into Wednesday (at Hershey).
"I'm super proud of these girls," continued Polly. "What a difference 24 hours makes. It's girls' high school basketball. That's why we come out here every night."
The game was tied on four different occasions in the second quarter – at 11, at 13, at 15 and at 17, at the break.
"I think the kids set some pretty high expectations for themselves," said Wenninger. "We're only four games in, and you're not going to go 22-0. The big picture is the conference (Section One of the Lancaster-Lebanon League). We want to make the league playoffs and we want to make the district playoffs, and we want to make a little run in each.
"We have kids who want to work, who want to be coached, who want to be successful," Wenninger continued. "From the foundation of a program, we can't ask anything more."
To purchase images in this article please email jeff@lebcosports.com.
2021-22 Palmyra Girls' Basketball Schedule
| | | | | | |
| --- | --- | --- | --- | --- | --- |
| 2021-12-10 | A | vs | Middletown(3) | W | 63-42 |
| 2021-12-11 | A | vs | Northern Lebanon(3) | W | 48-33 |
| 2021-12-14 | H | vs | Lower Dauphin(3) | L | 26-45 |
| 2021-12-17 | H | vs | Red Land(3) | L | 39-44 |
| 2021-12-18 | A | vs | Cedar Crest(3) | W | 34-32 |
| 2021-12-22 | A | vs | Hershey(3) | | 0-0 |
| 2022-01-04 | A | vs | Mechanicsburg(3) | | 0-0 |
| 2022-01-07 | H | vs | Mifflin County(6) | | 0-0 |
| 2022-01-11 | A | vs | Cedar Cliff(3) | | 0-0 |
| 2022-01-14 | A | vs | Lower Dauphin(3) | | 0-0 |
| 2022-01-17 | A | vs | Milton Hershey(3) | | 0-0 |
| 2022-01-19 | A | vs | Red Land(3) | | 0-0 |
| 2022-01-22 | H | vs | Elizabethtown(3) | | 0-0 |
| 2022-01-25 | H | vs | Hershey(3) | | 0-0 |
| 2022-01-28 | H | vs | Mechanicsburg(3) | | 0-0 |
| 2022-02-01 | A | vs | Mifflin County(6) | | 0-0 |
| 2022-02-04 | H | vs | Cedar Cliff(3) | | 0-0 |
| 2022-02-05 | H | vs | Conrad Weiser(3) | | 0-0 |
| 2022-02-08 | H | vs | Muhlenberg(3) | | 0-0 |
| 2022-02-11 | H | vs | Milton Hershey(3) | | 0-0 |
2021-22 Cedar Crest Girls' Basketball
| | | | | | |
| --- | --- | --- | --- | --- | --- |
| 2021-12-11 | H | vs | Harrisburg(3) | W | 42-13 |
| 2021-12-14 | A | vs | Wilson (3)(3) | W | 45-33 |
| 2021-12-17 | A | vs | Hempfield (3)(3) | L | 43-35 |
| 2021-12-18 | H | vs | Palmyra(3) | L | 34-32 |
| 2021-12-21 | H | vs | Penn Manor(3) | | 0-0 |
| 2021-12-22 | A | vs | Reading(3) | | 0-0 |
| 2022-01-03 | A | vs | Central Dauphin(3) | | 0-0 |
| 2022-01-05 | H | vs | J P McCaskey(3) | | 0-0 |
| 2022-01-07 | A | vs | Manheim Township(3) | | 0-0 |
| 2022-01-12 | H | vs | Elizabethtown(3) | | 0-0 |
| 2022-01-14 | A | vs | Lebanon(3) | | 0-0 |
| 2022-01-18 | H | vs | Ephrata(3) | | 0-0 |
| 2022-01-21 | A | vs | Warwick(3) | | 0-0 |
| 2022-01-25 | H | vs | Conestoga Valley(3) | | 0-0 |
| 2022-01-26 | H | vs | Mechanicsburg(3) | | 0-0 |
| 2022-01-28 | H | vs | Hempfield (3)(3) | | 0-0 |
| 2022-02-01 | A | vs | Penn Manor(3) | | 0-0 |
| 2022-02-04 | A | vs | J P McCaskey(3) | | 0-0 |
| 2022-02-08 | H | vs | Manheim Township(3) | | 0-0 |