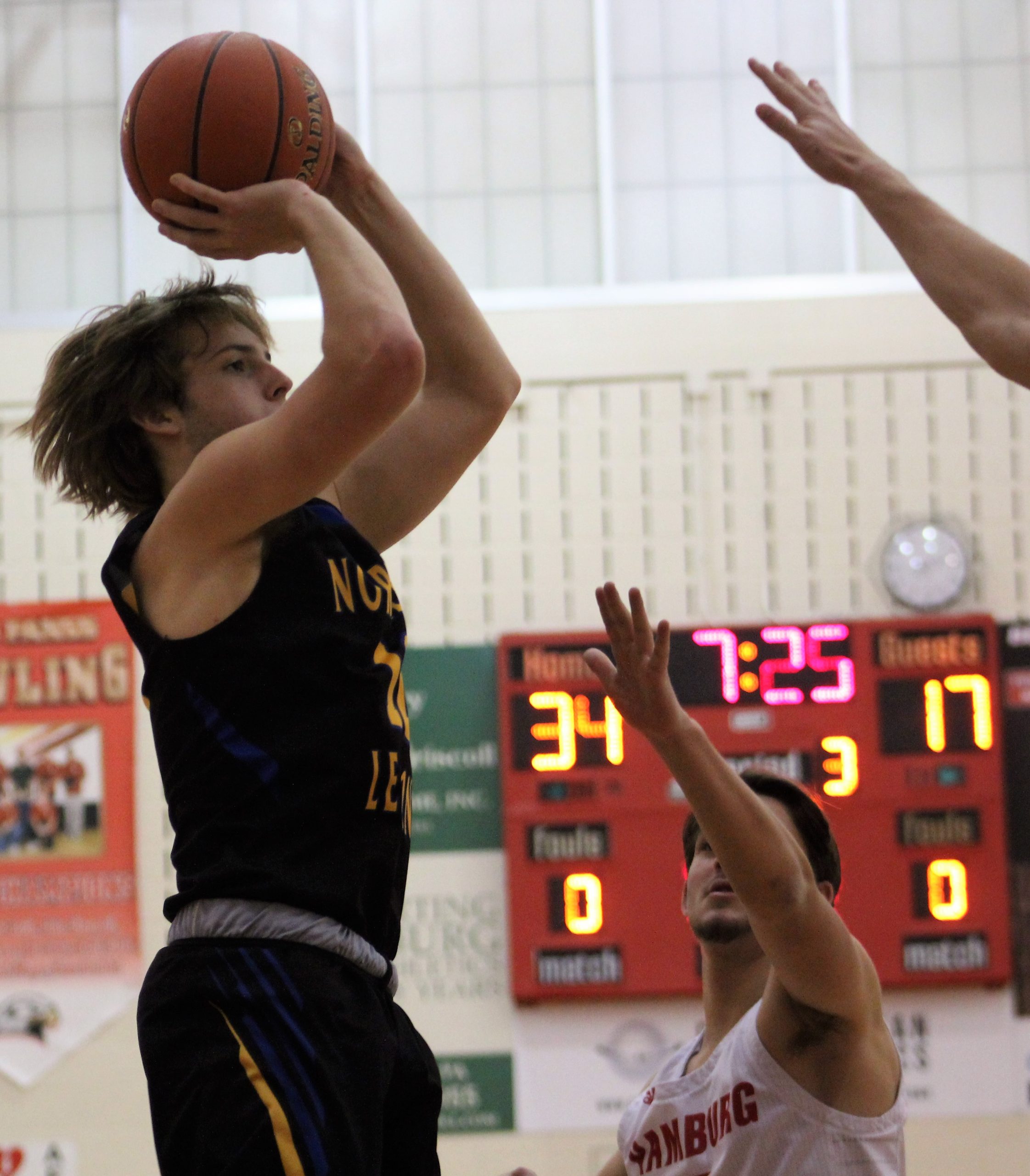 BY JEFF FALK
Editor
 HAMBURG – Basketball is a game of runs.
But it's hard to run uphill. And the bigger the hill, the harder it is to get over the hump.
On Thursday night at Hamburg High School, the Northern Lebanon boys' basketball team pieced together a number of valiant and spirited runs, but ultimately couldn't overcome an early 13-point deficit, in a 52-48 setback at the hands of the homestanding Hawks. In the end, the Vikings outscored Hamburg to start every quarter, except the first.
The loss was Northern Lebanon's fourth straight, after opening the season with a road win at Pine Gove. The Vikings are now 1-4 overall, while Hamburg improved to 2-4.
"Probably the reason we weren't able to come all the way back was that it was too big of a hill," said Northern Lebanon head coach Chris George. "A 17-point deficit is tough, and we were in some foul trouble. I thought our defense was awesome in the second half, but we still gave up some bunnies. It was nice to see some different guys step up. You've got to prove that other kids can put the ball in the hole.
"Now, it wasn't quite enough," continued George. "We had a couple of runs, but it was just too much to overcome. But I want to focus on the positives. We can be proud of the way we responded. If we make a couple more free throws and lay-ups, who knows? But we've got to get credit for not folding the tents."
After facing a 43-28 hole entering the final quarter, Northern Lebanon pulled to within a single possession of the Hawks twice. Peyton Wolfe's jumper with 1:13 to go drew the Vikings to within 49-46 of the lead, and Wolfe's two free throws with 25 second remaining made it a 51-48 game.
But the Vikings just couldn't come up with that one last play.
"I told our guys that what you do in high school sports is more than just about the scoreboard," said Geroge. "We want to talk about the good stuff, life lessons, learning from the negatives. Obviously, the first half was terrible. Our energy was really bad. We weren't ready to play, but Hamburg made plays. But they (his players) made runs in the second half. We executed.
"The life lesson that was the hardest pill to swallow was what happens when you don't bring energy and enthusiasm," added George. "It's right before Christmas, we had a half-day at school and the kids probably went home and slept. You can't be comfortable about not bringing energy. We were locked in against Elco (at home on Tuesday), and we came on the road and we didn't respond well."
Down 17 points at the break, Northern Lebanon began the third quarter with an 8-0 run to move to within 34-25 of the Hawks. Simon Grimes notched three points in the burst, Riley Clinger nailed a three-pointer and Mitchell Hetrick turned a steal into a lay-up.
"We (the coaches) challenged them at halftime," said George. "We drew up one thing on the board, then we left and let the seniors talk. They must've said something good, because they sprinted out of the locker room. The second half was a heck of an effort."
Despite Hamburg's best defensive efforts, P. Wolfe poured in 20 points on a trio of three-point field goals and nine-for-nine free throwing. But Northern Lebanon went 12-for-19 at the foul line as a team, and were outscored by two points there.
"We're 1-4, but we have 17 games to go," said George. "If we can fix some things, we'll be OK. We want our guys to be excited about what they do."
It was Hamburg's 8-0 start to the contest that put Northern Lebanon in its original hole. It was 16-3, before the Vikings closed the opening period on a modest 7-4 spurt, courtesy of three free throws from P. Wolfe and buckets by Tyler Wolfe and Luke Shaffer.
"We have some upperclassmen who are back," said George. "We think we can win some games. But we're still looking to replace some of the guys from last year. It's baby steps, and it's one step forward and two steps back."
Thanks to a P. Wolfe three-point field goal and free throws from Grimes and Hetrick, the Vikings tallied five straight points in the early moments of the second stanza to draw within 23-15 of the lead. But Hamburg ended the first half on an 11-2 run, and with a 34-17 intermission lead.
"We are there," said George. "This team has business hanging with good teams. We have not shot the ball well. But we've out rebounded every opponent and we're getting to the foul line more. We've just got to put the ball in the bucket more."
To purchase images in this article please email jeff@lebcosports.com.
2021-22 Northern Lebanon Boys' Basketball Schedule
| | | | | | |
| --- | --- | --- | --- | --- | --- |
| 2021-12-11 | A | vs | Pine Grove Area(11) | W | 55-47 |
| 2021-12-13 | P | vs | Williams Valley(11) | | 0-0 |
| 2021-12-15 | A | vs | Lancaster Catholic(3) | L | 40-60 |
| 2021-12-18 | H | vs | Manheim Central(3) | L | 40-64 |
| 2021-12-21 | H | vs | Eastern Lebanon County(3) | L | 39-50 |
| 2021-12-23 | A | vs | Hamburg(3) | L | 48-52 |
| 2021-12-28 | H | vs | Annville-Cleona(3) | | 0-0 |
| 2021-12-29 | H | vs | tournament() | | 0-0 |
| 2022-01-04 | H | vs | Octorara(3) | | 0-0 |
| 2022-01-09 | A | vs | Donegal(3) | | 0-0 |
| 2022-01-11 | H | vs | Lampeter Strasburg(3) | | 0-0 |
| 2022-01-13 | A | vs | Cocalico(3) | | 0-0 |
| 2022-01-18 | H | vs | Garden Spot(3) | | 0-0 |
| 2022-01-20 | A | vs | Solanco(3) | | 0-0 |
| 2022-01-22 | A | vs | Annville-Cleona(3) | | 0-0 |
| 2022-01-25 | H | vs | Lancaster Catholic(3) | | 0-0 |
| 2022-01-29 | H | vs | Susquehannock(3) | | 0-0 |
| 2022-01-31 | A | vs | Schuylkill Valley(3) | | 0-0 |
| 2022-02-01 | A | vs | Eastern Lebanon County(3) | | 0-0 |
| 2022-02-03 | H | vs | Conrad Weiser(3) | | 0-0 |
| 2022-02-05 | A | vs | Octorara(3) | | 0-0 |
| 2022-02-09 | H | vs | Donegal(3) | | 0-0 |

Lebanon Federal Credit Union