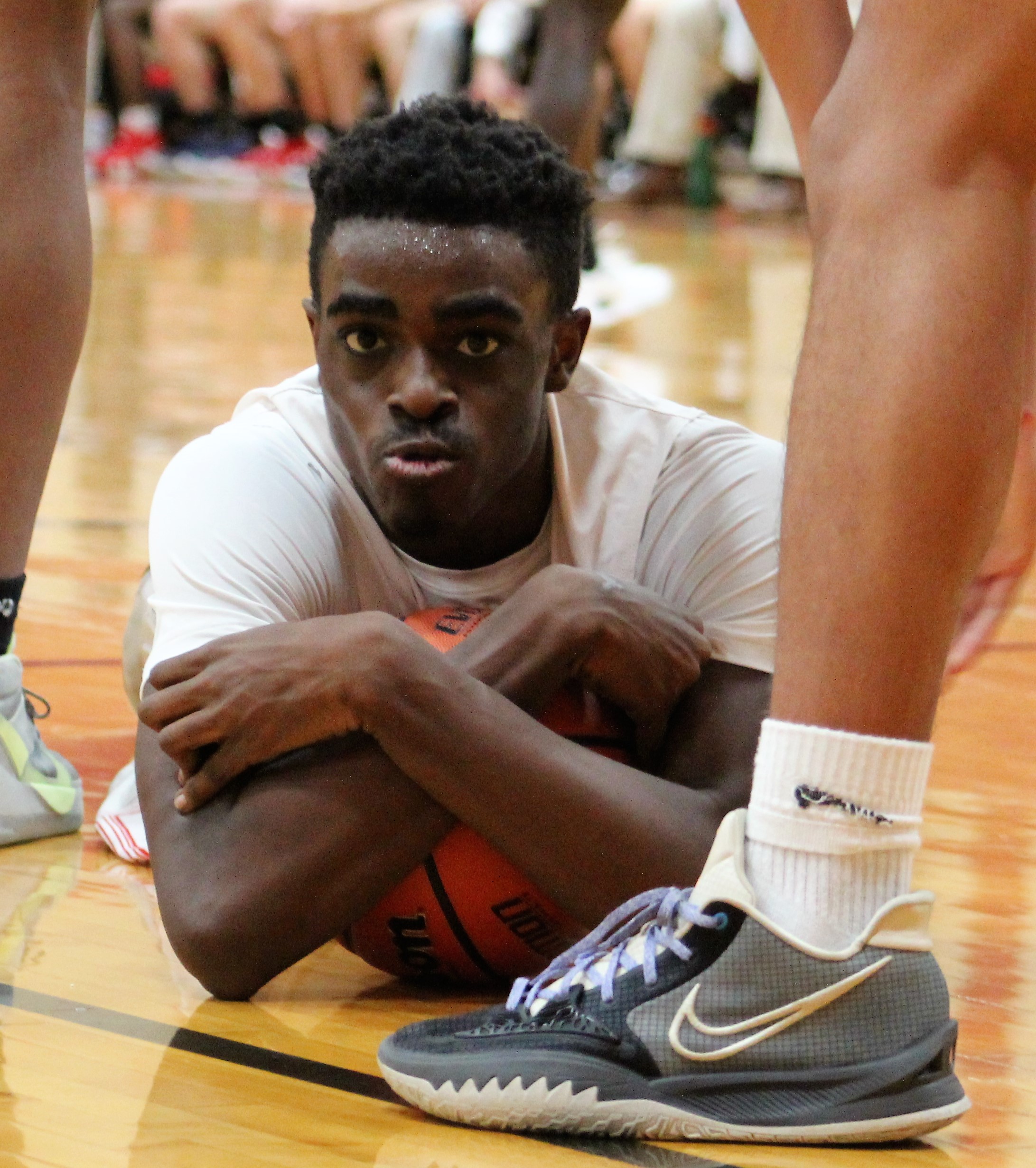 BY JEFF FALK
Editor
ANNVILLE – Winless campaigns have a way of tempering future expectations. They make it easier to identify positives and overlook negatives.
But at the heart of it, the Annville-Cleona boys' basketball team is made up of a bunch of realists.
On Wednesday night at Annville-Cleona High School's 'The Barn', positives for the Little Dutchmen weren't that hard to find, even though they dropped a 70-37 mercy-rule decision to a strong Columbia squad. Annville-Cleona was game early, but ultimately succumbed to its own turnovers, and the Crimson Tide's rebounding and overall athleticism.
After going 0-14 in 2020-21, the Little Dutchmen are now off to a 1-2 start this season. The triumph marked Columbia's third straight victory to open the current campaign.
The contest served as the Lancaster-Lebanon Section Five opener for both schools.
"Last year, we had a bunch of first-year players," said Annville-Cleona head coach Jason Coletti. "And this year we have five more first-year players. I think we're still adjusting to game speed. We're a work in progress. But I love our effort and competitiveness.
"Last year was about COVID-19 and masks and being winless," added Coletti. "It's not fun to remember, but if you forget it you don't learn from it. We needed it for fuel in the off-season. Now that we're here, we've just got to focus on getting better every day."
Annville-Cleona never led after the Crimson Tide scored on each of its first three possessions and grabbed an 8-0 advantage 90 seconds into the contest. But neither did the Little Dutchmen fold.
Senior Simon Domencic tallied five points and teammate Isaac Good accounted for four more, as Annville-Cleona pieced together a subsequent 9-2 run to pull within 15-11 of the lead.
"We can't start in an 8-0 hole against any team, much less a Columbia," said Coletti. "We just weren't in the right spots. I told our guys that we have to get back on defense.
"But we clawed our way back into it," Coletti added. "Basketball is a game of runs. I told them to just keep playing. The start of the game has to be better, but we put forth a good effort against a great team. It was a matter of continuing to play hard."
"Our guys played with great energy on defense," said Columbia head coach Kerry Glover. "We were a little stagnant in the middle of the first quarter, but then we picked it back up again."
When Jake Mills converted a driving lay-in early in the second stanza, the Little Dutchmen were still right there, down just 21-15. But over the final six minutes of the first half, Columbia outscored Annville-Cleona 15-4 to take a 36-19 bulge to the locker room.
"The message at halftime was just, 'Keep playing hard. Win the third quarter,'" said Coletti. " 'Don't look at the score. Focus on the things we need to do to get better.' I thought for the most part we did that.
"Columbia is really good. They're going to make a deep run in the playoffs," continued Coletti. "We've seen them going on four years now. We're trying to get our guys to play the way they do. But we battled. We didn't roll over."
Domencic and senior teammate Da'Modric Green tied for team-high scoring honors with ten points apiece. The Crimson Tide outscored the Little Dutchmen 27-3 from three-point land.
Annville-Cleona was also plagued by 29 turnovers.
"We need to get off to a good start," said Coletti. "When you're in a hole early, it's an uphill battle. But last year I'm not sure if we would've kept fighting."
Columbia started the second half on a 12-4 spree to extend its advantage to 48-23.
"Our goal is to be in the district playoffs," said Coletti. "It's something we need to shoot for every year. We play some really good teams in our section, so there might be some tough nights for us. But I think that goal gives meaning to your season."
"They were tough," said Glover of the Little Dutchmen. "Every time we come here, with the way the gym is set up, we have to bring our own energy. We have to make sure we're our own sixth, seventh and eighth man."
To purchase images in this article please email jeff@lebcosports.com.
2021-22 Annville-Cleona Boys' Basketball Schedule
| | | | | | |
| --- | --- | --- | --- | --- | --- |
| 2021-12-10 | A | vs | Brandywine Heights(3) | L | 66-29 |
| 2021-12-11 | A | vs | Northern Lehigh(11) | W | 39-31 |
| 2021-12-15 | H | vs | Columbia(3) | | 0-0 |
| 2021-12-17 | A | vs | Pequea Valley(3) | | 0-0 |
| 2021-12-20 | H | vs | Palmyra(3) | | 0-0 |
| 2021-12-28 | A | vs | Tournament() | | 0-0 |
| 2021-12-29 | A | vs | Tournament() | | 0-0 |
| 2022-01-03 | A | vs | Eastern Lebanon County(3) | | 0-0 |
| 2022-01-07 | A | vs | Lancaster Mennonite(3) | | 0-0 |
| 2022-01-10 | A | vs | East Pennsboro(3) | | 0-0 |
| 2022-01-11 | A | vs | Lancaster Country Day School(3) | | 0-0 |
| 2022-01-14 | H | vs | Antietam(3) | | 0-0 |
| 2022-01-18 | H | vs | Pequea Valley(3) | | 0-0 |
| 2022-01-22 | H | vs | Northern Lebanon(3) | | 0-0 |
| 2022-01-25 | A | vs | Columbia(3) | | 0-0 |
| 2022-01-27 | H | vs | Mount Carmel(4) | | 0-0 |
| 2022-01-29 | H | vs | Camp Hill(3) | | 0-0 |
| 2022-02-01 | H | vs | Lancaster Mennonite(3) | | 0-0 |
| 2022-02-05 | A | vs | Kutztown(3) | | 0-0 |
| 2022-02-07 | A | vs | Kennard Dale(3) | | 0-0 |
| 2022-02-08 | H | vs | Lancaster Country Day School(3) | | 0-0 |
| 2022-02-10 | H | vs | Oley Valley(3) | | 0-0 |

Lebanon Federal Credit Union