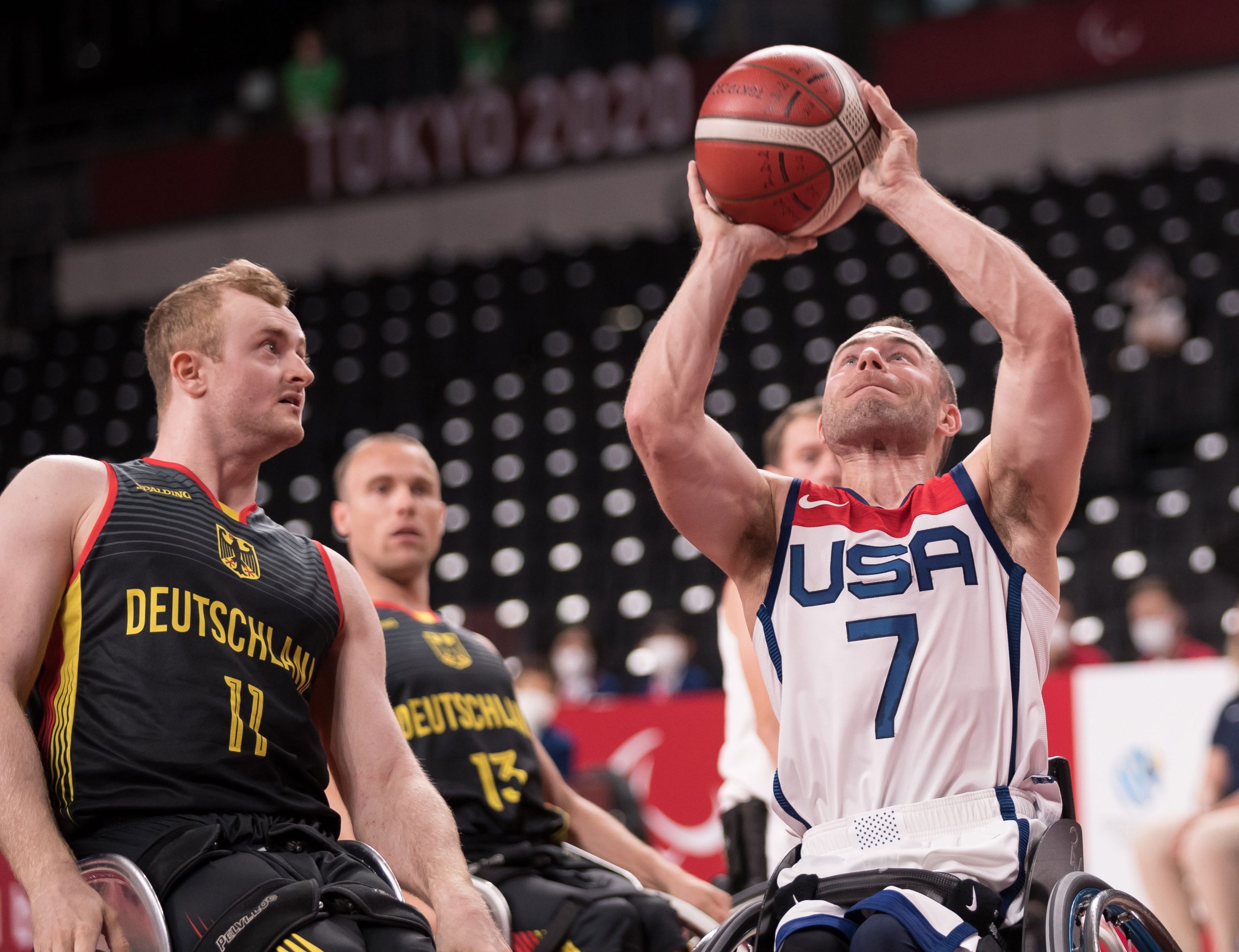 Photos Courtesy of Wheelchair Sports Federation
There is absolutely, positively nothing like ascending to the top of your chosen pursuit on the world stage while representing your country. It's the best. It's the pinnacle of success.
Unless of course, it's helping sparking interest or influencing the way people think or promoting cultural change. That's the kind of power that sports wield. That's the kind of power a gold medal wields.
On September 5th in Tokyo, Lebanon native Ryan Neiswender and the United States Men's Wheelchair basketball team captured the gold medal at the Paralympic Games. It was a once-in-a-lifetime experience for the 2013 graduate of Cedar Crest High School, as well as a boyhood dream realized.
"One of my co-workers and his family watched every one of my games in Tokyo," said Neiswender. "At the end, they were watching because they had become fans of wheelchair basketball. Because of NBC sports coverage, Americans got to see Paralympic sports in primetime, and they became fans. Now people have heard of Paralympics.
"When you look at wheelchair basketball, the wheelchair is just equipment we use to play, like Kevin Durant uses shoes to play," added Neiswender. "People say, 'I could never do that. It's too hard.' But that's not true. They could if they put their mind to it and practiced. Too many people see the wheelchair as being a disability. But to me, it's just equipment I need to play the game I love. There are so many parallels between the Paralympics and the Olympics. It's pretty cool to see it becoming mainstream."
During the Paralympic games, Neiswender and the United States men's basketball team went 7-1 during the pool play and medal rounds of the competition, including a 64-60 victory over Japan in the gold medal game. The United States defended the gold medal it had won in Rio de Janiero in 2016, but even though America entered the tournament as the favorite, it did have to overcome adversity, most notably a disappointing loss to Great Britain in pool play.
Neiswender, who was born with Arthrogryposis, an affliction which affected the development of the quadricep muscles in his legs, started all eight games for the United States.
"I think the goal going in was we wanted to run the table, we wanted to go 8-0," said Neiswender. "We didn't do that. But there's a saying, 'Great teams are defined by what happens after a loss'. After we lost that game to Great Britain, we had to let it sink in and let it hurt. We beat Australia the next day by a lot, and it was a statement like, 'that loss was a fluke'. It showed what kind of character the team had.
"What's cool about playing for team USA is that we're 12 strong," continued Neiswender. "We really rotate. We hit you in waves. I'm quick and can shoot well. I play good defense and can knock down the 15-footer. You have a role on the team and it's the teams whose players play their roles that end up on the podium. Just do the simple things better than anyone else."
What made Neiswender's gold medal experience in Tokyo even more rewarding was the fact that he was selected as an alternate to the United States Men's Wheelchair Basketball team in 2016, and didn't get to actively compete at the Rio de Janiero Paralympic games. At 27, Neiswender is an experienced member of Team USA, a veteran in international competition and a former four-time NCAA All-American at the University of Illinois at Urbana – Champaign.
"I think any time you get to wear 'USA' across your chest is special," said Neiswender. "You never know the next time you're going to get to do it and you know you have to make the most of it. You know the world is watching and there's a level of letting it all sink in. Now that I've had a few weeks to reflect on it, I think it has grown on me more and more.
"When they put that gold medal around your neck it's heavy, and it helped me remember all the people who made it possible," Neiswender added. "I represented my country. There's no way to get a gold medal without wearing 'USA' across your chest. That's what we've been working towards, winning the gold medal."
Growing up at Cedar Crest, where his father Daryl Neiswender coached Falcon soccer, Neiswender was always around sports. Neiswender began playing wheelchair sports like tennis and basketball when he was eight years old, before eventually gravitating towards wheelchair basketball.
Neiswender never viewed Arthrogryposis as a disability, just a challenge to overcome.
"I knew what I always wanted to do athletically, but I wasn't able to move as fast as other athletes," said Neiswender. "The wheelchair allowed me to do that. Just because I'm in a wheelchair doesn't mean I'm not going to beat you, that I'm not going to take it to you.
"I think my game has improved over the years," continued Neiswender. "I can do the basics faster and stronger and more consistently than anyone else. It's the teams that are the most consistent that end up on the top of the podium, and it's the consistent players who make those teams go. It's kind of like what coaches say after a loss, 'We need to go back to the basics.'"
Neiswender is the first athlete from Lebanon County to ever win a gold medal at the Paralympic Games. Another former Cedar Crest athlete, Jamie Corkish, captured a gold medal in air rifle shooting at the 2012 Olympics in London.
"I knew Jamie when she was Jamie Beyerle," said Neiswender. "She played soccer and my dad coached her. We're definitely in elite company in terms of bringing gold medals back here to the Lebanon County area. I do feel like people from Lebanon were rooting for me. So many people have reached out to me since I won the gold medal.
"I think the biggest thing to point out is that I didn't do it alone," added Neiswender. "I'm a Paralympian and a Paralympic gold medalist, but it's not a Ryan gold medal, it's a family gold medal, because so many people have made sacrifices to make it happen. I've come to realize now more than ever that I couldn't have done it without the support from the people around me. Anything worth accomplishing is never done by yourself."
Of course, there is this personal, self-motivation piece associated with Neiswender's on-going journey.
Instead of extinguishing it, the Paralympic gold medal that he earned has only served to stoke the competitive fire that burns inside of Neiswender. At this point of his career, he can't imagine a life that doesn't include wheelchair basketball.
"I guess I feel like I have more to give to the game," said Neiswender, who now lives in Charlotte, North Carolina and works as a business strategy and operations manager for Visa Global. "I'm going to keep playing. What's really unique is that the guys who have come before me, guys who I looked up to, showed me how to play with class and how to win a gold medal with class. I'm going to enjoy this one. There's still an element of reflecting on what we just did. But I'm looking forward to going after one more.
"Pretty much any spare time that I have is spent on wheelchair basketball," concluded Neiswender. "You can't get this far in sports without a certain level of commitment. It's that continuing process to become the best."
And the inspiring effect it can have on the world around you.
Editor's Note: This article first appeared in the November, 2021 issue of Go Local Magazine.