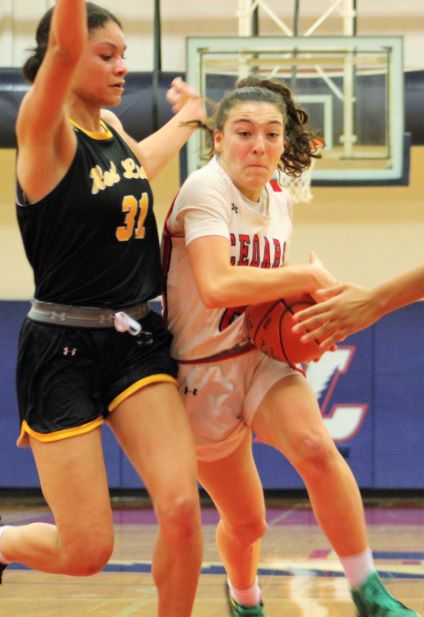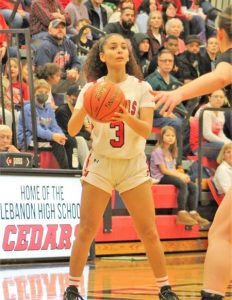 BY JEFF FALK
Editor
LEBANON – Of course, if it's a basketball game, the Lebanon girls want to win it.
Yeah, a positive result could hypothetically produce a better opportunity in the next tournament.
And sure, they always, always want to do their best.
But for the Cedars, at least a little of this was about confidence.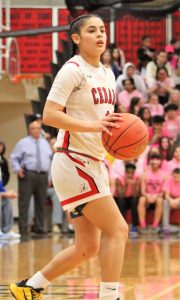 On Wednesday night at Lebanon High School, the Cedars bested Red Lion 49-44, to claim fifth-place in the District Three Class AAAAAA playoffs. After leading most of the way, third-seeded Lebanon needed to come up with some big plays during crunch time to secure victory.
Not only did it come at the expense of one its better opponents this season, the triumph served to right the Cedars' ship, just a bit. Lebanon had suffered earlier playoff defeats to, first Columbia and then Dallastown, that cost it shots at Lancaster-Lebanon League and District Three Class AAAAAA titles.
Now, as the fifth-place finisher out of District Three, Lebanon will carry a 26-2 record into the opening round of the PIAA Class AAAAAA. The Cedars will meet the District One runner-up on Friday, March 10, at a site and time yet to be announced.
Fourth-seeded Red Lion slipped to 17-8 on the year.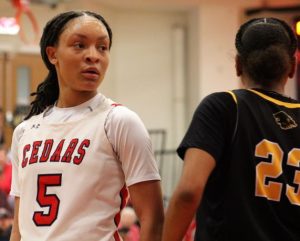 "In the Columbia and Dallastown games, I thought the pressure kind of got to us and we started to see some inexperience in playoff games," said Lebanon head coach Jaime Walborn. "We talked about that in practice. In the (Manheim) Township game (a 50-44 win on Monday), we showed confidence, and tonight, we showed confidence. I thought we did a really nice job of not panicking. That's telling me they're (her players) learning those lessons.
"They're all important," Walborn continued. "We want to go into the state tournament with a win. All the games we play at this point are important."
Lebanon enjoyed modest leads throughout, but just couldn't shake Red Lion. Then, 3:23 into the fourth quarter, the Lions took their first lead of the game, at 38-37.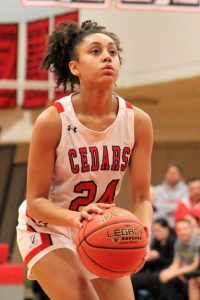 But the Cedars answered with a decisive 12-6 run to close it out. Senior Aaliyah Ferrer tallied eight of those points – mostly on hustle and three-point shooting – while teammates Olive Brandt and Lilly Harrison each contributed a couple of free throws.
"We took care of the ball and we took the opportunities they gave us," said Walborn. "We were patient, We looked for the next best shot, and we answered right away.
"Teams know us and they know we like to transition," Walborn added. "We've had to run our offense more in the playoffs. We're going to need to do that for the future any way. We're going to have to play two sides of the ball."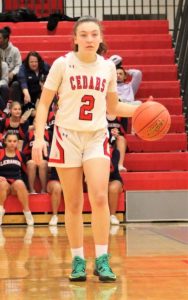 With Brandt connecting on a pair of charity tosses and Kailah Correa converting a driving lay-in, Lebanon notched the first four points of the third quarter to push its five-point halftime margin to 30-21. But a Harrison stick-back was all the offense the Cedars could muster over the final 4:35 of the period, as Lebanon carried a 35-29 margin into the final quarter.
"I thought we played well," said Walborn. "Olive was a difference-maker tonight, because Red Lion came out and defended Kailah well. Olive handled the ball and looked to score more. I thought Zariyah (Whigham) and Lilly did a great job of getting rebounds and providing a post presence on defense."
Brandt's 17 points led Lebanon's scoring, while Ferrer netted 15 points and Correa posted ten. The Cedars drained 13 of their 18 foul shots and outscored the Lions by eight points at the free throw line.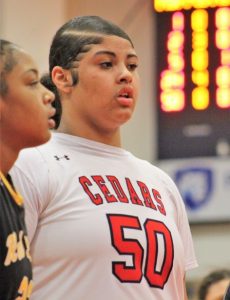 "It's the playoffs, every team we meet is going to be a good team," said Walborn. "We're seeing competition. The level of play, everything is increased. The pressure is increased. There's a difference in the teams when you're playing in the playoffs. I think we're still doing the little things we did throughout the season."
Lebanon notched nine of the contest's first 11 points to assume an early seven-point margin. Ferrer accounted for four of those points, Brandt nailed a three-pointer and Correa took one hard to the bucket.
After Red Lion closed to within 17-14 in the middle of the second stanza, Lebanon led 26-21 at the break.
'We've got to take it one game at a time," said Walborn of the upcoming state playoffs. "We'll find out who we play on Saturday. We'll prepare for that next team, and we'd like to get past that first round."
To purchase images in this article please email jeff@lebcosports.com.
2022-23 Lebanon Girls' Basketball Results
| | | | | | |
| --- | --- | --- | --- | --- | --- |
| 2022-12-06 | H | vs | Manheim Central(3) | W | 43-40 |
| 2022-12-09 | A | vs | Bethlehem Catholic(11) | W | 55-53 |
| 2022-12-10 | A | vs | Fleetwood(3) | W | 59-24 |
| 2022-12-13 | A | vs | Governor Mifflin(3) | W | 51-45 |
| 2022-12-16 | A | vs | Manheim Township(3) | W | 53-50 |
| 2022-12-19 | H | vs | Garden Spot(3) | W | 82-30 |
| 2022-12-21 | H | vs | J P McCaskey(3) | W | 59-40 |
| 2022-12-28 | H | vs | Northern Lebanon(3) | W | 64-45 |
| 2022-12-29 | H | vs | Palmyra(3) | W | 59-34 |
| 2023-01-06 | A | vs | Cedar Crest(3) | W | 51-38 |
| 2023-01-10 | H | vs | Penn Manor(3) | W | 63-30 |
| 2023-01-12 | A | vs | Hempfield (3)(3) | W | 52-50 |
| 2023-01-14 | H | vs | Ephrata(3) | W | 50-39 |
| 2023-01-16 | A | vs | Hershey(3) | W | 71-30 |
| 2023-01-20 | H | vs | Manheim Township(3) | W | 60-55 |
| 2023-01-24 | A | vs | J P McCaskey(3) | W | 64-51 |
| 2023-01-27 | H | vs | Cedar Crest(3) | W | 66-64 |
| 2023-01-31 | A | vs | Cocalico(3) | W | 47-40 |
| 2023-02-02 | A | vs | Penn Manor(3) | W | 66-45 |
| 2023-02-04 | H | vs | Reading(3) | W | 67-40 |
| 2023-02-07 | H | vs | Hempfield (3)(3) | W | 60-49 |
| 2023-02-09 | H | vs | Milton Hershey(3) | W | 54-36 |
PIAA District Three Class AAAAAA Power Rankings
| | | | | | | | | | | | |
| --- | --- | --- | --- | --- | --- | --- | --- | --- | --- | --- | --- |
| AAAAAA | School |  W |  L |  T |  Rating |  TWP |  OWP |  TWPW |  OWPW |  TWPL |  OWPL |
| 1 | Cedar Cliff | 21- | 0- | 0 |  0.811810 |  1.000000 |  0.581800 |  24.75 |  259.25 |  0.00 |  186.35 |
| 2 | Central York | 19- | 2- | 0 |  0.810250 |  0.936842 |  0.655527 |  22.25 |  303.05 |  1.50 |  159.25 |
| 3 | Lebanon | 22- | 0- | 0 |  0.807980 |  1.000000 |  0.573290 |  26.40 |  272.80 |  0.00 |  203.05 |
| 4 | Red Lion | 16- | 6- | 0 |  0.739140 |  0.805785 |  0.657686 |  19.50 |  318.55 |  4.70 |  165.80 |
| 5 | Central Dauphin | 17- | 4- | 0 |  0.737592 |  0.874214 |  0.570609 |  20.85 |  253.55 |  3.00 |  190.80 |
| 6 | Northeastern | 17- | 5- | 0 |  0.700022 |  0.815678 |  0.558664 |  19.25 |  267.60 |  4.35 |  211.40 |
| 7 | Manheim Township | 15- | 7- | 0 |  0.699663 |  0.775210 |  0.607329 |  18.45 |  291.70 |  5.35 |  188.60 |
| 8 | William Penn | 16- | 6- | 0 |  0.697794 |  0.808511 |  0.562473 |  19.00 |  265.15 |  4.50 |  206.25 |
| 9 | Cedar Crest | 14- | 8- | 0 |  0.687361 |  0.732759 |  0.631876 |  17.00 |  307.85 |  6.20 |  179.35 |
| 10 | Ephrata | 17- | 5- | 0 |  0.686728 |  0.822176 |  0.521181 |  19.65 |  243.60 |  4.25 |  223.80 |
| 11 | Dallastown | 14- | 8- | 0 |  0.683048 |  0.733624 |  0.621233 |  16.80 |  295.80 |  6.10 |  180.35 |
| 12 | Cumberland Valley | 11- | 8- | 0 |  0.663866 |  0.696203 |  0.624344 |  13.75 |  255.95 |  6.00 |  154.00 |
| 13 | Wilson (3) | 14- | 8- | 0 |  0.643407 |  0.715517 |  0.555272 |  16.60 |  260.95 |  6.60 |  209.00 |
| 14 | Reading | 12- | 10- | 0 |  0.632199 |  0.639269 |  0.623558 |  14.00 |  299.90 |  7.90 |  181.05 |
| 15 | Hempfield (3) | 10- | 12- | 0 |  0.631140 |  0.558685 |  0.719695 |  11.90 |  359.20 |  9.40 |  139.90 |
| 16 | Carlisle | 12- | 10- | 0 |  0.626217 |  0.650000 |  0.597148 |  14.30 |  280.60 |  7.70 |  189.30 |
| 17 | J P McCaskey | 11- | 11- | 0 |  0.602655 |  0.607981 |  0.596145 |  12.95 |  273.75 |  8.35 |  185.45 |
| 18 | Governor Mifflin | 10- | 12- | 0 |  0.579633 |  0.548837 |  0.617272 |  11.80 |  293.05 |  9.70 |  181.70 |
| 19 | Harrisburg | 10- | 12- | 0 |  0.574492 |  0.562212 |  0.589501 |  12.20 |  276.80 |  9.50 |  192.75 |
| 20 | Waynesboro | 8- | 14- | 0 |  0.489255 |  0.413793 |  0.581485 |  8.40 |  270.10 |  11.90 |  194.40 |
| 21 | South Western | 7- | 15- | 0 |  0.474499 |  0.395522 |  0.571025 |  7.95 |  273.15 |  12.15 |  205.20 |
| 22 | Penn Manor | 5- | 17- | 0 |  0.464723 |  0.309896 |  0.653956 |  5.95 |  319.85 |  13.25 |  169.25 |
| 23 | Chambersburg Area | 5- | 17- | 0 |  0.454230 |  0.317010 |  0.621942 |  6.15 |  296.20 |  13.25 |  180.05 |
| 24 | Conestoga Valley | 6- | 16- | 0 |  0.435406 |  0.345178 |  0.545684 |  6.80 |  259.20 |  12.90 |  215.80 |
| 25 | York County School of Technology | 10- | 12- | 0 |  0.426180 |  0.451923 |  0.394717 |  9.40 |  181.55 |  11.40 |  278.40 |
| 26 | Dover | 3- | 18- | 0 |  0.370337 |  0.181102 |  0.601623 |  3.45 |  277.95 |  15.60 |  184.05 |
| 27 | Central Dauphin East | 2- | 20- | 0 |  0.353592 |  0.131148 |  0.625468 |  2.40 |  300.60 |  15.90 |  180.00 |

Lebanon Federal Credit Union