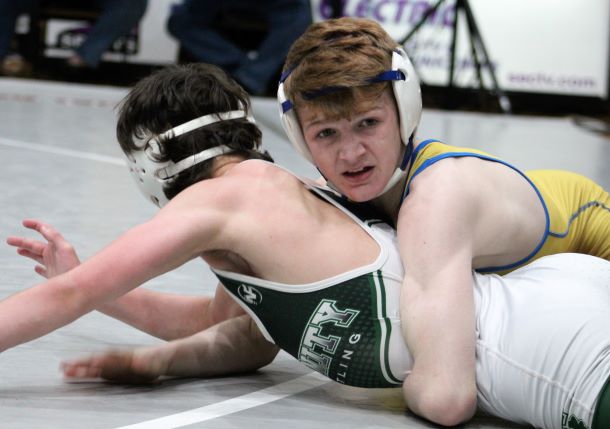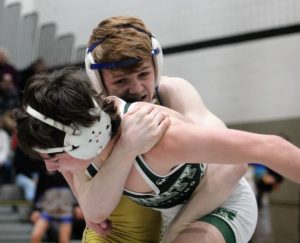 BY JEFF FALK
Editor
BETHLEHEM – Aaron Seidel had such a good time at Hershey last year, he decided to book a return trip. Only this time, the Northern Lebanon sophomore thought it might be even more fun to take some company with him.
On Saturday, during the final day of competition at the PIAA Southeast Class AA Regional wrestling tournament at Freedom High School, Seidel claimed yet another championship with a meticulous and methodical, 15-0, 6:00 technical fall of Trinity's William Detar in the final bout at 107 pounds. But Seidel's Viking teammate, freshman Sam Wolford, also punched his ticket to next week's state postseason by finishing fourth at 114 pounds.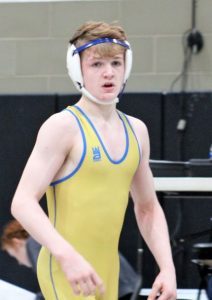 The undefeated Seidel, who has set himself up very nicely for an opportunity to defend his 2022 state championship, and Wolford, an enthusiastic 40-10 ninth-grader, will represent Northern Lebanon and Lebanon County at this week's PIAA Class AA Championships at Hershey's Giant Center, Thursday through Saturday.
"It's going to be nice to have him at states," said Seidel, of practice partner Wolford's success. "Now I'll have someone to cheer on. I can go out and wrestle and then watch Sam's matches. It's a cool experience. We're just the best of friends. Sates is an awesome experience."
"When it comes to states, the more the merrier," said Northern Lebanon head coach Rusty Wallace. "You want to take as many as possible. As the postseason goes along, it can become lonelier each week. They're (Seidel and Wolford) practice partners. They drill together.
"With Sam, I think it's more of the example that Aaron has set," continued Wallace. "Sam's a grade younger than Aaron. When someone older than you is having success it's like, 'I want to do what he's doing.' But Sam does his own work."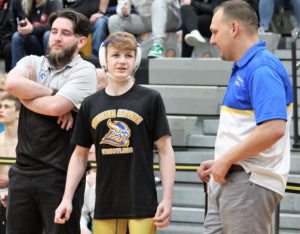 Against Detar, who he had beaten in a similar fashion a week ago in the District Three Class AA title tilt, Seidel got off to a somewhat sluggish start, before picking up the intensity during the second part of the bout.
Seidel built on a modest 2-0 first-period edge, with a takedown early in the middle stanza and a two-point near-fall near the end of it. Then he pieced together a nine-point third period to register the technical fall.
But Seidel was never really in danger of giving up a point.
The reigning state champion had moved into the final bout at 107 with a 2:22 decking of Jeffrey Spofford of Conwell-Egan in the semifinals.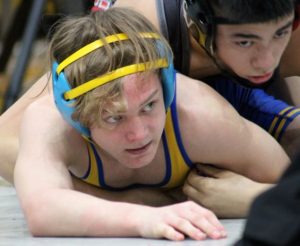 "I wrestled him last week, so I knew what I was going to do against him," said Seidel of Detar. "I just think I dug deep a little bit. The main goal is just to win. Win and advance, it doesn't matter how you do it.
"I'm definitely satisfied," added Seidel. "Now I want to show something at states. I want to do what I did last year. As a freshman, you don't have a lot of pressure. I think I have a lot more pressure because people expect me to win."
"I thought Aaron looked great," said Wallace. "He's on course to do what he wants to do. Aaron was a positive.
"For us as a team, it was a mixed bag," Wallace continued. "It always is here. It's just so tough. Other than states, this is the toughest postseason tournament."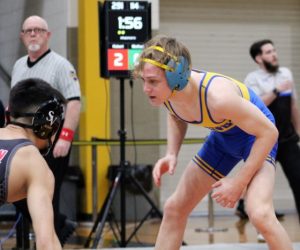 Seidel extended his season record to 41-0 and his career mark to an eye-popping 93-1. In addition to last season's state championship, Seidel has now won two Southeast Class AA regional titles, a pair of District Three crowns and a couple of Lancaster-Lebanon League championships.
"I'm just happy to be out there wrestling," said Seidel. "It's something I enjoy doing. At the bigger matches there's some pressure, but I don't feel too much pressure.
"I just work every day," Seidel added. "I've been doing this for years, not weeks. You want to become a state champion. That's the goal."
"It's his work ethic," said Wallace of Seidel. "He's a six a.m. wrestler. He'll put in nine or ten practices a week. He just loves every aspect of wrestling. You've got to love it to excel at it. Because of that, he has some really high expectations. He holds himself to a really high standard."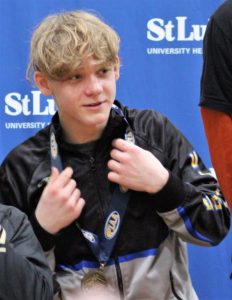 Wolford had secured his coveted spot at states with a pair of 15-0 technical falls during the opening day of competition on Friday. But in the third-place match at 114, Wolford fell to Saucon Valley's Cole Hubert, 8-5.
After falling behind Hubert 4-0, Wolford pulled to within 5-4 of the lead with a reversal ten seconds into the third period. But the more experienced Hubert posted the next three points of the bout to thwart the surge.
"We thought if he wrestled well he absolutely had a chance to get to states," said Wallace of Wolford. "The biggest concern for him was his size, he weighs 105 and he's wrestling at 114. He has a really good attitude about wrestling. He's willing to take on competition. He's earned it."
Seidel and Wolford were two of six Northern Lebanon wrestlers to qualify for the Class AA Southeast Regional tournament, along with Annville-Cleona senior Phoenix Music.
"Everybody we brought here won a match. That's a positive," said Wallace. "But it's hard to watch guys lose, end their seasons and end their careers. That's the most difficult part as a coach. I'm proud of our three seniors. They were an absolute joy to coach."
To purchase images in this article please email jeff@lebcosports.com.

Lebanon Federal Credit Union