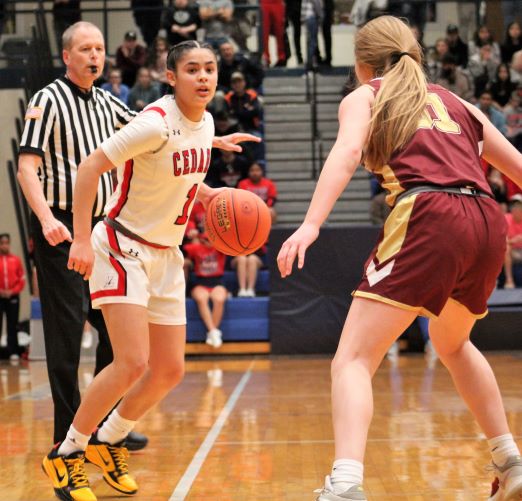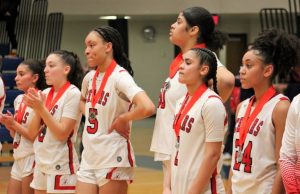 BY JEFF FALK
Editor
NEFFSVILLE – Pressure is a fickle element, but it has a way of building.
All season long, the Lebanon girls' basketball has thrived on pressure. But for the first time, it finally caught up to the Cedars, just a little bit.
On Thursday night at Manheim Township, Lebanon suffered its first loss of the season, 51-44 to a talented Columbia squad, in the Lancaster-Lebanon League championship game. After falling behind late in the first quarter, the Cedars mounted a number of spirited runs at the Crimson Tide, but just couldn't complete the winning combination.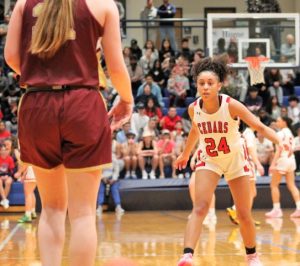 With the result, the L-L Section One champion Cedars slipped to 24-1 on the year. Next Thursday, February 23, third-seeded Lebanon will host the survivor between Northeastern and Dallastown, in the quarterfinal round of the District Three Class AAAAAA postseason.
Lebanon's L-L league championship appearance marked its first since 1998. The Cedars have captured three overall league titles, but none since 1979.
Columbia, the champion of Section Four, improved to 22-3.
"I'm sure there's pressure," said Lebanon head coach Jaime Walborn. "We came in with no losses. They're all important, but this is a championship game. But pressure is not a bad thing. We need to learn from this. We are still a young team.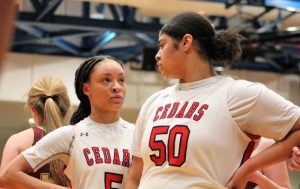 "We didn't execute offensively in the first half," continued Walborn. "This was the first time we got behind, the pressure set in and we took some bad shots. Defensively, we didn't key in on the kids we needed to key in on. They're (the Crimson Tide) a good team. It's tough to get down and come back."
Early on, Lebanon looked like the team that had steamrolled its first 24 opponents of the season. With Lily Harrison notching a couple of inside buckets, Zariyah Whigham converting a lay-in and Kailah Correa stroking a mid-range jumper, the Cedars enjoyed an early 8-2 cushion.
"I think we did what we wanted to do early, get the ball to Lily," said Walborn. "We wanted the limited the touches for Brie and Brooke (Columbia's Droege twins). We got in a hole, and it's tough to get out of against a team like that. We missed some easy shots and we missed some lay-ups.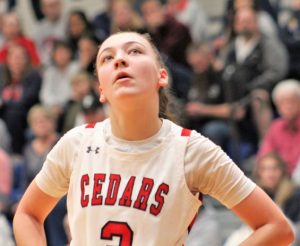 "I know this one hurts, but I told the girls not to hang their heads too long," Walborn added. "We're not done. We want to remember this feeling because we don't want to feel like this again."
Consistently beating Lebanon down the court, Columbia outscored the Cedars 24-5 during a key six-minute stretch that spanned the first and second quarters, as the Crimson Tide established a 28-15 lead. A Correa three-pointer 1:51 before halftime made Lebanon's deficit 33-25.
"We adjusted defensively and made them take tougher shots," said Walborn. "I think our momentum went off our defense."
Harrison led the Cedar scoring parade with 20 points, while Correa netted 15. The Droge twins combined for 34 of Columbia points.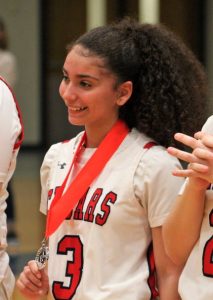 Lebanon converted just five of its 11 free throw attempts and was outscored by seven points at the charity stripe.
"We played hard," said Walborn. "We still did what we do. We have a lot to be proud of."
With 1:46 remaining in the third quarter, the Cedars pulled to within 38-35 of Columbia on a driving lay-in from Correa. Then three minutes into the final period, Correa converted a pair of foul shots to draw Lebanon to within 45-41 of the lead.
But each time, the Cedars missed on opportunities to get closer, and each time the Crimson Tide came up with answers.
"We've got a bye in districts and then have a home game," said Walborn. "We want to win that first game to get to the state tournament. That's our next milestone. We can make a run, but we've got to learn from this and move on."
To purchase images in this article please email jeff@lebcosports.com.
2022-23 Lebanon Girls' Basketball Results
| | | | | | |
| --- | --- | --- | --- | --- | --- |
| 2022-12-06 | H | vs | Manheim Central(3) | W | 43-40 |
| 2022-12-09 | A | vs | Bethlehem Catholic(11) | W | 55-53 |
| 2022-12-10 | A | vs | Fleetwood(3) | W | 59-24 |
| 2022-12-13 | A | vs | Governor Mifflin(3) | W | 51-45 |
| 2022-12-16 | A | vs | Manheim Township(3) | W | 53-50 |
| 2022-12-19 | H | vs | Garden Spot(3) | W | 82-30 |
| 2022-12-21 | H | vs | J P McCaskey(3) | W | 59-40 |
| 2022-12-28 | H | vs | Northern Lebanon(3) | W | 64-45 |
| 2022-12-29 | H | vs | Palmyra(3) | W | 59-34 |
| 2023-01-06 | A | vs | Cedar Crest(3) | W | 51-38 |
| 2023-01-10 | H | vs | Penn Manor(3) | W | 63-30 |
| 2023-01-12 | A | vs | Hempfield (3)(3) | W | 52-50 |
| 2023-01-14 | H | vs | Ephrata(3) | W | 50-39 |
| 2023-01-16 | A | vs | Hershey(3) | W | 71-30 |
| 2023-01-20 | H | vs | Manheim Township(3) | W | 60-55 |
| 2023-01-24 | A | vs | J P McCaskey(3) | W | 64-51 |
| 2023-01-27 | H | vs | Cedar Crest(3) | W | 66-64 |
| 2023-01-31 | A | vs | Cocalico(3) | W | 47-40 |
| 2023-02-02 | A | vs | Penn Manor(3) | W | 66-45 |
| 2023-02-04 | H | vs | Reading(3) | W | 67-40 |
| 2023-02-07 | H | vs | Hempfield (3)(3) | W | 60-49 |
| 2023-02-09 | H | vs | Milton Hershey(3) | W | 54-36 |
PIAA District Three Class AAAAAA Power Rankings
| | | | | | | | | | | | |
| --- | --- | --- | --- | --- | --- | --- | --- | --- | --- | --- | --- |
| AAAAAA | School |  W |  L |  T |  Rating |  TWP |  OWP |  TWPW |  OWPW |  TWPL |  OWPL |
| 1 | Cedar Cliff | 21- | 0- | 0 |  0.811810 |  1.000000 |  0.581800 |  24.75 |  259.25 |  0.00 |  186.35 |
| 2 | Central York | 19- | 2- | 0 |  0.810250 |  0.936842 |  0.655527 |  22.25 |  303.05 |  1.50 |  159.25 |
| 3 | Lebanon | 22- | 0- | 0 |  0.807980 |  1.000000 |  0.573290 |  26.40 |  272.80 |  0.00 |  203.05 |
| 4 | Red Lion | 16- | 6- | 0 |  0.739140 |  0.805785 |  0.657686 |  19.50 |  318.55 |  4.70 |  165.80 |
| 5 | Central Dauphin | 17- | 4- | 0 |  0.737592 |  0.874214 |  0.570609 |  20.85 |  253.55 |  3.00 |  190.80 |
| 6 | Northeastern | 17- | 5- | 0 |  0.700022 |  0.815678 |  0.558664 |  19.25 |  267.60 |  4.35 |  211.40 |
| 7 | Manheim Township | 15- | 7- | 0 |  0.699663 |  0.775210 |  0.607329 |  18.45 |  291.70 |  5.35 |  188.60 |
| 8 | William Penn | 16- | 6- | 0 |  0.697794 |  0.808511 |  0.562473 |  19.00 |  265.15 |  4.50 |  206.25 |
| 9 | Cedar Crest | 14- | 8- | 0 |  0.687361 |  0.732759 |  0.631876 |  17.00 |  307.85 |  6.20 |  179.35 |
| 10 | Ephrata | 17- | 5- | 0 |  0.686728 |  0.822176 |  0.521181 |  19.65 |  243.60 |  4.25 |  223.80 |
| 11 | Dallastown | 14- | 8- | 0 |  0.683048 |  0.733624 |  0.621233 |  16.80 |  295.80 |  6.10 |  180.35 |
| 12 | Cumberland Valley | 11- | 8- | 0 |  0.663866 |  0.696203 |  0.624344 |  13.75 |  255.95 |  6.00 |  154.00 |
| 13 | Wilson (3) | 14- | 8- | 0 |  0.643407 |  0.715517 |  0.555272 |  16.60 |  260.95 |  6.60 |  209.00 |
| 14 | Reading | 12- | 10- | 0 |  0.632199 |  0.639269 |  0.623558 |  14.00 |  299.90 |  7.90 |  181.05 |
| 15 | Hempfield (3) | 10- | 12- | 0 |  0.631140 |  0.558685 |  0.719695 |  11.90 |  359.20 |  9.40 |  139.90 |
| 16 | Carlisle | 12- | 10- | 0 |  0.626217 |  0.650000 |  0.597148 |  14.30 |  280.60 |  7.70 |  189.30 |
| 17 | J P McCaskey | 11- | 11- | 0 |  0.602655 |  0.607981 |  0.596145 |  12.95 |  273.75 |  8.35 |  185.45 |
| 18 | Governor Mifflin | 10- | 12- | 0 |  0.579633 |  0.548837 |  0.617272 |  11.80 |  293.05 |  9.70 |  181.70 |
| 19 | Harrisburg | 10- | 12- | 0 |  0.574492 |  0.562212 |  0.589501 |  12.20 |  276.80 |  9.50 |  192.75 |
| 20 | Waynesboro | 8- | 14- | 0 |  0.489255 |  0.413793 |  0.581485 |  8.40 |  270.10 |  11.90 |  194.40 |
| 21 | South Western | 7- | 15- | 0 |  0.474499 |  0.395522 |  0.571025 |  7.95 |  273.15 |  12.15 |  205.20 |
| 22 | Penn Manor | 5- | 17- | 0 |  0.464723 |  0.309896 |  0.653956 |  5.95 |  319.85 |  13.25 |  169.25 |
| 23 | Chambersburg Area | 5- | 17- | 0 |  0.454230 |  0.317010 |  0.621942 |  6.15 |  296.20 |  13.25 |  180.05 |
| 24 | Conestoga Valley | 6- | 16- | 0 |  0.435406 |  0.345178 |  0.545684 |  6.80 |  259.20 |  12.90 |  215.80 |
| 25 | York County School of Technology | 10- | 12- | 0 |  0.426180 |  0.451923 |  0.394717 |  9.40 |  181.55 |  11.40 |  278.40 |
| 26 | Dover | 3- | 18- | 0 |  0.370337 |  0.181102 |  0.601623 |  3.45 |  277.95 |  15.60 |  184.05 |
| 27 | Central Dauphin East | 2- | 20- | 0 |  0.353592 |  0.131148 |  0.625468 |  2.40 |  300.60 |  15.90 |  180.00 |

Lebanon Federal Credit Union