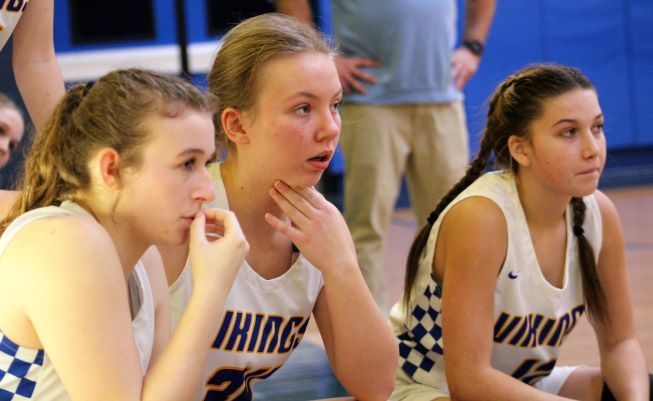 BY JEFF FALK
Editor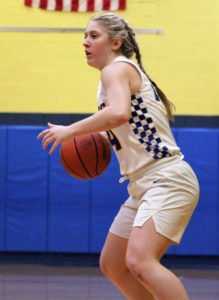 FREDERICKSBURG – Exuberance. Energy. A certain curiosity. There are many virtues associated with youth.
But perhaps the best thing about being young is that time is on your side.
On Thursday night at Northern Lebanon High School, the Vikings' girls' basketball team continued to explore and enjoy its youth during a 61-31 mercy-rule blitzing of the Indians from Donegal. On the heels of a somewhat uneven start, Northern Lebanon used suffocating defense and balanced offense to methodically pull away from its visitors.
With the triumph, the Vikings, whose top players are either sophomores or freshmen, improved to 7-3 overall and 2-1 in Section Three of the Lancaster-Lebanon League. Meanwhile, the result dropped Donegal to 3-8 on the season and 0-3 in the section.
"I'm pretty hard on this team, and I'm surprised at the success we've had," said Northern Lebanon head coach Ken Battistelli. "Sometimes I forget they're young. I coach them like they're not young. I always think if we can win then we should win. That's how I treat every game.
"But it is so exciting that they take my coaching and that I'm going to have them for a long time," continued Battistelli. "So, they're going to know our system inside and out. I don't feel any pressure to rush the process, or sacrifice any fundamentals for short-term success. We're coaching for the bigger picture."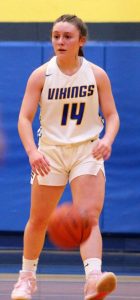 Before they cranked up the defensive pressure, the Vikings led 7-3 early. An Olivia Shutter basket gave Northern Lebanon 9-5 lead after eight minutes of action.
"I think it was just the kids started to settle in," said Battistelli. "Initially, they play with that freshman fervor. It's almost like a little fatigue is good for them. I think our defense is a little easier to play when we're a little tired.
"Offensively, to this point, we've had two or three players scoring," added Battistelli. "Tonight, we got a lot more people involved with the offense. We talk about it. We practice it. But sometimes during the heat of the game, it doesn't come out."
Last night it did right around the start of the second quarter.
The Vikings held Donegal without a point over the first 3:08 of the period while extending their lead to 16-5. Shutter and freshman Hayley Sherocky each netted three points during the 7-0 spurt, and freshman Saorise Phillips contributed a bucket.
Northern Lebanon closed out the first half in a similar fashion. Three points from freshman Kasey Weimer and a stick-back by Shutter produced the Vikings' 27-12 halftime margin.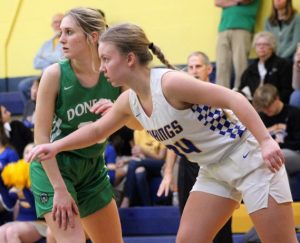 "The way we're playing right now, we're in a lot of 35-30 dogfights," said Battistelli. "But if we can score and play that same defense, we can be pretty tough. I thought we did a nice job of spreading the scoring tonight.
"As we develop, there are different stages where you're looking for certain things," Battistelli continue. "Our team's young, but we're pretty scrappy. We're small and fast. But when they learn to be Northern Lebanon scrappy on the defensive end, things will really change. I saw some of that on defense tonight."
Shutter poured in 17 points to lead all scorers and she was supported by 14 points from Weimer. Northern Lebanon outscored Donegal 40-18 on two-point baskets.
"I was really surprised by our start," said Battistelli of his club's four-game win streak to begin the season. "I've coached young teams before, and little wrinkles that take place during games affect young teams. But this team has shown more resiliency and more ability to overcome than you might expect."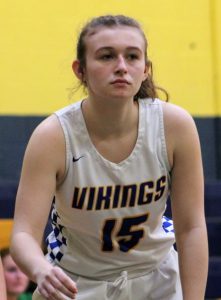 "You've got to give credit to them," said Donegal head coach Matthew Warner of the Vikings. "They won. They put the ball in the basket. But we learned. I think as the game went on, we got a little better."
Northern Lebanon put the outcome to rest in the middle of the third stanza. Weimer netted five more points, freshman Addison Kubica scored inside and Phillips converted a driving lay-in, as the Vikings' lead reached 39-14.
"It's just been emotional, because youth mixed with success makes you crazy," said Battistelli. "It's nice to have a young team that wants to win and wants to compete. It's neat. It's fun. It's just a fun personality team.
"They (his players) realize we're on the same ship going in the same direction," concluded Battistelli. "They don't ever seem to get offended. We have the same goal."
To purchase images in this article please email jeff@lebcosports.com.
2022-23 Northern Lebanon Girls' Basketball Schedule
| | | | | | |
| --- | --- | --- | --- | --- | --- |
| 2022-12-05 | A | vs | Kutztown(3) | W | 41-37 |
| 2022-12-07 | A | vs | Warwick(3) | W | 46-31 |
| 2022-12-13 | H | vs | Brandywine Heights(3) | W | 32-25 |
| 2022-12-15 | A | vs | Cocalico(3) | W | 29-27 |
| 2022-12-19 | A | vs | Big Spring(3) | L | 40-43 |
| 2022-12-21 | H | vs | Williams Valley(11) | W | 37-20 |
| 2022-12-28 | N | vs | Lebanon(3) | L | 45-64 |
| 2022-12-29 | N | vs | New Oxford(3) | W | 38-36 |
| 2023-01-03 | A | vs | Eastern Lebanon County(3) | L | 38-43 |
| 2023-01-05 | H | vs | Donegal(3) | | 0-0 |
| 2023-01-07 | H | vs | Fleetwood(3) | | 0-0 |
| 2023-01-10 | A | vs | Lancaster Catholic(3) | | 0-0 |
| 2023-01-13 | H | vs | Lampeter Strasburg(3) | | 0-0 |
| 2023-01-17 | A | vs | Hershey(3) | | 0-0 |
| 2023-01-19 | H | vs | Cocalico(3) | | 0-0 |
| 2023-01-23 | H | vs | Red Land(3) | | 0-0 |
| 2023-01-24 | A | vs | Hamburg(3) | | 0-0 |
| 2023-01-27 | H | vs | Eastern Lebanon County(3) | | 0-0 |
| 2023-01-31 | A | vs | Donegal(3) | | 0-0 |
| 2023-02-03 | H | vs | Lancaster Catholic(3) | | 0-0 |
| 2023-02-07 | A | vs | Lampeter Strasburg(3) | | 0-0 |
| 2023-02-09 | A | vs | Schuylkill Valley(3) | | 0-0 |
PIAA District Three Class AAAA Power Rankings
| | | | | | | | | | | | |
| --- | --- | --- | --- | --- | --- | --- | --- | --- | --- | --- | --- |
| AAAA | School |  W |  L |  T |  Rating |  TWP |  OWP |  TWPW |  OWPW |  TWPL |  OWPL |
| 1 | Eastern York | 6- | 1- | 0 |  0.770789 |  0.900662 |  0.612056 |  6.80 |  118.80 |  0.75 |  75.30 |
| 2 | Wyomissing | 9- | 0- | 0 |  0.751469 |  1.000000 |  0.447709 |  9.85 |  89.90 |  0.00 |  110.90 |
| 3 | Delone Catholic | 8- | 1- | 0 |  0.733607 |  0.923077 |  0.502032 |  9.00 |  105.00 |  0.75 |  104.15 |
| 4 | Bishop McDevitt (3) | 7- | 1- | 0 |  0.725294 |  0.910714 |  0.498669 |  7.65 |  93.65 |  0.75 |  94.15 |
| 5 | Middletown | 9- | 3- | 0 |  0.649974 |  0.790984 |  0.477629 |  9.65 |  85.40 |  2.55 |  93.40 |
| 6 | West Perry | 6- | 3- | 0 |  0.649384 |  0.713450 |  0.571081 |  6.10 |  117.30 |  2.45 |  88.10 |
| 7 | James Buchanan | 7- | 4- | 0 |  0.648254 |  0.690141 |  0.597060 |  7.35 |  119.80 |  3.30 |  80.85 |
| 8 | Berks Catholic | 6- | 4- | 0 |  0.636836 |  0.692308 |  0.569037 |  7.20 |  103.65 |  3.20 |  78.50 |
| 9 | Northern Lebanon | 6- | 3- | 0 |  0.628996 |  0.700565 |  0.541523 |  6.20 |  117.70 |  2.65 |  99.65 |
| 10 | Fleetwood | 5- | 3- | 0 |  0.580123 |  0.672619 |  0.467073 |  5.65 |  95.75 |  2.75 |  109.25 |
| 11 | Bermudian Springs | 6- | 5- | 0 |  0.576704 |  0.581498 |  0.570844 |  6.60 |  118.65 |  4.75 |  89.20 |
| 12 | Trinity (3) | 4- | 4- | 0 |  0.553224 |  0.512195 |  0.603370 |  4.20 |  112.80 |  4.00 |  74.15 |
| 13 | Big Spring | 4- | 5- | 0 |  0.525052 |  0.479532 |  0.580687 |  4.10 |  110.65 |  4.45 |  79.90 |
| 14 | Eastern Lebanon County | 4- | 7- | 0 |  0.512523 |  0.386473 |  0.666584 |  4.00 |  134.25 |  6.35 |  67.15 |
| 15 | Kennard Dale | 3- | 6- | 0 |  0.488044 |  0.382857 |  0.616606 |  3.35 |  118.45 |  5.40 |  73.65 |
| 16 | Hanover (3) | 4- | 6- | 0 |  0.446768 |  0.419048 |  0.480648 |  4.40 |  99.35 |  6.10 |  107.35 |
| 17 | Boiling Springs | 3- | 6- | 0 |  0.428726 |  0.367232 |  0.503886 |  3.25 |  97.25 |  5.60 |  95.75 |
| 18 | Hamburg | 3- | 7- | 0 |  0.401449 |  0.286458 |  0.541994 |  2.75 |  113.90 |  6.85 |  96.25 |
| 19 | Schuylkill Valley | 3- | 7- | 0 |  0.388430 |  0.290816 |  0.507735 |  2.85 |  100.10 |  6.95 |  97.05 |
| 20 | East Pennsboro | 1- | 8- | 0 |  0.298810 |  0.109677 |  0.529972 |  0.85 |  103.00 |  6.90 |  91.35 |
| 21 | Littlestown | 1- | 11- | 0 |  0.279093 |  0.085586 |  0.515603 |  0.95 |  109.05 |  10.15 |  102.45 |
| 22 | Octorara | 0- | 8- | 0 |  0.223990 |  0.000000 |  0.497755 |  0.00 |  77.60 |  8.50 |  78.30 |