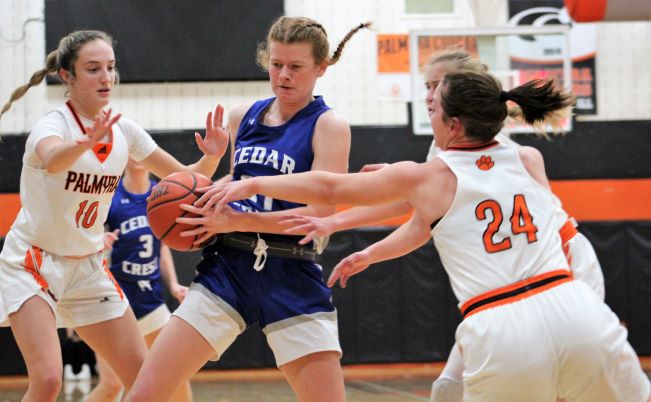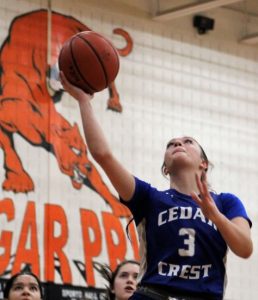 BY JEFF FALK
Editor
PALMYRA – Defense is a little shuffling of the feet, and a lot of intensity and hustle and desire. But the best part about defense is that keeps you in games, it gives you a chance.
The Cedar Crest girls' basketball team is extremely familiar with the advantages of playing good defense.
On Friday night at Palmyra High School, another solid defensive effort by the Falcons produced another CC victory, this time a 45-33 throttling of the homestanding Cougars. Cedar Crest was especially on top of its defensive game in the second quarter, when it established a working margin that it would never relinquish.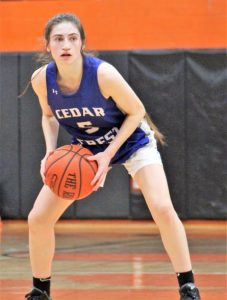 The Falcon triumph was their sixth in the last nine days and pushed their overall mark to 9-1. Over their first ten games, Cedar Crest has yielded an average of 25.6 points per outing.
The result left Palmyra 2-5 overall.
"What we try to do is take away strengths of people," said Cedar Crest head coach Will Wenninger. "Make people shoot over us. Not give people lay-ups and try to limit second-chance points. We have measurable goals that we try to achieve every game, and when we do achieve them, we're going to be pretty successful.
"I think the kids are buying into their roles," continued Wenninger. "Last year left a bitter taste in their mouths. We talk about self-reflection, self-accountability. I did an horrific job last year and I did a lot of reflecting. It's just trying to get better. You have to make the best of it."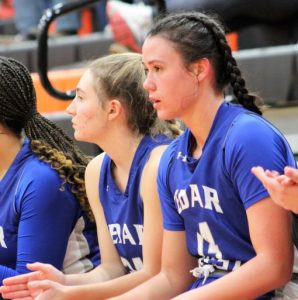 "I think we're trying to feel it out," said Palmyra head coach John Polly. "We went on a run where we were playing teams with Division One players. We've played tough competition. Tonight was the first time we felt like we played well enough to win the games we have left.
"We just left some of their shooters get loose a couple of times," added Polly. "Will is blessed with some shooters. That's a very good team over there. You don't have one loss at this point of the season and not have a good team."
The contest was tight early and Cedar Crest forged a modest 9-6 advantage through eight minutes of action. But the Falcons opened the second quarter on a monstrous 17-0 run that would prove to be decisive.
Cedar Crest held Palmyra without score of any kind over a five-minute stretch, while opening a 26-6 cushion. Offensively, the Falcons received a pair of three-pointers from Allison Metzgar, five points from Brooke Shutter, four from Lizzie Lowe and an inside bucket from Kaila Francis.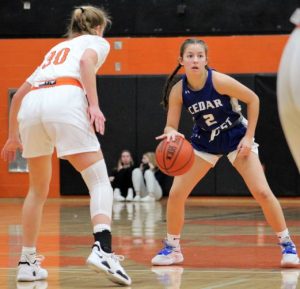 "Even though we didn't turn them over a lot with our pressure, I think it got us some opportunities," said Wenninger. "We hit a couple of 'threes'. We like going inside out, but tonight we went outside in. That opened some things up for Kaila and Lizzie. We got some open looks inside.
"With about four minutes left in the second quarter, I wanted to put them (the Cougars) away there," Wenninger continued. "But give credit to Johnny's kids, they cut it to 13. It was a game of runs and we couldn't put them away. That's one of the things we have to talk about. But our kids were resilient."
"They kind of figured out our zone," said Polly of the Falcons. "We had some miscommunications, some missed assignments. They got some open looks. They got hot and started hitting some 'threes'. When we decided to go man, we found our identity. I think we figured out that we can be an above average defensive team.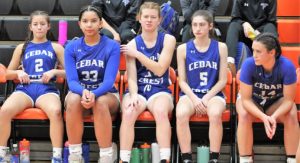 "I'm ecstatic," Polly added. "We laid an egg on Tuesday (during a 38-24 loss at Red Land). The intensity and energy we played with tonight has been lacking. We play the game to win. But if we can look ourselves in the mirror after a loss, it makes it easier to take."
With Metzgar and Lowe each pumping in 13 points and Shutter striking for 11, Cedar Crest's attack was balanced. Maddie Henry tallied 11 Cougar points.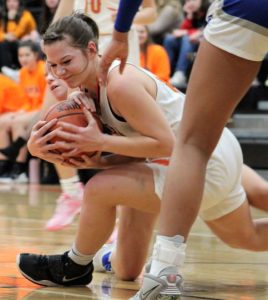 Cedar Crest converted 13 of its 15 foul shots and outscored Palmyra by 11 points at the line.
"It's been a long time since the program's been 9-1, so we have got to feel good about that," said Wenninger. "Our kids have collectively battled through some sickness and injuries. So far, we're playing fairly well. We're heading into section play and the section is really good this year. We have to strengthen our weaknesses.
"We have nice kids and that comes from their parents," Wenninger added. "The parents are very supportive and they're very loyal. I think that goes a long way."
"I saw Maddie Henry take a step forward," said Polly. "She's looking to take over, if need be. She's kind of been in the shadows the last few years. Now she's front and center. Just her ascending as a team leader.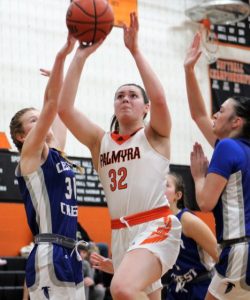 "I thought us realizing our defensive potential was a positive," continued Polly. "Kaylee Brown played well. Maggie Webb gives you energy. Katy Pavusek brings her defensive intensity. This season has been a little more of piecing it together. Last year, it just fit."
The Cougars mounted a charge at the Falcons late in the third period. It began with Webb's old-fashioned three-point play, and when Keely Bowers nailed a three-pointer 1:15 into the final stanza, Palmyra was within 35-26 of the lead.
But with Shutter tallying four points, Lowe scoring on a driving lay-in, and Francis and Megan Donley each converting a pair of charity tosses, Cedar Crest outscored Palmyra 10-2 over the next 2:50 to make it a 45-28 game.
"If we take care of our measurable goals, the other things will take care of themselves," said Wenninger. "We really haven't changed anything. We make adjustments based on our personnel. We try to stay the course, not try, we do.
"I always say, 'talk to me in January,'" added Wenninger. "How about the end of January, when we're done with section play. That's when we play the big dogs. They're high school kids, and when you start setting goals and you fall short, people start talking failure. These kids aren't failures."
"I've had different starting lineups almost every night," said Polly. "We're getting to the point where our roles are getting defined. I think it was just a belief thing for them (his players). Tonight we saw what we're capable of. We were pleased, we were happy with the way we played."
To purchase images in this article please email jeff@lebcosports.com.
2022-23 Cedar Crest Girls' Basketball Schedule
| | | | | | |
| --- | --- | --- | --- | --- | --- |
| 2022-12-03 | H | vs | Manheim Central(3) | W | 37-32 |
| 2022-12-06 | H | vs | Wilson (3)(3) | W | 40-30 |
| 2022-12-09 | H | vs | Harrisburg(3) | W | 52-36 |
| 2022-12-10 | H | vs | Mechanicsburg(3) | L | 32-23 |
| 2022-12-13 | H | vs | Twin Valley(3) | W | 50-24 |
| 2022-12-14 | A | vs | Warwick(3) | W | 43-36 |
| 2022-12-16 | H | vs | Hempfield (3)(3) | W | 30-23 |
| 2022-12-19 | A | vs | Conrad Weiser(3) | W | 36-19 |
| 2022-12-21 | H | vs | Penn Manor(3) | W | 49-20 |
| 2022-12-22 | A | vs | Palmyra(3) | | 0-0 |
| 2022-12-27 | H | vs | Harrisburg(3) | | 0-0 |
| 2022-12-28 | A | vs | TBD() | | 0-0 |
| 2023-01-03 | A | vs | Reading(3) | | 0-0 |
| 2023-01-06 | H | vs | Lebanon(3) | | 0-0 |
| 2023-01-10 | A | vs | Manheim Township(3) | | 0-0 |
| 2023-01-12 | A | vs | J P McCaskey(3) | | 0-0 |
| 2023-01-17 | H | vs | Governor Mifflin(3) | | 0-0 |
| 2023-01-20 | A | vs | Hempfield (3)(3) | | 0-0 |
| 2023-01-24 | A | vs | Penn Manor(3) | | 0-0 |
| 2023-01-27 | A | vs | Lebanon(3) | | 0-0 |
| 2023-02-02 | H | vs | Manheim Township(3) | | 0-0 |
| 2023-02-07 | H | vs | J P McCaskey(3) | | 0-0 |
2022-23 Palmyra Girls' Basketball Schedule
| | | | | | |
| --- | --- | --- | --- | --- | --- |
| 2022-12-06 | A | vs | Muhlenberg(3) | W | 44-37 |
| 2022-12-09 | A | vs | Fleetwood(3) | L | 30-39 |
| 2022-12-10 | A | vs | Bethlehem Catholic (11) | L | 31-64 |
| 2022-12-13 | H | vs | Hershey(3) | W | 49-17 |
| 2022-12-17 | A | vs | Mifflin County(6) | L | 38-56 |
| 2022-12-20 | A | vs | Red Land(3) | L | 24-38 |
| 2022-12-22 | H | vs | Cedar Crest(3) | | 0-0 |
| 2022-12-28 | A | vs | New Oxford(3) | | 0-0 |
| 2023-01-03 | A | vs | Cedar Cliff(3) | | 0-0 |
| 2023-01-06 | H | vs | Lower Dauphin(3) | | 0-0 |
| 2023-01-10 | A | vs | Mechanicsburg(3) | | 0-0 |
| 2023-01-13 | A | vs | Hershey(3) | | 0-0 |
| 2023-01-16 | H | vs | Susquehanna Township(3) | | 0-0 |
| 2023-01-18 | H | vs | Mifflin County(6) | | 0-0 |
| 2023-01-20 | H | vs | Red Land(3) | | 0-0 |
| 2023-01-24 | A | vs | Milton Hershey(3) | | 0-0 |
| 2023-01-27 | H | vs | Cedar Cliff(3) | | 0-0 |
| 2023-01-31 | A | vs | Lower Dauphin(3) | | 0-0 |
| 2023-02-03 | H | vs | Mechanicsburg(3) | | 0-0 |
| 2023-02-07 | H | vs | Milton Hershey(3) | | 0-0 |
| 2023-02-09 | A | vs | Central Dauphin(3) | | 0-0 |

Lebanon Federal Credit Union