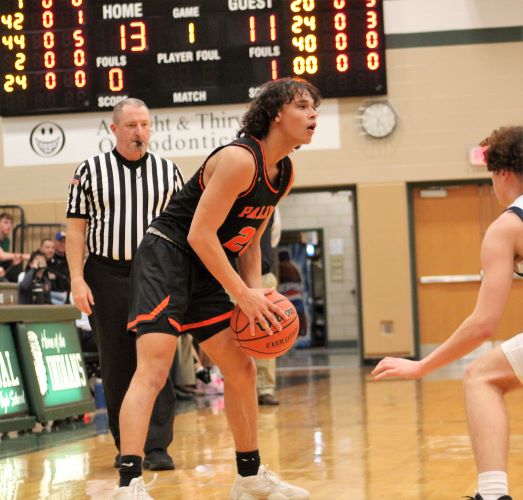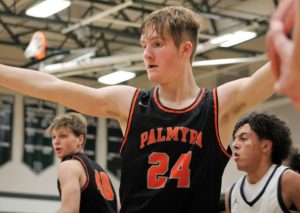 BY JEFF FALK
Editor
MOUNT JOY – There was only one negative about the way the Cougars started their season – how they finished. But no matter how you spin it, the positives far outnumbered that lone negative.
On Friday night, during the opening round of the Donegal Tip-Off Tournament, the Palmyra boys' basketball edged Penn Manor 53-50. After the Cougars had enjoyed the better of play throughout, and led 50-35 with three-and-a-half minutes to play, the Comets closed to within a point of the lead on Aiden Mattern's three-pointer with a single tick remaining.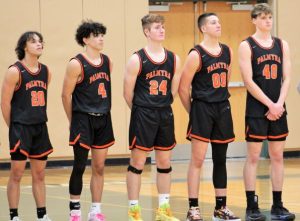 Struggling with turnovers, Palmyra missed three straight front ends of one-and-ones, before sophomore Hank Roesch stepped up to convert three free throws in the waning seconds.
But the outcome was the most important thing to know about a young Cougar squad attempting to replace a bunch of graduated seniors.
"I don't feel that way," said Palmyra head coach Pete Conrad, to the suggestion that the final four minutes could somehow take away from 28 minutes of positives. "You want it to be easy. We talk to our guys about grit, and some of it was weathering adversity. (Senior) Eli (Becker) is our rock, and for us to weather it with him out of the game (with fouls) was a positive.
"We've got a young team and some leadership," added Conrad. "We're playing a bunch of sophomores. They came out and attacked, and really played hard. Penn Manor's pressure had us on our heels down the stretch. But we made just enough plays at the end."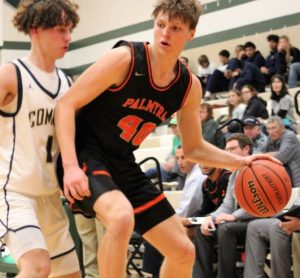 Already nursing a 38-31 lead, the Cougars netted the final five points of the third quarter and the first two of the fourth period to open a 45-31 bulge. It was a driving lay-in from Dorta that had given Palmyra that 50-35 advantage at the top of the stretch.
"You try to cram all your stuff in," said Conrad of a shortened, two weeks of preseason practice. "You try to get the basics in, and enough that fits your personnel. But you're also just trying not to get caught. You're hoping you don't get caught.
"A win is always hard," continued Conrad. "We have a lot of respect for Penn Manor. We think they're pretty good. They've got good players. I didn't know what to expect from them. All in all, it was pretty positive."
"You can look back and say they (the Cougars) had eight extra possessions in a three-point game," said Penn Manor head coach Larry Bellew. "We were down double digits and threw a little pressure at them. I don't think pressure is one of our biggest strengths. We struggled against their pressure and they struggled against our pressure."
With a team-high 17 points, Dorta spearheaded the Palmyra scoring, while Roesch popped for 14 points of his own.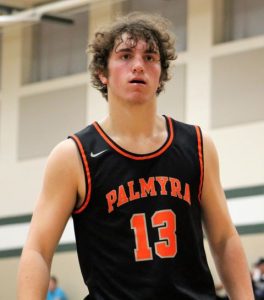 "I didn't know what to expect," said Conrad. "I knew we had two players (Becker, Dorta) we can rely on. But after that, you just don't know. I was very pleased with how we played.
"I think we can keep getting better," Conrad continued. "We were so veteran last year. But it is refreshing having young guys learning stuff and going through new things. I think we have a lot of room to grow. I think we can reach other levels."
After the score was tied at 11, 13, 18 and 21 early, some three-quarter-court pressure sparked a 7-0 Cougar run late in the first half. Roesch and junior Tyler Burgess each accounted for three of those points, while Dorta threw in a charity toss, as Palmyra established a 28-21 lead.
"I thought the pressure helped us," said Conrad. "This team is different than last year's team. The pressure got them (the Comets) out of rhythm and got us some opportunities. But I also thought we were running our offense, sharing the ball, rotating well on defense and closing out on shooters."
"We've now played them four years in-a-row in this tournament," said Bellew of the Cougars. "What you saw tonight is what they do. They're very patient and they don't beat themselves. And obviously Becker is a heck of a player."
To purchase images in this article please email jeff@lebcosports.com.
2022-23 Palmyra Boys' Basketball Roster
Grade           Height         Jersey          Name                              Position
12               6'3              40               Eli Becker                      F
12               6'2              42               Colton Long                    F
12               5'10            1                 Jose Morales                  G
12               5'8              3                 Christian Petrino            G
11               5'7              5                 Hunter Mayer                 G
11               6'3              10               Brayden Peiffer              F
11               5'7              2                 Kadan Readinger            G
10               5'11            4                 Tyler Burgess                 G
10               5'11            20               Alex Dorta                     G
10               6'2              00               Seth Loser                      F
10               6'1              24               Hank Roesch                  G/F
10               5'8              23               Cameron Scott                G/F
10               6'                13               Braeden Sommer            G/F
10               6'                15               Bennett Weaber              G
9                 5'11            25               Aidan Willard                F
2022-23 Palmyra JV Boys Basketball
Grade          Height         Jersey #       Name
11               6'3              10               Brayden Peiffer              F
11               5'8              11               Wade Trautman              F/G
10               6'2              00               Seth Loser                      F
10               5'9              33               Lawson Priar                  G
10               5'8              23               Cameron Scott                F/G
10               6'                13               Braeden Sommer            G/F
10               6'                15               Bennett Weaber              G
10               5'6              31               Landon Weldon              G
9                 5'9              21               Braydon Bown               G
9                 5'9              14               Julian Meley                   G
9                 5'11            25               Aidan Willard                F
Varsity Coach: Pete Conrad          Assistant Coach: Tim Bean
Assistant Coach/JV: Casey Smith            Volunteer Assistant: Ian Frazier
Freshman Coach: Noah Reale                  Freshman Vol. Assistant: Ryan Bown
Middle School Vars. Coach: Jeff Wilver
Middle School JV Coach: Tyler Binkley
Superintendent: Dr. Bernie Kepler
Assistant Superintendent: Dr. Annette Spagnolo
PHS Principal: Dr. Scott Richardson
Assistant Principal:  Paul Steigerwald      Assistant Principal: Daryl Reisinger
Athletic Director: Brian Weidler                 Equipment Manager: Danny Byrd
Athletic Trainer: Mario Serour
School nickname: Cougars                        School colors: Orange and Black
Scorekeeper: AJ Baldo                               Statistician: Tom Conrad
2022-23 Palmyra Boys' Basketball Schedule
| | | | | | |
| --- | --- | --- | --- | --- | --- |
| 2022-12-02 | A | vs | Penn Manor(3) | | 0-0 |
| 2022-12-06 | H | vs | Muhlenberg(3) | | 0-0 |
| 2022-12-13 | A | vs | Hershey(3) | | 0-0 |
| 2022-12-16 | H | vs | Mifflin County(6) | | 0-0 |
| 2022-12-20 | H | vs | Red Land(3) | | 0-0 |
| 2022-12-28 | A | vs | Cedar Crest(3) | | 0-0 |
| 2023-01-03 | H | vs | Cedar Cliff(3) | | 0-0 |
| 2023-01-06 | A | vs | Lower Dauphin(3) | | 0-0 |
| 2023-01-07 | A | vs | Lebanon(3) | | 0-0 |
| 2023-01-10 | H | vs | Mechanicsburg(3) | | 0-0 |
| 2023-01-13 | H | vs | Hershey(3) | | 0-0 |
| 2023-01-16 | A | vs | Northern York(3) | | 0-0 |
| 2023-01-18 | A | vs | Mifflin County(6) | | 0-0 |
| 2023-01-20 | A | vs | Red Land(3) | | 0-0 |
| 2023-01-24 | H | vs | Milton Hershey(3) | | 0-0 |
| 2023-01-27 | A | vs | Cedar Cliff(3) | | 0-0 |
| 2023-01-28 | A | vs | Pottsville(11) | | 0-0 |
| 2023-01-31 | H | vs | Lower Dauphin(3) | | 0-0 |
| 2023-02-03 | A | vs | Mechanicsburg(3) | | 0-0 |
| 2023-02-07 | A | vs | Milton Hershey(3) | | 0-0 |

Lebanon Federal Credit Union