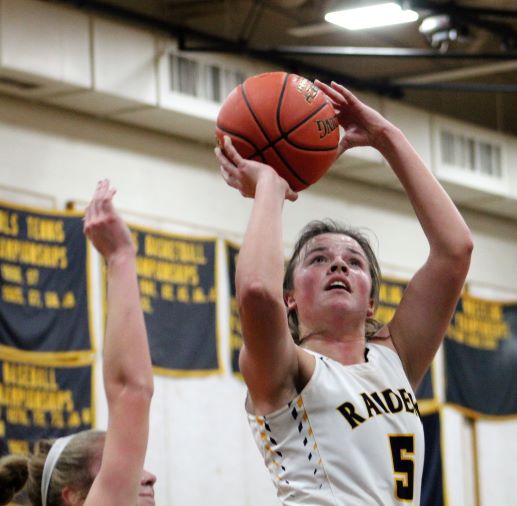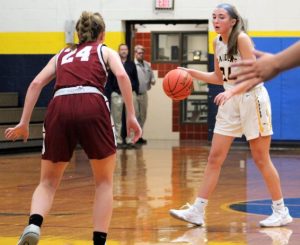 BY JEFF FALK
Editor
MYERSTOWN – They've got some athletic pieces.
They've got competitive experience.
They've got versatility and balance.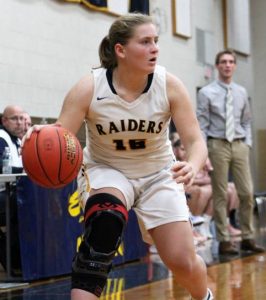 Now, inject a little intensity and it will take the Elco girls' basketball far.
On Tuesday night, the season opener for a brand new Raiders' squad couldn't have gone too much better, as they rolled past Pottsville 50-32 at home. Elco controlled the flow of play throughout, and trailed only once, 5-4 three minutes in.
With their performance, the Raiders made a winner out of brand new head coach Karl Keath.
"At the end of the day, did I know what to expect? I did not," said Keath. "They (his players) did everything we asked them to do in practice, and they took it on to the court tonight. We're trying to instill a team effort and I thought we had a team effort.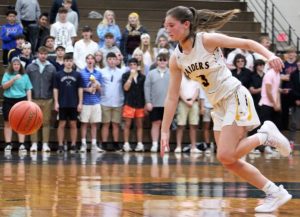 "I think we have a lot more improvement to go," continued Keath. "We had some turnovers, but the intensity is what we're trying to instill. Out of our ten practices, we've had nine good ones. We're trying to stay intense in practice."
If the Raiders experienced any opening-night jitters, they didn't show, or Elco was able to channel the nerves into energy.
Over the last 4:26 of the opening period, Elco outscored its guests 9-1 to establish a 13-6 lead that it would only expand upon. Senior Sam Nelson posted four of those Raider points, while freshman Madelynn Stout nailed a three-pointer and junior Sara Miller converted a steal into a lay-in.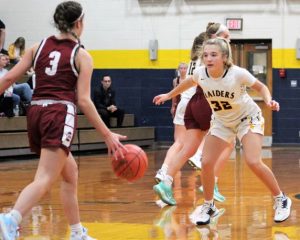 "They said they were a little nervous at the beginning," said Keath of his charges. "But we knew we had a height advantage. We were also looking to play at a little faster pace.
"We got 12 girls into a basketball game," added Keath. "Another positive was the enthusiasm of the girls playing together. And we also had intensity on the court."
Nelson tallied another four points, Kailen Hibshman converted a pair of charity tosses and Mackena Seifert knocked down a jumper, as Elco broke the game open late in the second quarter. That 8-0 spurt gave the Raiders a 25-11 margin, 53 seconds before the break.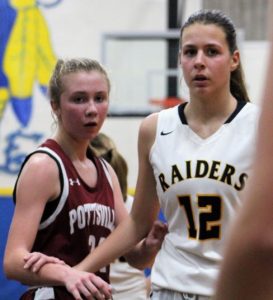 "My message at halftime was that there's always two halves," said Keath. "We knew they (the Crimson Tide) were going to play the whole game. We had to stay the course."
Nelson poured in a game-high 23 points, thanks in part to six-of-seven free throwing. The Raiders outscored the Crimson Tide 36-16 on two-point field goals.
"Every girl on the team played a fall sport," said Keath, with pride. "We love it. We promote it. At the end of the day, we are athletic. That's going to have to be part of our recipe if we're going to realize our goals.
"When I was considering taking the position, one of the things I looked at was a roster of ten girls who I could get into a game," Keath continued. "We have it broken down to two squads, so five can go against each other in practice. That helps us get better. We also have three seniors (Nelson, Sophia Irvin, Julia Bidelspach) who are great character kids."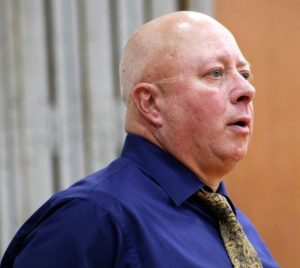 There was no Elco letdown in the second half, and when Nelson maneuvered inside for a deuce with 3:17 left in the third quarter, the Raiders had themselves a shiny 40-19 bulge.
"(Former) Coach (Ashli) Shay and I coached together, but we have two different styles," said Keath. "We're still in the adjustment period on how I want things done. It is a season-long process for us. Some of our ways are a little different.
"Our schedule is not easy, non-league or in the section," Keath added. "We have a pretty tough road ahead of us. I'm hoping we can play well enough to make it to districts."
To purchase images in this article please email jeff@lebcosports.com.
2022 Elco Girls' Basketball Schedule
| | | | | | |
| --- | --- | --- | --- | --- | --- |
| 2022-12-06 | H | vs | Pottsville(11) | | 0-0 |
| 2022-12-09 | N | vs | Mechanicsburg(3) | | 0-0 |
| 2022-12-10 | N | vs | TBA() | | 0-0 |
| 2022-12-13 | H | vs | Hamburg(3) | | 0-0 |
| 2022-12-15 | H | vs | Lampeter Strasburg(3) | | 0-0 |
| 2022-12-19 | H | vs | Wyomissing(3) | | 0-0 |
| 2022-12-22 | A | vs | Middletown(3) | | 0-0 |
| 2022-12-27 | N | vs | Blue Mountain(11) | | 0-0 |
| 2022-12-28 | N | vs | TBA() | | 0-0 |
| 2023-01-03 | H | vs | Northern Lebanon(3) | | 0-0 |
| 2023-01-05 | A | vs | Lancaster Catholic(3) | | 0-0 |
| 2023-01-10 | H | vs | Cocalico(3) | | 0-0 |
| 2023-01-13 | A | vs | York Catholic(3) | | 0-0 |
| 2023-01-17 | A | vs | Donegal(3) | | 0-0 |
| 2023-01-19 | A | vs | Lampeter Strasburg(3) | | 0-0 |
| 2023-01-24 | H | vs | Lower Dauphin(3) | | 0-0 |
| 2023-01-26 | A | vs | Columbia(3) | | 0-0 |
| 2023-01-27 | A | vs | Northern Lebanon(3) | | 0-0 |
| 2023-01-31 | H | vs | Lancaster Catholic(3) | | 0-0 |
| 2023-02-01 | H | vs | Conrad Weiser(3) | | 0-0 |
| 2023-02-03 | A | vs | Cocalico(3) | | 0-0 |
| 2023-02-09 | H | vs | Donegal(3) | | 0-0 |

Lebanon Federal Credit Union