This section was started as a way to share some of the many noteworthy items that occur on a regular basis.  We get some of it out via Facebook, but keeping up with every item can prove difficult.  We hope you enjoy this section.  If you have anything you think we should know, please reach out on our social media or send an email dan@lebcosports.com.
---
Following what can be considered another wildly successful season for the Palmyra Field Hockey Team that ended with a near-miss when it came to the Pennsylvania State Championship, the final MaxPreps rankings were released.  Recognizing the overall body of work, MaxPreps ranked Palmyra #2 in PA, only behind The Hill School ($64k/yr tuition + room/board).  Spots two through six were all Mid-Penn teams, with four Keystone Division teams, including Mechanicsburg at #4.  Nationally, Palmyra ended the season as the #5 ranked program according to MaxPreps.  Max Field Hockey was a little less generous and placed our hometown Lady Cougars at a still impressive #10.
---
While on the topic of national honors for the Palmyra Field Hockey players, Liv Kirkpatrick and Alicia Battistelli were each named to the National Field Hockey Coaches Association All-Region Team.Only 161 athletes nation-wide were selected.  We'll be paying close attention, as the NFHCA will announce their All-American selections in mid-December.
---
Not to be outdone, Palmyra Soccer star Brayden Sunho was named to the Pennsylvania Coaches Association's All-State Team.  This was on the heels of being named the Mid-Penn Keystone Boys Soccer Player of the Year after leading the offensive effort that won the Cougars the division, before earning a state playoff bid where they nearly launched top-ranked Moon out of orbit.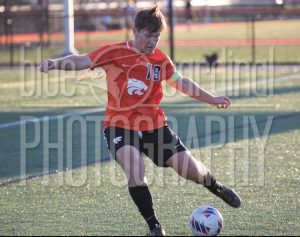 Sunho unleashes kick
Photo Courtesy of Blue Cardinal Photography
---
Back to talking about the strength field hockey in this area, the Alley Cats Field Hockey Club (based out of Palmyra) features several members of the Palmyra Field Hockey program.  This past weekend, they found quite a bit of success at the Team USA Field Hockey Festival in Tampa, Florida.  The U16 team brought back home the championship. The U19 team took silver.  The U14 got off to a slow start with two losses, but put together a strong finish and ended the tournament with a record of 3-2-1.  This was a remarkable performance overall by our local athletes on the national stage.
---
The Lebanon Valley College Flying Dutchmen were notified that eight of its players were named Academic All-District by College Sports Communicators.  Of the honorees, three of them are Lebanon County natives: Jeremy Bours, Jr. (Annville-Cleona), Erik Williams (ELCO), and Nick Morder (Palmyra).  They will advance to the Academic All-American round of voting, which will see the results announced in late December.
---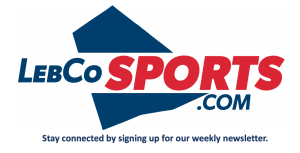 ---
While on the topic of football, what more is there to say about kicking sensation Chad Ryland?  Well, a lot . . . otherwise we wouldn't be writing about him.  In Saturday's Maryland Terrapin 37-0 thrashing of Rutgers, the Cedar Crest grad was cash money, hitting all three of his field goal attempts (33, 46, 33) and 4 extra point attempts.  For his outstanding effort, Ryland was named the Big Ten Special Teams Player of the Week.  He will be playing with Maryland in a bowl game next month and will then play in the 2023 Senior Bowl.
---
On Monday, Palmyra High School announced the 2022 for its Athletic Hall of Fame.  The inductees will consist of the state champion 2012 Girls Cross Country team, the 2013 girls 3200m (4x800m) team that won PIAA gold, along with individuals Peyten Lyons and Kristen Smoluk.  The ceremony will take place following the JV girls b-ball game on December 22nd.
---
If you are looking to provide feedback or are a business or individual interested in providing sponsorship to aid our mission at LebCoSports, you are asked to contact Dan by emailing dan@lebcosports.com.

Lebanon Federal Credit Union