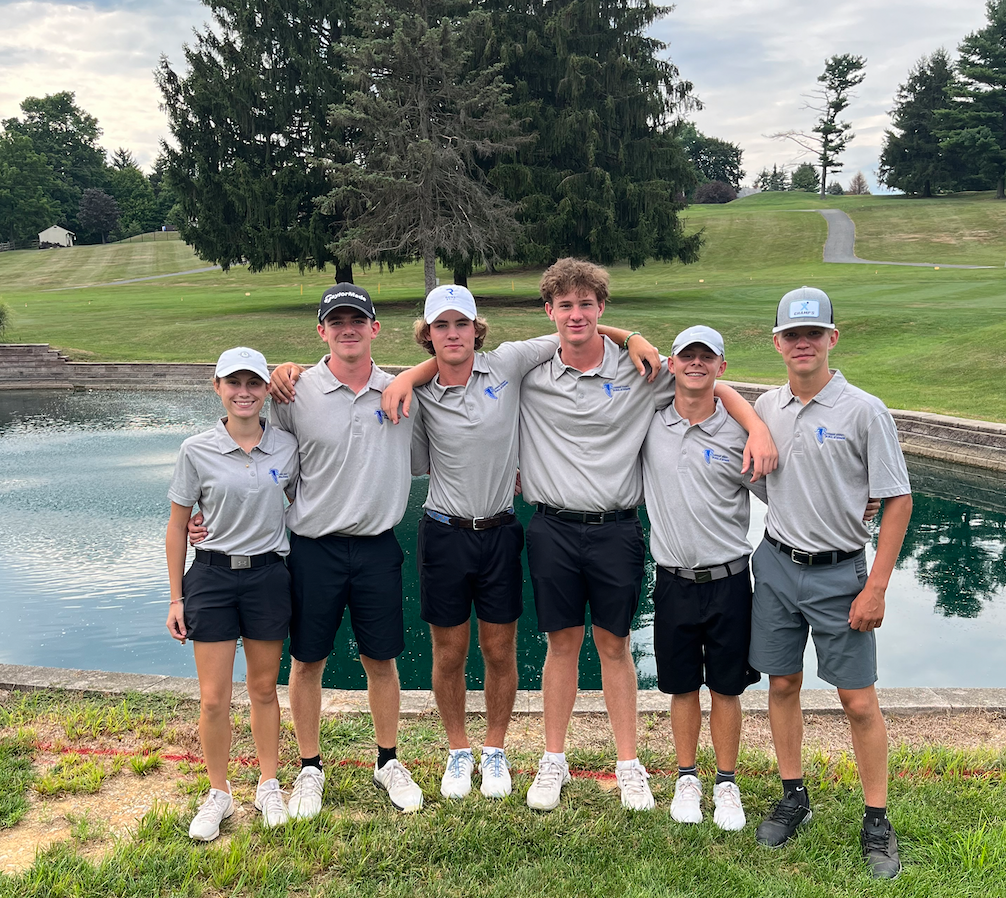 Thanksgiving is a time for family.  Most people understand the basic concept of what a family entails.  Yet, those who have competed on a sports team may have an auxiliary definition as to what can be considered a family.  After interacting with the top five members of the Cedar Crest Golf Team, this author can assure you that this is a unit that has all the hallmarks of what one would typically use to describe a family.  Those present during a sit-down in early November were Ben Feeman (senior), Jill Fidler (senior), Dayton DiBiaso (junior), Ethan Rader (sophomore), and Dylan Ramsey (freshman), along with Drew Gates, the second year head coach.
Let's first rewind to put this all into context.  The most high-profile achievement was the play of freshman Dylan Ramsey at the PIAA State Golf Tournament.  The fourteen-year old's exceptional play earned him the gold medal as the first freshman male on record to accomplish this feat.  Of course, this had led to increased attention.  When asked, about how life has changed for him, Dylan quipped, "I've had many interviews."  Without skipping a beat, the rest of the team picked up on this and commended him on being "so humble".  This is how this team rolls and it worked to bring out the best in each of them.
Prior to Dylan's freshman campaign, it was Ben and Jill who were the two who were in the spotlight.  In 2021, Ben finished 23rd in the state, while Jill finished 24th in the state on the female side.  There are many cautionary tales out there as to Dylan's addition to the team could have gone poorly, but this is not one of those cases.  In fact, this is a story of two senior leaders who embraced their younger teammate and pushed him to be better and knew that Dylan was going to make them better.
Not only did the three of them push each other to a new level, Ethan and Dayton also improved dramatically to become solid contributors to the Falcon squad.  By the end of the season, all five qualified for the District 3 Championship, which was the most of any of the Lancaster-Lebanon League teams.  Coach Gates summed up the team's approach to practice by saying, "[The members of the team] Always love to compete, all the time in practice, playing in some format.  Asking me if so and so could be their partner, so they can play against someone else."  What makes this even more special is that the Falcons had freshman Carson DiBiaso and sophomore Jackson Custer who were benefitting from the competition, working hard to ready themselves for the time they had to pick up their teammates when anyone was having an off-day on the course.
Every member of the team agreed that the competition in practice helped to prepare them for their matches.  Ethan stated, "The competitive nature definitely helps."  However, Ben was a little more tongue-in-cheek in his analysis of their level practice talent when he said, "Cedar Crest golf is known for having one of the best practice squads in the nation."
This season, they were more than just a great practice squad.  After finishing 2021 in fourth place out of the six teams in Section 1, they finished the 2022 regular season in second place by a razor thin margin to perennial powerhouse Manheim Township.  At the Lancaster-Lebanon League Championships, Cedar Crest dominated the Streaks to claim the team crown by six strokes.
On the individual side, Ben defeated Dylan in a two-hole playoff to become the League Champion.  They had played with and competed against each other many times before.  This time, it just meant a little more.  Ben shared that prior to this season, he was struggling to a point that he did not want to go out golfing, but getting back with his high school teammates was critical to helping him get back on track.  Ben summed it up by saying, "Getting back into the high school season helped, because I got to play with people I actually enjoy playing with and enjoy being around.  And it worked."  In a strange way, it was Dylan (along with the other Falcons) who prepared Ben for his victory that day.
Later that same week at the Lebanon County Championships, Dylan faced Ethan in a playoff after the two had tied through eighteen holes.  This time, Dylan came out on top, but both teammates gained key experience through competition as they supported one another.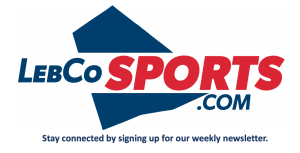 Fast forward to the PIAA State Championship Tournament where Ben and Jill were the veterans, ready to improve upon last year's finish.  Jill finished in 17th place, ahead of her 2021 finish.  For Ben it was a different story, with his first day being less than stellar.  He showed his maturity and bounced back on the second day to finish his high school career with a respectable 48th place finish.  His ability to take the game in stride is a lesson he hopes his younger teammates can learn, as it has helped him in his relatively short golf career (he only started golfing the summer before his freshman year).  Coach Gates said that he has gotten compliments when Ben and Jill have struggled, because of how they have carried themselves.  This is a major reason that while being the League Champions, they also won the Section 1 Sportsmanship Award.
Once again, the dynamics of a freshman coming in and stealing the spotlight can destroy the chemistry of many teams, but it was the maturity of the senior leaders that allowed this to work.  In fact, they were Dylan's biggest cheerleaders throughout the season, especially as he outdueled Central Catholic's Rocco Salvitti on the 36th hole of the competition.  Dylan said that the support they gave him "Definitely helps," but also joked that it was Ethan's level of cheering that lost him the League Championship playoff to Ben.
Despite all of the individual accolades and the League Championship, they made it clear that missing out on qualifying for States as a team was a disappointment.  The reason for this is that this is a tightknit group, complete with very different personalities that all understand that you have to enjoy what you are doing to be better.  Throughout the season, Jill found nothing better than Dylan's dry sense of humor, while it was Ben's main goal to keep things as loose as possible.
When asked what's next for each of the remaining team members, the discussion of who was going to take over the team's Instagram was among the first items mentioned.  This was a clear indication that the team is hoping to keep the fun and competitive culture that they have created.  The same culture that has helped them all to improve.  On that front, Dayton knows that he will have big shoes to fill as the team's lone senior next season.  He is also hopeful that being in charge of the Instagram account is part of the deal, something that Ben may treat in much the same manner as the rose ceremony on The Bachelor.
In the end, it was the improvement of the team that Ben made sure to share how cool it has been with this year's team putting Cedar Crest golf back on the map.  That is something that this team can say they did together.  Supporting each other.  Making each other better.  Challenging one another.  Enjoying every step of the way, even when things did not go according to plan.  Although they are still just young adults, they recognize that this was a special experience and that they did it together, as a family.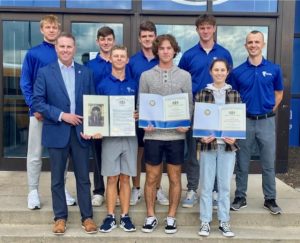 The "family" being honored by Senator Gebhard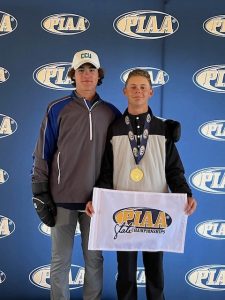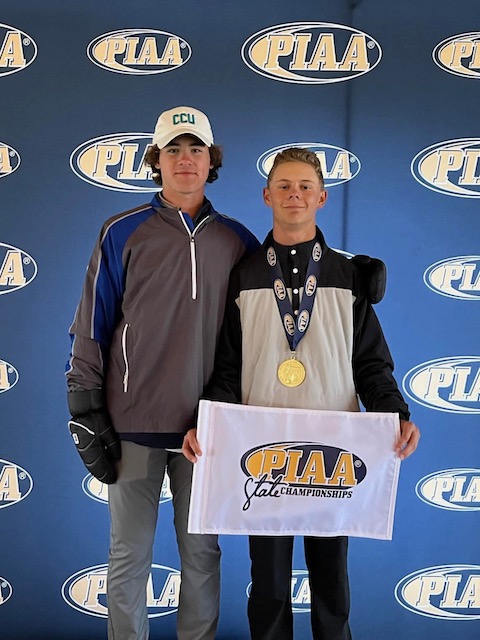 Dylan & Ben celebrate together
---
If you are looking to provide feedback or are a business or individual interested in providing sponsorship to aid our mission at LebCoSports, you are asked to contact Dan by emailing dan@lebcosports.com.

Lebanon Federal Credit Union