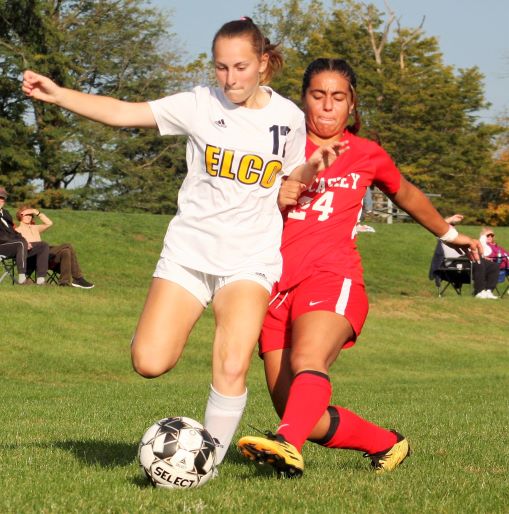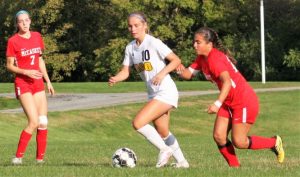 BY JEFF FALK
Editor
LANCASTER – There are some really good things going on in Lebanon County scholastic sports right now. A lot of very good teams. Many great athletic programs.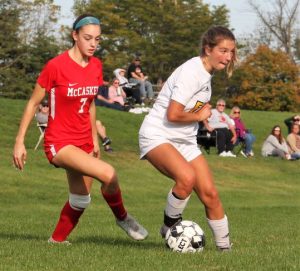 But when it comes to championship streaks, one would be hard pressed to identify a match for the Raiders' Eight Straight.
On a warm Tuesday evening at McCaskey High School, the Elco girls' soccer team captured its eighth straight Lancaster-Lebanon Section Three title with a convincing 3-0 blanking of the home-standing Red Tornado. After jumping out to an early 1-0 lead, the Raiders put the outcome to rest with a pair of second-half tallies, but Elco controlled the flow of play throughout.
The Raiders have won every Section Three title since 2015, and this current group of 11 seniors has never not worn a section crown. But this one was a little more difficult than most of the previous seven.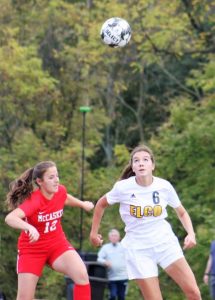 To get it, Elco had to win the final seven games of its regular season, including a tense 2-1 home triumph over Cocalico on Monday night, less than 18 hours prior to the clincher over McCaskey. After starting the season 1-2, the Raiders are now 11-4 overall.
On Saturday on the turf of Elco Stadium, the Raiders will take on Section Two runner-up Elizabethtown, in the quarterfinal round of the Lancaster-Lebanon League playoffs. Elco is also currently seated third in the District Three Class AA power rankings.
With the loss, McCaskey slipped to 6-7-2 on the fall. Back on September 14 in Myerstown, the Raiders scored a 5-0 triumph over the Red Tornado.
"It's a credit to our kids," said Elco head coach Derek Fulk "It's a credit to the kind of kids we have in our program. It's something they pride themselves on. These seniors don't know anything else.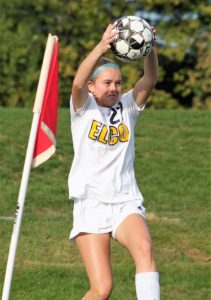 "I think everyone is afraid to be the first team not to win a section championship," continued Fulk. "That can be a motivator for them. It's not easy to win eight in-a-row."
If the Raiders were experiencing any sort of emotional hangover from their Monday victory, junior forward Carsyn Boyer erased it 4:23 into the match. Off a 25-yard restart in the middle of the pitch, Boyer gave Elco a 1-0 lead by bending a good shot around the Red Tornado's three-person wall, off the crossbar and into the net.
"Getting that first goal was important," said Fulk. "It was a great shot by Carsyn and it got us off on the right foot.
"I want to give our girls a lot of credit," added Fulk. "We've really battled over the last three games to stay in the championship hunt. I wasn't sure how we were going to play today, coming off the tough game last night."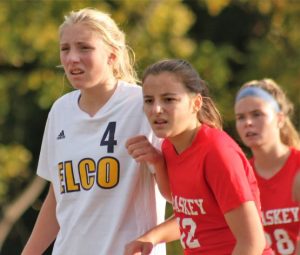 Despite the Raiders misfiring on a number of close chances, the score remained 1-0 over the next 47 minutes of action. That was before Boyer took it upon herself to provide Elco with a bit of insurance.
Again from the center of the field, Boyer gathered a loose ball, turned and whistled a right footer that caromed off a McCaskey defender and high over goalkeeper Sarah Crowley's head and into the net.
"I think we've done well offensively," said Fulk. "We've gotten better as the season has gone on. We've gotten scoring from a lot of different sources. I think that makes you hard to defend. But as a group, they've really come along as the year has progressed.
"I thought we played pretty well defensively," Fulk continued. "They (the Red Tornado) were in the same boat as us, having played last night, and I think it took a toll on them. Sam (Nelson) has been fantastic in goal. Paige Thomas and Carissa Bender have been good in the middle. We have a good defensive rotation going, and they've all done a good job."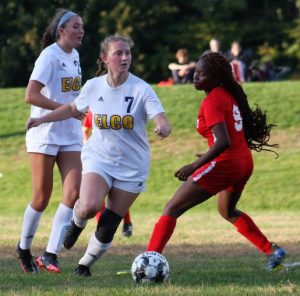 Three minutes after Boyer's goal, the Raiders struck again.
This time, from the left side of the field Julia Bidelspach put a hard shot on net that Crowley turned aside. But Emily Miller closed from the far post and deposited the rebound into the net.
"I think Julia summed it up best when we lost to Cocalico," said Fulk. "That's when the light bulb went on. She said, 'Hey, we've got to string some wins together'. We pretty much knew we had to win all of these three games to get that eighth section championship. They're finding a way to win.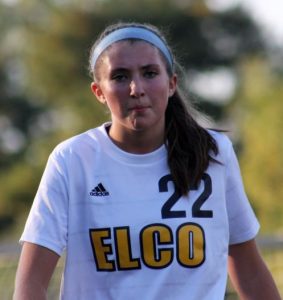 "We came out of the game playing a really tough non-league schedule," Fulk added, "and now I think it's paid dividends."
Elco out shot McCaskey 21-0, and the Raiders enjoyed an 8-0 advantage in corner kicks. For Nelson and the Raiders, it was their ninth shutout of the fall.
"I think this is one of their goals," said Fulk. "They thought it was important. But I also think they have bigger goals, like giving a decent showing in the league playoffs, progressing into the state tournament and representing themselves well in the district playoffs.
"I think on a good day, we can compete with anybody," added Fulk. "But you never know what you're going to get. One of our main goals is to be competitive with everyone we play."
To purchase images in this article please email jeff@lebcosports.com.
2022 Elco Girls' Soccer Results
| | | | | | |
| --- | --- | --- | --- | --- | --- |
| 2022-08-29 | H | vs | Palmyra(3) | W | 1-0 |
| 2022-09-01 | H | vs | Wyomissing(3) | L | 0-3 |
| 2022-09-06 | A | vs | Northern York(3) | L | 0-1 |
| 2022-09-08 | A | vs | Lebanon(3) | W | 8-0 |
| 2022-09-10 | H | vs | Garden Spot(3) | W | 2-1 |
| 2022-09-14 | H | vs | J P McCaskey(3) | W | 5-0 |
| 2022-09-17 | A | vs | Cedar Crest(3) | L | 0-2 |
| 2022-09-19 | A | vs | Octorara(3) | T | 1-1 |
| 2022-09-20 | H | vs | Donegal(3) | T | 0-0 |
| 2022-09-22 | A | vs | Cocalico(3) | L | 0-1 |
| 2022-09-24 | A | vs | Conrad Weiser(3) | W | 2-0 |
| 2022-09-26 | H | vs | Lebanon(3) | W | 10-0 |
| 2022-09-27 | H | vs | Octorara(3) | W | 3-0 |
| 2022-09-30 | H | vs | Berks Catholic(3) | W | 5-1 |
| 2022-10-06 | A | vs | Donegal(3) | W | 1-0 |
| 2022-10-10 | H | vs | Cocalico(3) | W | 2-1 |
| 2022-10-11 | A | vs | J P McCaskey(3) | | 0-0 |
PIAA District Three Class AA Power Rankings
| | | | | | | | | | | | |
| --- | --- | --- | --- | --- | --- | --- | --- | --- | --- | --- | --- |
| AA | School |  W |  L |  T |  Rating |  TWP |  OWP |  TWPW |  OWPW |  TWPL |  OWPL |
| 1 | Trinity (3) | 10- | 1- | 0 |  0.761225 |  0.912621 |  0.576185 |  9.40 |  141.05 |  0.90 |  103.75 |
| 2 | Wyomissing | 15- | 1- | 0 |  0.720688 |  0.922535 |  0.473986 |  13.10 |  132.10 |  1.10 |  146.60 |
| 3 | Eastern Lebanon County | 10- | 4- | 2 |  0.654457 |  0.729412 |  0.562847 |  12.40 |  152.25 |  4.60 |  118.25 |
| 4 | Boiling Springs | 11- | 4- | 0 |  0.647775 |  0.771812 |  0.496174 |  11.50 |  129.70 |  3.40 |  131.70 |
| 5 | Millersburg | 12- | 2- | 1 |  0.605516 |  0.796154 |  0.372515 |  10.35 |  95.55 |  2.65 |  160.95 |
| 6 | Susquenita | 11- | 4- | 0 |  0.564077 |  0.689922 |  0.410266 |  8.90 |  106.30 |  4.00 |  152.80 |
| 7 | East Pennsboro | 8- | 6- | 0 |  0.536827 |  0.578947 |  0.485346 |  8.80 |  110.95 |  6.40 |  117.65 |
| 8 | Pequea Valley | 10- | 6- | 1 |  0.536069 |  0.564815 |  0.500936 |  9.15 |  133.85 |  7.05 |  133.35 |
| 9 | Berks Catholic | 9- | 7- | 1 |  0.528567 |  0.534810 |  0.520937 |  8.45 |  146.80 |  7.35 |  135.00 |
| 10 | Eastern York | 6- | 9- | 0 |  0.525431 |  0.468085 |  0.595519 |  6.60 |  146.20 |  7.50 |  99.30 |
| 11 | Kutztown | 10- | 5- | 1 |  0.521389 |  0.607383 |  0.416286 |  9.05 |  118.35 |  5.85 |  165.95 |
| 12 | West Perry | 6- | 9- | 0 |  0.480618 |  0.405594 |  0.572313 |  5.80 |  143.25 |  8.50 |  107.05 |
| 13 | Octorara | 5- | 10- | 3 |  0.479104 |  0.401639 |  0.573783 |  7.35 |  153.20 |  10.95 |  113.80 |
| 14 | Annville-Cleona | 6- | 8- | 0 |  0.458786 |  0.397059 |  0.534229 |  5.40 |  127.20 |  8.20 |  110.90 |
| 15 | Biglerville | 7- | 7- | 1 |  0.440465 |  0.449324 |  0.429638 |  6.65 |  115.10 |  8.15 |  152.80 |
| 16 | Schuylkill Valley | 6- | 9- | 1 |  0.439118 |  0.407514 |  0.477744 |  7.05 |  126.65 |  10.25 |  138.45 |
| 17 | Lancaster Catholic | 6- | 10- | 0 |  0.431079 |  0.375000 |  0.499620 |  6.60 |  131.40 |  11.00 |  131.60 |
| 18 | Big Spring | 5- | 10- | 0 |  0.419248 |  0.342282 |  0.513318 |  5.10 |  134.90 |  9.80 |  127.90 |
| 19 | Hamburg | 7- | 9- | 0 |  0.414909 |  0.388889 |  0.446711 |  6.30 |  121.55 |  9.90 |  150.55 |
| 20 | Bermudian Springs | 5- | 10- | 1 |  0.370021 |  0.301242 |  0.454084 |  4.85 |  120.65 |  11.25 |  145.05 |
| 21 | Kennard Dale | 1- | 13- | 0 |  0.298715 |  0.053030 |  0.598995 |  0.70 |  143.10 |  12.50 |  95.80 |
| 22 | Littlestown | 2- | 13- | 0 |  0.251286 |  0.125714 |  0.404762 |  2.20 |  101.15 |  15.30 |  148.75 |
| 23 | Oley Valley | 2- | 13- | 0 |  0.240174 |  0.084848 |  0.430016 |  1.40 |  106.30 |  15.10 |  140.90 |
| 24 | Hanover (3) | 1- | 14- | 0 |  0.209283 |  0.076023 |  0.372155 |  1.30 |  98.10 |  15.80 |  165.50 |

Lebanon Federal Credit Union