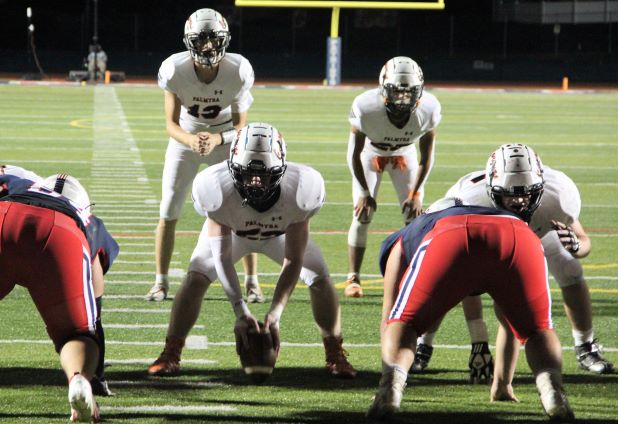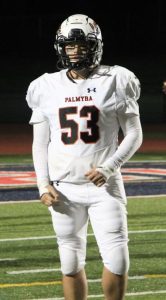 BY JEFF FALK
Editor
CAMP HILL – Inexperience. Mistakes. Inconsistency.
The Process has many detractors.
But it's biggest enemy is impatience.
On a cool Friday night at Red Land High School's West Shore Stadium, the Palmyra football team chalked up another experience to the temperamental process, during a 19-9 setback to the home-standing Patriots. Physically, the Cougars battled Red Land on even terms, but just couldn't come up with enough quality plays.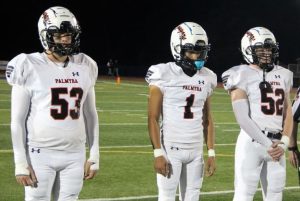 The loss was the Cougars' sixth straight, after opening their season with a close win over Lebanon. Red Land improved to 2-5 overall.
"We talked about understanding that we're a young football team," said Palmyra rookie head coach Chris Pavone, of the post-game message to his troops. "We have guys playing in a number of spots who have very little experience. We talked about the inconsistencies, the ups and downs. Those inconsistencies can take you in different directions during games.
"In some ways, we can't get out of our own way," continued Pavone. "I always talk about the process. It's not a one-game process. It's not a one-season process. It's a frustrating process. It's part of the growing process."
Down 7-0 and unable to control the line of scrimmage, the Cougars' offense sputtered through most of the first half. That is until they pieced together an 11-play, 76-yard march late in the second quarter.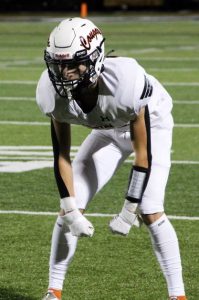 The possession featured a ten-yard scramble by junior quarterback Ethan Lodish, and Lodish completions to three different receivers. It concluded with less than a second remaining on the first-half clock, as Palmyra kicker Matt Bordner drilled a 41-yard field goal.
It was a 7-3 game at the break.
"In some situations, I felt like we played well enough to win," said Pavone. "But we made too many mistakes. We'd make a great play and then have a penalty. It's those ebbs and flows.
"That's how it's been this season," added Pavone. "We've pieced together a number of good stretches. But we've pieced it in different spots, instead of piecing it together."
The Cougars also scored on their final possession of the game, with 3:10 remaining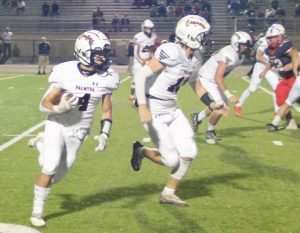 Trailing by 16 points, Palmyra put together a seven-play, 92-yard drive. Lodish connected with Kadan Readinger for 39 yards and sophomore back Juan Figueroa ripped off a 30-yard gainer, ahead of Lodish's three-yard plunge into the end zone.
"We approach every game as winnable," said Pavone. "Was tonight a winnable game? Yes. Was last week a winnable game? Yes. But we always think we give our guys the best chance to win.
"Our kids are buying into what we're doing," Pavone continued. "We're improving in a lot of areas. Overall, I think we've improved on defense. We're getting them to buy in to improving all three phases of the game."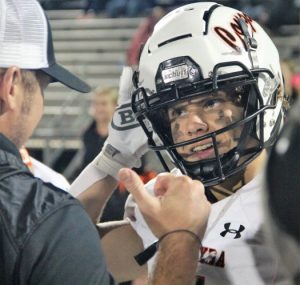 Red Land drove the second-half kickoff 64 plays in seven plays to extend its halftime margin to 13-3. Then 2:48 into the fourth quarter, Patriot Bryce Phillips blocked a 42-yard Cougar field goal attempt and returned it 58 yards for a touchdown.
"I thought defensively we played really well," said Pavone. "We started two new linebackers and they were flying around out there. Obviously, we had some breakdowns in coverage. But we didn't miss a lot of tackles. We settled in early enough defensively to give ourselves a shot to win."
Palmyra actually out gained Red Land 231 total yards to 159.
"It's all about building momentum for our program," said Pavone. "We have a shot in our next three games. It's tough for our seniors. For some, the next three weeks is going to be it. You'd like to give them the best experience and still build momentum for the program.
"But you want the wins to come too," he added.
To purchase images in this article please email jeff@lebcosports.com.
2022 Palmyra Football Results
| | | | | | |
| --- | --- | --- | --- | --- | --- |
| 2022-08-26 | H | vs | Lebanon(3) | W | 14-6 |
| 2022-09-02 | A | vs | East Pennsboro(3) | L | 7-27 |
| 2022-09-09 | H | vs | Donegal(3) | L | 13-30 |
| 2022-09-15 | H | vs | Bishop McDevitt (3)(3) | L | 3-49 |
| 2022-09-23 | A | vs | Mifflin County(6) | L | 0-14 |
| 2022-09-30 | H | vs | Lower Dauphin(3) | L | 7-42 |
| 2022-10-07 | A | vs | Red Land(3) | | 0-0 |
| 2022-10-14 | A | vs | Cedar Cliff(3) | | 0-0 |
| 2022-10-21 | H | vs | Milton Hershey(3) | | 0-0 |
| 2022-10-28 | A | vs | Hershey(3) | | 0-0 |

Lebanon Federal Credit Union