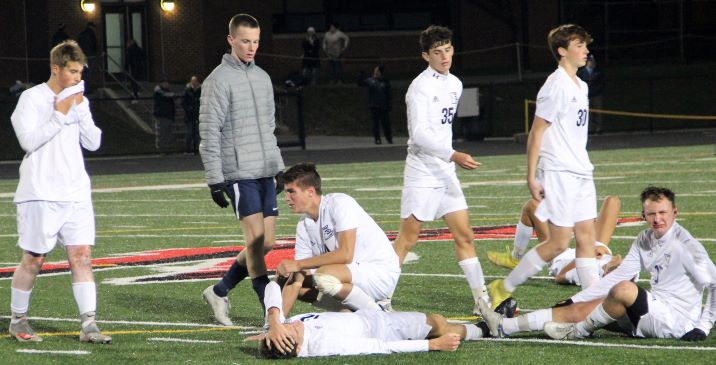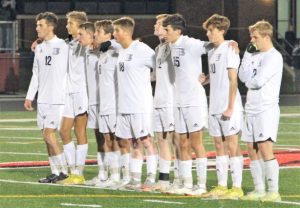 BY JEFF FALK
Editor
LITITZ – It was an unfortunate loss. It was a difficult loss. It was an emotional loss.
But it was a classy loss.
Winning may be king. But losing with class is the next best thing.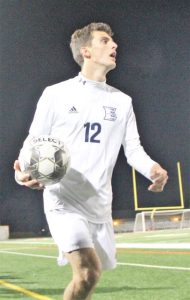 On a chilly Thursday night at Warwick High School, the Elco boys' soccer team endured a gut-wrenching loss to Manheim Township in the Lancaster-Lebanon League championship contest. After the two sides fought tooth-and-nail to a 2-2 draw through 120 minutes of intense regulation and overtime action, the Blue Streaks claimed the crown with a 3-2 edge in the decisive penalty kicks.
Manheim Township secured the crown when keeper Tyler Muhlholland stoned Elco's fifth PK shooter. Luke Macchione and Camden Marquette converted their penalty kicks for the Raiders.
Champions of Section Three in the Lancaster-Lebanon League, Elco, now 17-3-1 overall, was gunning for its first league championship in 38 years. As the tentative seventh-seed, the Raiders are very much in line to host a home playoff game on Monday, during the opening round of the District Three Class AAA postseason tournament.
With the result, Section One champion Manheim Township improved to 11-4-3 on the fall.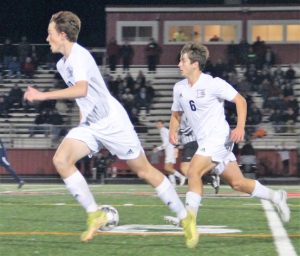 "I couldn't be more proud of the way we played and the heart we showed," said Elco head coach Jamie Cascarino. "What you saw was traditional Elco soccer. We were complimented by Township for the class we showed. We always want to be a classy team.
"We have three expectations and goals for the season," continued Cascarino. "We want to have each other's backs. We want to 'earn the jersey', which means you have to show you want to be on the team. The last is you're expected to win. I think that's why you saw the emotions on faces after the game. But I only see this result as a catalyst for future success."
After the Raiders had led 2-1 for 39 minutes of the contest, the Blue Streaks forced overtime on Drew Morris' goal with 6:35 left in regulation. Sent through the middle of the Elco defense, Morris blasted a right-footer past Raider netminder Chandler Ehrhart from in-close.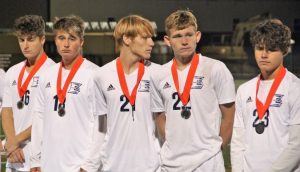 The scoring chances during the two 15-minute extra sessions were few and far between.
"It was a developed play that came in," said Cascarino of Morris' goal. "They (the Blue Streaks) did a really good job with the counter attack. They exploited that situation. That one situation they capitalized on. We certainly had our chances to finish.
"It was definitely one of the most interesting and fun matches to watch, and to coach," added Cascarino. "We matched them. We had every opportunity to win this."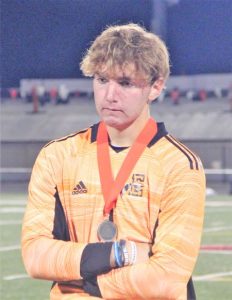 Trailing 1-0 late in the first half, Marquette tallied a pair of goals 4:35 apart to give the Raiders the lead.
Off a 50-yard restart by teammate Kody Boyer, Marquette, Muhlholland and the ball all came together at the same spot at the same time, and Marquette managed to touch it past Muhlholland and into the unoccupied net. Then with 5:50 left in the first half, freshman Ben Macchione was the first Raider to an Elco corner kick, and he headed the ball to Marquette, who finished with his head.
It was Marquette's 28th and 29th goals of his junior season.
"We were evenly-matched," said Cascarino. "Either team could've won that game, in regulation, in overtime or in penalty kicks. I think that's the goal of the Lancaster-Lebanon League, to have a championship game like this."
In the final tally, Manheim Township out shot Elco 18-7. The Raiders enjoyed a slight 9-8 edge in corner kicks.
"I don't feel like this type of result is unfair," said Cascarino. "I think you should have a decisive winner. It's how the world decides outcomes. With any type of losing outcome I would expect some kind of heart-felt reaction.
"I'd equate penalty kicks to any other sport, like going up and shooting a foul shot," Cascarino continued. "You step to the PK line and have all eyes on you, and have all the pressure on you. You can practice them until you're blue in the face, but taking them in a game is a whole different experience."
To purchase images in this article please email jeff@lebcosports.com.
2022 Elco Boys' Soccer Results
| | | | | | |
| --- | --- | --- | --- | --- | --- |
| 2022-08-31 | H | vs | Conrad Weiser(3) | L | 0-2 |
| 2022-09-03 | A | vs | Wyomissing(3) | W | 6-1 |
| 2022-09-03 | N | vs | Kutztown(3) | W | 3-2 |
| 2022-09-06 | H | vs | Berks Catholic(3) | W | 3-1 |
| 2022-09-08 | H | vs | Lebanon(3) | W | 5-0 |
| 2022-09-15 | A | vs | Solanco(3) | W | 2-0 |
| 2022-09-17 | A | vs | Cedar Crest(3) | W | 5-0 |
| 2022-09-19 | H | vs | Octorara(3) | W | 4-0 |
| 2022-09-20 | A | vs | Donegal(3) | W | 1-0 |
| 2022-09-22 | H | vs | Cocalico(3) | L | 1-2 |
| 2022-09-26 | A | vs | Lebanon(3) | W | 3-0 |
| 2022-09-28 | A | vs | Octorara(3) | W | 1-0 |
| 2022-09-30 | A | vs | Blue Mountain(11) | W | 2-1 |
| 2022-10-04 | H | vs | Solanco(3) | W | 8-1 |
| 2022-10-06 | H | vs | Donegal(3) | W | 1-0 |
| 2022-10-08 | H | vs | Eastern York(3) | W | 4-0 |
| 2022-10-10 | A | vs | Cocalico(3) | W | 1-0 |
| 2022-10-12 | A | vs | Pequea Valley(3) | T | 0-0 |
PIAA District Three Class AAA Power Rankings
| | | | | | | | | | | | |
| --- | --- | --- | --- | --- | --- | --- | --- | --- | --- | --- | --- |
| AAA | School |  W |  L |  T |  Rating |  TWP |  OWP |  TWPW |  OWPW |  TWPL |  OWPL |
| 1 | Elizabethtown | 13- | 2- | 1 |  0.760598 |  0.893443 |  0.598233 |  16.35 |  169.30 |  1.95 |  113.70 |
| 2 | Hershey | 14- | 3- | 0 |  0.758612 |  0.875622 |  0.615599 |  17.60 |  187.45 |  2.50 |  117.05 |
| 3 | Palmyra | 15- | 2- | 1 |  0.751678 |  0.905797 |  0.563309 |  18.75 |  178.40 |  1.95 |  138.30 |
| 4 | Kennard Dale | 14- | 1- | 1 |  0.737915 |  0.924581 |  0.509768 |  16.55 |  138.30 |  1.35 |  133.00 |
| 5 | Cocalico | 14- | 3- | 0 |  0.725157 |  0.861538 |  0.558469 |  16.80 |  171.45 |  2.70 |  135.55 |
| 6 | Conrad Weiser | 14- | 2- | 2 |  0.719056 |  0.857143 |  0.550284 |  16.80 |  174.55 |  2.80 |  142.65 |
| 7 | Eastern Lebanon County | 15- | 2- | 1 |  0.704064 |  0.878238 |  0.491185 |  16.95 |  158.80 |  2.35 |  164.50 |
| 8 | Lower Dauphin | 11- | 6- | 1 |  0.698915 |  0.728426 |  0.662845 |  14.35 |  213.90 |  5.35 |  108.80 |
| 9 | Northern York | 14- | 3- | 0 |  0.695909 |  0.858757 |  0.496872 |  15.20 |  150.90 |  2.50 |  152.80 |
| 10 | York Suburban | 12- | 3- | 1 |  0.675885 |  0.814917 |  0.505957 |  14.75 |  135.90 |  3.35 |  132.70 |
| 11 | Donegal | 13- | 5- | 0 |  0.670218 |  0.775000 |  0.542152 |  15.50 |  172.35 |  4.50 |  145.55 |
| 12 | Lampeter Strasburg | 10- | 6- | 1 |  0.637658 |  0.678571 |  0.587653 |  12.35 |  172.30 |  5.85 |  120.90 |
| 13 | Bishop McDevitt (3) | 11- | 4- | 0 |  0.632030 |  0.754839 |  0.481930 |  11.70 |  129.35 |  3.80 |  139.05 |
| 14 | Boiling Springs | 11- | 5- | 1 |  0.603441 |  0.693820 |  0.492977 |  12.35 |  147.40 |  5.45 |  151.60 |
| 15 | Octorara | 10- | 7- | 0 |  0.601732 |  0.648045 |  0.545128 |  11.60 |  159.45 |  6.30 |  133.05 |
| 16 | Middletown | 9- | 5- | 3 |  0.601165 |  0.647590 |  0.544422 |  10.75 |  163.00 |  5.85 |  136.40 |
| 17 | Greencastle Antrim | 11- | 5- | 0 |  0.594936 |  0.711765 |  0.452145 |  12.10 |  127.55 |  4.90 |  154.55 |
| 18 | Susquehannock | 8- | 9- | 0 |  0.591399 |  0.562874 |  0.626263 |  9.40 |  186.00 |  7.30 |  111.00 |
| 19 | Muhlenberg | 10- | 7- | 0 |  0.574336 |  0.631579 |  0.504373 |  10.80 |  149.95 |  6.30 |  147.35 |
| 20 | Garden Spot | 7- | 8- | 2 |  0.559311 |  0.554286 |  0.565454 |  9.70 |  166.30 |  7.80 |  127.80 |
| 21 | Red Land | 6- | 12- | 0 |  0.549859 |  0.462500 |  0.656632 |  7.40 |  209.40 |  8.60 |  109.50 |
| 22 | Daniel Boone | 8- | 10- | 0 |  0.547101 |  0.500000 |  0.604669 |  8.80 |  192.95 |  8.80 |  126.15 |
| 23 | Manheim Central | 6- | 9- | 1 |  0.525657 |  0.493711 |  0.564702 |  7.85 |  157.10 |  8.05 |  121.10 |
| 24 | Spring Grove Area | 5- | 12- | 1 |  0.519569 |  0.423077 |  0.637504 |  7.15 |  200.75 |  9.75 |  114.15 |
| 25 | Milton Hershey | 8- | 9- | 1 |  0.482675 |  0.500000 |  0.461500 |  8.85 |  137.85 |  8.85 |  160.85 |
| 26 | Shippensburg | 6- | 10- | 1 |  0.481336 |  0.422414 |  0.553351 |  7.35 |  165.95 |  10.05 |  133.95 |
| 27 | Exeter Township | 4- | 13- | 1 |  0.456525 |  0.328221 |  0.613342 |  5.35 |  194.00 |  10.95 |  122.30 |
| 28 | Eastern York | 4- | 13- | 1 |  0.432643 |  0.311429 |  0.580795 |  5.45 |  175.40 |  12.05 |  126.60 |
| 29 | Gettysburg | 3- | 9- | 2 |  0.413622 |  0.323529 |  0.523735 |  4.40 |  133.50 |  9.20 |  121.40 |
| 30 | Northern Lebanon | 7- | 11- | 0 |  0.406085 |  0.342697 |  0.483559 |  6.10 |  150.00 |  11.70 |  160.20 |
| 31 | Twin Valley | 3- | 15- | 0 |  0.394468 |  0.201220 |  0.630660 |  3.30 |  200.55 |  13.10 |  117.45 |
| 32 | Susquehanna Township | 4- | 13- | 1 |  0.391458 |  0.274566 |  0.534325 |  4.75 |  158.00 |  12.55 |  137.70 |
| 33 | East Pennsboro | 3- | 12- | 0 |  0.387060 |  0.234043 |  0.574081 |  3.30 |  154.60 |  10.80 |  114.70 |
| 34 | Big Spring | 2- | 14- | 1 |  0.332344 |  0.165663 |  0.536066 |  2.75 |  163.50 |  13.85 |  141.50 |
| 35 | West York | 1- | 14- | 0 |  0.315071 |  0.085271 |  0.595938 |  1.10 |  154.05 |  11.80 |  104.45 |
| 36 | James Buchanan | 0- | 17- | 0 |  0.252132 |  0.000000 |  0.560293 |  0.00 |  168.20 |  16.70 |  132.00 |
Elco Boys' Soccer History
Lancaster-Lebanon, Section Champions – 1970, 72, 73, 75, 77, 78, 79, 80, 83, 84, 85, 86, 90, 92, 94, 97, 99, 2000, 01, 03, 16, 21
Lancaster-Lebanon League Champions – 1962, 63, 64, 65, 66, 68, 69, 72, 73, 77, 79, 83, 84
District 3 Champions – 1964, 68, 77, 90, 98, 99, 02, 03
PIAA State Champions – 1977, 79, 86, 98, 2003