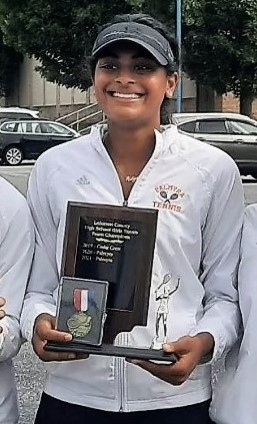 Nitya Patel has qualified for the postseason in doubles as a freshman, a sophomore and a junior. Now might be the time for her to strike out on her own.
On Saturday at Cedar Crest High School, during the annual contesting of the Lebanon County Girls' Tennis Championships, Patel was crowned the overall singles' champion. The Palmyra senior defeated Ali Bender of Elco 6-2, 6-4 in the final match at Number One Singles.
Patel's performance helped the Cougars tie the host Falcons for the event's team title.
"Ali is a great player," said Patel. "We have been teammates in Junior Team Tennis since we were little kids. Our match (Saturday) was a very tough battle, both physically and mentally. I think the difference for me this year is that I am mentally stronger now and more fit than in the past."
Last season at the Lebanon County Girls' Tennis Championships, the Number One singles final came down to the same two players, but it was Bender who emerged with the title. This year, Patel turned the tables on her friendly rival.
"We came up with a good game plan that negated some of Ali's strengths," said Palmrya head coach Matt Opilo, "and allowed Nitya to use her strengths to play the match more on her terms."
Patel had reached the final match at Number One singles with a 6-0, 6-3 semifinal victory over Cedar Crest's Kaitlyn Do.
– Jeff Falk

Lebanon Federal Credit Union