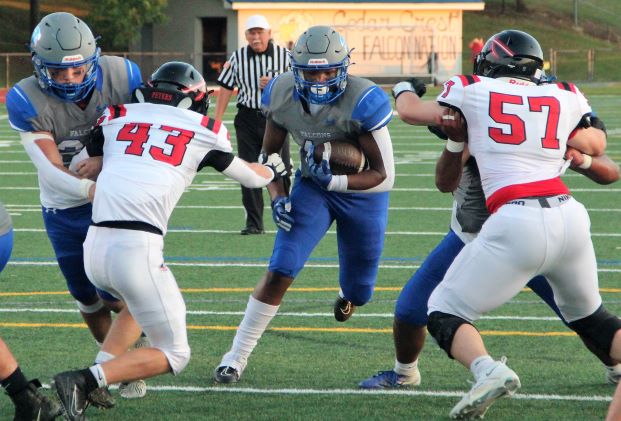 BY JEFF FALK
Editor
SOUTH LEBANON – It was more an inability to get off the field than any sort of lack of finishing. But either way, it was in stark contrast to how Cedar Crest had started the season.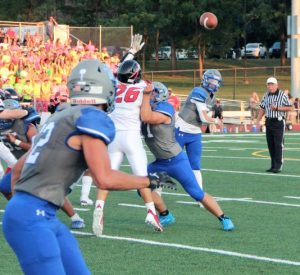 On a comfortable Friday night at Ed and Jeannie Arnold Field at Earl Boltz Stadium, the Falcons dropped a 26-20 non-league decision to Warwick in a well-played and entertaining scholastic football contest. The Warriors tallied the decisive points with 1:49 remaining when quarterback Jack Reed connected with receiver Brendon Snyder in the right corner of the end zone for a seven-yard touchdown completion.
In the closing minute, Cedar Crest drove to the Warwick 43-yard line, before an interception – the only turnover of the game – ended the home side's chances.
After opening the fall campaign with a couple of impressive victories, the Falcons fell to 2-1 overall. While Cedar Crest also performed well in this one, Warwick simply made more plays when they mattered most.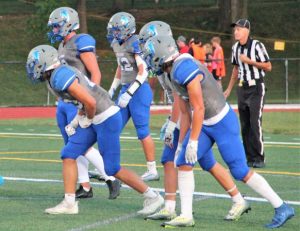 The Warriors are now 1-2 on the year.
"I only care about who wins," said Cedar Crest head coach Rob Wildasin. "We were sluggish out of the gate. The defense played like it hadn't all season. I thought overall we played better in the second half. We just couldn't get off the field. But give credit to Warwick.
"I just didn't think our focus was quite where it needed to be," continued Wildasin. "They (the Warriors) controlled the tempo and the pace, everything in the first half. They dictated to us. One team wanted it more. It's up to me to say how they're (his players) going to show up."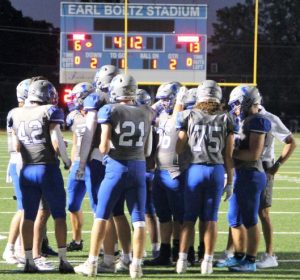 Down 20-13 at the break, Cedar Crest drove its initial second-half possession 60 yards in eight plays to tie the score. Mixing the run and the pass, Falcon senior signal-caller Jay Huber found speedy senior Gabe Lewis for an 18-yard touchdown strike.
"The first two games were battles and wars," said Wildasin. "We knew we had no chance in those if we brought our 'B' game. Tonight, we did not have our 'A' game. They (the Warriors) had their 'A' game, offensively and defensively. They made a big play every time they needed to.
"No, we did make some plays," added Wildasin. "But you just can't lose your focus against a good football team and expect to win. It's just not going to happen."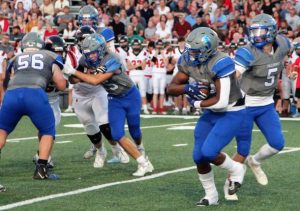 With an emphasis on establishing the line of scrimmage, the Falcons marched the opening kickoff 49 yards on mostly running plays to grab an early 6-0 advantage. Junior running back Fernando Marquez carried seven times on the drive, including the final four yards into the end zone.
"There were two plays that were the difference in the game," said Wildasin. "Warwick scored a touchdown on the last play of the first half, and right before that we were stopped at the one-yard line. That was a 14-point swing right before the half. That was killer."
Huber's eight-yard touchdown toss to senior Nolan Groff knotted the game at 13, with 1:14 left in the second quarter. But Warwick needed just 1:10 of game clock to drive 82 yards and get a four-yard scoring hook-up between Reed and Snyder, four ticks before the intermission.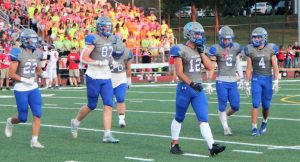 "I can see the big picture all the time," said Wildasin. "We've got to get back on track next week. Then we've got to put ourselves into position to steal one or two wins against some tough football teams."
Warwick out gained Cedar Crest 408 total yards to 243.
Huber completed 20 of his 30 pass attempts for 202 yards. Groff caught nine of those passes for 64 yards.
"Jay did well," said Wildasin. "I thought the offense in general and the offensive line specifically played well.  But we didn't get a lot of possessions in the second half.
"Defensively, I thought we played better in the first two games," added Wildasin.
To purchase images in this article please email jeff@lebcosports.com.
2022 Cedar Crest Football Schedule
8/26
7:00 pm
Abraham Lincoln
at Cedar Crest
12
21
Nonleague
9/02
7:00 pm
Central Dauphin East
at Cedar Crest
22
29
Nonleague
9/09
7:00 pm
Warwick
at Cedar Crest
Nonleague
9/16
7:00 pm
Cedar Crest
Penn Manor
at Chryst Field at Biemesderfer Stadium, Millersville University
League
9/23
7:00 pm
Cedar Crest
at Wilson
League
9/30
7:00 pm
Reading
at Cedar Crest
League
10/07
7:00 pm
Manheim Township
at Cedar Crest
League
10/14
7:00 pm
Cedar Crest
at McCaskey
League
10/21
7:00 pm
Hempfield
at Cedar Crest
League
10/28
7:00 pm
Cedar Crest
at Lebanon
Nonleague