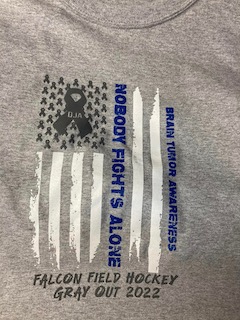 Monday night at Earl Boltz Stadium was more about life than it was about field hockey.  Sure, there was a field hockey game played, but in the 2nd Annual Gray Out game, the focus was more on battling brain cancer than it was Cedar Crest battling Donegal.
The game's purpose was to honor the legacy of the late State Senator Dave Arnold, who passed away on January 17, 2021 following a courageous fight with brain cancer.  In his life, Arnold was an active father and an avid sports fan.  He found a way to combine his passions through coaching his daughter Reese on her travel softball team.  Reese, now a junior on the Falcons' field hockey team, is coached by her mother, Alicia Arnold, who is in her 2nd year as the Cedar Crest head coach.
For this game, Reese served as an honorary captain, along with Donegal's Natalie Colwell, who also played softball for Coach Dave.  Prior to the start of the game the national anthem was sung by Rhiannon Henry, a student at Conestoga Valley and another young athlete who was positively impacted by Mr. Arnold as a member of his softball team.  Many of Dave's other "second daughters" were in attendance to honor their former coach.
In addition to many friends and family, attending the game were members of the team at Hershey Medical Center that cared for Senator Arnold.  Prior to the start of the game, Dr. Brad Zacharia, the neurosurgeon who cared for Arnold, spoke to those in attendance about the work his team does, his experience with the Arnold family, and the importance of research for prevention and treatment of this horrible disease.  Joining Dr. Zacharia was Sandra Ryan, one of the neuro-oncology nurses who helped in the treatment of Mr. Arnold.  Both Zacharia and Ryan have attended both editions of the Gray Out game, a gracious gesture that has not gone unnoticed by Mr. Arnold's widow, Coach Alicia Arnold.
While honoring the legacy of one of Lebanon County's most dedicated public servants was one objective and raising awareness about brain cancer was another, there was a fundraising aspect to the evening as well.  The money raised is being donated to aid brain tumor research at Hershey Medical Center.  At the time that this article is being written, there has been over $1,000 donated online.  There were also donation buckets at the game and t-shirts being sold.  If you are interested in donating to this worthy cause or are interested in finding out more about Dave Arnold and/or the importance of brain tumor research, visit this link. 
If you are interested in purchasing a t-shirt (pictured below), with proceeds being donated to Hershey Med, please visit the Cedar Crest Field Hockey Facebook page and let them know.  Here is a shortcut.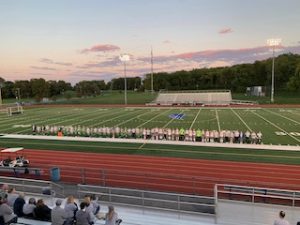 Cedar Crest & Donegal stand united for a worthy cause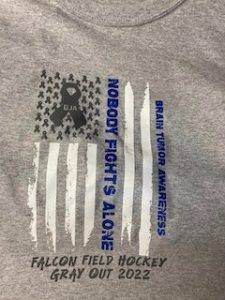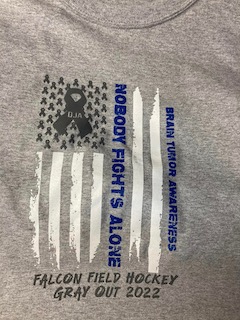 T-shirts sold will benefit brain cancer research
---
If you are looking to provide feedback or are a business or individual interested in providing sponsorship to aid our mission at LebCoSports, you are asked to contact Dan by emailing dan@lebcosports.com.

Lebanon Federal Credit Union