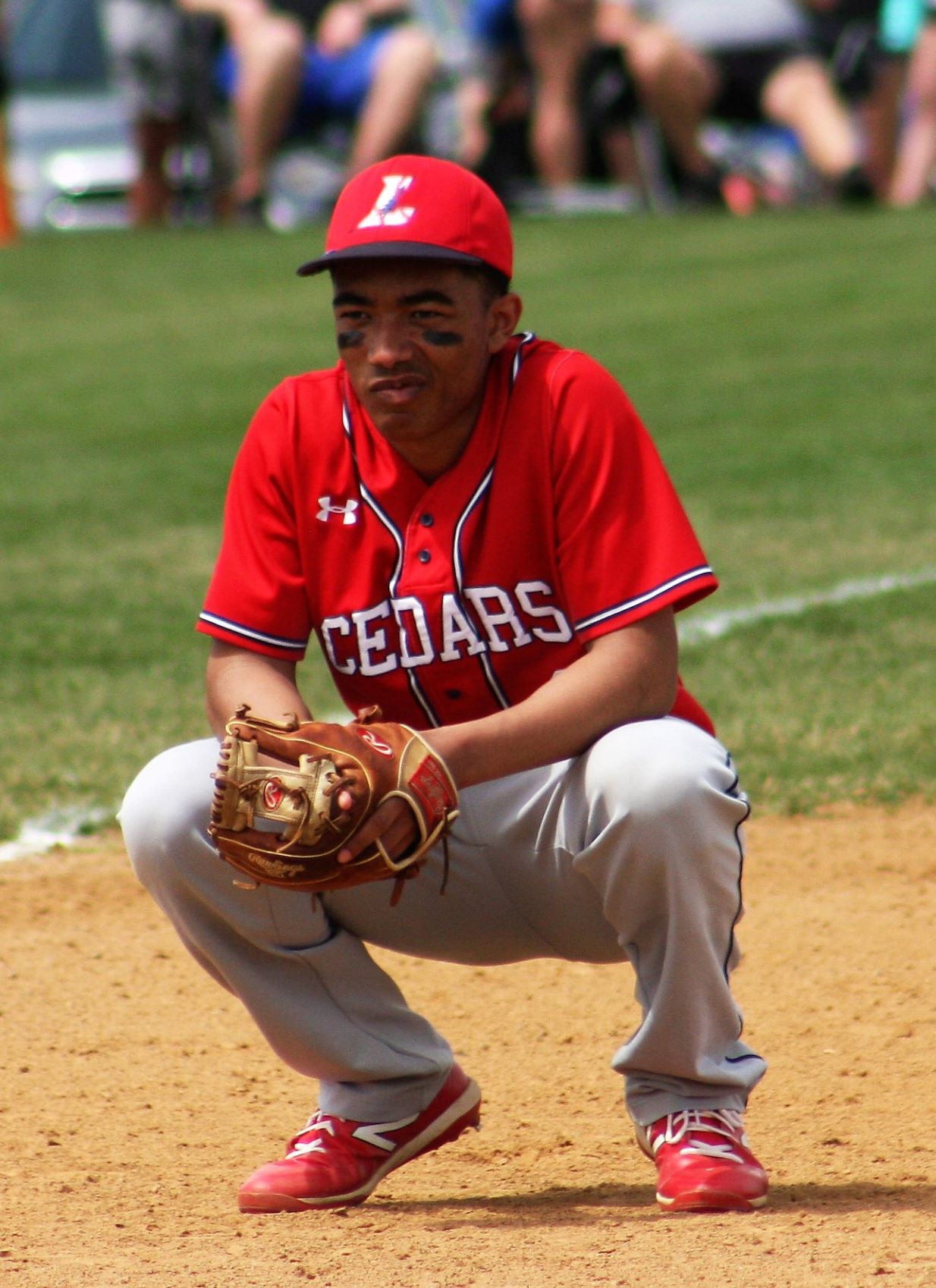 BY JEFF FALK
Editor
DENVER – It is becoming more and more apparent that the Lebanon baseball team isn't going to realize some of its preseason goals.
But that doesn't mean that it's going to stop learning. It doesn't mean that it's going to stop competing. It doesn't mean that it's going to stop improving.
It doesn't mean that the Cedars don't need a win.
Under Thursday afternoon's changeable skies at Cocalico High School, Lebanon endured another disappointing result, a 13-3, six-inning loss to the home-standing Eagles. Cocalico invoked the mercy rule by tallying six runs into the bottom of the sixth inning, plating the winning run on a Cedar error with two outs.
While not without its positives, the non-league outcome was Lebanon's seventh straight loss, after it had opened the spring with back-to-back triumphs. The Cedars are now 2-7 overall, while Cocalico improved to 5-3 on the year.
"By the time they get off the bus, they'll be fine," said Lebanon head coach Fred Gonzalez of his Cedars. "They're all going to want to hit on Saturday. They're a good bunch of kids. I think their heads are still there. But it's starting to grind on them. We need to win. We really do.
"We've had improvements since last year," continued Gonzalez. "The little stuff, the simple stuff, is costing us. Other than a game like today, we've been in so many games. They get into innings they can't get out of, and then we're out of the game. Our scores aren't indicative of how close our games have been. I'm not sure how to fix it."
The Cedars found themselves in a familiar position, down 7-0 early. But in the top of the sixth inning, Lebanon's bats came alive and the Cedars scored three times to slice their deficit to four runs.
Randy Polanco and Jordy Polanco got Lebanon going with back-to-back, one-out singles. Brayden Collazo followed with an RBI-double, ahead of Angel Guzman's run-scoring safety.
"It does change your approach," said Gonzalez of the early deficit. "I think I need to be better and go back to bunt-ball, even if we're down runs. Just some old-school baseball. But when you get behind, it changes your mentality.
"Our kids have been good in their approach at the plate," added Gonzalez. "We're not chasing out of the zone. For as young as our guys are, we've matured a lot."
It was Collazo's middle-inning relief effort that kept the Cedars in it and gave them a chance.
The hard-throwing senior southpaw entered the contest with one out in the bottom of the second inning and proceeded to retire 11 of the 12 batters he faced. Collazo struck out four and didn't walk a batter, before Cocalico got to him in the bottom of the sixth inning.
The first five Eagle batters in the bottom of the sixth inning reached base, and every one of them came around to score.
"One of the positives was that Collazo settled in and pounded the strike zone for more than two innings in-a-row, for the first time this season," said Gonzalez. "He did a nice job. We need to get some kids healthy. Arm-wise, we're there. But we're not hitting for them.
"Brayden's key is to not to try and throw it through the back-stop," Gonzalez continued. "He's got plenty of arm. Sometimes he overthrows. He wanted to finish. That's what I wanted to hear."
"I certainly like the way they swing the bats," said Cocalico head coach Mike Bertolino of the Cedars. "They put the ball in play, and Collazo threw really well. I was really impressed. It's hard to come in when you're down 7-0, and he kept them in it."
Cocalico grabbed a 3-0 lead in the bottom of the opening inning on two hits and a costly Lebanon error. In the bottom of the second, the Eagles padded their lead by four, on three more hits, including Brycen Flinton's two-run triple.
"Some of the things we're working on in practice we're not applying to games," said Gonzalez. "We're not playing a full game of baseball. We have a lot of talent. We're getting good swings at times. It's kind of been our motto, we've been getting guys on base but not getting them in.
"I think we're going to finish well," Gonzalez added. "I'm hoping we're going to finish well. We want to try and make a little noise."
"We played baseball the way it was meant to be played – pitching, defense and hitting with guys on base," said Bertolino. "We got a couple of big hits when we needed them. We scored runs in bunches. That's how baseball works. It's baseball 101."
To purchase images in this article please email jeff@lebcosports.com.
2022 Lebanon Baseball Schedule
| | | | | | |
| --- | --- | --- | --- | --- | --- |
| 2022-03-25 | A | vs | Annville-Cleona(3) | W | 8-7 |
| 2022-03-29 | h | vs | Eastern Lebanon County(3) | W | 10-3 |
| 2022-03-30 | A | vs | Solanco(3) | L | 15-1 |
| 2022-04-01 | H | vs | Lampeter Strasburg(3) | L | 7-6 |
| 2022-04-04 | A | vs | Ephrata(3) | L | 11-2 |
| 2022-04-08 | H | vs | Conestoga Valley(3) | L | 13-5 |
| 2022-04-11 | H | vs | Manheim Township(3) | L | 9-0 |
| 2022-04-13 | A | vs | Penn Manor(3) | L | 8-2 |
| 2022-04-14 | A | vs | Cocalico(3) | | 0-0 |
| 2022-04-18 | H | vs | Hempfield (3)(3) | | 0-0 |
| 2022-04-20 | H | vs | J P McCaskey(3) | | 0-0 |
| 2022-04-21 | a | vs | Elizabethtown(3) | | 0-0 |
| 2022-04-22 | H | vs | Warwick(3) | | 0-0 |
| 2022-04-25 | A | vs | Cedar Crest(3) | | 0-0 |
| 2022-04-27 | H | vs | Solanco(3) | | 0-0 |
| 2022-04-29 | A | vs | Lampeter Strasburg(3) | | 0-0 |
| 2022-05-02 | H | vs | Ephrata(3) | | 0-0 |
| 2022-05-04 | H | vs | Elizabethtown(3) | | 0-0 |
| 2022-05-07 | A | vs | Palmyra(3) | | 0-0 |
| 2022-05-09 | A | vs | Conestoga Valley(3) | | 0-0 |