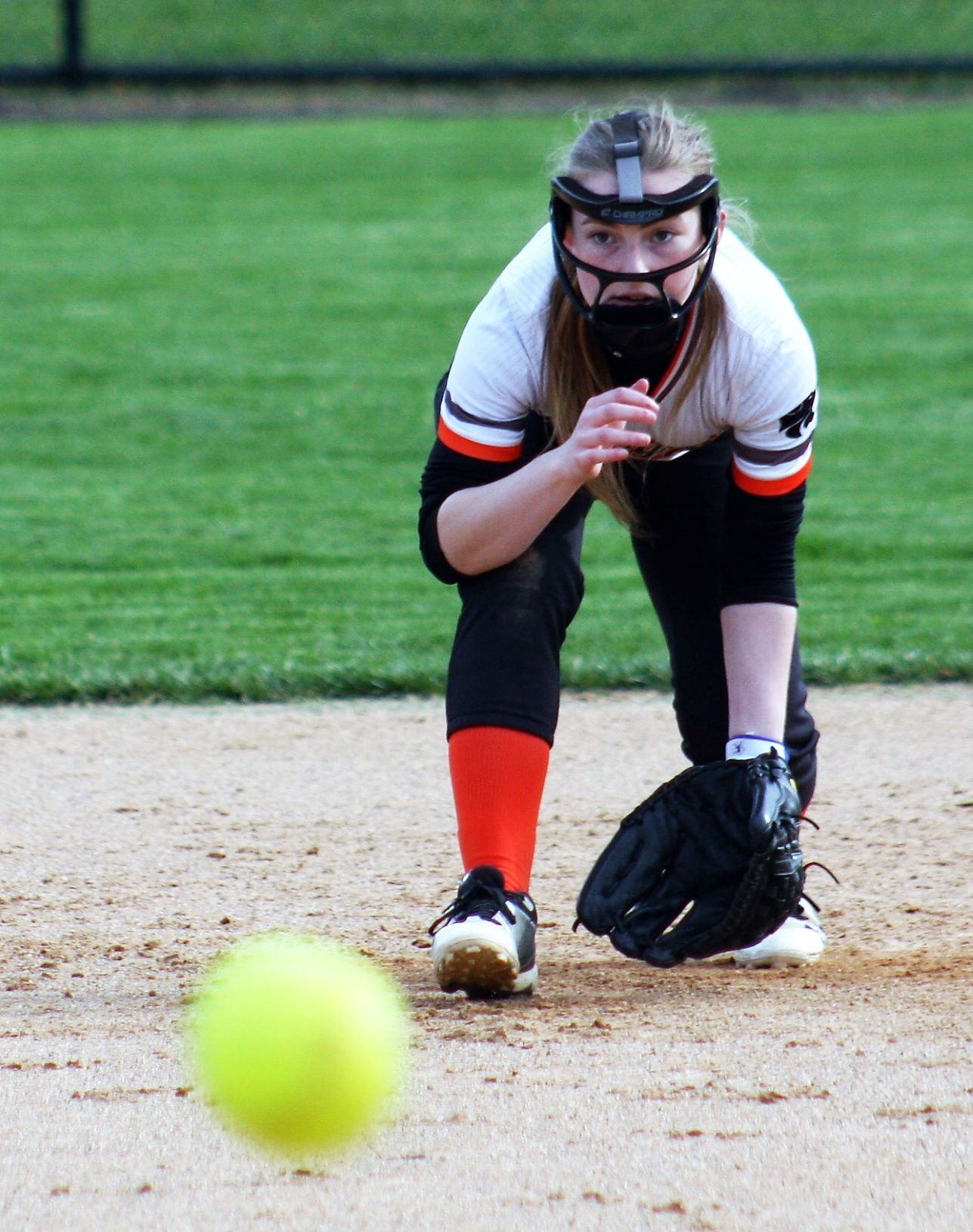 BY JEFF FALK
Editor
PALMYRA – If it's a goal, it's important. Winning is a goal on every level.
But for winning to occur, there must be specific conditions in place. One of those key prerequisites is stability.
On a mostly sunny Monday evening at Palmyra High School, the Cougars scored a critical 7-1 stabilizing softball victory over visiting Susquehanna Township. Palmyra responded immediately after the Indians scored first, then Palmyra put the result on ice with some late offense.
With a three-for-four performance, Sam Krahling paced the Cougar attack in support of battery mate Molly White. In addition to a fine outing on the bump, White contributed a pair of hits and a couple of RBIs, while teammate Nitya Patel drove home a pair of Palmyra runs.
The triumph was Palmyra's first under interim head coach Chelsea Ebersole and pushed the Cougars to 2-3 on the young season. The setback dropped Susquehanna Township to 0-5.
"Wins are important," said Ebersole. "But for me, it's about team work, and being together as a team. I think you've got to play together to get the wins.
"Obviously, we want to win," continued Ebersole. "Winning is a big part of what we want to accomplish. But we'd like to continue to get better, win or lose. My goal when I took over was to start from square one. But changing the culture of the program is important as well."
The critical moment of the contest came in the bottom of the first inning, after the Indians has scratched out a run against White in the top half of the frame. The Cougars scored twice in their at-bat and never relinquished the lead.
The rally began with Makenzie Lafferty reaching base on hit-by-pitch and a Krahling single. Then, White drove in the tying run with a hit, and Patel followed with the RBI that made it 2-1 Cougars.
"We just had a little bit of a slow start," said Ebersole. "Then we got comfortable at the bats and Molly started throwing strikes. After that, we just kept moving forward.
"I'm very proud of them (her players)," added Ebersole. "I didn't think we could do any better. They played together, as a team, and that's what makes me happy."
White certainly settled in after the top of the first inning. The hard-throwing right-hander allowed just three base runners the rest of the way, none of whom advanced past second base.
White, who retired the last nine hitters she faced, finished with a five-hitter, fanned 11 and did not issue a free pass. She was backed by an error-free defense.
"Molly threw a heck of a game," said Ebersole. "Her and Sam work well together. When she and Sam are on, everyone else seems to follow.
"She throws a lot of strikes," Ebersole added. "But she has a great mix of pitches. When Molly is on, Molly is on."
The score stayed 2-1 until the Cougars tallied three runs in the bottom of the fifth inning. Palmyra's first four batters in the inning – Krahling, Meckenzie Koennecke, White and Patel – all reached base, and Patel did so with a run-scoring single.
"I think our approach at the plate was good today," said Ebersole. "It starts in practice. But I think we're jut starting to feel comfortable at the plate. Today was a great day at the bats. We were aggressive and our baserunning was great, as well.
"I think our goals from the beginning of the season are still kind of the same," Ebersole continued. "When I stepped in, I wanted to have a great culture and grow from there. And I think we're doing a good job of that so far."
Palmyra put the outcome out of reach in the bottom of the sixth inning. Krahling's double drove home Haley Wallaesa, who had walked, and Krahling scored on White's single.
"I had no idea I was going to become the head coach," said Ebersole. "One of the nice things was that I coached basketball here and I played here. I said 'yes' because I wanted to do it for the girls. I enjoy coaching. I enjoy the sport. It's a fun thing.
"I'm taking it one day at a time," concluded Ebersole. "My goal, hopefully, is to help the girls to continue to grow, in life and in softball. My big goal is just to be a positive influence for the girls."
To purchase images in this article please email jeff@lebcosports.com.
2022 Palmyra Softball Schedule
| | | | | | |
| --- | --- | --- | --- | --- | --- |
| 2022-03-25 | H | vs | Elizabethtown(3) | L | 1-6 |
| 2022-03-28 | P | vs | Mechanicsburg(3) | | 0-0 |
| 2022-03-29 | A | vs | Mechanicsburg(3) | L | 0-9 |
| 2022-03-30 | A | vs | Bishop McDevitt (3)(3) | W | 10-2 |
| 2022-04-01 | P | vs | West York(3) | | 0-0 |
| 2022-04-04 | H | vs | Central Dauphin East(3) | L | 4-14 |
| 2022-04-06 | H | vs | Carlisle(3) | | 0-0 |
| 2022-04-11 | H | vs | Susquehanna Township(3) | W | 7-1 |
| 2022-04-13 | A | vs | Hershey(3) | | 0-0 |
| 2022-04-14 | A | vs | West York(3) | | 0-0 |
| 2022-04-18 | H | vs | Lower Dauphin(3) | | 0-0 |
| 2022-04-20 | H | vs | Mechanicsburg(3) | | 0-0 |
| 2022-04-23 | A | vs | Penn Manor(3) | | 0-0 |
| 2022-04-25 | H | vs | Bishop McDevitt (3)(3) | | 0-0 |
| 2022-04-27 | A | vs | Central Dauphin East(3) | | 0-0 |
| 2022-05-02 | A | vs | Carlisle(3) | | 0-0 |
| 2022-05-04 | A | vs | Susquehanna Township(3) | | 0-0 |
| 2022-05-05 | H | vs | Muhlenberg(3) | | 0-0 |
| 2022-05-09 | H | vs | Hershey(3) | | 0-0 |
| 2022-05-11 | A | vs | Lower Dauphin(3) | | 0-0 |