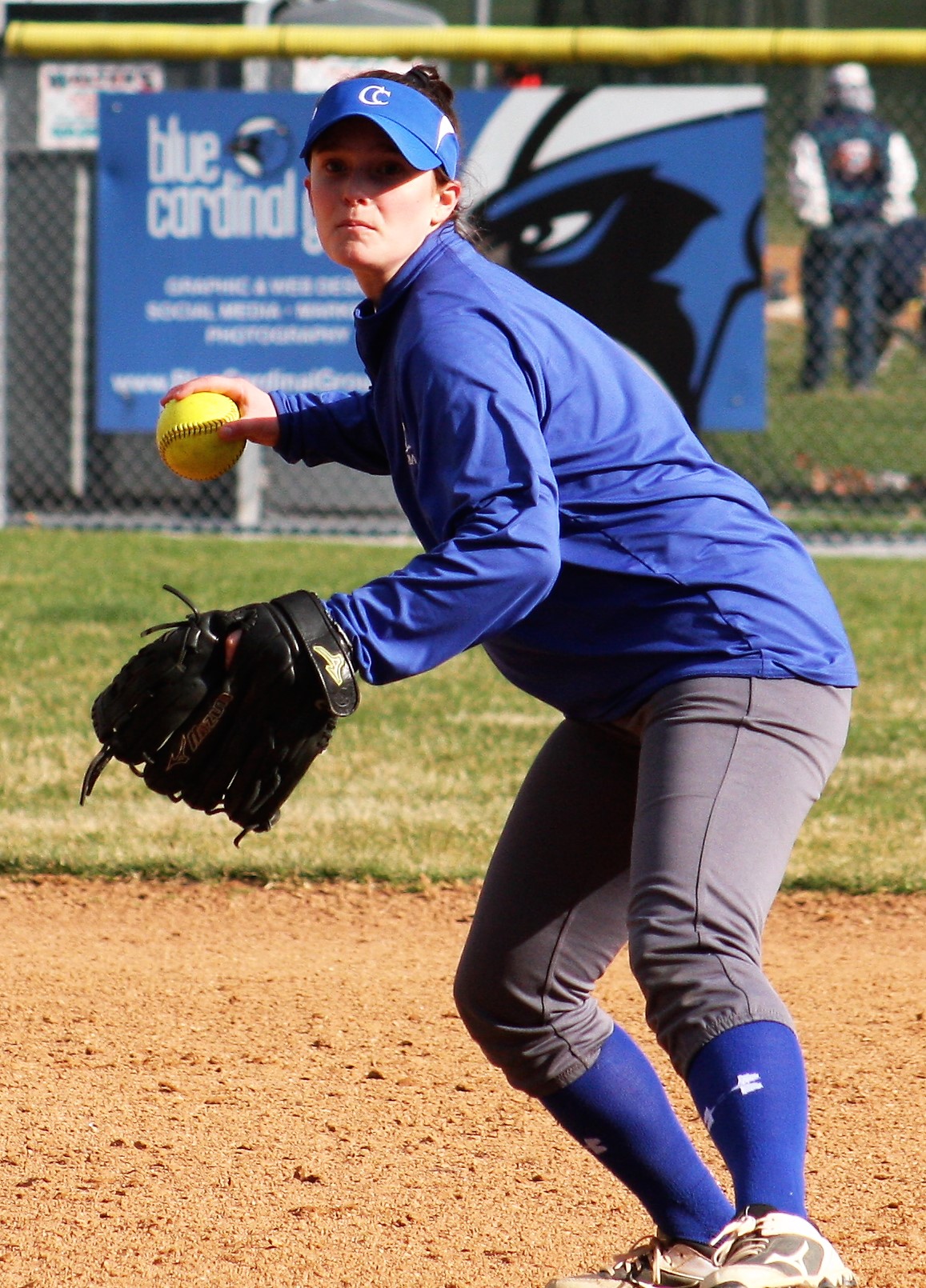 BY JEFF FALK
Editor
SOUTH LEBANON – It is obvious that the Cedar Crest softball team is vastly improved. One can simply tell by how the Falcons go about their business, their collective body language, that little extra bounce in their steps.
The only real question is: 'How much?' That degree is very much to be determined.
Just don't be surprised if Cedar Crest is in the running for some of those 'most improved' awards by the end of the spring.
On a windy Friday evening at Cedar Crest Middle School, the Falcons' early-season improvement manifested itself in the form of a 12-1, five-inning, mercy-rule beat down of visiting McCaskey. Cedar Crest evoked the mercy rule with one out in the bottom of the fifth inning, on Emma Johnson's three-run double, after teammate Reese Arnold had extended the Falcons lead to 9-1 with an RBI-double.
Arnold went three-for-four on the day, as the Falcons banged out a total of 15 hits. Anna Gable, Hayley Hackman and Sydney Black all contributed a pair of hits to the Cedar Crest cause, while Riley Rohrer drove home a pair of Falcon runs.
It was Cedar Crest's second impressive performance of the young season, after compiling a 7-12 mark a year ago. On the heels of a very competitive 3-2 setback at mighty Warwick on Wednesday, the Falcons are now 1-1 overall, and in Section One of the Lancaster-Lebanon League.
With the loss, McCaskey slipped to 0-3 on the year and 0-2 in Section One.
"Our goal is to do better than last year, exceed expectations and play our game every day," said Cedar Crest head coach Stephanie Leonardo. "We're looking to qualify for districts this year and win some of those tight games. From two years ago, I think we've become more and more confident. I think they're (her players) building on that experience. They're beginning to know that they're good ball players.
"We're playing clean defense," added Leonardo. "We know where to go with the ball. Not only are we making good plays, we're making great plays. We're putting balls in play against very good pitchers."
The Falcons wasted little time flying out of the chute in the bottom of the opening frame, scoring three runs in support of starter Emma Gable. After Hackman walked, Arnold, Rohrer and Black all recorded RBIs.
"Any time you score runs in the first inning, you're able to set the tone," said Leonardo. "Then we followed it up with some more solid hitting.
"I thought we hit well," Leonardo added. "We made adjustments. I told the girls to be patient and aggressive. We did have a good amount of hits. They know what strikes are and know what pitches they want to hit."
"They're a solid team all-around," said McCaskey head coach Trisha Johnson of the Falcons. "Both of their pitchers threw strikes. We tried to put the ball in play. I can imagine that their defense is as solid as their pitching."
Gable combined with Arnold on a one-hitter. During her two innings of work, Gable struck out five and walked one, while Arnold whiffed four and did not issue a free pass.
McCaskey scored its only run in the top of the fifth inning, on freshman Kadence Canty's first high school home run. At the time, the solo shot to left field made it an 8-1 score.
"They both pitched great," said Leonardo of Gable and Arnold. "They pitched hard. They knew their responsibility was to get kids out and they did that.
"We played well," continued Leonardo. "We hit the ball. We adjusted at the plate from seeing fast pitching on Wednesday to a different speed today, and we put 12 runs on the board."
In the bottom of the second inning, Cedar Crest plated four more runs to extend its lead to 7-0.
The big blow was Hackman's two-run double, after E. Gable and A.Gable had ignited the rally with hits. Rohrer also added an RBI during the Falcon at-bat.
A two-out RBI-double from Brooke Zimmerman in the fourth frame pushed the Falcons' advantage to 8-0.
"It was a must-win game for us," said Leonardo. "We played Wawick close on Wednesday. We went out and we won.
"I thought we shocked Warwick a little bit," Leonardo continued. "It was the same kind of game as today. We put up a run. We had great at-bats. We played our game. I was happy with the way the season started. We competed with them, now we beat them."
To purchase images in this article please email jeff@lebcosports.com.
2022 Cedar Crest Softball Schedule
Date
Opponents
Outcomes
3/30
4:15 pm
Cedar Crest
at Warwick
2
3
League
4/01
4:15 pm
McCaskey
at Cedar Crest
League
4/04
4:15 pm
Cedar Crest
at Hempfield
Nonleague
4/06
4:15 pm
Cedar Crest
at Manheim Township
Nonleague
4/08
4:15 pm
Penn Manor
at Cedar Crest
Nonleague
4/11
4:15 pm
Ephrata
at Cedar Crest
Nonleague
4/13
4:15 pm
Cedar Crest
at Lampeter-Strasburg
Nonleague
4/15
4:15 pm
Northern Lebanon
at Cedar Crest
Nonleague
4/18
4:15 pm
Cedar Crest
at Solanco
Nonleague
4/20
4:15 pm
Elizabethtown
at Cedar Crest
Nonleague
4/22
4:15 pm
Conestoga Valley
at Cedar Crest
Nonleague
4/23
9:00 am
Cedar Crest
at Spring Grove
Nonleague
4/25
4:15 pm
Cedar Crest
at Lebanon
Nonleague
4/27
4:15 pm
Warwick
at Cedar Crest
Nonleague
4/29
4:15 pm
Cedar Crest
at McCaskey
Nonleague
5/02
4:15 pm
Hempfield
at Cedar Crest
Nonleague
5/04
4:15 pm
Manheim Township
at Cedar Crest
Nonleague
5/05
4:15 pm
Cedar Crest
at Bishop McDevitt
Nonleague
5/06
4:15 pm
Cedar Crest
at Penn Manor
Nonleague

Lebanon Federal Credit Union