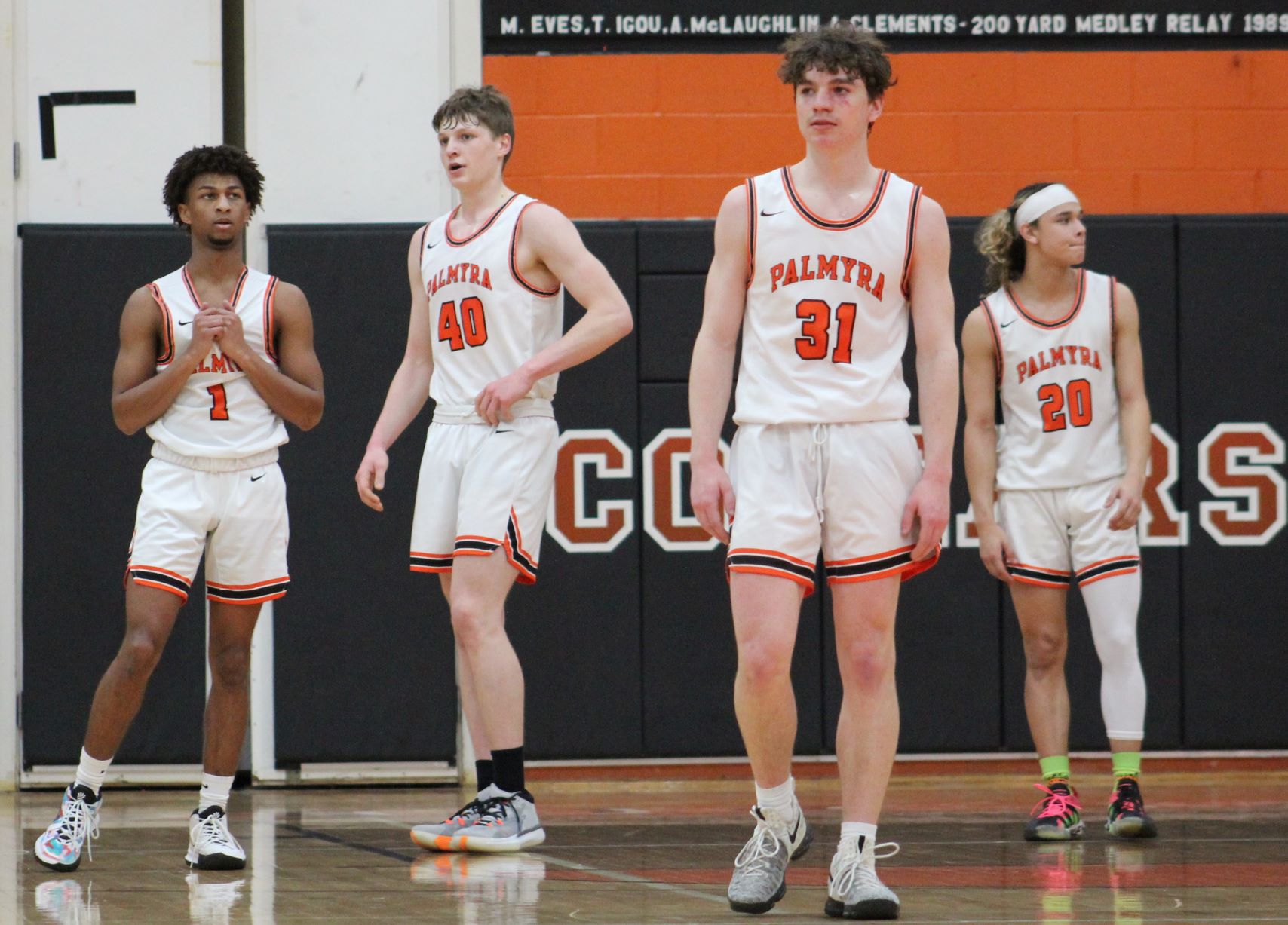 BY JEFF FALK
Editor
PALMYRA – 101 days. 54 practices. 25 games.
It's the sort of grind that absolutely demands motivation. From intestinal fortitude to a desire to improve to a basic love of the game.
But what happens when you run out of motivations? You turn to each other.
On Monday night at Palmyra High School, the Cougar boys' basketball team's passion for one other proved to be a strong driving force behind a 64-50 triumph over Manheim Central, in the consolation bracket of the District Three Class AAAAA playoffs. Palmyra maintained a slim margin throughout, before making the kind of plays needed to advance during crunch time.
Faced with a win-or-go-home scenario, the fifth-seeded Cougars played like they wanted their tremendous 2021-22 campaign to continue. The outcome pushed Palmyra to 19-6 overall and into the ninth-place game of the District Three Class AAAAA tournament.
On Wednesday at 7 p.m. at home, the Cougars will face sixth-seeded Elizabethtown and yet another do-or-die situation. A victory there would qualify Palmyra for the PIAA Class AAAAA playoffs.
Back on January 22 in Palmyra, the Cougars nudged Elizabethtown 59-37 in a non-league affair.
Eighth-seeded Manheim Central ended its year at 18-10.
"We want to get to states," said Palmyra head coach Pete Conrad. "But I don't think for us it's so much that getting to states will validate us. I think it's more like, 'Let's squeeze every ounce of togetherness out of this season.' I think what's motivating us is the desire to keep playing together.
"Every time this group huddles up we break it by saying 'Keep playing,'" Conrad added. "The meaning is two-fold. We want to keep playing to the whistle on the court. But these guys have also been playing together for a long time."
Palmyra's season was very much hanging in the balance, up 50-46 in the middle of the fourth quarter. But the Cougars pieced together a 14-4 spurt over the contest's final 3:37 to pull away.
Six different Cougars contributed points during that key stretch, Eli Becker, Gavin Bean, Christopher Edwards, Alex Dorta and Quinton Townsend.
"I don't know if it was one specific thing during that time," said Conrad. "We made some key basketball plays when we needed to. Overall, I thought our effort was pretty good. Our kids played really hard."
"We were down six, with the ball. We had a turnover, they hit a 'three' and that was it," said Manheim Central head coach Charlie Fisher. "They're (the Cougars) a high-powered offense. They got guys who can play. They were relentless. Every time we made a run, they made a bigger run. I'd be shocked if they didn't win their next game to go to states."
After enjoying a six-point halftime cushion, the Cougars extended their lead to 39-30 on a pair of free throws from Becker 2:10 into the third quarter. But Manheim Central outscored Palmyra 11-1 over the next four minutes to grab a 41-40 edge.
"At halftime, we thought there were some things we could shore up defensively," said Conrad. "They (the Barons) didn't have an answer for Becker at the rim. So our message was, 'Let's get it into him.'"
With 18 points, Becker paced Palmyra's scoring, while Edwards poured in 14 points. The Cougars converted 15 of their 19 foul shots and outscored the Barons by seven points at 'the stripe'.
"They shot it great," said Conrad of the Barons. "I'd say defensively we played well enough to win. Allowing 50 points is OK. It's a little bit below our standard. We usually hold teams in the low 40s. We did limit their other guys (besides Trey Grube and Judd Novak). That is something we talked about."
Palmyra held Manheim Central to a single bucket over the game's first 3:03 and raced out to an early 7-2 lead. Dean drained a three-pointer, Baldo converted a driving lay-up and Becker scored on a stick-back.
"That's a good team," said Conrad of the Barons. "They present some match-up difficulties. With a kid like Grube, it takes a long, mobile wing to guard him. And we have one (Trey Hilbert).
"We knew he (Grube) could shoot you in or out of it," added Conrad. "He shot them in it tonight."
With the scored tied in the middle of the second stanza, the Cougars rattled off nine unanswered points to build a 33-24 advantage. Becker notched six of those points, while Dorta knocked down three free throws.
"With some of it, I think you've got to figure out how you're going to define success," said Conrad. "It's an idea that we are trying to get better every day. Suppose we're able to get to states, I'm not defining our season by that."
To purchase images in this article please email jeff@lebcosports.com.
2021-22 Palmyra Boys' Basketball Results
| | | | | | |
| --- | --- | --- | --- | --- | --- |
| 2021-12-10 | A | vs | Penn Manor(3) | W | 75-42 |
| 2021-12-11 | A | vs | Donegal(3) | W | 51-47 |
| 2021-12-14 | A | vs | Lower Dauphin(3) | W | 52-44 |
| 2021-12-17 | A | vs | Red Land(3) | W | 36-32 |
| 2021-12-20 | A | vs | Annville-Cleona(3) | W | 53-33 |
| 2021-12-22 | H | vs | Hershey(3) | L | 30-44 |
| 2021-12-28 | A | vs | Exeter Township(3) | W | 51-48 |
| 2021-12-29 | A | vs | Lebanon(3) | W | 47-36 |
| 2022-01-04 | H | vs | Mechanicsburg(3) | W | 56-31 |
| 2022-01-07 | A | vs | Mifflin County(6) | W | 68-31 |
| 2022-01-09 | A | vs | Lebanon(3) | L | 51-53 |
| 2022-01-11 | H | vs | Cedar Cliff(3) | W | 70-68 OT |
| 2022-01-14 | H | vs | Lower Dauphin(3) | L | 65-68 |
| 2022-01-18 | H | vs | Milton Hershey(3) | W | 60-39 |
| 2022-01-19 | H | vs | Red Land(3) | W | 44-29 |
| 2022-01-22 | H | vs | Elizabethtown(3) | W | 59-37 |
| 2022-01-25 | A | vs | Hershey(3) | L | 47-55 |
| 2022-01-28 | A | vs | Mechanicsburg(3) | W | 51-27 |
| 2022-02-01 | H | vs | Mifflin County(6) | W | 74-40 |
| 2022-02-05 | A | vs | Conrad Weiser(3) | W | 45-34 |
| 2022-02-09 | A | vs | Cedar Cliff(3) | W | 59-45 |
| 2022-02-11 | A | vs | Milton Hershey(3) | L | 66-74 |
PIAA District Three Final Class AAAAA Power Rankings
| | | | | | | | | | | | |
| --- | --- | --- | --- | --- | --- | --- | --- | --- | --- | --- | --- |
| AAAAA | School |  W |  L |  T |  Rating |  TWP |  OWP |  TWPW |  OWPW |  TWPL |  OWPL |
| 1 | Lampeter Strasburg | 21- | 0- | 0 |  0.792397 |  1.000000 |  0.538661 |  23.35 |  239.30 |  0.00 |  204.95 |
| 2 | West York | 19- | 2- | 0 |  0.740267 |  0.922246 |  0.517847 |  21.35 |  228.50 |  1.80 |  212.75 |
| 3 | Shippensburg | 16- | 2- | 0 |  0.738893 |  0.904523 |  0.536456 |  18.00 |  202.70 |  1.90 |  175.15 |
| 4 | Hershey | 17- | 5- | 0 |  0.708200 |  0.834728 |  0.553555 |  19.95 |  264.35 |  3.95 |  213.20 |
| 5 | Palmyra | 17- | 5- | 0 |  0.706354 |  0.827801 |  0.557918 |  19.95 |  266.35 |  4.15 |  211.05 |
| 6 | Elizabethtown | 13- | 9- | 0 |  0.668607 |  0.683628 |  0.650248 |  15.45 |  307.60 |  7.15 |  165.45 |
| 7 | Milton Hershey | 13- | 9- | 0 |  0.641912 |  0.668919 |  0.608904 |  14.85 |  292.00 |  7.35 |  187.55 |
| 8 | Manheim Central | 15- | 7- | 0 |  0.639870 |  0.741304 |  0.515894 |  17.05 |  236.95 |  5.95 |  222.35 |
| 9 | Northeastern | 14- | 8- | 0 |  0.636576 |  0.721973 |  0.532201 |  16.10 |  249.15 |  6.20 |  219.00 |
| 10 | Exeter Township | 10- | 11- | 0 |  0.634204 |  0.580336 |  0.700043 |  12.10 |  325.10 |  8.75 |  139.30 |
| 11 | Lower Dauphin | 11- | 11- | 0 |  0.632882 |  0.595023 |  0.679154 |  13.15 |  330.85 |  8.95 |  156.30 |
| 12 | Susquehannock | 14- | 7- | 0 |  0.626781 |  0.702079 |  0.534751 |  15.20 |  238.90 |  6.45 |  207.85 |
| 13 | Fleetwood | 16- | 5- | 0 |  0.616640 |  0.775904 |  0.421985 |  16.10 |  189.45 |  4.65 |  259.50 |
| 14 | Octorara | 14- | 8- | 0 |  0.612141 |  0.691964 |  0.514578 |  15.50 |  231.20 |  6.90 |  218.10 |
| 15 | Big Spring | 14- | 8- | 0 |  0.608181 |  0.683036 |  0.516692 |  15.30 |  236.80 |  7.10 |  221.50 |
| 16 | Mechanicsburg | 11- | 11- | 0 |  0.587540 |  0.587558 |  0.587519 |  12.75 |  277.25 |  8.95 |  194.65 |
| 17 | Donegal | 12- | 10- | 0 |  0.581680 |  0.597345 |  0.562533 |  13.50 |  266.95 |  9.10 |  207.60 |
| 18 | Twin Valley | 10- | 12- | 0 |  0.539749 |  0.528846 |  0.553074 |  11.00 |  260.00 |  9.80 |  210.10 |
| 19 | Gettysburg | 9- | 13- | 0 |  0.535163 |  0.469340 |  0.615613 |  9.95 |  290.20 |  11.25 |  181.20 |
| 20 | York Suburban | 8- | 13- | 0 |  0.530623 |  0.434568 |  0.648025 |  8.80 |  296.05 |  11.45 |  160.80 |
| 21 | Garden Spot | 8- | 14- | 0 |  0.507139 |  0.440191 |  0.588965 |  9.20 |  275.40 |  11.70 |  192.20 |
| 22 | South Western | 8- | 14- | 0 |  0.506722 |  0.441748 |  0.586135 |  9.10 |  279.85 |  11.50 |  197.60 |
| 23 | New Oxford | 8- | 14- | 0 |  0.503452 |  0.435407 |  0.586619 |  9.10 |  277.50 |  11.80 |  195.55 |
| 24 | Northern York | 8- | 14- | 0 |  0.495175 |  0.424390 |  0.581690 |  8.70 |  268.45 |  11.80 |  193.05 |
| 25 | Conrad Weiser | 8- | 14- | 0 |  0.488493 |  0.427861 |  0.562599 |  8.60 |  267.15 |  11.50 |  207.70 |
| 26 | Ephrata | 6- | 16- | 0 |  0.480787 |  0.358974 |  0.629669 |  7.00 |  299.25 |  12.50 |  176.00 |
| 27 | Spring Grove Area | 6- | 16- | 0 |  0.471309 |  0.351485 |  0.617760 |  7.10 |  298.10 |  13.10 |  184.45 |
| 28 | Cocalico | 7- | 15- | 0 |  0.465042 |  0.384058 |  0.564023 |  7.95 |  262.75 |  12.75 |  203.10 |
| 29 | Greencastle Antrim | 7- | 15- | 0 |  0.459704 |  0.353960 |  0.588946 |  7.15 |  272.80 |  13.05 |  190.40 |
| 30 | Red Land | 4- | 18- | 0 |  0.380385 |  0.227273 |  0.567523 |  4.50 |  275.05 |  15.30 |  209.60 |
| 31 | Dover | 3- | 18- | 0 |  0.363488 |  0.180157 |  0.587559 |  3.45 |  268.25 |  15.70 |  188.30 |
| 32 | Solanco | 2- | 18- | 0 |  0.356265 |  0.134078 |  0.627826 |  2.40 |  272.10 |  15.50 |  161.30 |
| 33 | Daniel Boone | 0- | 22- | 0 |  0.271208 |  0.000000 |  0.602684 |  0.00 |  280.70 |  18.80 |  185.05 |