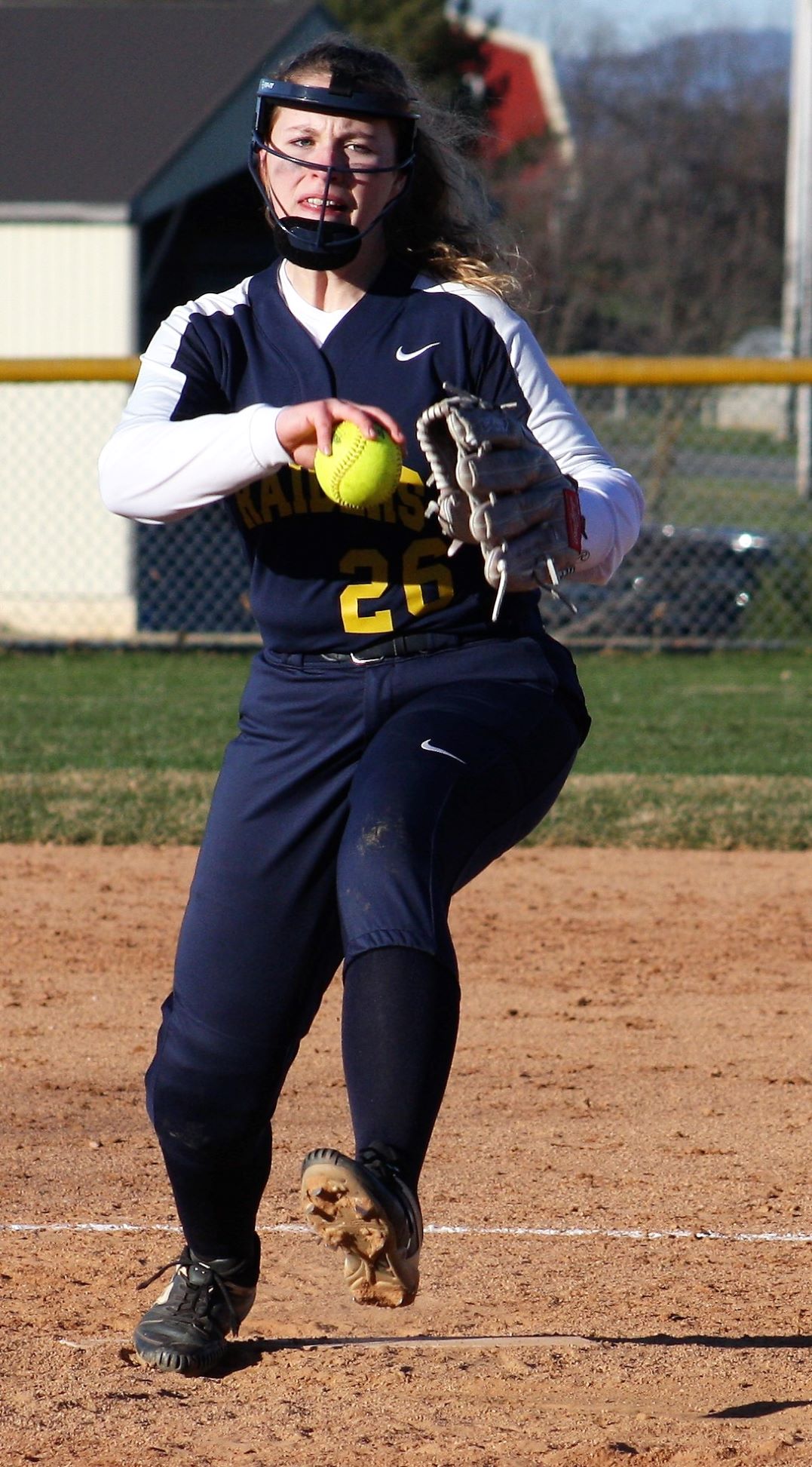 BY JEFF FALK
Editor
MYERSTOWN – New season. New coach. New direction.
The Elco girls' softball team is overflowing with hope. While this certainly wasn't the result that the Raiders were seeking, there was nothing that occurred to diminish that hope.
On a frigid Tuesday evening at Elco Middle School, the Raiders opened their 2022 spring campaign by dropping a 12-9 non-league decision to visiting Conrad Weiser. Elco was plagued by ten wild pitches, but generally the Raiders were sound fundamentally, they displayed a certain level of knowledge of the game and they competed.
For the most part, it was a positive outing for an Elco softball program that has struggled to perform consistently over the past decade. With the outcome, Conrad Weiser improved to 2-0 on the year.
"I was hoping it would be a close game," said Raider rookie head coach Allen Phillips. "We got down 4-0 in the first inning, but we battled back. Then they (the Scouts) got back up on us again, and we battled back again. That's what we're looking for, the resiliency.
"We're very young," continued Phillips. "Both of our pitchers are freshmen. I was very pleased with how they threw. We just wanted to compete today, and I thought we showed we can."
After staking Conrad Weiser to that 4-0 head start, the Raiders responded with three runs in the bottom of the first inning. Caitlyn Kleinfelter got Elco rolling with a lead-off double, then later in the frame teammates Gabby Smith, Gracie Barshinger and Brooke Auker all drove home runs.
"We've been in the gym most of the spring," said Phillips. "I think we've had three outside practices. It's hard to work on certain things when you're inside. We were just happy to be outside today.
"I think we have a lot of speed," added Phllips. "We really want to work on small ball. We need to spend a lot more time on it. I think once we get comfortable we're going to use it a lot to maximize our speed."
After Conrad Weiser plated a pair of fourth-inning runs without the benefit of a hit, the Scouts pushed their advantage to 10-3 with four more runs in the top of the fifth. But Elco used another Kleinfelter double, Barshinger's RBI and three errors to score four times in the bottom of the fifth to make it a 10-7 count.
"I was happy with what I saw from both pitchers," said Phillips of starter Gabby Smith and reliever Abby Hassler. "Our first pitcher threw pretty hard. When I pulled Gabby I told her not to be down on herself. There were a lot of wild pitches, but some of them were on the catcher.
"It (adjusting to a new head coach) is a process and it is going to take some time," Phillips continued. "But fortunately I've coached a lot of these girls since they were young. I'm really excited for 2023, because I think once the freshmen get some experience we'll be good. But I think we'll surprise some people this year. We may not be where we want to be this year."
The Raiders tallied their final two runs in the bottom of the seventh inning, courtesy of Hassler's lead-off single and Barshinger's third RBI of the contest. Conrad Weiser out hit Elco 9-8.
"I'd like to be over .500 this season," said Phillips. "Once we start getting into the groove, I'd like to see us in the playoffs.
"The main thing I want to focus on is really creating a culture, from the youth program on up," Phillips added. "Just getting the youth involved. At Elco, they're picking up soccer balls at the age of three, and they're only picking up softballs at ten. That's culture. Win together, lose together, be together – that's what I'd like to see here at Elco."
To purchase images in this article please email jeff@lebcosports.com.
2022 Elco Softball Schedule