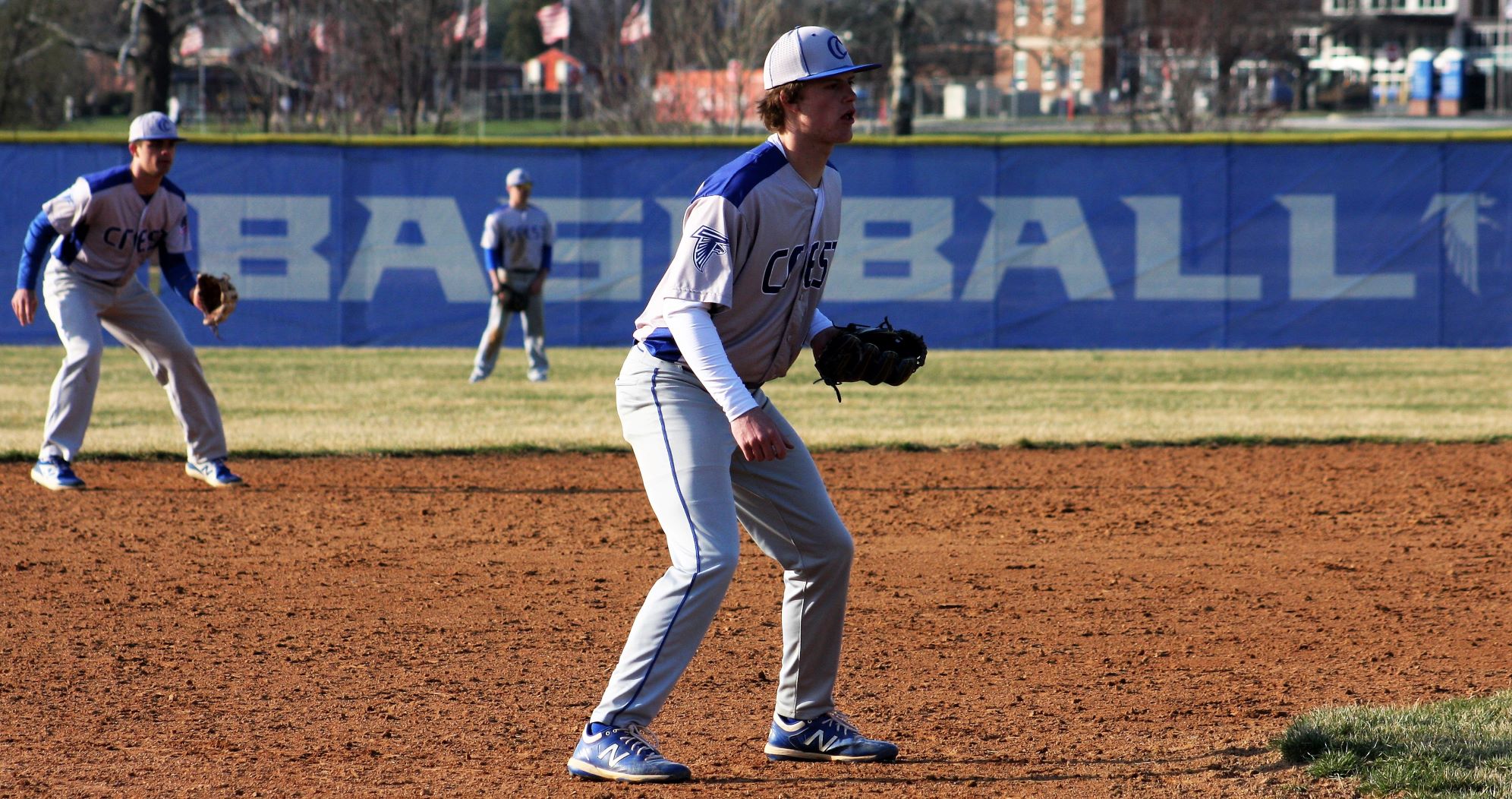 BY JEFF FALK
Editor
SOUTH LEBANON – Intentional or not, the Cedar Crest baseball team has taken on a very specific personality during Matt Knox's tenure as head coach.
The Falcons always play solid defense, pitch well and contend for playoff positions. They get the most out of their talent, they sometimes have to scratch out runs offensively and they never beat themselves.
On a sun-drenched Wednesday evening at Cedar Crest High School, some of the Falcons' traditional traits were on display, and some weren't, during a 9-0 season-opening setback at the hands of visiting Warwick. Cedar Crest was guilty of an atypical eight errors – at least one in six of the seven innings – and managed just one hit.
While it was only one result, it certainly wasn't the kind of start a Falcon team seeking a return to the postseason was looking for. With the outcome, Warwick improved to 1-1 overall and 1-0 in Section One of the Lancaster-Lebanon League.
"Our goal is to play fundamentally sound baseball," said Knox. "The end goal is to get to the playoffs in some form or another. With so many unknowns, we're going to have to learn on the fly. We want to play better, stronger baseball as we move through the season.
"We have a lot of holes to fill from last year," continued Knox. "You have guys who don't have in-gam varsity experience. We have to fill or replace a lot of positions. We're going to have to learn a little on the fly, especially in Section One. They'll (his players) get better as the season goes along."
Early on, Cedar Crest managed to work around its fielding woes, thanks in part to a solid outing from senior righthander Austin Beard. Before leaving with two outs and trailing 3-0 in the top of the fifth, Beard surrendered two hits, struck out six and walked one.
"He threw fantastic," said Knox of Beard. "He threw strikes. He got himself into good positions. He looked really good today.
"I have confidence in all of our pitchers," added Knox. "He got the ball for the first game. He works really, really hard, as do all of our kids. But he earned that."
"We knew if we got him (Beard), he'd be tough," said Warwick head coach Bill Weismandel. "We have a lot of respect for him. He understands how to pitch. He's competing his tail off to keep his team in the game."
On the other side of the mound, Warwick ace Matt Seibert had the Falcon hitters off-balance throughout. Seibert, who whiffed nine and didn't issue a free pass, retired the first nine Cedar Crest batters he faced, before senior Noah Gonzalez opened the Cedar Crest half of the fourth with a clean, infield hit.
"Over the first three innings, Seibert was throwing the ball well," said Knox. "But we took too many fastballs in the strike zone. We never had an opportunity to get him out of his rhythm. I thought early on, we were tentative at the plate. But I thought as the game went on, we had a better approach.
"I don't ever think it's about the first game, or anything like that," Knox added. "It's a full season. I told the kids, 'It's not how you start, it's how you finish.' We're a better team than we showed today."
"Seibert is probably one of the better pitchers they'll see," said Weismandel of the Falcons. "But I don't think they were intimidated."
Warwick broke the game open with a five-run rally in the top of the sixth that extended their lead to 8-0. The Warriors' at-bat included Seth Adomnik and Ethan Zipko safeties, two walks, two CC errors, five stolen bases and a passed ball.
"We have to do a better job of taking care of the baseball," said Knox. "I believe we had nine or ten errors. When you have a pitcher out there battling and getting outs, you've got to take advantage of it. That's not taking anything away from Seibert. But from our side, we've got to do a better job defensively.
"We learn from it," added Knox, "move on and continue to work to get better."
"The pitching was good, the baserunning was good, but the bats, we have a lot to work on," said Weismandel. "They (the Falcons) gave us a lot. You always have to put things into perspective, good and bad. They gave us extra opportunities."
To purchase images in this article please email jeff@lebcosports.com.
2022 Cedar Crest Baseball Schedule
| | | | | | |
| --- | --- | --- | --- | --- | --- |
| 2022-03-30 | H | vs | Warwick(3) | | 0-0 |
| 2022-04-01 | A | vs | J P McCaskey(3) | | 0-0 |
| 2022-04-04 | H | vs | Hempfield (3)(3) | | 0-0 |
| 2022-04-06 | H | vs | Manheim Township(3) | | 0-0 |
| 2022-04-08 | A | vs | Penn Manor(3) | | 0-0 |
| 2022-04-11 | A | vs | Ephrata(3) | | 0-0 |
| 2022-04-13 | H | vs | Lampeter Strasburg(3) | | 0-0 |
| 2022-04-14 | A | vs | Exeter Township(3) | | 0-0 |
| 2022-04-18 | H | vs | Solanco(3) | | 0-0 |
| 2022-04-20 | A | vs | Elizabethtown(3) | | 0-0 |
| 2022-04-22 | A | vs | Conestoga Valley(3) | | 0-0 |
| 2022-04-25 | H | vs | Lebanon(3) | | 0-0 |
| 2022-04-27 | A | vs | Warwick(3) | | 0-0 |
| 2022-04-29 | H | vs | J P McCaskey(3) | | 0-0 |
| 2022-04-30 | A | vs | Governor Mifflin(3) | | 0-0 |
| 2022-05-02 | A | vs | Hempfield (3)(3) | | 0-0 |
| 2022-05-04 | A | vs | Manheim Township(3) | | 0-0 |
| 2022-05-06 | H | vs | Penn Manor(3) | | 0-0 |
| 2022-05-13 | H | vs | Palmyra(3) | | 0-0 |

Lebanon Federal Credit Union