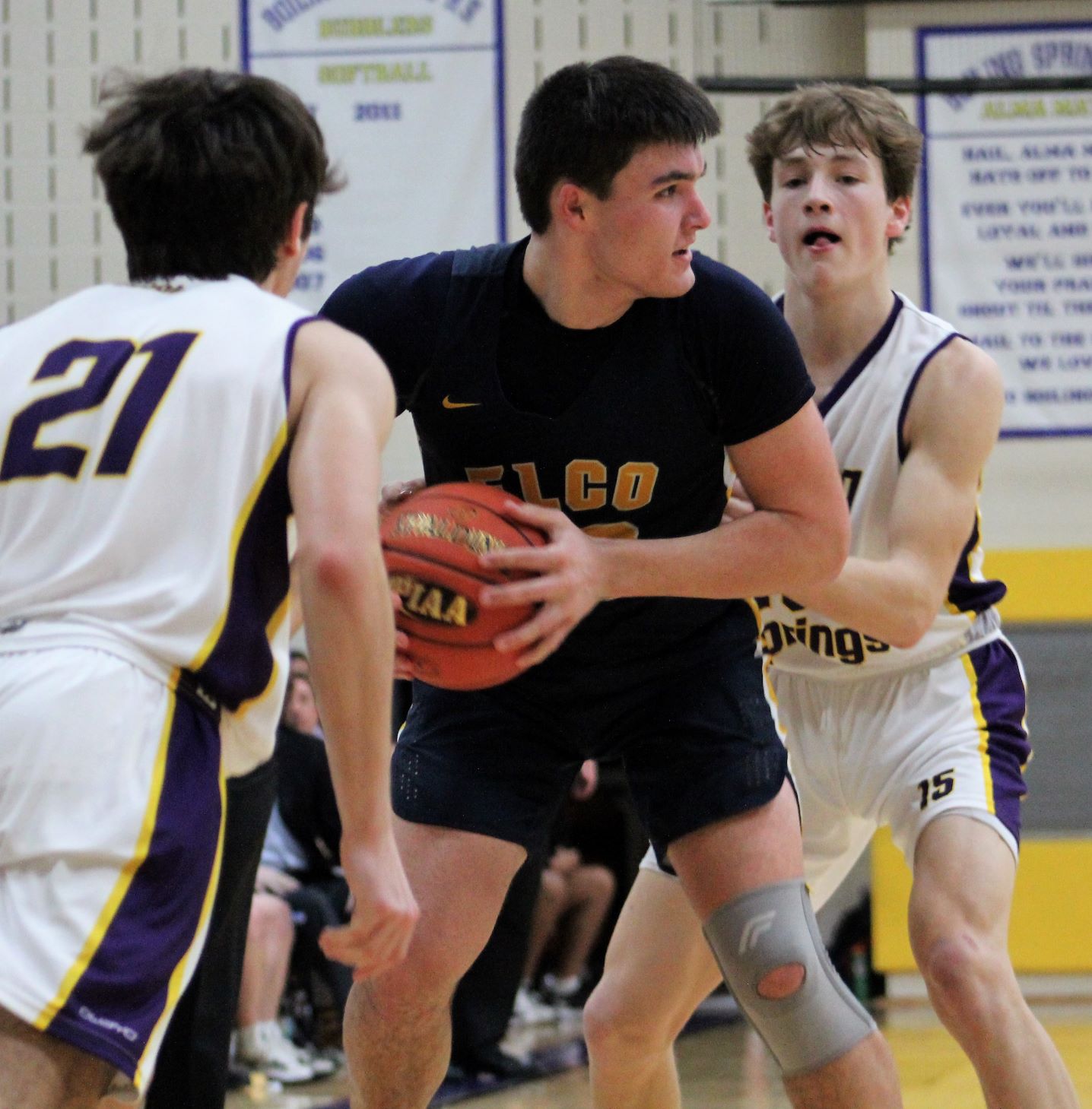 BY JEFF FALK
Editor
BOILING SPRINGS – If you play well and perform consistently, each game will take on more meaning than the previous one. The Elco boys' basketball team's latest game was its most important.
That should give you some idea of the kind of season that the Raiders have had.
On Wednesday night at Boiling Springs High School, Elco played one one of its finest games to date, when it needed it most, as it dismantled the hometown Bubblers 66-50 in the fifth-place game of the District Three Class AAAA playoffs. Following a tight, back-and-forth first half, the Raiders pieced together an amazing run through the entire third period to gain control of the outcome.
Facing a third straight win-or-go-home scenario, the result extended the eight-seeded Raiders' overall record to 17-11 and qualified them for next week's PIAA Class AAAA postseason. On Tuesday, Elco will travel to the home of the District 12 champion for its state opener.
The Raiders' state playoff appearance will be the third in program history, and the first since 2020. Earlier in the year, Elco had captured its first Lancaster-Lebanon Section Four championship in 30 years.
The loss ended seventh-seeded Boiling Springs' campaign at 15-11.
"For us, the next game is always the most important one," said Elco head coach Brad Conners. "I look back at the Lancaster Catholic game there, that broke the streak, as our best game of the year. The Wyomissing game (during the play-in round of districts) was equally important, because it was also win or go home. We just don't overlook any game.
"The opener in districts showed what we can be," added Conners. "I thought we played well at Berks Catholic and got the shots we wanted. The Eastern York win (in the consolation semifinal) was one of the best wins of my coaching career. The way we battled back, it felt like a signature kind of win. I think we're playing some of our best basketball of the season, which is what you want to see in the postseason."
If the contest was one of Elco's finest performances, then so was the third one of its best quarters of the season. Everything just clicked for the Raiders, offensively, defensively and shooting.
With the score tied at halftime, Elco outscored Boiling Springs 27-9 in the third period to open a 52-34 bulge. The quarter included a 6-0 start, a 7-0 conclusion, 11 points from Rheece Shuey, five points by Dallas George and 11 points from Corey Attivo, including the 1,000th of his career.
And when Luke Williams converted a pair of free throw attempts with 2:42 remaining, Elco had itself a 59-40 cushion.
"I remember the three-point shots," said Conners of the third-period barrage. "Like three-pointer after three-pointer. We're not a team that wants to play fast. It felt like two passes was one too many. Then, our defense kind of took over.
"We've been playing pretty good defense all season," added Conners. "That third-quarter offensive explosion was nice to see. Boiling Springs is a really good team."
Attivo finished with a season-high 29 points, while Shuey tossed in 15 points and George pumped in 13. Elco outscored Boiling Springs 28-16 on two-point field goals.
"Our group of kids, and seniors, welcomed him with open arms," said Conners of Attivo. "I give a lot of credit to the seniors for welcoming him. Chemistry takes a little time. That's why it's the most difficult subject in the class room. Rheece and Luke already had chemistry inside. I think you see it when we're playing our best. I think they've developed chemistry with Corey and gets his opportunities. I think they have something special going on. It's nice to see.
"We started playing it (an active 3-2 match-up zone) near the end of the season," continued Conners. "We hadn't really shown until it at all before the first district game. When we first brought it out, we had some success with it. We knew we were going to face some shooters and we knew there were times when we were going to want to go zone. That 3-2 really slowed them (the Bubblers) down. It kind of stifled them."
The Raiders and Bubblers really went at each other early on. Thanks to five points from Attivo, a Williams bucket and a steal and lay-in by Camden Marquette, Elco notched the final nine points of the opening period to turn an eight-point deficit into a 15-14 lead.
"It's (the trip to states) pretty rewarding," said Conners. "I feel great for these guys. I'm not sure it was a goal at the beginning of the season. But when you achieve one goal, you set another. It's something very few Elco kids have been able to experience."
The Raiders went score-less for a 4:05 stretch late in the second stanza, and Boiling Springs opened a 25-21 margin. But Elco got a free throw from Attivo and a wild, off-balance, buzzer-beating three-pointer from George to knot the halftime score at 25.
"The goal is to enjoy every tiny, little second of it," said Conners of the upcoming state playoff experience. "These guys are going to be playing some pick-up games in the future. But there's nothing like playing in front of family in the stands. Hey, anything can happen. That's why you play the games."
To purchase images in this article please email jeff@lebcosports.com.
2021-22 Elco Boys' Basketball Results
| | | | | | |
| --- | --- | --- | --- | --- | --- |
| 2021-12-10 | A | vs | Red Land(3) | W | 45-33 |
| 2021-12-11 | A | vs | Lebanon(3) | L | 29-34 |
| 2021-12-14 | H | vs | Octorara(3) | W | 57-54 |
| 2021-12-17 | A | vs | Donegal(3) | W | 42-33 |
| 2021-12-21 | A | vs | Northern Lebanon(3) | W | 50-39 |
| 2021-12-29 | A | vs | Dallastown(3) | L | 46-48 |
| 2021-12-30 | A | vs | Spring Grove Area(3) | W | 48-39 |
| 2022-01-03 | H | vs | Annville-Cleona(3) | W | 66-25 |
| 2022-01-05 | A | vs | Hamburg(3) | W | 70-43 |
| 2022-01-07 | H | vs | Lancaster Catholic(3) | W | 52-50 |
| 2022-01-11 | H | vs | Cocalico(3) | W | 55-39 |
| 2022-01-14 | A | vs | Manheim Central(3) | L | 53-58 |
| 2022-01-18 | H | vs | Solanco(3) | W | 66-34 |
| 2022-01-21 | A | vs | Lampeter Strasburg(3) | L | 49-71 |
| 2022-01-25 | A | vs | Octorara(3) | L | 61-69 |
| 2022-01-28 | H | vs | Donegal(3) | W | 48-44 |
| 2022-01-29 | A | vs | Pottsville(11) | L | 45-52 |
| 2022-02-01 | H | vs | Northern Lebanon(3) | L | 44-53 |
| 2022-02-02 | A | vs | Conrad Weiser(3) | L | 45-55 |
| 2022-02-04 | H | vs | Garden Spot(3) | W | 53-42 |
| 2022-02-08 | A | vs | Lancaster Catholic(3) | W | 55-51 |
| 2022-02-10 | A | vs | Wyomissing(3) | L | 51-58 |
PIAA District Three Class AAAAA Power Rankings
| | | | | | | | | | | | |
| --- | --- | --- | --- | --- | --- | --- | --- | --- | --- | --- | --- |
| AAAAA | School |  W |  L |  T |  Rating |  TWP |  OWP |  TWPW |  OWPW |  TWPL |  OWPL |
| 1 | Lampeter Strasburg | 21- | 0- | 0 |  0.792397 |  1.000000 |  0.538661 |  23.35 |  239.30 |  0.00 |  204.95 |
| 2 | West York | 19- | 2- | 0 |  0.740267 |  0.922246 |  0.517847 |  21.35 |  228.50 |  1.80 |  212.75 |
| 3 | Shippensburg | 16- | 2- | 0 |  0.738893 |  0.904523 |  0.536456 |  18.00 |  202.70 |  1.90 |  175.15 |
| 4 | Hershey | 17- | 5- | 0 |  0.708200 |  0.834728 |  0.553555 |  19.95 |  264.35 |  3.95 |  213.20 |
| 5 | Palmyra | 17- | 5- | 0 |  0.706354 |  0.827801 |  0.557918 |  19.95 |  266.35 |  4.15 |  211.05 |
| 6 | Elizabethtown | 13- | 9- | 0 |  0.668607 |  0.683628 |  0.650248 |  15.45 |  307.60 |  7.15 |  165.45 |
| 7 | Milton Hershey | 13- | 9- | 0 |  0.641912 |  0.668919 |  0.608904 |  14.85 |  292.00 |  7.35 |  187.55 |
| 8 | Manheim Central | 15- | 7- | 0 |  0.639870 |  0.741304 |  0.515894 |  17.05 |  236.95 |  5.95 |  222.35 |
| 9 | Northeastern | 14- | 8- | 0 |  0.636576 |  0.721973 |  0.532201 |  16.10 |  249.15 |  6.20 |  219.00 |
| 10 | Exeter Township | 10- | 11- | 0 |  0.634204 |  0.580336 |  0.700043 |  12.10 |  325.10 |  8.75 |  139.30 |
| 11 | Lower Dauphin | 11- | 11- | 0 |  0.632882 |  0.595023 |  0.679154 |  13.15 |  330.85 |  8.95 |  156.30 |
| 12 | Susquehannock | 14- | 7- | 0 |  0.626781 |  0.702079 |  0.534751 |  15.20 |  238.90 |  6.45 |  207.85 |
| 13 | Fleetwood | 16- | 5- | 0 |  0.616640 |  0.775904 |  0.421985 |  16.10 |  189.45 |  4.65 |  259.50 |
| 14 | Octorara | 14- | 8- | 0 |  0.612141 |  0.691964 |  0.514578 |  15.50 |  231.20 |  6.90 |  218.10 |
| 15 | Big Spring | 14- | 8- | 0 |  0.608181 |  0.683036 |  0.516692 |  15.30 |  236.80 |  7.10 |  221.50 |
| 16 | Mechanicsburg | 11- | 11- | 0 |  0.587540 |  0.587558 |  0.587519 |  12.75 |  277.25 |  8.95 |  194.65 |
| 17 | Donegal | 12- | 10- | 0 |  0.581680 |  0.597345 |  0.562533 |  13.50 |  266.95 |  9.10 |  207.60 |
| 18 | Twin Valley | 10- | 12- | 0 |  0.539749 |  0.528846 |  0.553074 |  11.00 |  260.00 |  9.80 |  210.10 |
| 19 | Gettysburg | 9- | 13- | 0 |  0.535163 |  0.469340 |  0.615613 |  9.95 |  290.20 |  11.25 |  181.20 |
| 20 | York Suburban | 8- | 13- | 0 |  0.530623 |  0.434568 |  0.648025 |  8.80 |  296.05 |  11.45 |  160.80 |
| 21 | Garden Spot | 8- | 14- | 0 |  0.507139 |  0.440191 |  0.588965 |  9.20 |  275.40 |  11.70 |  192.20 |
| 22 | South Western | 8- | 14- | 0 |  0.506722 |  0.441748 |  0.586135 |  9.10 |  279.85 |  11.50 |  197.60 |
| 23 | New Oxford | 8- | 14- | 0 |  0.503452 |  0.435407 |  0.586619 |  9.10 |  277.50 |  11.80 |  195.55 |
| 24 | Northern York | 8- | 14- | 0 |  0.495175 |  0.424390 |  0.581690 |  8.70 |  268.45 |  11.80 |  193.05 |
| 25 | Conrad Weiser | 8- | 14- | 0 |  0.488493 |  0.427861 |  0.562599 |  8.60 |  267.15 |  11.50 |  207.70 |
| 26 | Ephrata | 6- | 16- | 0 |  0.480787 |  0.358974 |  0.629669 |  7.00 |  299.25 |  12.50 |  176.00 |
| 27 | Spring Grove Area | 6- | 16- | 0 |  0.471309 |  0.351485 |  0.617760 |  7.10 |  298.10 |  13.10 |  184.45 |
| 28 | Cocalico | 7- | 15- | 0 |  0.465042 |  0.384058 |  0.564023 |  7.95 |  262.75 |  12.75 |  203.10 |
| 29 | Greencastle Antrim | 7- | 15- | 0 |  0.459704 |  0.353960 |  0.588946 |  7.15 |  272.80 |  13.05 |  190.40 |
| 30 | Red Land | 4- | 18- | 0 |  0.380385 |  0.227273 |  0.567523 |  4.50 |  275.05 |  15.30 |  209.60 |
| 31 | Dover | 3- | 18- | 0 |  0.363488 |  0.180157 |  0.587559 |  3.45 |  268.25 |  15.70 |  188.30 |
| 32 | Solanco | 2- | 18- | 0 |  0.356265 |  0.134078 |  0.627826 |  2.40 |  272.10 |  15.50 |  161.30 |
| 33 | Daniel Boone | 0- | 22- | 0 |  0.271208 |  0.000000 |  0.602684 |  0.00 |  280.70 |  18.80 |  185.05 |