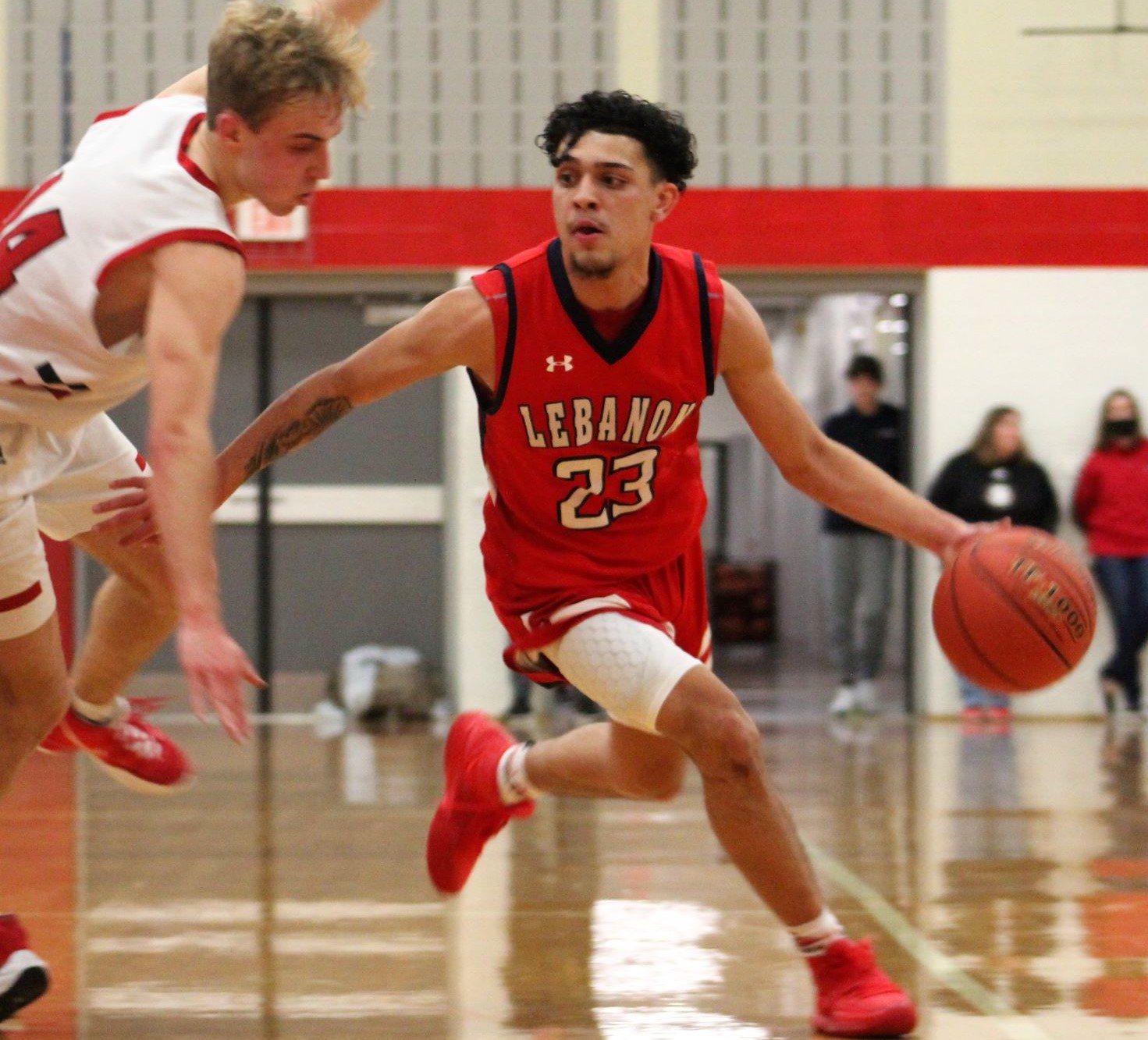 BY JEFF FALK
Editor
LITITZ – In the immediate window, this was about a potential section championship and falling short of an all-important initial goal. But in the big picture, there's something more distressing, something more ominous going on.
The Lebanon boys' basketball team is in danger of failing to peak at the right time of the year.
On Saturday afternoon at Warwick High School, Lebanon dropped a crucial 61-58, overtime decision to the hometown Warriors. After Cedar post man Nate Diaz's bucket with four seconds left in regulation tied the score at 56 and sent the game to overtime, Warwick outscored Lebanon 5-2 in the four-minute extra session.
The Warriors tallied the first three points in overtime, before Micahael Franco-Suazo's bucket pulled the Cedars to within 59-58 of the lead, with 1:14 remaining. But Lebanon did not score the rest of the way and the Warriors used a pair of charity tosses to ice it.
The loss was Lebanon's third in its last four outings – all coming in overtime – and dropped it to 13-7 on the season and 7-5 in Section Two of the Lancaster-Lebanon League, and denied the Cedars a repeat of a section title that they shared with Warwick last season. Lebanon, the reigning Lancaster-Lebanon League champion, is still very much alive – but not assured of – spots in the league playoffs and the District Three Class AAAAAA postseason tournament.
The Cedars were positioned tenth in the latest District Three power rankings, for an AAAAAA classification which qualifies 12 for its playoffs.
For the Warriors, now 15-4 overall and 10-3 in the section, it was their fourth straight Section Two championship. Back on January 4th in Lebanon, Warwick had shaded the Cedars 58-43.
"It was the next one on our schedule," said Lebanon head coach Tim Speraw. "But there was a little more added to it. If they (the Warriors) win, they win the section. If we win, the section keeps going.
"I don't think we're peaking like we were last year," added Speraw. "It's just costly turnovers. We've got to take better care of the ball and make shots. We're getting some pretty good looks."
Lebanon led most of the way, and by as much as double-digits and multiple possessions at some points.
The Cedars  took a 46-37 advantage on an inside move from Diaz 50 seconds into the fourth quarter, and Lebanon enjoyed a 49-42 margin on a similar move by Diaz three minutes later. But Warwick's half-court, trapping defense eventually took its toll on Lebanon, and the result was Cedar turnovers and missed foul shots, and a 10-2 Warrior run that gave them a 52-51 edge with 1:35 left.
"I thought we played well," said Speraw. "We just had some costly mistakes at the wrong time, and we didn't knock down foul shots at the end of the game. You've got to make foul shots down the stretch.
"We knew they were going to run that (half-court trap)," continued Speraw. "We worked on how to go against it. There were times we didn't execute. Sometimes it worked, and sometimes we held the ball too long."
After enjoying an eight-point margin at the break, the Cedars closed out the third period on a 10-3 spurt. Five points from senior guard Marquis Ferreira, a three-pointer by Adrian Cruz and Kevin Smith's driving lay-up amounted to a 44-35 Lebanon lead.
"We've both had good teams the last few years," said Speraw of the Warriors. "I have a lot of respect for them and how they play. We know that every time is going to be a battle with them."
"It didn't look good for a while," said Warwick head coach Chris Christensen. "But the guys stuck with it, and we were able to make a couple of play and pull it out at the end."
With 21 points, Ferreira was his usual, gritty self, while Diaz contributed 11 points to Cedar cause. Warwick's Tate Landis led all scorers with 24 points.
Lebanon made just nine of its 18 free throw attempts. The Warriors outscored the Cedars 27-15 from beyond the arc.
"I'm proud of them for the fight, for the effort," said Speraw. "We can talk all day long about Luke (Collins) not being out there. But he's not with us. We haven't stopped going all year."
"They're well-coached," said Christensen of the Cedars. "We have so much respect for their program. We've got some on them, and they've got some on us."
It was a 9-3 run late in the first half that had first allowed Lebanon to create a working margin. Included in that spree was a three-pointer from Emmanuel Mason, foul shots from Smith and Diaz and Ferreira's long, buzzer-beating 'three', as the Cedars took a 32-24 advantage into the locker room.
"We've got our work cut out for us," said Speraw. "We're going to regroup. We're just going to worry about Lower Dauphin on Monday."
To purchase images in this article please email jeff@lebcosports.com.
2021-22 Lebanon Boys' Basketball Results
| | | | | | |
| --- | --- | --- | --- | --- | --- |
| 2021-12-03 | P | vs | Exeter Township(3) | | 0-0 |
| 2021-12-10 | H | vs | Spring Grove Area(3) | W | 57-32 |
| 2021-12-11 | H | vs | Eastern Lebanon County(3) | W | 34-29 |
| 2021-12-14 | A | vs | Governor Mifflin(3) | W | 60-45 |
| 2021-12-16 | A | vs | Ephrata(3) | W | 63-34 |
| 2021-12-18 | H | vs | Hershey(3) | L | 59-46 |
| 2021-12-21 | H | vs | Elizabethtown(3) | W | 47-42 |
| 2021-12-28 | A | vs | Cedar crest(3) | W | 54-46 |
| 2021-12-29 | A | vs | Palmyra (3) | L | 47-36 |
| 2022-01-04 | H | vs | Warwick(3) | W | 58-43 |
| 2022-01-09 | A | vs | Palmyra(3) | W | 53-51 |
| 2022-01-11 | H | vs | J P McCaskey(3) | W | 59-46 |
| 2022-01-15 | A | vs | Cedar Crest(3) | L | 55-48 |
| 2022-01-18 | H | vs | Hempfield (3)(3) | L | 51-48 |
| 2022-01-21 | A | vs | Penn Manor(3) | W | 57-46 |
| 2022-01-24 | A | vs | Garden Spot(3) | W | 74-57 |
| 2022-01-25 | H | vs | Ephrata(3) | W | 68-20 |
| 2022-01-28 | H | vs | Manheim Township(3) | L | 54-52 |
| 2022-01-29 | A | vs | Conestoga Valley(3) | L | 91-84 |
| 2022-02-01 | A | vs | Elizabethtown(3) | W | 40-37 |
| 2022-02-04 | A | vs | Warwick(3) | L | 61-58 |
| 2022-02-07 | H | vs | Lower Dauphin(3) | | 0-0 |
| 2022-02-08 | H | vs | Conestoga Valley(3) | | 0-0 |
PIAA District Three Class AAAAAA Power Rankings
(Top 12 Qualify)
| | | | | | | | | | | | |
| --- | --- | --- | --- | --- | --- | --- | --- | --- | --- | --- | --- |
| AAAAAA | School |  W |  L |  T |  Rating |  TWP |  OWP |  TWPW |  OWPW |  TWPL |  OWPL |
| 1 | Reading | 17- | 2- | 0 |  0.806677 |  0.917995 |  0.670622 |  20.15 |  245.85 |  1.80 |  120.75 |
| 2 | Chambersburg Area | 16- | 2- | 0 |  0.773223 |  0.928910 |  0.582938 |  19.60 |  221.40 |  1.50 |  158.40 |
| 3 | Cedar Cliff | 17- | 2- | 0 |  0.770223 |  0.921478 |  0.585357 |  19.95 |  229.05 |  1.70 |  162.25 |
| 4 | Cumberland Valley | 18- | 4- | 0 |  0.768072 |  0.874510 |  0.637982 |  22.30 |  259.85 |  3.20 |  147.45 |
| 5 | Hempfield (3) | 16- | 3- | 0 |  0.753726 |  0.892449 |  0.584177 |  19.50 |  216.35 |  2.35 |  154.00 |
| 6 | Wilson (3) | 13- | 5- | 0 |  0.736783 |  0.795213 |  0.665368 |  14.95 |  281.85 |  3.85 |  141.75 |
| 7 | Central Dauphin | 12- | 4- | 0 |  0.732717 |  0.826816 |  0.617708 |  14.80 |  222.90 |  3.10 |  137.95 |
| 8 | Waynesboro | 15- | 3- | 0 |  0.729132 |  0.876963 |  0.548449 |  16.75 |  215.65 |  2.35 |  177.55 |
| 9 | Warwick | 14- | 4- | 0 |  0.719792 |  0.845361 |  0.566320 |  16.40 |  212.20 |  3.00 |  162.50 |
| 10 | Lebanon | 13- | 6- | 0 |  0.703936 |  0.765586 |  0.628585 |  15.35 |  266.30 |  4.70 |  157.35 |
| 11 | Red Lion | 17- | 5- | 0 |  0.699281 |  0.833333 |  0.535439 |  20.25 |  232.30 |  4.05 |  201.55 |
| 12 | Muhlenberg | 15- | 5- | 0 |  0.677250 |  0.787946 |  0.541955 |  17.65 |  215.40 |  4.75 |  182.05 |
| 13 | Manheim Township | 10- | 8- | 0 |  0.650195 |  0.654255 |  0.645231 |  12.30 |  266.90 |  6.50 |  146.75 |
| 14 | Governor Mifflin | 9- | 11- | 0 |  0.611813 |  0.553571 |  0.682998 |  10.85 |  293.45 |  8.75 |  136.20 |
| 15 | Cedar Crest | 10- | 10- | 0 |  0.604650 |  0.595960 |  0.615273 |  11.80 |  253.40 |  8.00 |  158.45 |
| 16 | Conestoga Valley | 9- | 10- | 0 |  0.595175 |  0.562667 |  0.634907 |  10.55 |  265.55 |  8.20 |  152.70 |
| 17 | Central York | 10- | 11- | 0 |  0.594647 |  0.576271 |  0.617107 |  11.90 |  268.75 |  8.75 |  166.75 |
| 18 | J P McCaskey | 9- | 11- | 0 |  0.574005 |  0.555263 |  0.596912 |  10.55 |  237.75 |  8.45 |  160.55 |
| 19 | Central Dauphin East | 7- | 12- | 0 |  0.543628 |  0.484765 |  0.615572 |  8.75 |  252.60 |  9.30 |  157.75 |
| 20 | Dallastown | 9- | 11- | 0 |  0.541243 |  0.535897 |  0.547777 |  10.45 |  235.90 |  9.05 |  194.75 |
| 21 | Carlisle | 6- | 13- | 0 |  0.528488 |  0.421365 |  0.659415 |  7.10 |  281.90 |  9.75 |  145.60 |
| 22 | William Penn | 7- | 12- | 0 |  0.499957 |  0.456583 |  0.552970 |  8.15 |  228.10 |  9.70 |  184.40 |
| 23 | Harrisburg | 4- | 17- | 0 |  0.436517 |  0.260623 |  0.651499 |  4.60 |  268.45 |  13.05 |  143.60 |
| 24 | Penn Manor | 2- | 17- | 0 |  0.382665 |  0.151420 |  0.665298 |  2.40 |  275.40 |  13.45 |  138.55 |
| 25 | York County School of Technology | 5- | 16- | 0 |  0.341897 |  0.236010 |  0.471316 |  4.85 |  205.80 |  15.70 |  230.85 |
Lancaster-Lebanon League
Section Two Standings

Lebanon Federal Credit Union