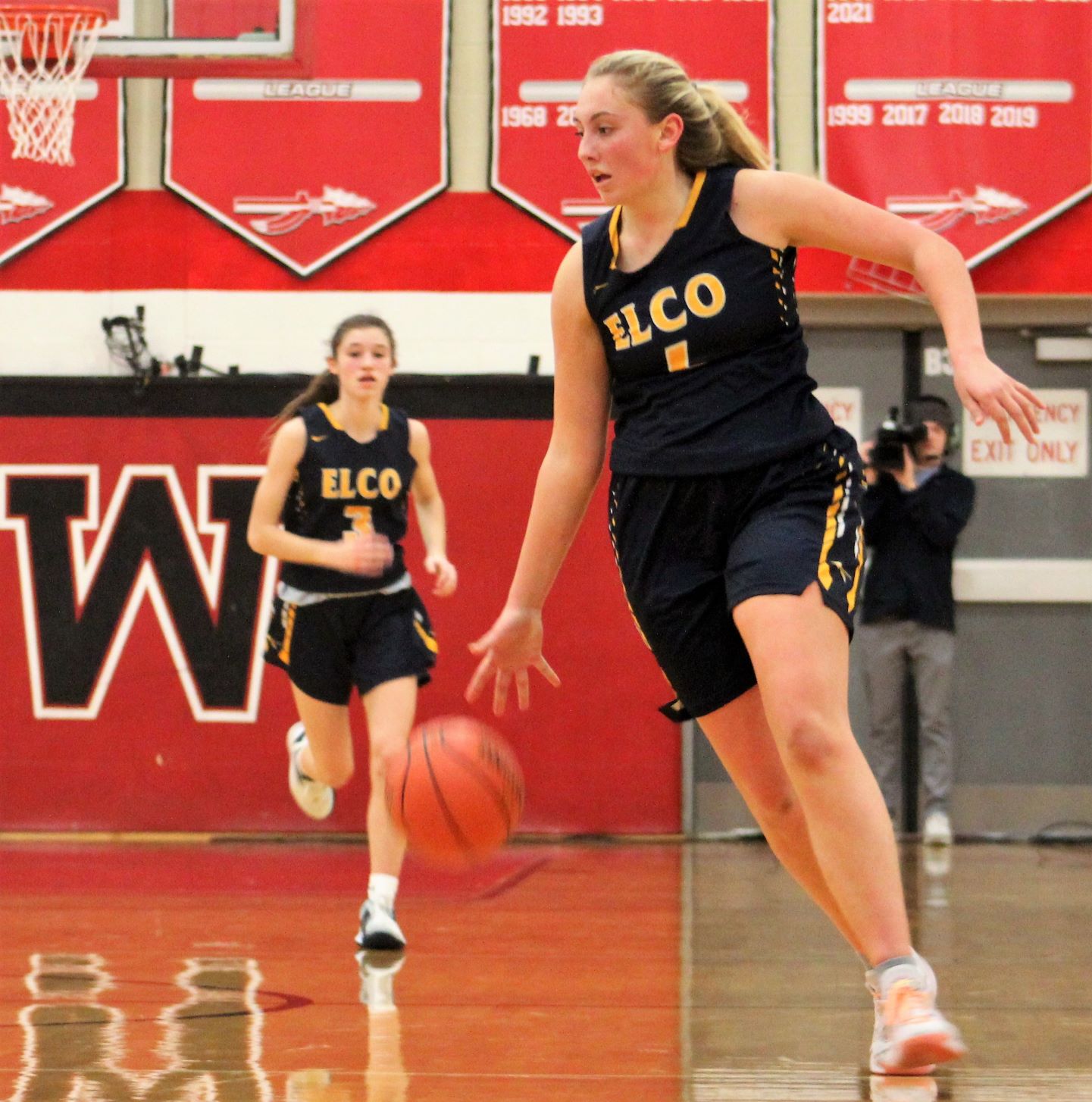 BY JEFF FALK
Editor
LITITZ – Not unlike the game itself, the season didn't unfold quite the way the Elco girls' basketball team had hoped. But that doesn't mean it wasn't a success.
An appearance in the Lancaster-Lebanon League playoffs was not only proof of that success, it was a reward for it.
On Thursday evening at Warwick High School, the Raiders' up-and-down, back-and-forth, uneven campaign came to an end with a 46-38 loss to Ephrata, in a play-in game to the L-L League postseason tournament. The Raiders competed from behind throughout, and despite their usual determined effort, could never completely catch up.
With the result, Elco, the runner-up out of Section Four, concluded its season at 10-13.
The triumph lifted Ephrata, the second-place finisher out of Section Two, to 14-9 and into Saturday's quarterfinal round of the L-L playoffs.
"I learned a long time ago that you can't base the success of a season on wins and losses," said Elco head coach Ashli Shay. "And that's something because I'm very competitive. But I'm proud of this group for their perseverance. We started the season having to replace seven seniors and four starters.
"It was kind of like throwing them to the wolves," continued Shay. "Sometimes we weren't consistent enough. But I think sometimes that's what you get when you have to replace that many players. For a lot of these kids, this was their first legitimate varsity experience."
The Raiders made a number of runs at the Mountaineers throughout the contest, the last of which came in the middle of the fourth quarter.
Abigail Sargent's three-pointer followed by an inside bucket from Kailey Eckhart pulled Elco to within 38-36 of Ephrata's lead. But the Raiders went the next 3:50 of game clock without a score of any kind.
On the other end, the Mountaineers notched all of their fourth-quarter points from the foul line, on 11 of 13 shooting.
"It was like we could make key plays ourselves to stay in it," said Shay. "Then they'd counter with big plays. That was the story of the game, We couldn't get over the hump.
"I think consistently this season one of our biggest struggles was scoring," added Shay. "A lot of teams started game planning around Kailey. A lot of times our shots just wouldn't fall. Our defense all year kept us in games. That's what we needed to do to be in games."
"We gutted it out," said Ephrata head coach Brian Cerullo. "It was a typical playoff game. Fortunately, we were able to get to the foul line at the end."
Elco had made a similar run at the Mounts early in the third quarter.
Down seven at the break, the Raiders opened the second half on an 8-1 burst. Eckhart had five of those points and Sara Miller drained a three-pointer, as Elco knotted the score at 26, 3:48 into the third period.
"I thought we gave a really good effort," said Shay. "One of the identities of this team is never giving up. We got into a couple of holes and almost dug ourselves out of them.
"Any time it's win or go home, there's a lot of importance," Shay continued. "We asked the girls, 'Do you want to practice tomorrow or do you want to turn in your uniforms?' That's how we approached it. Ephrata played really well. (Ephrata junior Jasmine) Griffin is tough. She's a nice player. But we allowed her to get to the basket way too often."
Eckhart netted 17 points in the final game of solid career. The Raiders made good on just three of their seven free throw attempts and Elco was outscored by 12 points at the charity stripe.
"She's a great kid who really came a long way," said Shay of Eckhart. "I'm really proud of her. When she started out as a freshman, she was this shy kid. But this year she really stepped up. She kind of took charge out there. People know she can score, but where she really improved was her rebounding. I'm proud of her for making that a point of emphasis."
Ephrata notched the final six points of the opening quarter to establish an 11-6 lead. That margin reached 20-10 early in the second quarter, before the Raiders pieced together an 8-1 spurt.
Eckhart accounted for six of those points and Sara Miller knocked down a jumper, as the Raiders drew to within 21-18 of Ephrata, 1:51 before halftime.
"We never look beyond a game," said Shay. "We always talk about the moment. Our theory is always one game at a time. Tonight was the only game that mattered.
"We were young and had a lot of teaching to do at the beginning of the season," added Shay. "But we made some strides."
"To be honest, we didn't even watch film on Elco," said Cerullo. "We had three games in-a-row and weren't able to have one practice. What we saw of Eckhart, she was much better in person."
To purchase images in this article please email jeff@lebcosports.com.
2021-22 Elco Girls' Basketball Results
| | | | | | |
| --- | --- | --- | --- | --- | --- |
| 2021-12-11 | H | vs | Boiling Springs(3) | W | 52-20 |
| 2021-12-14 | A | vs | Fleetwood(3) | L | 24-39 |
| 2021-12-15 | A | vs | Linden Hall(3) | L | 27-39 |
| 2021-12-17 | H | vs | Donegal(3) | W | 55-46 |
| 2021-12-21 | H | vs | Northern Lebanon(3) | W | 40-37 |
| 2021-12-27 | A | vs | Pine Grove Area(11) | L | 30-31 |
| 2021-12-28 | A | vs | William Allen(11) | W | 57-25 |
| 2022-01-03 | A | vs | Lower Dauphin(3) | L | 29-40 |
| 2022-01-05 | H | vs | Hamburg(3) | W | 38-22 |
| 2022-01-07 | A | vs | Lancaster Catholic(3) | L | 39-57 |
| 2022-01-10 | A | vs | Pottsville(11) | L | 28-47 |
| 2022-01-11 | A | vs | Cocalico(3) | L | 31-32 |
| 2022-01-14 | H | vs | Manheim Central(3) | L | 42-65 |
| 2022-01-18 | A | vs | Solanco(3) | W | 46-20 |
| 2022-01-19 | H | vs | York Catholic(3) | W | 44-36 |
| 2022-01-21 | H | vs | Lampeter Strasburg(3) | L | 36-40 |
| 2022-01-25 | H | vs | Wyomissing(3) | L | 28-41 |
| 2022-01-28 | A | vs | Donegal(3) | W | 55-34 |
| 2022-02-01 | A | vs | Northern Lebanon(3) | W | 43-32 |
| 2022-02-02 | H | vs | Conrad Weiser(3) | W | 44-30 |
| 2022-02-07 | A | vs | Garden Spot(3) | L | 42-52 |
| 2022-02-08 | H | vs | Lancaster Catholic(3) | L | 36-66 |
PIAA District Three Class AAAA Power Rankings
(Top 10 Qualify)
| | | | | | | | | | | | |
| --- | --- | --- | --- | --- | --- | --- | --- | --- | --- | --- | --- |
| AAAA | School |  W |  L |  T |  Rating |  TWP |  OWP |  TWPW |  OWPW |  TWPL |  OWPL |
| 1 | Delone Catholic | 21- | 0- | 0 |  0.804887 |  1.000000 |  0.566416 |  21.65 |  248.60 |  0.00 |  190.30 |
| 2 | Eastern York | 19- | 2- | 0 |  0.754739 |  0.909677 |  0.565369 |  21.15 |  250.60 |  2.10 |  192.65 |
| 3 | Berks Catholic | 16- | 3- | 0 |  0.743322 |  0.874704 |  0.582743 |  18.50 |  230.30 |  2.65 |  164.90 |
| 4 | Schuylkill Valley | 20- | 1- | 0 |  0.733185 |  0.956522 |  0.460219 |  20.90 |  195.80 |  0.95 |  229.65 |
| 5 | Lancaster Catholic | 17- | 4- | 0 |  0.731308 |  0.835189 |  0.604342 |  18.75 |  261.65 |  3.70 |  171.30 |
| 6 | Big Spring | 17- | 4- | 0 |  0.714050 |  0.836735 |  0.564103 |  18.45 |  248.60 |  3.60 |  192.10 |
| 7 | Bermudian Springs | 18- | 4- | 0 |  0.706529 |  0.832579 |  0.552468 |  18.40 |  257.45 |  3.70 |  208.55 |
| 8 | James Buchanan | 16- | 6- | 0 |  0.643178 |  0.762115 |  0.497811 |  17.30 |  216.05 |  5.40 |  217.95 |
| 9 | Bishop McDevitt (3) | 15- | 6- | 0 |  0.622514 |  0.733967 |  0.486294 |  15.45 |  201.35 |  5.60 |  212.70 |
| 10 | Wyomissing | 13- | 8- | 0 |  0.574387 |  0.642353 |  0.491317 |  13.65 |  209.35 |  7.60 |  216.75 |
| 11 | Susquehanna Township | 11- | 9- | 0 |  0.541770 |  0.573232 |  0.503317 |  11.35 |  220.05 |  8.45 |  217.15 |
| 12 | Hanover (3) | 13- | 9- | 0 |  0.511524 |  0.587264 |  0.418953 |  12.45 |  193.20 |  8.75 |  267.95 |
| 13 | Eastern Lebanon County | 10- | 12- | 0 |  0.498186 |  0.497717 |  0.498759 |  10.90 |  221.05 |  11.00 |  222.15 |
| 14 | Conrad Weiser | 7- | 15- | 0 |  0.462755 |  0.387019 |  0.555322 |  8.05 |  250.70 |  12.75 |  200.75 |
| 15 | Hamburg | 9- | 13- | 0 |  0.461021 |  0.407143 |  0.526872 |  8.55 |  239.20 |  12.45 |  214.80 |
| 16 | Middletown | 9- | 13- | 0 |  0.433112 |  0.422897 |  0.445596 |  9.05 |  193.50 |  12.35 |  240.75 |
| 17 | Northern Lebanon | 7- | 13- | 0 |  0.418822 |  0.393229 |  0.450101 |  7.55 |  199.80 |  11.65 |  244.10 |
| 18 | Boiling Springs | 6- | 15- | 0 |  0.416034 |  0.322251 |  0.530658 |  6.30 |  236.70 |  13.25 |  209.35 |
| 19 | Kennard Dale | 3- | 18- | 0 |  0.358910 |  0.160950 |  0.600862 |  3.05 |  278.95 |  15.90 |  185.30 |
| 20 | East Pennsboro | 4- | 15- | 0 |  0.339059 |  0.210826 |  0.495787 |  3.70 |  205.95 |  13.85 |  209.45 |
| 21 | Littlestown | 4- | 18- | 0 |  0.329434 |  0.198157 |  0.489885 |  4.30 |  225.20 |  17.40 |  234.50 |
| 22 | Octorara | 1- | 18- | 0 |  0.245967 |  0.042184 |  0.495035 |  0.85 |  181.95 |  19.30 |  185.60 |
Lancaster-Lebanon League
Final Section Four Standings