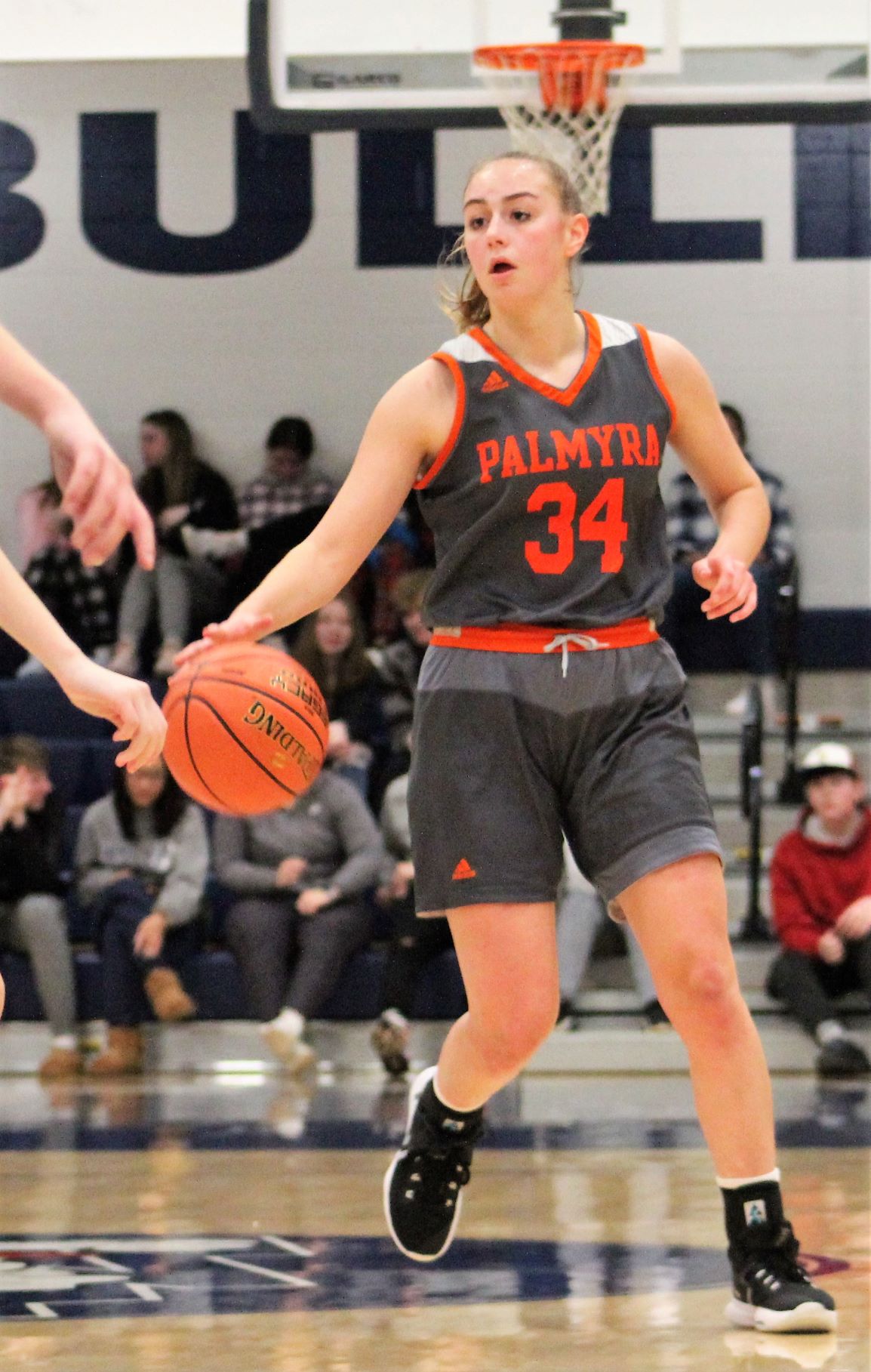 BY JEFF FALK
Editor
YORK – It was a monumental task that was well within their grasp. But it became a near impossible one without their best player.
There are no good ways to end seasons. Only degrees of bad ones. And on a scale of one to ten, this was an 8.5.
On Tuesday night at West York High School, the Palmyra's girls' basketball team's upset bid and uneven season was ended by the homestanding Bulldogs and an emotionally and physically painful injury to senior star Zoe Smith, 37-28 in the opening round of the District Three Class AAAAA playoffs. After Smith buckled to the floor at midcourt with an apparent right-knee injury with 2:26 left in the third quarter, West York outscored Palmyra 16-5 the rest of the way.
With the gut-wrenching defeat, the 12th-seded Cougars finished their year at 11-12, and a victory away from qualifying for the PIAA Class AAAAA postseason. Palmyra's history in the District Three playoffs is long and storied, one exemplified by Smith, the last remaining link to the Cougars' miraculous 2017-18 District Three championship.
The victory extended fifth-seeded West York's season to 15-6 and into Friday's quarterfinals of the District Three Class AAAAA tournament.
"I told the girls after the game, 'Look, you came in here and competed'," said Palmyra head coach John Polly. "We had it in hand. It was our game to win. What happened was horrific. It's extremely hard not to focus on that and go play another quarter and a half.
"We showed up," added Polly. "There's no doubt about it. We were controlling every aspect of the game."
Up eight points at the break, Palmyra led 24-17 early in the third quarter, courtesy of a pair of jumpers from Maddy Henry. But the Cougars did not score over the final 5:34 of the quarter, and when Smith went down, Palmyra was clinging to a 24-21 advantage.
Henry ended the drought with a couple of free throws 16 seconds into the final quarter, as Palmyra regained a 26-24 lead. But the Cougars managed only a single point over the next 5:09 of the fourth, and the Bulldogs built a 34-27 lead.
"We lost a captain. We lost a leader," said Polly of Smith. "We lost the heart and soul of our team. She calms us down when we get flustered. She makes a play when we need one. She's that calming factor that's always there. We said all the right things, but we couldn't answer the bell.
"To end her career that way was simply terrible," continued Polly. "If we win, it's another opportunity to play a district playoff game and we get a state playoff game. My heart just bleeds for her."
With 12 points, senior Mallory Margut paced Palmyra's scoring and also pulled down 13 rebounds. Smith scored two points in the final game of her marvelous scholastic career.
West York outscored Palmyra 22-16 on two-point field goals. But the Cougars out rebounded the Bulldogs 25-21 and committed eight turnovers, compared to West York's 12.
"Mallory just gave me and her teammates everything she had," said Polly. "What a first half Kaylee Brown played. Keely Bowers played great. And Maddy Henry hit some big shots.
"We liked the match-up tonight." Polly added. "We knew it was going to be tough. But we were ready to go."
Contesting everything with their defense, rebouding and performing with intensity, Palmyra played some of its best basketball of the season in the first half. A Smith jumper, a drive by Brown and a free throw from Margut added up to an early 5-2 Palmyra lead.
"We outrebounded a great rebounding team in the first half," said Polly. "We scored the ball. We got contributions from everyone. When we can balance out our scoring, we're a really good team. We were a really good team when she went down. When you take that away it's just that much harder on everybody else.
"We're going to live and die with our defense," Polly continued. "We showed out tonight, basically with five players."
Early in the second quarter, Palmyra pieced together a 10-0 run to open an 18-8 lead. Margut and Brown each notched five points during that Cougar spree.
"We had an up-and-down season," said Polly. "When we were good, we were good. I thought we strung some things together down the stretch. I thought our confidence was super high coming into the district playoffs. Life's funny, everything can change in the blink of an eye.
"I'm proud of my seniors," concluded Polly. "I told them, 'You can walk out of here with your heads held high'. That's all I ever ask of them. There was nothing left to give."
To purchase images in this article please email jeff@lebcosports.com.
2021-22 Palmyra Girls' Basketball Results
| | | | | | |
| --- | --- | --- | --- | --- | --- |
| 2021-12-10 | A | vs | Middletown(3) | W | 63-42 |
| 2021-12-11 | A | vs | Northern Lebanon(3) | W | 48-33 |
| 2021-12-14 | H | vs | Lower Dauphin(3) | L | 26-45 |
| 2021-12-17 | H | vs | Red Land(3) | L | 39-44 |
| 2021-12-18 | A | vs | Cedar Crest(3) | W | 34-32 |
| 2021-12-22 | A | vs | Hershey(3) | W | 34-32 |
| 2021-12-29 | A | vs | Manheim Township(3) | L | 30-43 |
| 2021-12-30 | A | vs | Whitehall(11) | W | 43-9 |
| 2022-01-04 | A | vs | Mechanicsburg(3) | L | 24-37 |
| 2022-01-07 | H | vs | Mifflin County(6) | L | 42-56 |
| 2022-01-11 | A | vs | Cedar Cliff(3) | L | 11-44 |
| 2022-01-14 | A | vs | Lower Dauphin(3) | L | 41-42 |
| 2022-01-17 | P | vs | Milton Hershey(3) | W | 42-30 |
| 2022-01-18 | A | vs | Milton Hershey(3) | W | 42-30 |
| 2022-01-19 | A | vs | Red Land(3) | W | 29-14 |
| 2022-01-22 | H | vs | Elizabethtown(3) | L | 26-32 |
| 2022-01-25 | H | vs | Hershey(3) | W | 36-25 |
| 2022-01-28 | H | vs | Mechanicsburg(3) | L | 28-53 |
| 2022-02-01 | A | vs | Mifflin County(6) | L | 20-56 |
| 2022-02-05 | H | vs | Conrad Weiser(3) | W | 37-27 |
| 2022-02-07 | H | vs | Cedar Cliff(3) | L | 34-58 |
| 2022-02-08 | H | vs | Muhlenberg(3) | W | 48-13 |
| 2022-02-11 | H | vs | Milton Hershey(3) | W | 47-34 |
PIAA District Three Class AAAAA Power Rankings
| | | | | | | | | | | | |
| --- | --- | --- | --- | --- | --- | --- | --- | --- | --- | --- | --- |
| AAAAA | School |  W |  L |  T |  Rating |  TWP |  OWP |  TWPW |  OWPW |  TWPL |  OWPL |
| 1 | Mechanicsburg | 18- | 4- | 0 |  0.743936 |  0.875000 |  0.583746 |  21.00 |  276.90 |  3.00 |  197.45 |
| 2 | Gettysburg | 17- | 4- | 0 |  0.722219 |  0.846827 |  0.569920 |  19.35 |  256.35 |  3.50 |  193.45 |
| 3 | Greencastle Antrim | 17- | 3- | 0 |  0.709638 |  0.870283 |  0.513294 |  18.45 |  215.25 |  2.75 |  204.10 |
| 4 | Manheim Central | 17- | 4- | 0 |  0.707595 |  0.843818 |  0.541101 |  19.45 |  237.30 |  3.60 |  201.25 |
| 5 | West York | 14- | 6- | 0 |  0.671811 |  0.752294 |  0.573444 |  16.40 |  245.95 |  5.40 |  182.95 |
| 6 | Lower Dauphin | 13- | 9- | 0 |  0.652315 |  0.678082 |  0.620822 |  14.85 |  299.05 |  7.05 |  182.65 |
| 7 | Lampeter Strasburg | 13- | 7- | 0 |  0.631473 |  0.715347 |  0.528961 |  14.45 |  224.20 |  5.75 |  199.65 |
| 8 | Twin Valley | 14- | 7- | 0 |  0.624257 |  0.737589 |  0.485741 |  15.60 |  210.35 |  5.55 |  222.70 |
| 9 | Spring Grove Area | 9- | 11- | 0 |  0.610739 |  0.547619 |  0.687885 |  10.35 |  301.50 |  8.55 |  136.80 |
| 10 | York Suburban | 13- | 9- | 0 |  0.598578 |  0.636161 |  0.552643 |  14.25 |  257.20 |  8.15 |  208.20 |
| 11 | West Perry | 13- | 9- | 0 |  0.593878 |  0.636574 |  0.541694 |  13.75 |  250.10 |  7.85 |  211.60 |
| 12 | Palmyra | 11- | 11- | 0 |  0.591998 |  0.588372 |  0.596429 |  12.65 |  287.30 |  8.85 |  194.40 |
| 13 | New Oxford | 10- | 12- | 0 |  0.583438 |  0.511416 |  0.671465 |  11.20 |  319.55 |  10.70 |  156.35 |
| 14 | Hershey | 10- | 12- | 0 |  0.568576 |  0.535545 |  0.608946 |  11.30 |  290.65 |  9.80 |  186.65 |
| 15 | Garden Spot | 11- | 11- | 0 |  0.566703 |  0.567873 |  0.565274 |  12.55 |  261.75 |  9.55 |  201.30 |
| 16 | Northeastern | 9- | 13- | 0 |  0.556958 |  0.492925 |  0.635221 |  10.45 |  298.30 |  10.75 |  171.30 |
| 17 | South Western | 10- | 12- | 0 |  0.556804 |  0.538462 |  0.579223 |  11.20 |  270.70 |  9.60 |  196.65 |
| 18 | Fleetwood | 11- | 10- | 0 |  0.554420 |  0.559902 |  0.547720 |  11.45 |  245.05 |  9.00 |  202.35 |
| 19 | Northern York | 10- | 12- | 0 |  0.550317 |  0.520362 |  0.586928 |  11.50 |  270.75 |  10.60 |  190.55 |
| 20 | Elizabethtown | 9- | 13- | 0 |  0.528047 |  0.507075 |  0.553679 |  10.75 |  252.45 |  10.45 |  203.50 |
| 21 | Susquehannock | 8- | 14- | 0 |  0.494580 |  0.419048 |  0.586897 |  8.80 |  278.60 |  12.20 |  196.10 |
| 22 | Cocalico | 8- | 14- | 0 |  0.467547 |  0.440191 |  0.500982 |  9.20 |  229.50 |  11.70 |  228.60 |
| 23 | Shippensburg | 5- | 13- | 0 |  0.464678 |  0.326347 |  0.633749 |  5.45 |  249.00 |  11.25 |  143.90 |
| 24 | Red Land | 5- | 15- | 0 |  0.460440 |  0.311798 |  0.642115 |  5.55 |  284.20 |  12.25 |  158.40 |
| 25 | Milton Hershey | 4- | 18- | 0 |  0.408308 |  0.241206 |  0.612543 |  4.80 |  293.50 |  15.10 |  185.65 |
| 26 | Waynesboro | 4- | 18- | 0 |  0.384237 |  0.217822 |  0.587633 |  4.40 |  272.75 |  15.80 |  191.40 |
| 27 | Solanco | 3- | 19- | 0 |  0.383732 |  0.176923 |  0.636498 |  3.45 |  302.05 |  16.05 |  172.50 |
| 28 | Exeter Township | 2- | 18- | 0 |  0.364795 |  0.137931 |  0.642073 |  2.40 |  275.00 |  15.00 |  153.30 |
| 29 | Dover | 2- | 19- | 0 |  0.327495 |  0.121037 |  0.579832 |  2.10 |  262.20 |  15.25 |  190.00 |
| 30 | Donegal | 2- | 20- | 0 |  0.315727 |  0.112245 |  0.564428 |  2.20 |  262.60 |  17.40 |  202.65 |
| 31 | Daniel Boone | 0- | 22- | 0 |  0.260107 |  0.000000 |  0.578015 |  0.00 |  262.65 |  18.70 |  191.75 |

Lebanon Federal Credit Union