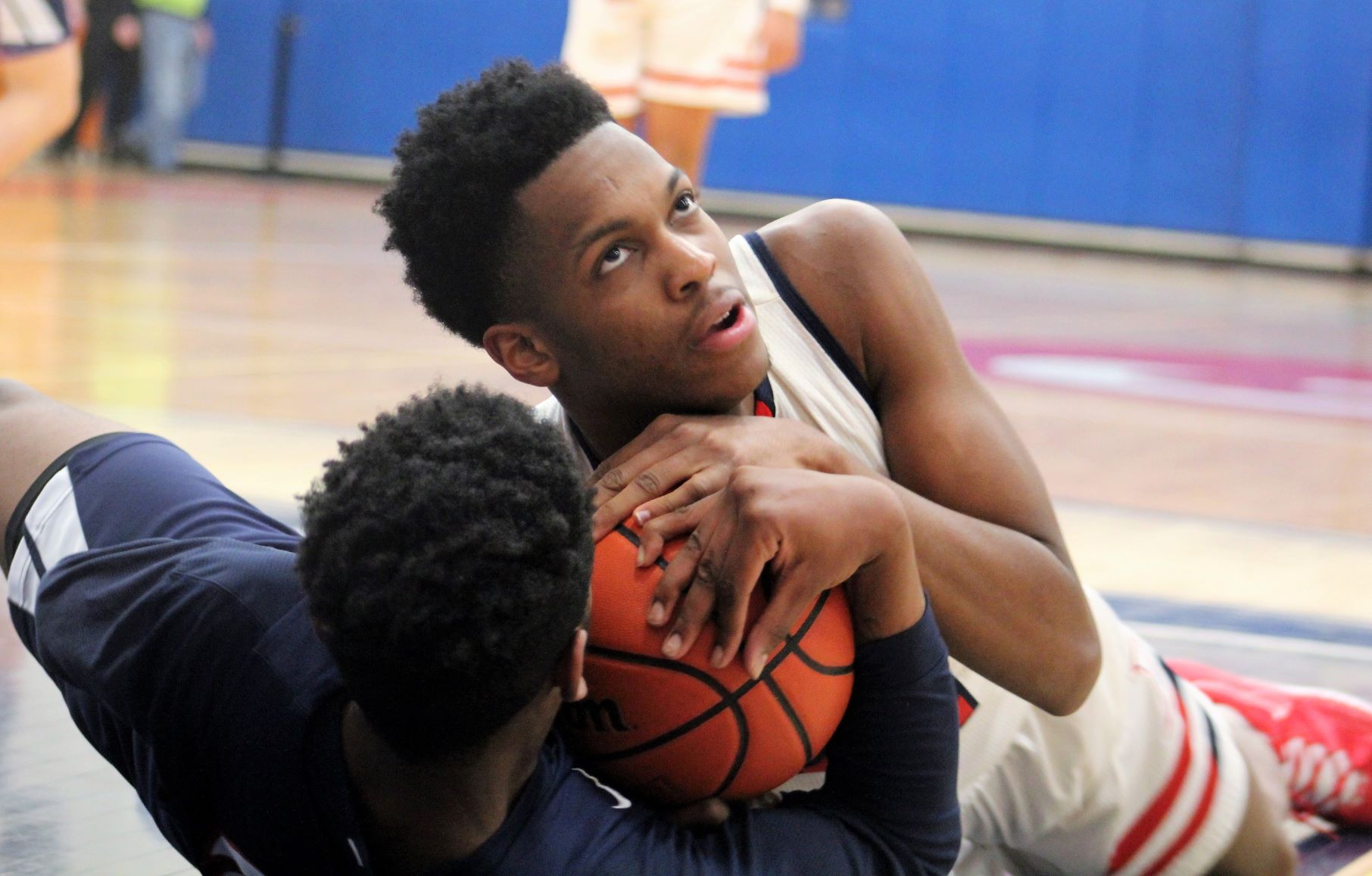 BY JEFF FALK
Editor
WITMER -It's been there all year. But as the significance of the results heighten the Lebanon boys' basketball team is placing a greater emphasis on pounding the ball inside.
And there is nothing more important to the Cedars than the Lancaster-Lebanon League playoff tournament.
On Friday night at Conestoga Valley High School, Lebanon's domination of the paint and propensity from scoring in the lane played a critical role, as the Cedars opened defense of their L-L League championship with a 56-43 victory over Octorara in a play-in round contest. With post men Kevin Smith and Nate Diaz showing the way, Lebanon battled back from a modest third-period deficit, before embarking on the decisive run early in the fourth.
The triumph lifted Lebanon, the runner-up from Section Two, to 16-7 on the season and into Monday's quarterfinal round of the league playoffs, at 7 p.m. at undefeated Lampeter-Strasburg. The win also solidified Lebanon's tenth-place position in the PIAA District Three Class AAAAAA power rankings.
Octorara, the second-place finisher from Section Four, dipped to 12-9 overall.
"I think we recognize it. The kids know about it," said Lebanon head coach Tim Speraw, of his side's status as the reigning Lancaster-Lebanon League champion. "But we also have our own identity this year. We lost some key pieces and in a way, it's a whole new team. I think only Marquis (Ferreira) and Kev logged some significant minutes last year.
"It's (the Lancaster-Lebanon League playoffs) just an extra part of the season," added Speraw. "We're not usually ending our season in the regular season. It's something we always look forward to. Its a goal at the beginning of the season. This year, the goal is to repeat."
With the outcome very much hanging in the balance, the Cedars ripped off an 11-2 spurt to open the final quarter and extend their lead to 47-34. Smith tallied five points in the run, Ferreira netted four and Emmanuel Mason contributed a deuce off the bench.
With its stingy defense and accurate foul shooting, Lebanon then finished strong.
"I know we got a couple of lay-ups in transition," said Speraw. "There were some long rebounds and we pushed it up the floor. We just kind of made some hustle plays. Then we clamped down defensively."
"Lebanon's a tough team," said Octorara head coach Gene Lambert. "What are they, like the number-ten seed in 6A? When you're going from Section Four and you've got to play a Section One or Two team, it's a different game. We were in it early. But we missed some open shots."
After falling behind 28-24 early in the second half, the Cedars made a conscious effort of running their offense through Smith and Diaz down low. With Diaz scoring eight points, Smith dropping in a deuce and Ferreira converting a driving lay-in, Lebanon responded with a 12-4 run that gave it a 36-32 edge.
"Nate stretches out to 6-2 or 6-3 and I don't think Kevin is 6-0," said Speraw. "They've been giving us rebounding and effort all year. It's what I expect from them. We make a point of being active on the offensive boards.
"They've been a steadying force for us all year," continued Speraw. "Nate's been a physical presence on the boards. We definitely wouldn't be where we are without Nate."
Smith finished with 17 points, Ferreira registered 16 points and Diaz contributed 11. Lebanon outscored Octorara 36-22 on two-point field goals, and the Cedars converted 17 of their 26 free throw attempts.
"Playing in Section Two and going against Section One teams, and our non-league schedule was pretty good, I feel like we're prepared for this," Speraw added. "I think we're ready for it. But a coach is never pleased."
"It wasn't the result we wanted," said Lambert. "But a lot of it is about the experience. It was one of our goals to get here and it was like a district (playoff) game. Everything is about getting you ready for the next step."
Facing a modest 6-4 deficit early, the Cedars pieced together a 9-0 burst that spilled over into the second quarter. In that particular spree, Smith popped for five points and Ferreira nailed a jumper, while Diaz and Michael Franco-Suazo collected free throws.
Lebanon's advantage reached 22-14 on a pair of charity tosses from Ferreira, 2:14 before the break.
"I know they're 21-0," said Speraw of the impending match-up with the Pioneers of Lampeter-Strasburg. "I know they can shoot like crazy. They get up and down the floor. And they can score."
To purchase images in this article please email jeff@lebcosports.com.
2021-22 Lebanon Boys' Basketball Results
| | | | | | |
| --- | --- | --- | --- | --- | --- |
| 2021-12-03 | P | vs | Exeter Township(3) | | 0-0 |
| 2021-12-10 | H | vs | Spring Grove Area(3) | W | 57-32 |
| 2021-12-11 | H | vs | Eastern Lebanon County(3) | W | 34-29 |
| 2021-12-14 | A | vs | Governor Mifflin(3) | W | 60-45 |
| 2021-12-16 | A | vs | Ephrata(3) | W | 63-34 |
| 2021-12-18 | H | vs | Hershey(3) | L | 59-46 |
| 2021-12-21 | H | vs | Elizabethtown(3) | W | 47-42 |
| 2021-12-28 | A | vs | Cedar crest(3) | W | 54-46 |
| 2021-12-29 | A | vs | Palmyra (3) | L | 47-36 |
| 2022-01-04 | H | vs | Warwick(3) | W | 58-43 |
| 2022-01-09 | A | vs | Palmyra(3) | W | 53-51 |
| 2022-01-11 | H | vs | J P McCaskey(3) | W | 59-46 |
| 2022-01-15 | A | vs | Cedar Crest(3) | L | 55-48 |
| 2022-01-18 | H | vs | Hempfield (3)(3) | L | 51-48 |
| 2022-01-21 | A | vs | Penn Manor(3) | W | 57-46 |
| 2022-01-24 | A | vs | Garden Spot(3) | W | 74-57 |
| 2022-01-25 | H | vs | Ephrata(3) | W | 68-20 |
| 2022-01-28 | H | vs | Manheim Township(3) | L | 54-52 |
| 2022-01-29 | A | vs | Conestoga Valley(3) | L | 91-84 |
| 2022-02-01 | A | vs | Elizabethtown(3) | W | 40-37 |
| 2022-02-05 | A | vs | Warwick(3) | L | 61-58 |
| 2022-02-07 | H | vs | Lower Dauphin(3) | W | 71-68 |
| 2022-02-08 | H | vs | Conestoga Valley(3) | W | 70-47 |
PIAA District Three Class AAAAAA Power Rankings
(Top 12 Qualify)
| | | | | | | | | | | | |
| --- | --- | --- | --- | --- | --- | --- | --- | --- | --- | --- | --- |
| AAAAAA | School |  W |  L |  T |  Rating |  TWP |  OWP |  TWPW |  OWPW |  TWPL |  OWPL |
| 1 | Reading | 18- | 3- | 0 |  0.796305 |  0.893528 |  0.677478 |  21.40 |  280.95 |  2.55 |  133.75 |
| 2 | Cumberland Valley | 18- | 4- | 0 |  0.770223 |  0.874510 |  0.642762 |  22.30 |  290.85 |  3.20 |  161.65 |
| 3 | Chambersburg Area | 16- | 4- | 0 |  0.743383 |  0.863436 |  0.596652 |  19.60 |  260.20 |  3.10 |  175.90 |
| 4 | Hempfield (3) | 16- | 4- | 0 |  0.742171 |  0.862832 |  0.594696 |  19.50 |  245.55 |  3.10 |  167.35 |
| 5 | Cedar Cliff | 17- | 4- | 0 |  0.741272 |  0.858065 |  0.598526 |  19.95 |  268.05 |  3.30 |  179.80 |
| 6 | Central Dauphin | 14- | 4- | 0 |  0.738467 |  0.848039 |  0.604544 |  17.30 |  236.80 |  3.10 |  154.90 |
| 7 | Warwick | 16- | 4- | 0 |  0.727357 |  0.862385 |  0.562323 |  18.80 |  238.20 |  3.00 |  185.40 |
| 8 | Waynesboro | 17- | 4- | 0 |  0.718938 |  0.860045 |  0.546474 |  19.05 |  238.70 |  3.10 |  198.10 |
| 9 | Wilson (3) | 14- | 7- | 0 |  0.707690 |  0.744828 |  0.662299 |  16.20 |  308.30 |  5.55 |  157.20 |
| 10 | Lebanon | 15- | 7- | 0 |  0.704330 |  0.765086 |  0.630072 |  17.75 |  298.15 |  5.45 |  175.05 |
| 11 | Red Lion | 17- | 5- | 0 |  0.699127 |  0.833333 |  0.535096 |  20.25 |  251.95 |  4.05 |  218.90 |
| 12 | Muhlenberg | 17- | 5- | 0 |  0.683928 |  0.809237 |  0.530772 |  20.15 |  237.60 |  4.75 |  210.05 |
| 13 | Manheim Township | 12- | 8- | 0 |  0.666419 |  0.694836 |  0.631688 |  14.80 |  273.30 |  6.50 |  159.35 |
| 14 | Governor Mifflin | 11- | 11- | 0 |  0.634523 |  0.600457 |  0.676160 |  13.15 |  320.50 |  8.75 |  153.50 |
| 15 | Conestoga Valley | 11- | 11- | 0 |  0.607140 |  0.589450 |  0.628762 |  12.85 |  292.50 |  8.95 |  172.70 |
| 16 | Central York | 11- | 11- | 0 |  0.606513 |  0.598624 |  0.616155 |  13.05 |  292.15 |  8.75 |  182.00 |
| 17 | J P McCaskey | 11- | 11- | 0 |  0.599040 |  0.606977 |  0.589340 |  13.05 |  260.40 |  8.45 |  181.45 |
| 18 | Cedar Crest | 10- | 12- | 0 |  0.581584 |  0.553991 |  0.615309 |  11.80 |  282.95 |  9.50 |  176.90 |
| 19 | Central Dauphin East | 9- | 12- | 0 |  0.576845 |  0.542998 |  0.618213 |  11.05 |  268.15 |  9.30 |  165.60 |
| 20 | Carlisle | 8- | 14- | 0 |  0.556741 |  0.477612 |  0.653454 |  9.60 |  304.15 |  10.50 |  161.30 |
| 21 | Dallastown | 9- | 13- | 0 |  0.522664 |  0.497619 |  0.553273 |  10.45 |  258.60 |  10.55 |  208.80 |
| 22 | William Penn | 8- | 14- | 0 |  0.501480 |  0.454106 |  0.559381 |  9.40 |  247.75 |  11.30 |  195.15 |
| 23 | Harrisburg | 5- | 17- | 0 |  0.461325 |  0.309524 |  0.646860 |  5.85 |  296.65 |  13.05 |  161.95 |
| 24 | Penn Manor | 2- | 19- | 0 |  0.372531 |  0.137536 |  0.659747 |  2.40 |  301.90 |  15.05 |  155.70 |
| 25 | York County School of Technology | 5- | 17- | 0 |  0.336683 |  0.224537 |  0.473750 |  4.85 |  228.30 |  16.75 |  253.60 |

Lebanon Federal Credit Union