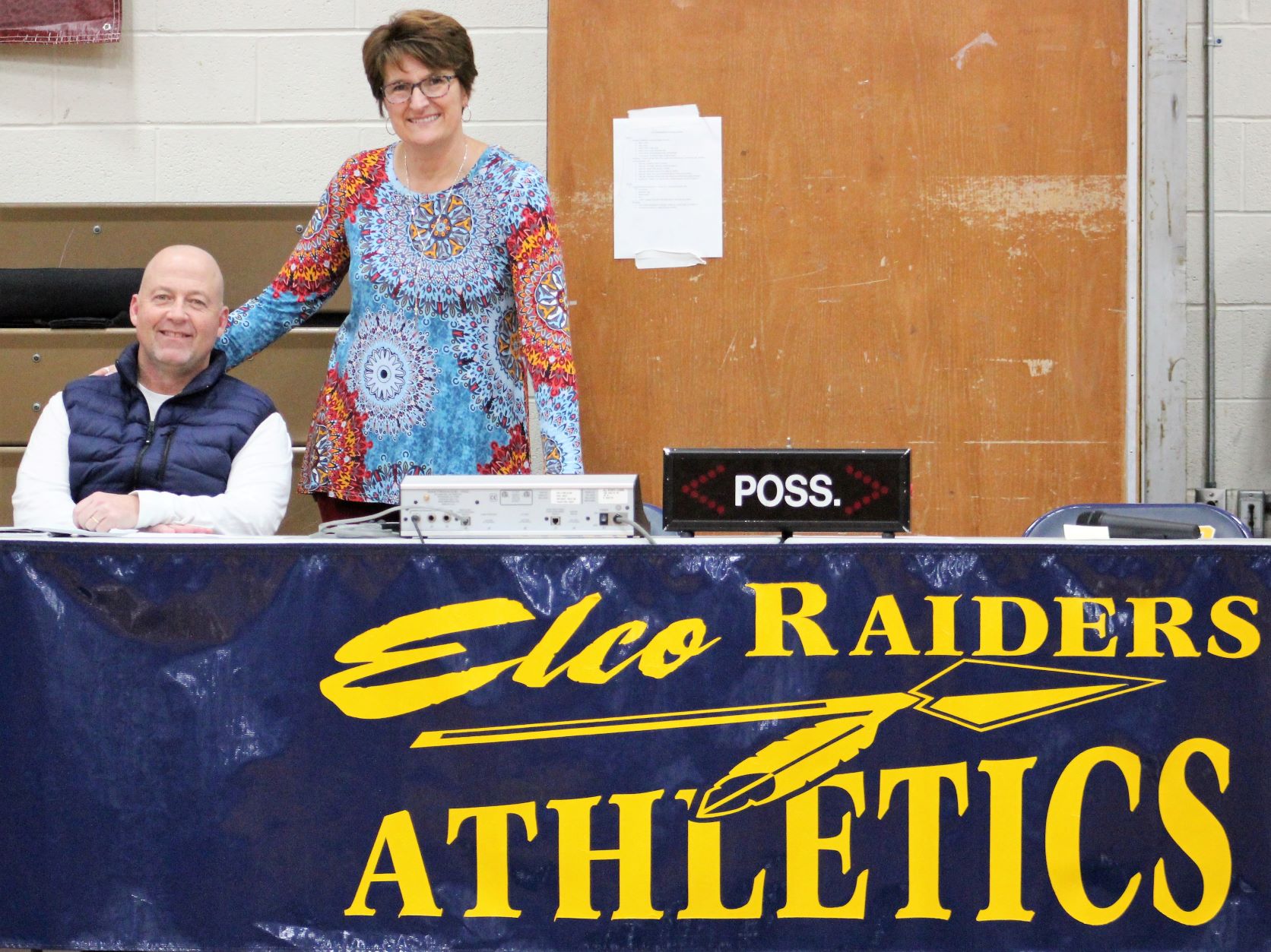 BY JEFF FALK
Editor
MYERSTOWN – Life is hard. Having someone at your side to share the good times and help you through the bad times makes it easier.
But, do you know what else is difficult? Relationships, and coaching. Both require sacrifice and hard work and cooperation. And to be any good at them, support.
Sue and Dave Gingrich know a little something about support. They live it. And by so doing, it makes their sometimes-hectic teaching-coaching life together work.
What the Gingrichs have going on right now is much more than just some form of indebtedness or simple tit-for-tat. It represents their belief in support and their commitment to one another.
"If you look at our society, unfortunately, we're not in a really good place right now," said Dave Gingrich. "A lot of people being on one side and a lot of people being on another. I think support and empathy are how working relationships are built. When they're involved, relationships are much more likely to prosper. I know she's there for me and she knows I'm there for her. Now, more than ever, supporting one another is important."
"It's kind of a role reversal," said Sue Gingrich. "But I never really thought about it before. I guess it is very unique. I didn't realize that in his 29 years of coaching that I only missed two games, but he counted them. I guess that means it was important to him. I guess it is kind of special."
From the periphery, the Gingrichs' story seems simple enough.
Sue Gingrich is in her first year as the Elco girls' basketball program's junior varsity and varsity assistant coach. Her husband Dave mans the scorebook during Raiders' home and away games.
The intrigue lies within the back story. For nearly 30 years, while Dave was successfully coaching football at Cocalico, Sue Gingrich was firmly in his corner, directly supporting him through her presence at games and indirectly supporting him by holding down the fort and keeping the home fires burning.
"I love it. The girls are great," said Sue Gingrich, a fourth-grade teacher in the Elco school district. "They accepted me right away and Ash (head coach Shay) is great. I had been out of coaching for 26 years. Things change. I think because of COVID-19 I felt depressed and like I wasn't accomplishing anything. I needed something else. It was a blessing for me because now I feel part of something."
"I try to do the best I can," said Dave Gingrich, who teaches math at Cocalico High School. "If I can cook, I'll cook. Or sometimes I'll just bring her take-out. She has sacrificed so much for me over the years. What I'm doing for her right now is not equal."
A former player, and coach on various levels at Lebanon, Elco and Cocalico, Sue Gingrich had been away from coaching for a number of years, partly to raise the Gingrichs' three, now-grown children. Apparently, Shay and Dave Gingrich had been trying to coax Sue back into coaching for a couple of years before the timing became right.
"Ash asked me, 'Do you think Dave would want to do the book?" said Sue Gingrich. "And I was like, 'Hey, I'm not sure I want him there.' He distracts me at times. I tell him, 'You know, I was never went down on your field when you were coaching.' But it all seriousness, it's worked out fine. He makes me laugh. He works well with the girls as well. He's there for moral support like I was there for him."
"It's kind of the best, cheapest date night we could have," said Dave Gingrich, with a smile. "But I'm not sure she looks at it that way. During games, we're literally within ten feet of each other. Once a coach, always a coach. I can't help myself. Sometimes I'll say something to her, and she'll say, 'Hush!'."
Before stepping aside in 2019, Dave Gingrich coached football at Cocalico for 29 years, the final 16 of which he served as the Eagles' head coach. During his tenure, Cocalico captured two Lancaster-Lebanon Section Two championships, qualified for the District Three postseason 12 times, won a District Three championship and advanced to the District Three final three other times.
"You can't be a good coach if you don't have a supportive spouse," said Dave Gingrich. "Ultimately, you neglect your family. You're taking care of other people's kids at the same time you should be taking care of your own. She made sure our kids were always well taken care of. She didn't have to do that, but it was never a question. She just did it. I knew she was always behind me and that she was my biggest supporter. I'm very fortunate to be married to my best friend."
"If I was not standing at the fence after games, he'd be upset," said Sue Gingrich. "He always came to us, win or lose. I know he was appreciative of the support. I love football. I love watching it. It's exciting. I just had unbelievable people surrounding me. I honestly enjoyed every minute of it. Now, he's very supportive of me, and I need that."
Connected through sports, the Gingrichs were both athletes and high-school sweethearts at Annville-Cleona High School during the 1980s. To this day, coaching and teaching remain extremely important to each of them.
There's also something to be said for the ability of shared experiences to help a relationship grow.
"Coaching is very important to me," said Sue Gingrich. "It's part of my life. I really enjoy it. But my family comes first and that's why I stepped away from coaching. Growing up, I knew Dave was going to be a coach. It was in his blood. You have to have someone supporting you if it's going to work, and especially if you're planning on being successful."
"I think sports was one of the things that drew us together," said Dave Gingrich. "She gave up coaching and kept teaching, and the one thing she asked me is if I'd give up one sport. So, I only coached two sports. That was my identity. I was a teacher-coach. Coaching and teaching are the same thing. They're just performed on different platforms. It's about relating to kids and trying to bring out the best in kids."
The Gingrichs live in Reinholds, they're both in the early 50s and their three children are now young adults making their own ways in the world. In some aspects, their life together has changed, but the constants that remain are coaching and support.
"We've been in this unique situation of coaching and teaching for quite a while," said Dave Gingrich. "I think it means a lot to Sue that I'm there and I'm supporting her. If I wasn't there, where would I be? It's very enjoyable. I'm going to continue to do it as long as I can. We're both enjoying the experience."
"Dave loves sports," said Sue Gingrich. "He loves every sport. I know it's hard for him not being involved with football. I think this kind of takes his mind off things. There are a lot of things about coaching that he misses, and there are a lot of things that he doesn't."
Perhaps more functional and less romantic than other versions, support is love, nonetheless.