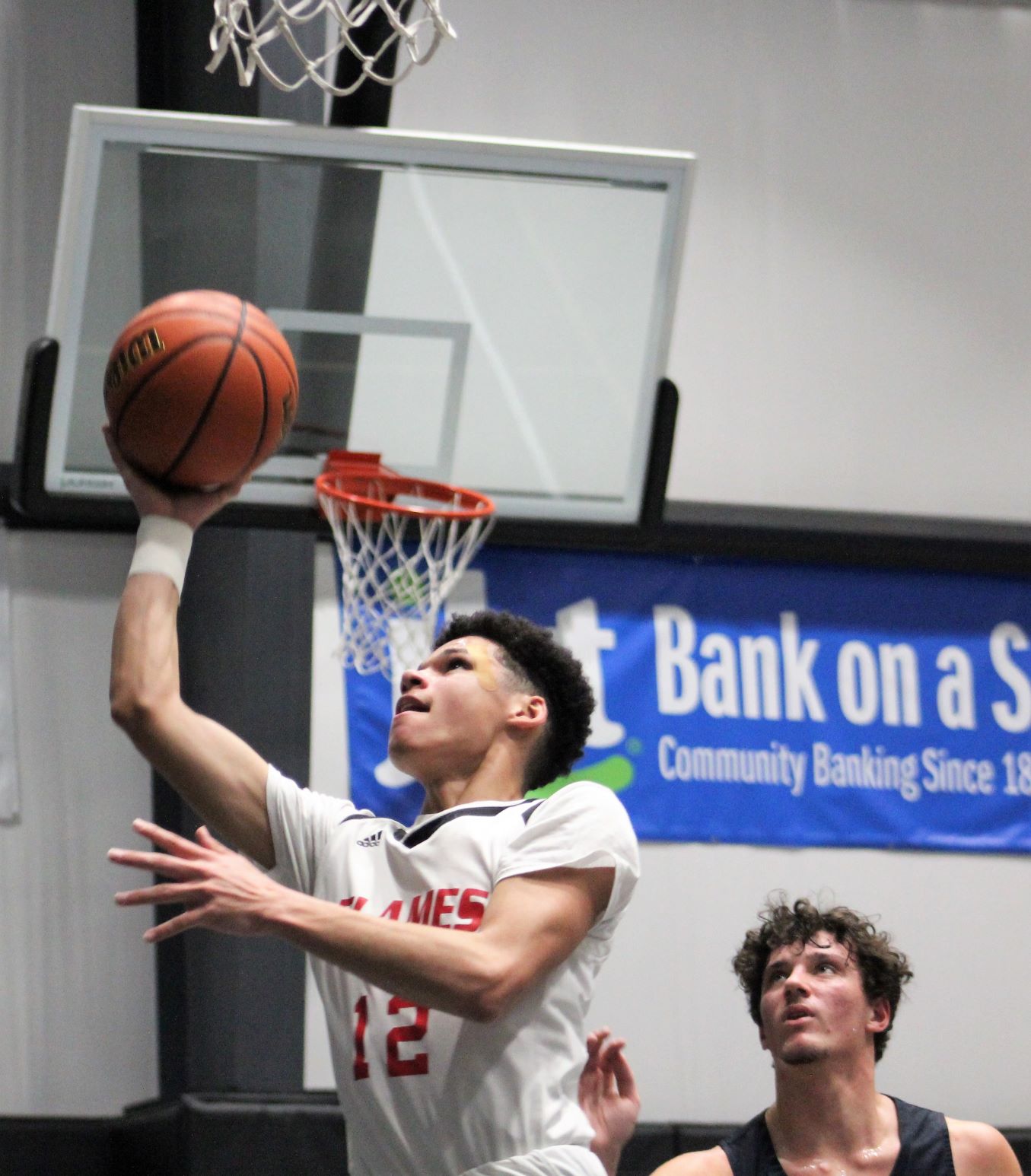 BY JEFF FAK
Editor
EBENEZER – There is absolutely nothing that can take away from what it has accomplished this season. The New Covenant boys' basketball team has enjoyed an absolutely marvelous winter campaign.
But the Flames aren't where they want to be, where they need to be, heading into the playoffs.
On Thursday night at New Covenant Christian School, the Flames' postseason expectations were tempered by a 63-54 setback to visiting Lancaster County Christian. After falling into a multiple-possession hole early in the second half, New Covenant mounted a spirited comeback in the middle of the final quarter, but couldn't complete the deal.
The loss was New Covenant's third in its last four outings and dropped it to 12-5 on the year. Just over a week ago, the Flames were riding a six-game win streak and sitting at 11-2.
New Covenant was situated fourth in the latest District Three Class A power rankings.
With the outcome, Lancaster County Christian extended its seasonal mark to 11-8.
"I thought we'd have a better year," said New Covenant head coach Matthew Kantner, referring to a three-win 2020-21 season. "I thought we'd be good. We were 12-3, but I don't know if we were 12-3 good. I think early in the year we were playing a little better. Over the first 14 games, we were sharing the ball pretty good.
"We're not playing the way we should be going into the playoffs," continued Kantner. "We have our moments. But we always seem to get away from what got us here. One guy wants to try to do it all by himself. We're not where we need to be going into the playoffs."
A 10-5 burst had pulled the Flames to within 55-52 of the lead, with 3:31 to go. Juan Torres accounted for six of those New Covenant points, while teammate Colson Hess notched the other four.
But the Flames went scoreless over the next three-plus minutes of crunch time, and Lancaster County Christian hit them with an 8-0 run to re-extend its lead to 63-52.
"We got down eight, but we fought our way back," said Kantner. "We had two possessions when we were down three, and didn't get a shot. Then we had two more possessions when we were down five, and didn't get a shot. We do what we need to do to get back into the game, and then we don't play as a team.
"I thought we played well for three quarters," added Kantner. "We got back in the game and panicked. I don't think we've figured out how to win close games."
Down three at the break, New Covenant used baskets from Torres and Benjamin Hartman, and a couple of free throws by Nate Seibert to tie the game at 33, two minutes into the second half. But the Lions netted eight straight points over the next two minutes of action to establish a 41-33 margin.
"We're jockeying for the league and district playoffs," said Kantner. "We've got some people right behind us. And you want to play a home (playoff) game. We were in a spot to play both at home. But we lost two games this week we probably should've won."
"They like to slash from the wings," said Lancaster County Christian head coach Nate Long of the Flames. "We knew we had to stop their dribble penetration. Their big guy (Hess) really surprised us. He's a bear on the glass. We knew they were going to be aggressive and play fast, but we like to play aggressive and fast."
With 18 points from Torres, 12 by Hartman and ten from Hess, the Flames' scoring was fairly balanced. Luke Miklas and Josh Glessner combined to score 48 of Lancaster County Christian's total of 63 points.
"They had two guys combine for almost 50 of their points," said Kantner. "Other than those two guys, we did OK defensively. In the first half, we did a really good job on number three (Glessner). But most of the time we do that. Most of the time teams have one good guy. Our help defense is a problem."
The first half was back-and-forth. Five points from Torres and driving lay-ins from Hess, and then Hartman, staked New Covenant to an early 12-7 advantage.
"The last two weeks we've been struggling offensively and defensively," said Kantner. "Maybe we're just getting tired. We're grinding. I don't know.
"We don't want to lose three out of five games going into the playoffs," Kantner added. "We can't figure out how to get over the hump when we get down."
A Riley Newswanger bucket 2:04 into the second stanza made New Covenant's lead 20-19. But the Lions enjoyed a 30-27 margin at intermission.
"It was a great win," said Long. "They're a really good team. They're 12-4 for a reason. It's the game we've been looking for. We were looking for a game to hang our hats on. Overall, it was a great team win."
To purchase images in this article please email jeff@lebcosports.com.
2021-22 New Covenant Boys' Basketball Results
| | | | | | |
| --- | --- | --- | --- | --- | --- |
| 2021-12-10 | N | vs | Salem Christian(11) | W | 67-41 |
| 2021-12-11 | N | vs | Conestoga Christian School(3) | W | 67-44 |
| 2021-12-14 | H | vs | Dayspring Christian Academy(3) | L | 72-67 |
| 2021-12-16 | H | vs | Lititz Christian School(3) | W | 61-44 |
| 2021-12-17 | H | vs | Christian School Of York(3) | W | 65-24 |
| 2021-12-21 | A | vs | Covenant Christian Academy(3) | W | 60-43 |
| 2022-01-04 | A | vs | Mount Calvary Christian School(3) | L | 73-48 |
| 2022-01-07 | H | vs | West Shore Christian Academy(3) | W | 80-55 |
| 2022-01-11 | A | vs | Harrisburg Christian School(3) | W | 63-48 |
| 2022-01-14 | A | vs | Harrisburg Academy(3) | W | 56-23 |
| 2022-01-18 | A | vs | Dayspring Christian Academy(3) | W | 54-50 |
| 2022-01-21 | H | vs | Christian School Of York(3) | W | 64-23 |
| 2022-01-25 | A | vs | Covenant Christian Academy(3) | W | 52-41 |
| 2022-01-28 | H | vs | Mount Calvary Christian School(3) | L | 67-38 |
| 2022-01-31 | H | vs | York Country Day School(3) | W | 58-25 |
| 2022-02-01 | A | vs | West Shore Christian Academy(3) | L | 59-42 |
| 2022-02-03 | H | vs | Lancaster County Christian(3) | L | 63-35 |
| 2022-02-07 | A | vs | High Point Baptist Academy(3) | | 0-0 |
| 2022-02-08 | H | vs | Harrisburg Academy(3) | | 0-0 |
| 2022-02-10 | H | vs | Harrisburg Christian School(3) | | 0-0 |
PIAA District Three Class A Power Rankings

Lebanon Federal Credit Union