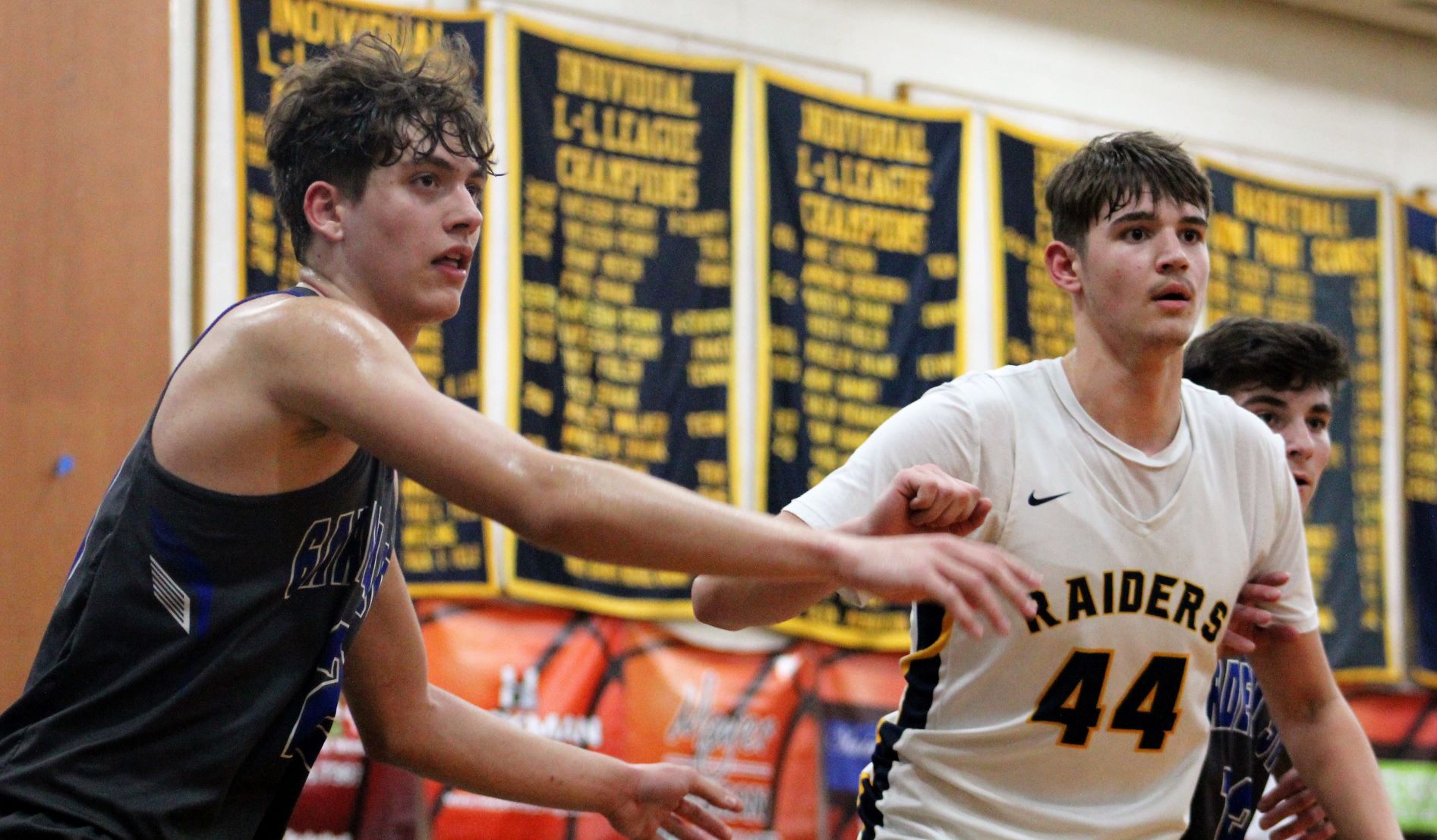 BY JEFF FALK
Editor
MYERSTOWN – At times, they've overachieved. At other times, it's been a struggle.
But Elco is the best boys' basketball team in Section Four of the Lancaster-Lebanon League. That's what championships are really all about, identifying the best team.
Amid Monday's Senior Night festivities at Elco High School, the Raiders claimed a share of their first L-L section title in 30 years with a gutty, very Elco-like 53-42 triumph over Garden Spot. Elco led wire-to-wire, despite a few tense moments caused by a streaky shooting Spartan outfit and its own turnovers.
The Raiders, now 12-8 overall and 8-4 in Section Four, had entered the contest losers of four straight and six out of their last seven. While last night's victory qualified Elco for the upcoming Lancaster-Lebanon League playoffs, the Raiders can capture the Section Four title outright with a win at perennial nemesis Lancaster Catholic on Tuesday.
The triumph over Garden Spot also solidified the Raiders' eight-place position in the District Three Class AAAA power rankings.
Not necessarily considered a basketball school, Elco's Lancaster-Lebanon section championship is the school's first in the sport since the 1991-92 campaign. The Raiders have now worn six section crowns overall.
With the loss, Garden Spot slipped to 8-12 on the season and 6-6 in Section Three of the Lancaster-Lebanon League.
"I think right now we are the best team in the section," said Elco head coach Brad Conners. "Our section record says we are. This guarantees us a piece of the section championship. If we win tomorrow, we're good. We're taking the approach, 'Let's win tomorrow down there and win the whole thing outright'.
"But we're going to have to play better tomorrow," continued Conners. "They (the Crusaders) think it's their section. It seems like they win it every year."
The Raiders won this one in crunch time, with their defense, after the Spartans had put a scare in them during the third period.
Protecting a five-point margin in the middle of the fourth quarter, Elco held Garden Spot without a point for a key 3:49 stretch and opened a 51-38 bulge with less than a minute to play. During the critical run, the Raiders got four points out of senior Corey Attivo, and pairs of free throws from sophomore Dallas George and then senior Rheece Shuey.
"In the fourth quarter, they (the Spartans) went to that zone trap just over half-court," said Conners. "I thought it was going to provide us with some offense. At times it did, and other time it didn't. It was unsettling.
"When we've had trouble, the problem has been scoring," added Conners. "We hit a patch over the last two weeks where  the competition has gotten tougher. I think it was a schedule thing. The Northern Lebanon loss (on February 1) is the one I go back to. We make our foul shots and that game is a different story. We kind of went into a shell."
After Elco enjoyed a 12-point halftime margin, Garden Spot drained five of its total of seven three-point field goals in the third quarter. The Spartans pulled to within 36-32 of the lead, before Luke Williams started the final quarter with a bucket for Elco.
"They (the Spartans) got it to four, but I still felt pretty good," said Conners. "I felt like we had control. They shot 29 threes and that's scary. The odds are they're going to start missing, but we've got to get the rebound.
"The most important thing about tonight was taking that punch in the third quarter," added Conners. "We didn't falter. We showed some grit."
With 15 points, Attivo led a tribe of Raider scorers into double digits. Shuey and George each contributed 13 points, while Williams collected a dozen.
Elco outscored Garden Spot 32-18 on two-point field goals.
"I don't think it (the possibility of a section championship) really did enter into our thinking at the beginning of the season," said Conners. "It was really one game at a time. We got out to a fast start. It was encouraging. Then we started to think we have a chance of doing something we haven't done in a while.
"It's never easy, but that's what makes it great," Conners added. "We've been talking about it all year. But we told our guys, 'You've got to embrace the pressure. You've got to finish strong'. It was important to get back into the win column. It's been a rough two weeks."
The Raiders held the Spartans without a point over the initial 5:09 of the contest, and raced out to a 6-0 lead thanks to points from Shuey, George and Attivo. And when Shuey closed the opening period with a three-pointer and Attivo opened the second quarter with a stick-back, Elco was sitting on a 16-3 cushion.
"We celebrate the multi-sport athlete here at Elco, and that includes basketball," said Conners. "When you think about the last 30 years, you think about some of the good players we had. Then you go back to some of the really good teams we had. You do kind of reminisce and you think about the opportunities."
A three-pointer from George gave Elco a 19-5 advantage early in the second stanza. Then four minutes later, Williams' offensive rebound made the Raiders' lead 24-12.
To purchase images in this article please email jeff@lebcosports.com
2021-22 Elco Boys' Basketball Results
| | | | | | |
| --- | --- | --- | --- | --- | --- |
| 2021-12-10 | A | vs | Red Land(3) | W | 45-33 |
| 2021-12-11 | A | vs | Lebanon(3) | L | 29-34 |
| 2021-12-14 | H | vs | Octorara(3) | W | 57-54 |
| 2021-12-17 | A | vs | Donegal(3) | W | 42-33 |
| 2021-12-21 | A | vs | Northern Lebanon(3) | W | 50-39 |
| 2021-12-29 | A | vs | Dallastown(3) | L | 46-48 |
| 2021-12-30 | A | vs | Spring Grove Area(3) | W | 48-39 |
| 2022-01-03 | H | vs | Annville-Cleona(3) | W | 66-25 |
| 2022-01-05 | A | vs | Hamburg(3) | W | 70-43 |
| 2022-01-07 | H | vs | Lancaster Catholic(3) | W | 52-50 |
| 2022-01-11 | H | vs | Cocalico(3) | W | 55-39 |
| 2022-01-14 | A | vs | Manheim Central(3) | L | 53-58 |
| 2022-01-18 | H | vs | Solanco(3) | W | 66-34 |
| 2022-01-21 | A | vs | Lampeter Strasburg(3) | L | 49-71 |
| 2022-01-25 | A | vs | Octorara(3) | L | 61-69 |
| 2022-01-28 | H | vs | Donegal(3) | W | 48-44 |
| 2022-01-29 | A | vs | Pottsville(11) | L | 45-52 |
| 2022-02-01 | H | vs | Northern Lebanon(3) | L | 44-53 |
| 2022-02-02 | A | vs | Conrad Weiser(3) | L | 45-55 |
| 2022-02-04 | H | vs | Garden Spot(3) | W | 53-42 |
| 2022-02-08 | A | vs | Lancaster Catholic(3) | | 0-0 |
| 2022-02-10 | A | vs | Wyomissing(3) | | 0-0 |
PIAA District Three Class AAAA Power Rankings
| | | | | | | | | | | | |
| --- | --- | --- | --- | --- | --- | --- | --- | --- | --- | --- | --- |
| AAAA | School |  W |  L |  T |  Rating |  TWP |  OWP |  TWPW |  OWPW |  TWPL |  OWPL |
| 1 | Berks Catholic | 16- | 3- | 0 |  0.786089 |  0.884910 |  0.665306 |  17.30 |  268.95 |  2.25 |  135.30 |
| 2 | Trinity (3) | 14- | 4- | 0 |  0.674474 |  0.776536 |  0.549731 |  13.90 |  204.50 |  4.00 |  167.50 |
| 3 | Middletown | 17- | 3- | 0 |  0.671357 |  0.867788 |  0.431273 |  18.05 |  166.45 |  2.75 |  219.50 |
| 4 | Littlestown | 17- | 4- | 0 |  0.655684 |  0.819861 |  0.455024 |  17.75 |  204.11 |  3.90 |  244.46 |
| 5 | Eastern York | 14- | 7- | 0 |  0.635808 |  0.715262 |  0.538698 |  15.70 |  227.60 |  6.25 |  194.90 |
| 6 | Bishop McDevitt (3) | 12- | 7- | 0 |  0.619217 |  0.675603 |  0.550302 |  12.60 |  228.10 |  6.05 |  186.40 |
| 7 | Boiling Springs | 10- | 8- | 0 |  0.588802 |  0.626437 |  0.542805 |  10.90 |  234.28 |  6.50 |  197.33 |
| 8 | Eastern Lebanon County | 11- | 8- | 0 |  0.576212 |  0.642667 |  0.494990 |  12.05 |  202.55 |  6.70 |  206.65 |
| 9 | Wyomissing | 9- | 8- | 0 |  0.558815 |  0.572755 |  0.541776 |  9.25 |  217.55 |  6.90 |  184.00 |
| 10 | Oley Valley | 12- | 7- | 0 |  0.545942 |  0.629156 |  0.444236 |  12.30 |  177.45 |  7.25 |  222.00 |
| 11 | Kennard Dale | 7- | 13- | 0 |  0.469374 |  0.403553 |  0.549822 |  7.95 |  239.20 |  11.75 |  195.85 |
| 12 | James Buchanan | 7- | 15- | 0 |  0.459674 |  0.356796 |  0.585413 |  7.35 |  237.83 |  13.25 |  168.43 |
| 13 | Schuylkill Valley | 7- | 12- | 0 |  0.452548 |  0.392000 |  0.526551 |  7.35 |  206.25 |  11.40 |  185.45 |
| 14 | West Perry | 7- | 13- | 0 |  0.430520 |  0.387363 |  0.483267 |  7.05 |  200.00 |  11.15 |  213.85 |
| 15 | Northern Lebanon | 7- | 13- | 0 |  0.427463 |  0.378307 |  0.487542 |  7.15 |  201.55 |  11.75 |  211.85 |
| 16 | Susquehanna Township | 5- | 13- | 0 |  0.413494 |  0.291411 |  0.562707 |  4.75 |  237.35 |  11.55 |  184.45 |
| 17 | Bermudian Springs | 7- | 14- | 1 |  0.403353 |  0.357875 |  0.458937 |  7.68 |  204.25 |  13.78 |  240.80 |
| 18 | Hamburg | 5- | 13- | 0 |  0.381664 |  0.275568 |  0.511336 |  4.85 |  201.85 |  12.75 |  192.90 |
| 19 | Hanover (3) | 5- | 17- | 0 |  0.349729 |  0.224057 |  0.503328 |  4.75 |  223.11 |  16.45 |  220.16 |
| 20 | East Pennsboro | 0- | 19- | 0 |  0.231939 |  0.000000 |  0.515420 |  0.00 |  210.58 |  18.25 |  197.98 |
Lancaster-Lebanon League
Section Four Standings
x-clinched share of championship