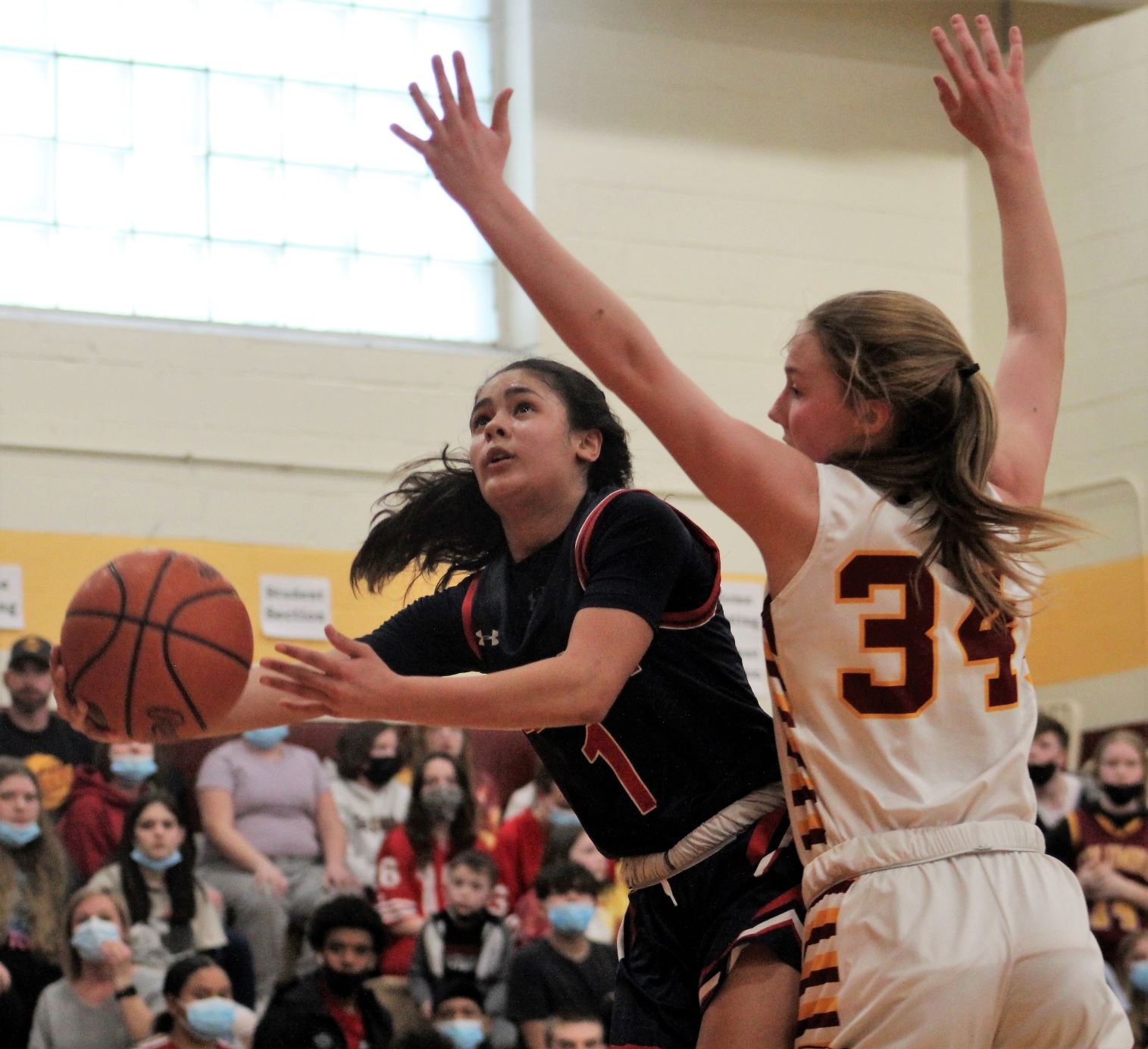 BY JEFF FALK
Editor
COLUMBIA – There are simply some situations that can't be simulated or replicated in practice. And if experience is the greatest teacher, then the Lebanon girls received a semester full of lessons packed into 32 minutes of intense, challenging and reality-expanding playoff basketball.
But perhaps the best part about it for the Cedars is that this particular kind of knowledge requires very little processing, and it's something that will remain with them for the rest of their lives.
On Saturday afternoon, in front of a rowdy and boisterous crowd at Columbia High School, Lebanon's valiant and spirted rally from the depths of despair came up short in a 61-54 loss to the Crimson Tide, in the quarterfinal round of the Lancaster-Lebanon League playoffs. With little or no playoff experience behind them, the Cedars came all the way back from an early 21-point deficit, only to falter during crunch time.
The setback dropped Lebanon, co-champions of Section Two, to 15-8 on the year, but likely did not end its season. The Cedars appear to be the final team to qualify for the upcoming, 12-team District Three Class AAAAAA postseason.
The victory kept Section Five champion and now 22-0 Columbia undefeated, and pushed the Crimson Tide into Tuesday's semifinals of the L-L tournament.
"Our kids have not played in a playoff game for five years," said Lebanon head coach Jamie Walborn. "It's new, but we didn't back down. Obviously, it's a learning experience,
"After we came back, it was back and forth," added Walborn. "We learned a lot from the whole experience. We're only going to get better from this, whether it was a win or a loss. But we're glad to be in districts and to keep going."
Given all of the physical and emotional energy needed to pull off their comeback, the Cedars may have run out of steam down the stretch.
A fourth-quarter minute after Lebanon senior Dorthie Zechman had tied the game at 46, freshman teammate Liliana Harrison gave Lebanon its first and only lead of the game, 50-48, on a stick-back with 6:25 remaining. Then, Kailah Correa's pull-up with 3:26 left knotted the score at 54.
But Lebanon did not score the rest of the way, as a number of starters fouled out.
"We wanted to wear them out," said Walborn of the Crimson Tide. "They don't sub. They looked a little tired. We wanted to keep pushing them on defense. And I thought we did that in the second and third quarters.
"The two sisters (Brie and Brooke Droege) are good shooters, good players," Walborn continued. "They know the game. The other kids fill in nicely around them."
Down 14 points at the break, Lebanon made up a ton of ground in the third quarter.
First, a Zechman-Maddie Bishop-Olivia Uffner inspired 9-2 spurt pulled Lebanon to within 40-33 of Columbia. Then, Harrison sank a pair of free throws and Correa turned a steal into an old-fashioned three-point play, as the Cedars notched the final five points of the period to make the Crimson Tide's lead 46-44.
"I told them I was really proud of how they came out in the second half," said Walborn of her players. "The third quarter has been our nemesis all year. I told them at halftime, 'This is far from over. If we can get 'stops', we can get back in this game.'"
Before fouling out, freshman standout Correa notched 18 Lebanon points. The Cedars converted all ten of their foul shots, but were outscored 42-32 on two-point field goals.
"We were never in a gym this loud," said Walborn. "It's our first year in the playoffs and the first year we've been in these types of games. We've been in similar atmospheres, but not like this one. It's fun. It's exciting for the girls. It's something they earned."
The reasons for Lebanon's slow start was more tactical than it was emotional or nerves.
Columbia tallied the first nine points of the game, ended the opening period with a 9-2 run and enjoyed a 27-6 lead early in the second stanza. The Cedars finally got it going in the middle of the second quarter and drew to within 30-18 of Columbia, on a three-point play by Correa, 2:52 before the break.
"They're good shooters," said Walborn of the Crimson Tide. "Our game plan was to come out and get a hand in their face, and make them put the ball on the floor. When we came out in the first quarter, we weren't close to them. But I thought once we adjusted, we did better."
To purchase images in this article please email jeff@lebcosports.com.
2021-22 Lebanon Girls' Basketball Results
| | | | | | |
| --- | --- | --- | --- | --- | --- |
| 2021-12-10 | A | vs | William Allen(11) | W | 58-32 |
| 2021-12-11 | A | vs | Fleetwood(3) | W | 32-29 |
| 2021-12-14 | H | vs | Governor Mifflin(3) | L | 67-52 |
| 2021-12-16 | H | vs | Ephrata(3) | W | 49-42 |
| 2021-12-18 | A | vs | Reading(3) | L | 63-57 |
| 2021-12-21 | A | vs | Elizabethtown(3) | W | 50-44 |
| 2021-12-28 | H | vs | New Oxford(3) | W | 51-40 |
| 2021-12-29 | H | vs | J P McCaskey(3) | W | 55-43 |
| 2022-01-03 | H | vs | Carlisle(3) | W | 51-26 |
| 2022-01-04 | A | vs | Warwick(3) | W | 41-38 |
| 2022-01-10 | H | vs | Conestoga Valley(3) | W | 64-61 |
| 2022-01-11 | A | vs | J P McCaskey(3) | W | 58-53 |
| 2022-01-14 | H | vs | Cedar Crest(3) | L | 44-37 |
| 2022-01-18 | A | vs | Hempfield (3)(3) | L | 48-37 |
| 2022-01-21 | H | vs | Penn Manor(3) | L | 62-41 |
| 2022-01-24 | H | vs | Garden Spot(3) | W | 51-20 |
| 2022-01-25 | A | vs | Ephrata(3) | L | 61-51 |
| 2022-01-27 | A | vs | Manheim Township(3) | L | 61-45 |
| 2022-02-01 | H | vs | Elizabethtown(3) | W | 61-54 |
| 2022-02-05 | H | vs | Warwick(3) | W | 45-41 |
| 2022-02-08 | A | vs | Conestoga Valley(3) | W | 62-29 |
| 2022-02-09 | H | vs | Milton Hershey(3) | W | 82-58 |
PIAA District Three Class AAAAAA Power Rankings
| | | | | | | | | | | | |
| --- | --- | --- | --- | --- | --- | --- | --- | --- | --- | --- | --- |
| AAAAAA | School |  W |  L |  T |  Rating |  TWP |  OWP |  TWPW |  OWPW |  TWPL |  OWPL |
| 1 | Cedar Cliff | 22- | 0- | 0 |  0.804592 |  1.000000 |  0.565761 |  26.00 |  260.25 |  0.00 |  199.75 |
| 2 | Dallastown | 19- | 2- | 0 |  0.802370 |  0.937630 |  0.637053 |  22.55 |  285.75 |  1.50 |  162.80 |
| 3 | Red Lion | 18- | 3- | 0 |  0.767139 |  0.905263 |  0.598322 |  21.50 |  263.80 |  2.25 |  177.10 |
| 4 | Central York | 18- | 4- | 0 |  0.756151 |  0.869919 |  0.617101 |  21.40 |  289.05 |  3.20 |  179.35 |
| 5 | Central Dauphin | 14- | 2- | 0 |  0.755392 |  0.921053 |  0.552918 |  17.50 |  182.85 |  1.50 |  147.85 |
| 6 | Cumberland Valley | 17- | 4- | 0 |  0.754543 |  0.874739 |  0.607636 |  20.95 |  259.40 |  3.00 |  167.50 |
| 7 | Hempfield (3) | 14- | 5- | 0 |  0.746938 |  0.821853 |  0.655376 |  17.30 |  271.85 |  3.75 |  142.95 |
| 8 | Penn Manor | 15- | 7- | 0 |  0.725041 |  0.757261 |  0.685660 |  18.25 |  324.90 |  5.85 |  148.95 |
| 9 | Wilson (3) | 15- | 5- | 0 |  0.721774 |  0.817972 |  0.604198 |  17.75 |  257.60 |  3.95 |  168.75 |
| 10 | Manheim Township | 14- | 7- | 0 |  0.695527 |  0.761693 |  0.614657 |  17.10 |  276.35 |  5.35 |  173.25 |
| 11 | Governor Mifflin | 14- | 8- | 0 |  0.674536 |  0.721739 |  0.616844 |  16.60 |  284.55 |  6.40 |  176.75 |
| 12 | Lebanon | 15- | 7- | 0 |  0.666246 |  0.775641 |  0.532541 |  18.15 |  244.25 |  5.25 |  214.40 |
| 13 | Ephrata | 13- | 9- | 0 |  0.650315 |  0.683857 |  0.609320 |  15.25 |  286.35 |  7.05 |  183.60 |
| 14 | Cedar Crest | 11- | 11- | 0 |  0.641247 |  0.607623 |  0.682343 |  13.55 |  319.20 |  8.75 |  148.60 |
| 15 | Reading | 12- | 10- | 0 |  0.610382 |  0.638009 |  0.576615 |  14.10 |  258.90 |  8.00 |  190.10 |
| 16 | Harrisburg | 8- | 11- | 0 |  0.559524 |  0.539510 |  0.583987 |  9.90 |  227.20 |  8.45 |  161.85 |
| 17 | William Penn | 9- | 12- | 0 |  0.549100 |  0.525926 |  0.577423 |  10.65 |  253.20 |  9.60 |  185.30 |
| 18 | Carlisle | 9- | 13- | 0 |  0.535126 |  0.516990 |  0.557292 |  10.65 |  253.15 |  9.95 |  201.10 |
| 19 | Warwick | 8- | 14- | 0 |  0.517946 |  0.468293 |  0.578632 |  9.60 |  270.80 |  10.90 |  197.20 |
| 20 | Conestoga Valley | 8- | 13- | 0 |  0.505691 |  0.486076 |  0.529664 |  9.60 |  234.35 |  10.15 |  208.10 |
| 21 | Muhlenberg | 5- | 17- | 0 |  0.387888 |  0.260101 |  0.544073 |  5.15 |  248.75 |  14.65 |  208.45 |
| 22 | J P McCaskey | 3- | 18- | 0 |  0.381332 |  0.185841 |  0.620266 |  3.15 |  282.50 |  13.80 |  172.95 |
| 23 | Chambersburg Area | 3- | 19- | 0 |  0.379787 |  0.197368 |  0.602743 |  3.75 |  276.90 |  15.25 |  182.50 |
| 24 | Central Dauphin East | 0- | 22- | 0 |  0.286143 |  0.000000 |  0.635874 |  0.00 |  294.95 |  17.10 |  168.90 |
| 25 | York County School of Technology | 3- | 18- | 0 |  0.273659 |  0.149144 |  0.425843 |  3.05 |  185.05 |  17.40 |  249.50 |