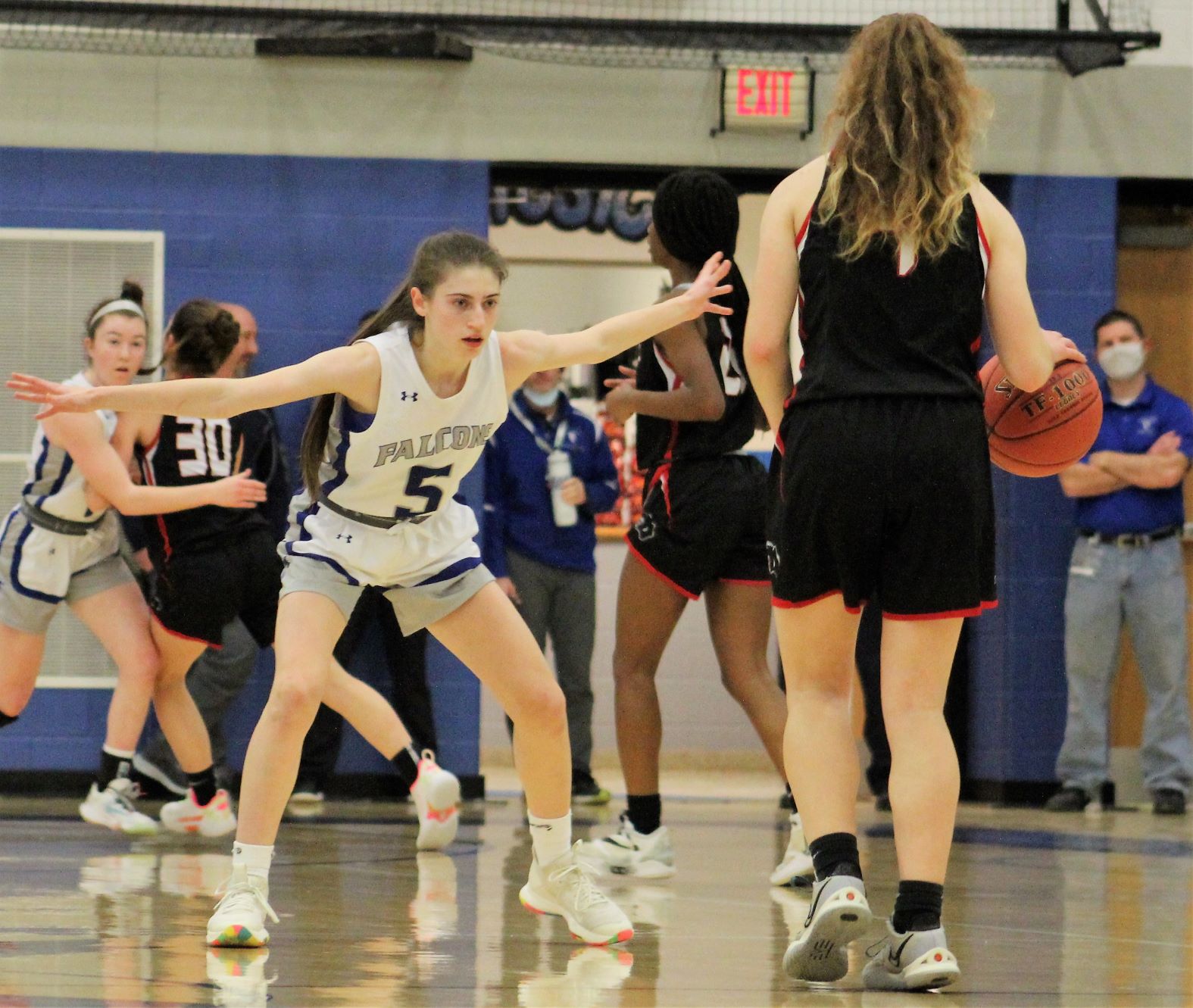 BY JEFF FALK
Editor
SOUTH LEBANON – If the dog days of January represent the grind, then a basketball season is the survival of the fittest.
It's difficult. It's tough. It's demanding. But anything worth having or doing is.
On Wednesday night at 'The Cage' on the campus of Cedar Crest High School, the Falcon girls' basketball team dropped an important 39-32 decision to Schuylkill Valley in their quest for the postseason. Cedar Crest was within a couple of possessions of its visitor throughout, but just couldn't manufacture the decisive plays, especially down the stretch.
With the non-league outcome, Cedar Crest slipped to 8-7 on the season. In the latest District Three power rankings, Cedar Crest was situated 13th in an AAAAAA classification which takes 12 teams for its playoff tournament.
The contest also represented the Falcons' third game in as many days, and their Lancaster-Section One game on Friday at Warwick will make it a four-game week.
Schuylkill Valley improved to 14-1 with the triumph.
"My definition of success is playing a little above your potential," said Cedar Crest head coach Will Wenninger. "As a teacher, you want to have your team playing a little above its potential. Right now, I'm doing something terribly wrong, and it's leading to inconsistent play.
"Is it a grind?," continued Wenninger. "We're not the only program facing it. That's part of being tough. Everyone's in the same boat. It's hard for everyone. Basketball's a tough game to play. But that's what you signed up for."
The Falcons were right there, but just couldn't complete the job in crunch time.
Sarah Batra's inside move nine seconds into the fourth quarter gave Crest a 28-27 edge. But the Panthers held the Falcons scoreless for the next 6:56 of game clock, tallied the next nine points and led 36-28 with a minute-and-a-half to go.
"We just did some silly mental things," said Wenninger. "We shot ourselves in the foot. They were self-inflicted wounds. For example, with a minute-and-a-half left, we fouled them, they went to the line, missed the free throw and they got the offensive rebound. How does that happen? It happens when you don't play with energy.
"We did not play well," Wenninger continued. "I thought we came out flat. I thought we came out with very little energy. No, it was not the result of three games in three nights. We just didn't come ready to play."
Down three at the break, Cedar Crest tied the score at 21 4:23 into the second half, on a left-hand from Batra and a free throw by Sierra Margut.
"We talked about offense and getting into position to score," said Wenninger. "Making reads early. Making them (the Panthers) uncomfortable defensively. Sometimes we decide to do those things and sometimes we don't. That's what makes us so inconsistent. When we do that, it's going to be a long night."
With 14 points, Batra paced the Cedar Crest scoring attack. Six other Falcons found their way on to the score sheet, but none tallied more than four points.
Schuylkill Valley outscored the Falcons 12-0 from beyond the arc.
"Our offense has been inconsistent," said Wenninger. "Our scoring is pretty balanced, but we need someone besides Sarah to score more than four points. We missed some jumpers and got tentative. We missed a lot of lay-ups. But when that happens, you can still go to the basket and get fouled."
The Falcons went the first 4:47 of the contest without a point, then Schuylkill Valley opened an early 8-2 advantage.
But Cedar Crest netted the initial four points of the second period, on baskets from Batra and Kaya Camasta to tie the score. Later in the stanza, the Falcons got a lay-in from Margut and a couple of foul shots from Allison Metzgar to assume a 14-12 edge.
"It's not easy playing four games in five nights, but it's not impossible," said Wenninger. "We talked in the preseason about being tough. You've got to manage your time, you've got to take care of your body, you've got to get rest. I don't look for excuses. I look for rational reasons.
"Anything's possible," concluded Wenninger. "But we need a lot of help (to reach the postseason). Absolutely, it's out of our control. Earlier in the week we controlled our own destiny."
To purchase images in this article please email jeff@lebcosports.com.
2021-22 Cedar Crest Girls' Basketball Results
| | | | | | |
| --- | --- | --- | --- | --- | --- |
| 2021-12-11 | H | vs | Harrisburg(3) | W | 42-13 |
| 2021-12-14 | A | vs | Wilson (3)(3) | W | 45-33 |
| 2021-12-17 | A | vs | Hempfield (3)(3) | L | 43-35 |
| 2021-12-18 | H | vs | Palmyra(3) | L | 34-32 |
| 2021-12-21 | H | vs | Penn Manor(3) | L | 39-25 |
| 2021-12-22 | A | vs | Reading(3) | W | 54-39 |
| 2021-12-29 | N | vs | Twin Valley(3) | W | 40-34 |
| 2021-12-30 | A | vs | Lower Dauphin(3) | L | 46-28 |
| 2022-01-03 | A | vs | Central Dauphin(3) | L | 54-29 |
| 2022-01-05 | H | vs | J P McCaskey(3) | W | 52-33 |
| 2022-01-12 | H | vs | Elizabethtown(3) | W | 55-30 |
| 2022-01-14 | A | vs | Lebanon(3) | W | 44-37 |
| 2022-01-17 | A | vs | Manheim Township(3) | L | 42-14 |
| 2022-01-18 | H | vs | Ephrata(3) | W | 46-39 |
| 2022-01-21 | A | vs | Warwick(3) | L | 32-39 |
| 2022-01-25 | H | vs | Conestoga Valley(3) | | 0-0 |
| 2022-01-26 | H | vs | Mechanicsburg(3) | | 0-0 |
| 2022-01-28 | H | vs | Hempfield (3)(3) | | 0-0 |
| 2022-02-01 | A | vs | Penn Manor(3) | | 0-0 |
| 2022-02-04 | A | vs | J P McCaskey(3) | | 0-0 |
| 2022-02-08 | H | vs | Manheim Township(3) | | 0-0 |
PIAA District Three Class AAAAAA Power Rankings
| | | | | | | | | | | | |
| --- | --- | --- | --- | --- | --- | --- | --- | --- | --- | --- | --- |
| AAAAAA | School |  W |  L |  T |  Rating |  TWP |  OWP |  TWPW |  OWPW |  TWPL |  OWPL |
| 1 | Dallastown | 12- | 2- | 0 |  0.803315 |  0.904459 |  0.679694 |  14.20 |  195.65 |  1.50 |  92.20 |
| 2 | Hempfield (3) | 11- | 1- | 0 |  0.799690 |  0.947552 |  0.618970 |  13.55 |  152.05 |  0.75 |  93.60 |
| 3 | Red Lion | 13- | 1- | 0 |  0.797919 |  0.953988 |  0.607169 |  15.55 |  165.15 |  0.75 |  106.85 |
| 4 | Central York | 12- | 2- | 0 |  0.788427 |  0.905063 |  0.645872 |  14.30 |  192.05 |  1.50 |  105.30 |
| 5 | Cedar Cliff | 14- | 0- | 0 |  0.786071 |  1.000000 |  0.524603 |  16.60 |  135.40 |  0.00 |  122.70 |
| 6 | Cumberland Valley | 12- | 2- | 0 |  0.769257 |  0.908537 |  0.599027 |  14.90 |  147.75 |  1.50 |  98.90 |
| 7 | Central Dauphin | 5- | 1- | 0 |  0.760533 |  0.892857 |  0.598804 |  6.25 |  135.15 |  0.75 |  90.55 |
| 8 | Wilson (3) | 9- | 4- | 0 |  0.710535 |  0.770609 |  0.637111 |  10.75 |  178.20 |  3.20 |  101.50 |
| 9 | Governor Mifflin | 10- | 5- | 0 |  0.691342 |  0.753894 |  0.614889 |  12.10 |  171.80 |  3.95 |  107.60 |
| 10 | Manheim Township | 9- | 5- | 0 |  0.690645 |  0.739865 |  0.630487 |  10.95 |  183.85 |  3.85 |  107.75 |
| 11 | Penn Manor | 9- | 6- | 0 |  0.689684 |  0.686520 |  0.693551 |  10.95 |  203.80 |  5.00 |  90.05 |
| 12 | Lebanon | 10- | 4- | 0 |  0.674919 |  0.802632 |  0.518825 |  12.20 |  144.00 |  3.00 |  133.55 |
| 13 | Cedar Crest | 8- | 6- | 0 |  0.666696 |  0.675862 |  0.655493 |  9.80 |  176.00 |  4.70 |  92.50 |
| 14 | Harrisburg | 5- | 5- | 0 |  0.582703 |  0.592784 |  0.570382 |  5.75 |  128.45 |  3.95 |  96.75 |
| 15 | Reading | 5- | 6- | 0 |  0.579521 |  0.555556 |  0.608812 |  5.75 |  171.35 |  4.60 |  110.10 |
| 16 | Carlisle | 6- | 8- | 0 |  0.553415 |  0.537879 |  0.572405 |  7.10 |  150.80 |  6.10 |  112.65 |
| 17 | Conestoga Valley | 6- | 6- | 0 |  0.552548 |  0.605042 |  0.488389 |  7.20 |  133.55 |  4.70 |  139.90 |
| 18 | Ephrata | 5- | 8- | 0 |  0.543136 |  0.477178 |  0.623750 |  5.75 |  180.95 |  6.30 |  109.15 |
| 19 | William Penn | 5- | 8- | 0 |  0.534720 |  0.481781 |  0.599423 |  5.95 |  166.10 |  6.40 |  111.00 |
| 20 | Warwick | 5- | 9- | 0 |  0.508802 |  0.461240 |  0.566932 |  5.95 |  163.90 |  6.95 |  125.20 |
| 21 | Muhlenberg | 4- | 10- | 0 |  0.412913 |  0.320000 |  0.526473 |  4.00 |  140.70 |  8.50 |  126.55 |
| 22 | J P McCaskey | 2- | 11- | 0 |  0.395299 |  0.208531 |  0.623571 |  2.20 |  174.60 |  8.35 |  105.40 |
| 23 | Chambersburg Area | 1- | 11- | 0 |  0.340279 |  0.122549 |  0.606393 |  1.25 |  154.60 |  8.95 |  100.35 |
| 24 | Central Dauphin East | 0- | 15- | 0 |  0.287787 |  0.000000 |  0.639526 |  0.00 |  172.80 |  11.65 |  97.40 |
| 25 | York County School of Technology | 1- | 13- | 0 |  0.237103 |  0.076087 |  0.433901 |  1.05 |  120.95 |  12.75 |  157.80 |
Lancaster-Lebanon League
Section One Standings