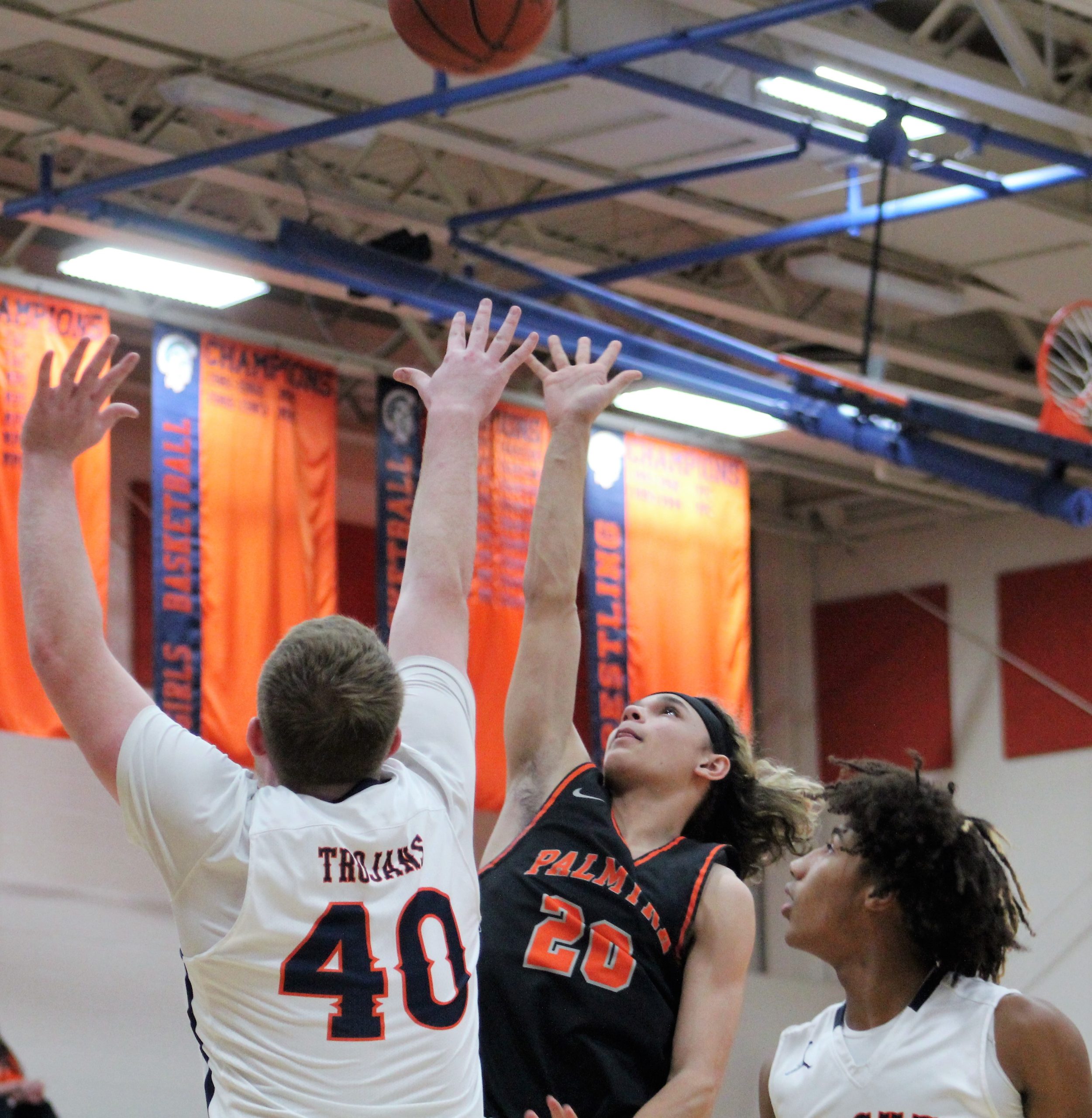 BY JEFF FALK
Editor
HERSHEY – To this point, the Palmyra boys' basketball team has had a nice season, it's recorded some solid wins and has achieved many of things it set out to do. But ultimately, the true test of the Cougars' success will be determined over the next month or so.
In that sense, Palmyra's campaign is still very much a blank canvas. And this thing can go a number of different ways.
On Tuesday night at Hershey High School, a 55-48 loss to the rival Trojans provided Palmyra with a momentary opportunity for reflection on what has been, what is and what will be. The Cougars stood toe-to-toe and traded blows with talented Hershey for the better part of 18 minutes, before their offense wilted in the face of the Trojans' fierce third-quarter barrage.
The setback was just Palmyra's fourth of the season, but second to Hershey, and dropped it to 13-4 on the year and 7-3 in the Keystone Division of the Mid-Penn Conference. The result was eerily similar to the Trojans' 44-30 triumph at Palmyra on December 22.
The Cougars were listed fifth in the latest District Three power rankings, for an AAAAA classification which takes 16 for its postseason tournament.
Not only did the result push Hershey to 12-4 overall and 8-3 in the Keystone, it catapulted the Trojans over Palmyra and into the fourth spot in those same Class AAAAA power rankings.
"I do think we realize we're having a good season," said Palmyra head coach Pete Conrad. "We talk about the precious present and being in the moment. It shouldn't be a thing where you're putting your nose to the grind stone all the time. Hopefully, we can take a step back and take a look at our season, and know that it's pretty good.
"Sure, tonight's frustrating," continued Conrad. "You'll feel it for a little while. But before we get to practice tomorrow, we have to realize we have to prepare for the next challenge. We're not defined by tonight. We're defined by how we move on."
Palmyra enjoyed the better of the play early on.
Seven straight Chris Edwards points in the middle of the opening quarter staked the Cougars to a 9-5 lead. The first period ended on Alex Dorta's long three-pointer, and with Palmyra ahead 14-12.
"I think it's a friendly rivalry with Hershey," said Conrad. "You hype it as a high-level game. Two very good teams high in the Class AAAAA power rankings kind of speaks for itself. Each side has some wins against very good opponents. It's a good game to be involved in. It's a good opportunity to get better."
Thanks in part to three points from Eli Becker, the Cougars enjoyed a similarly modest 17-14 edge early in the second stanza. But Hershey held Palmyra to just a single basket over the final 7:18 of the first half and carried a 22-19 advantage to the locker room.
"Certainly, they (the Trojans) get a ton of credit," said Conrad. "Defensively, they gave us fits. Obviously, we would've liked to have played better, but some of that was their doing.
"I think in both games, for the most part, we were good enough defensively," added Conrad. "In both games offensively, we weren't where we needed to be."
With 16 points, Edwards showed the way for the Palmyra offense, while Dorta collected 13 points. Hershey outscored Palmyra 28-12 inside the arc.
"Our attacks weren't great at that moment," said Conrad of the Trojans' decisive third-quarter burst. "And they made some shots. I'd call our offense a work in progress. We've had moments this season where we've had real cohesive offensive play. But we've had other moments that have shown how much work our offense needs."
Hershey opened the second half on a 17-5 run to push its lead to 39-24. Then, early in the final period, the Cougars suffered through a 3:14 scoreless stretch, during which time the Trojans extended their advantage to 45-32.
"They're a good screening team," said Conrad of the Trojans. "That's one of their strengths. They use that as an avenue to get into other sets.
"I'm biased, but I think it's (Keystone Division of the Mid-Penn Conference) a pretty fricking good league," added Conrad. "We have some really good teams. It's fun to compete in. It's wild. You hope it's a league that's going to prepare you well for when the clock flips."
To purchase images in this article please email jeff@lebcosports.com.
2021-22 Palmyra Boys' Basketball Results
| | | | | | |
| --- | --- | --- | --- | --- | --- |
| 2021-12-10 | A | vs | Penn Manor(3) | W | 75-42 |
| 2021-12-11 | A | vs | Donegal(3) | W | 51-47 |
| 2021-12-14 | A | vs | Lower Dauphin(3) | W | 52-44 |
| 2021-12-17 | A | vs | Red Land(3) | W | 36-32 |
| 2021-12-20 | A | vs | Annville-Cleona(3) | W | 53-33 |
| 2021-12-22 | H | vs | Hershey(3) | L | 30-44 |
| 2021-12-28 | A | vs | Exeter Township(3) | W | 51-48 |
| 2021-12-29 | A | vs | Lebanon(3) | W | 47-36 |
| 2022-01-04 | H | vs | Mechanicsburg(3) | W | 56-31 |
| 2022-01-07 | A | vs | Mifflin County(6) | W | 68-31 |
| 2022-01-09 | A | vs | Lebanon(3) | L | 51-53 |
| 2022-01-11 | H | vs | Cedar Cliff(3) | W | 70-68 OT |
| 2022-01-14 | H | vs | Lower Dauphin(3) | L | 65-68 |
| 2022-01-17 | P | vs | Milton Hershey(3) | | 0-0 |
| 2022-01-18 | H | vs | Milton Hershey(3) | W | 60-39 |
| 2022-01-19 | H | vs | Red Land(3) | W | 44-29 |
| 2022-01-22 | H | vs | Elizabethtown(3) | W | 59-37 |
| 2022-01-25 | A | vs | Hershey(3) | L | 47-55 |
| 2022-01-28 | A | vs | Mechanicsburg(3) | | 0-0 |
| 2022-02-01 | H | vs | Mifflin County(6) | | 0-0 |
| 2022-02-04 | A | vs | Cedar Cliff(3) | | 0-0 |
| 2022-02-05 | A | vs | Conrad Weiser(3) | | 0-0 |
| 2022-02-11 | A | vs | Milton Hershey(3) | | 0-0 |
PIAA District Three Class AAAAA Power Rankings
| | | | | | | | | | | | |
| --- | --- | --- | --- | --- | --- | --- | --- | --- | --- | --- | --- |
| AAAAA | School |  W |  L |  T |  Rating |  TWP |  OWP |  TWPW |  OWPW |  TWPL |  OWPL |
| 1 | Lampeter Strasburg | 14- | 0- | 0 |  0.794801 |  1.000000 |  0.544003 |  15.40 |  170.30 |  0.00 |  142.75 |
| 2 | West York | 14- | 1- | 0 |  0.751361 |  0.948640 |  0.510242 |  15.70 |  163.15 |  0.85 |  156.60 |
| 3 | Shippensburg | 9- | 1- | 0 |  0.729840 |  0.899123 |  0.522939 |  10.25 |  137.35 |  1.15 |  125.30 |
| 4 | Hershey | 12- | 4- | 0 |  0.713895 |  0.819767 |  0.584494 |  14.10 |  193.00 |  3.10 |  137.20 |
| 5 | Palmyra | 13- | 4- | 0 |  0.712931 |  0.821138 |  0.580678 |  15.15 |  197.75 |  3.30 |  142.80 |
| 6 | Exeter Township | 9- | 6- | 0 |  0.700607 |  0.695238 |  0.707169 |  10.95 |  250.55 |  4.80 |  103.75 |
| 7 | Elizabethtown | 10- | 6- | 0 |  0.687779 |  0.712575 |  0.657473 |  11.90 |  219.30 |  4.80 |  114.25 |
| 8 | Lower Dauphin | 8- | 7- | 0 |  0.655198 |  0.625407 |  0.691608 |  9.60 |  232.00 |  5.75 |  103.45 |
| 9 | Milton Hershey | 9- | 6- | 0 |  0.652241 |  0.685246 |  0.611901 |  10.45 |  208.75 |  4.80 |  132.40 |
| 10 | Manheim Central | 11- | 5- | 0 |  0.641157 |  0.745509 |  0.513616 |  12.45 |  162.20 |  4.25 |  153.60 |
| 11 | Fleetwood | 9- | 3- | 0 |  0.621796 |  0.780172 |  0.428225 |  9.05 |  123.50 |  2.55 |  164.90 |
| 12 | Northeastern | 10- | 7- | 0 |  0.617529 |  0.678466 |  0.543049 |  11.50 |  181.65 |  5.45 |  152.85 |
| 13 | Susquehannock | 8- | 5- | 0 |  0.603130 |  0.652015 |  0.543382 |  8.90 |  177.55 |  4.75 |  149.20 |
| 14 | Mechanicsburg | 8- | 8- | 0 |  0.588276 |  0.585987 |  0.591073 |  9.20 |  196.65 |  6.50 |  136.05 |
| 15 | Big Spring | 9- | 6- | 0 |  0.586912 |  0.650165 |  0.509602 |  9.85 |  163.20 |  5.30 |  157.05 |
| 16 | Gettysburg | 8- | 8- | 0 |  0.584503 |  0.564103 |  0.609438 |  8.80 |  205.35 |  6.80 |  131.60 |
| 17 | Donegal | 9- | 8- | 0 |  0.577722 |  0.590778 |  0.561764 |  10.25 |  188.50 |  7.10 |  147.05 |
| 18 | Twin Valley | 6- | 7- | 0 |  0.550553 |  0.538153 |  0.565709 |  6.70 |  185.10 |  5.75 |  142.10 |
| 19 | New Oxford | 6- | 9- | 0 |  0.536704 |  0.483986 |  0.601138 |  6.80 |  205.95 |  7.25 |  136.65 |
| 20 | Octorara | 6- | 7- | 0 |  0.534525 |  0.532819 |  0.536611 |  6.90 |  156.10 |  6.05 |  134.80 |
| 21 | South Western | 7- | 10- | 0 |  0.532486 |  0.486239 |  0.589012 |  7.95 |  205.30 |  8.40 |  143.25 |
| 22 | Northern York | 6- | 8- | 0 |  0.528886 |  0.492424 |  0.573450 |  6.50 |  180.35 |  6.70 |  134.15 |
| 23 | York Suburban | 6- | 11- | 0 |  0.523307 |  0.410876 |  0.660722 |  6.80 |  227.85 |  9.75 |  117.00 |
| 24 | Ephrata | 5- | 10- | 0 |  0.517866 |  0.427509 |  0.628303 |  5.75 |  210.45 |  7.70 |  124.50 |
| 25 | Garden Spot | 6- | 11- | 0 |  0.498710 |  0.429907 |  0.582803 |  6.90 |  187.75 |  9.15 |  134.40 |
| 26 | Greencastle Antrim | 6- | 11- | 0 |  0.475838 |  0.396166 |  0.573214 |  6.20 |  178.90 |  9.45 |  133.20 |
| 27 | Spring Grove Area | 4- | 11- | 0 |  0.472974 |  0.344322 |  0.630214 |  4.70 |  223.60 |  8.95 |  131.20 |
| 28 | Cocalico | 5- | 11- | 0 |  0.468912 |  0.381757 |  0.575434 |  5.65 |  180.60 |  9.15 |  133.25 |
| 29 | Conrad Weiser | 5- | 11- | 0 |  0.468697 |  0.375862 |  0.582161 |  5.45 |  194.50 |  9.05 |  139.60 |
| 30 | Red Land | 3- | 12- | 0 |  0.399511 |  0.250909 |  0.581136 |  3.45 |  198.40 |  10.30 |  143.00 |
| 31 | Solanco | 2- | 11- | 0 |  0.385202 |  0.202532 |  0.608465 |  2.40 |  194.80 |  9.45 |  125.35 |
| 32 | Dover | 1- | 14- | 0 |  0.324992 |  0.092251 |  0.609454 |  1.25 |  204.35 |  12.30 |  130.95 |
| 33 | Daniel Boone | 0- | 16- | 0 |  0.283209 |  0.000000 |  0.629353 |  0.00 |  202.40 |  14.00 |  119.20 |