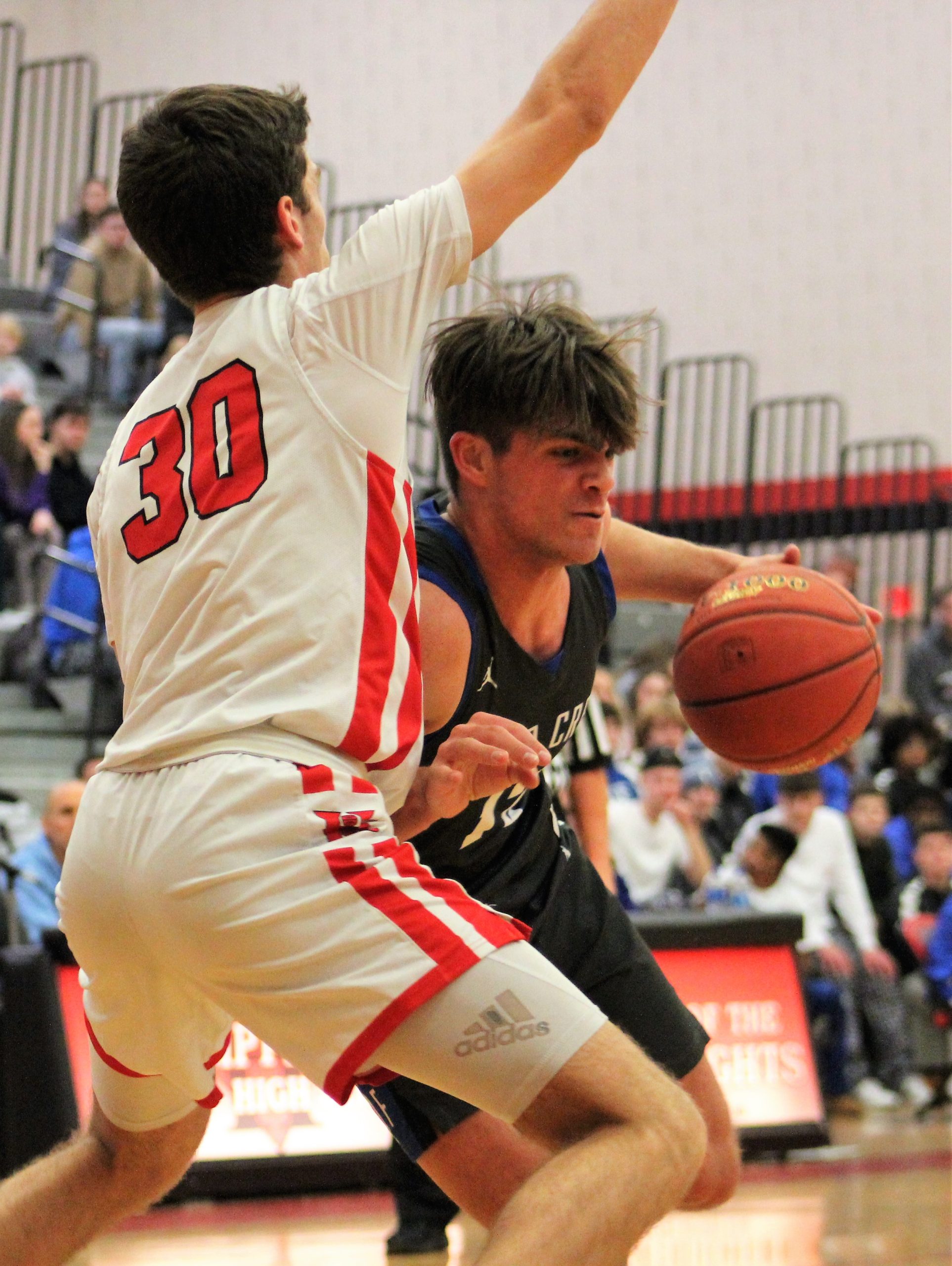 BY JEFF FALK
LANDISVILLE – When things have gone good, they've gone really well. But when things haven't gone as well, they've gone really bad.
The Cedar Crest boys' basketball team has both enjoyed and endured one of its most consistently streaky seasons in recent memory.
On Friday night at Hempfield High School, the fledgling Falcons' postseason aspirations' absorbed a critical blow in the form of a 61-44 loss to the hometown Black Knights. Cedar Crest was outscored 20-5 in the second period and never fully recovered.
The loss was the Falcons' fourth straight, after they had rattled off five consecutive victories to place themselves in the thick of the Lancaster-Lebanon Section One race and in firm contention for a District Three Class AAAAAA playoff spot. Now at 9-10 overall and 5-4 in Section One, Cedar Crest will probably have to win its last three regular-season games to have a legitimate shot at the postseason.
In the latest District Three power rankings, the Falcons were positioned 15th in an AAAAAA classification which takes 12 teams for its playoffs.
The current L-L Section One benchmark, Hempfield improved to 15-2 on the season and 9-2 on the circuit. Back on December 17 in South Lebanon, the Black Knights downed the Falcons 56-42.
"This might be the most streaky season I've ever been involved with," said Cedar Crest head coach Tom Smith. "It's difficult. You know the caliber. You know the structure. You know the potential. Now you're trying to push the button to get us back to where we need to be.
"I know we can still make the league playoffs," Smith continued. "We've got three (Section One games) left, and we've got to win all three. For districts, we've got to win these last three games and see where we are. If we don't win these three games, we're not going to the postseason. We're on a three-game playoff from here on out."
The Falcons were more than competitive throughout the opening quarter. A Jay Aviles lay-in followed by Fernando Marquez's drive to the hole staked Cedar Crest to an 11-10 edge late in the first period.
"I'd say our offense this season has definitely been up and down," said Smith. "In this game, we scored 16 points in the first half and 28 points in the second. If we get 26-28 points in the first half, it's definitely a different basketball game, and maybe we're making them (the Black Knights) sweat a little bit."
The Black Knights could do no wrong, as they opened the second quarter with 16 unanswered points to stretch their advantage to 28-11. Cedar Crest went 5:34 without a score of any kind, and the Falcons trailed 32-16 at the break.
"They made shots and we didn't," said Smith. "And some of their shots were uncontested 'threes'. That blew it open. We had empty possessions on offense.
"We played OK," continued Smith. "We had a bad second quarter. We spotted them 16 points. It was too much for us to come back from."
With a dozen points, sophomore Aiden Schomp was the lone Cedar Crest scorer to reach double figures. The Black Knights outscored the Falcons 34-20 on two-point field goals and 24-9 from beyond the arc.
"With a win, we would've tied them for first place in the section, with three to go," said Smith of the Black Knights. "And we would've still controlled our own destiny. Now we're two games back and we've got to rely on other teams. It's (a section championship) a possibility. It's a long shot. They'd (the Black Knights) would have to lose two more and they've only lost twice all year."
Cedar Crest opened the second half with a three-ball from Owen Chernich to make it a 32-19 game. But Hempfield was pretty much able to match every other Falcon score over the remainder of the third period, and the home side carried a 52-33 lead into the final eight minutes of action.
"I'd say from Day one there's been overall, general improvement," said Smith. "I think in the middle of the season we were taking bigger strides. I don't know if our improvement plateaued or not. It's a long season.
"Getting to the postseason is important because it's a goal," added Smith. "It's something we wanted. It's a goal for us every single year. Postseason basketball is fun. It kind of separates you from everybody else."
To purchase images in this article please email jeff@lebcosports.com.
2021-22 Cedar Crest Boys' Basketball Results
| | | | | | |
| --- | --- | --- | --- | --- | --- |
| 2021-12-10 | A | vs | Exeter Township(3) | L | 50-52 |
| 2021-12-11 | A | vs | Conrad Weiser(3) | W | 46-37 |
| 2021-12-15 | H | vs | Susquehanna Township(3) | W | 57-32 |
| 2021-12-17 | H | vs | Hempfield (3)(3) | L | 56-42 |
| 2021-12-21 | A | vs | Penn Manor(3) | W | 58-50 |
| 2021-12-28 | H | vs | Lebanon(3) | L | 51-46 |
| 2021-12-29 | H | vs | Exeter Township(3) | L | 41-59 |
| 2022-01-03 | A | vs | Central Dauphin(3) | L | 53-40 |
| 2022-01-05 | A | vs | J P McCaskey(3) | W | 59-55 |
| 2022-01-09 | H | vs | Lower Dauphin(3) | L | 58-52 |
| 2022-01-11 | H | vs | Wyomissing(3) | W | 64-34 |
| 2022-01-12 | A | vs | Elizabethtown(3) | W | 51-31 |
| 2022-01-15 | H | vs | Lebanon(3) | W | 55-48 |
| 2022-01-17 | H | vs | Manheim Township(3) | W | 59-49 |
| 2022-01-18 | A | vs | Ephrata(3) | W | 53-42 |
| 2022-01-21 | H | vs | Warwick(3) | L | 69-23 |
| 2022-01-22 | H | vs | Bishop McDevitt (3)(3) | L | 59-47 |
| 2022-01-25 | A | vs | Conestoga Valley(3) | L | 76-57 |
| 2022-01-28 | A | vs | Hempfield (3)(3) | L | 61-44 |
| 2022-02-01 | H | vs | Penn Manor(3) | | 0-0 |
| 2022-02-04 | H | vs | J P McCaskey(3) | | 0-0 |
| 2022-02-08 | A | vs | Manheim Township(3) | | 0-0 |
PIAA District Three Class AAAAAA Power Rankings
(Top 12 Qualify)
| | | | | | | | | | | | |
| --- | --- | --- | --- | --- | --- | --- | --- | --- | --- | --- | --- |
| AAAAA | School |  W |  L |  T |  Rating |  TWP |  OWP |  TWPW |  OWPW |  TWPL |  OWPL |
| 1 | Lampeter Strasburg | 16- | 0- | 0 |  0.794933 |  1.000000 |  0.544296 |  17.70 |  179.40 |  0.00 |  150.20 |
| 2 | West York | 16- | 1- | 0 |  0.749722 |  0.954907 |  0.498941 |  18.00 |  164.85 |  0.85 |  165.55 |
| 3 | Shippensburg | 11- | 1- | 0 |  0.736248 |  0.915441 |  0.517235 |  12.45 |  144.05 |  1.15 |  134.45 |
| 4 | Palmyra | 13- | 4- | 0 |  0.709178 |  0.821138 |  0.572338 |  15.15 |  202.35 |  3.30 |  151.20 |
| 5 | Hershey | 12- | 4- | 0 |  0.705201 |  0.819767 |  0.565174 |  14.10 |  200.10 |  3.10 |  153.95 |
| 6 | Exeter Township | 9- | 7- | 0 |  0.680872 |  0.663636 |  0.701939 |  10.95 |  260.70 |  5.55 |  110.70 |
| 7 | Elizabethtown | 10- | 7- | 0 |  0.672044 |  0.681948 |  0.659939 |  11.90 |  237.05 |  5.55 |  122.15 |
| 8 | Lower Dauphin | 8- | 7- | 0 |  0.653863 |  0.625407 |  0.688642 |  9.60 |  241.30 |  5.75 |  109.10 |
| 9 | Milton Hershey | 9- | 6- | 0 |  0.651120 |  0.685246 |  0.609411 |  10.45 |  213.05 |  4.80 |  136.55 |
| 10 | Fleetwood | 12- | 3- | 0 |  0.643967 |  0.825939 |  0.421558 |  12.10 |  131.80 |  2.55 |  180.85 |
| 11 | Manheim Central | 12- | 6- | 0 |  0.636583 |  0.727273 |  0.525740 |  13.60 |  177.70 |  5.10 |  160.30 |
| 12 | Northeastern | 10- | 7- | 0 |  0.617236 |  0.678466 |  0.542399 |  11.50 |  191.25 |  5.45 |  161.35 |
| 13 | Susquehannock | 9- | 5- | 0 |  0.612156 |  0.672414 |  0.538507 |  9.75 |  184.25 |  4.75 |  157.90 |
| 14 | Big Spring | 9- | 6- | 0 |  0.588362 |  0.650165 |  0.512824 |  9.85 |  176.95 |  5.30 |  168.10 |
| 15 | Mechanicsburg | 8- | 8- | 0 |  0.585682 |  0.585987 |  0.585309 |  9.20 |  202.40 |  6.50 |  143.40 |
| 16 | Donegal | 9- | 8- | 0 |  0.581915 |  0.590778 |  0.571083 |  10.25 |  200.45 |  7.10 |  150.55 |
| 17 | Gettysburg | 8- | 9- | 0 |  0.569155 |  0.538226 |  0.606957 |  8.80 |  216.35 |  7.55 |  140.10 |
| 18 | Twin Valley | 7- | 8- | 0 |  0.551071 |  0.543253 |  0.560626 |  7.85 |  193.50 |  6.60 |  151.65 |
| 19 | Octorara | 7- | 7- | 0 |  0.549856 |  0.567857 |  0.527856 |  7.95 |  169.60 |  6.05 |  151.70 |
| 20 | Ephrata | 6- | 11- | 0 |  0.530932 |  0.453074 |  0.626092 |  7.00 |  225.80 |  8.45 |  134.85 |
| 21 | South Western | 7- | 10- | 0 |  0.528537 |  0.486239 |  0.580235 |  7.95 |  209.90 |  8.40 |  151.85 |
| 22 | York Suburban | 6- | 11- | 0 |  0.521057 |  0.410876 |  0.655722 |  6.80 |  238.65 |  9.75 |  125.30 |
| 23 | New Oxford | 6- | 10- | 0 |  0.514304 |  0.453333 |  0.588824 |  6.80 |  211.80 |  8.20 |  147.90 |
| 24 | Garden Spot | 6- | 11- | 0 |  0.503022 |  0.429907 |  0.592385 |  6.90 |  206.15 |  9.15 |  141.85 |
| 25 | Northern York | 6- | 10- | 0 |  0.502872 |  0.439189 |  0.580707 |  6.50 |  196.25 |  8.30 |  141.70 |
| 26 | Cocalico | 6- | 11- | 0 |  0.494015 |  0.426332 |  0.576739 |  6.80 |  193.15 |  9.15 |  141.75 |
| 27 | Greencastle Antrim | 6- | 11- | 0 |  0.476309 |  0.396166 |  0.574260 |  6.20 |  194.10 |  9.45 |  143.90 |
| 28 | Conrad Weiser | 5- | 11- | 0 |  0.468074 |  0.375862 |  0.580777 |  5.45 |  206.35 |  9.05 |  148.95 |
| 29 | Spring Grove Area | 4- | 12- | 0 |  0.460574 |  0.324138 |  0.627328 |  4.70 |  230.70 |  9.80 |  137.05 |
| 30 | Red Land | 3- | 13- | 0 |  0.390640 |  0.237931 |  0.577284 |  3.45 |  202.80 |  11.05 |  148.50 |
| 31 | Solanco | 2- | 12- | 0 |  0.386939 |  0.188976 |  0.628894 |  2.40 |  205.90 |  10.30 |  121.50 |
| 32 | Dover | 1- | 14- | 0 |  0.322139 |  0.092251 |  0.603114 |  1.25 |  213.05 |  12.30 |  140.20 |
| 33 | Daniel Boone | 0- | 17- | 0 |  0.279272 |  0.000000 |  0.620605 |  0.00 |  214.45 |  14.85 |  131.10 |
Lancaster-Lebanon League
Section One Standings