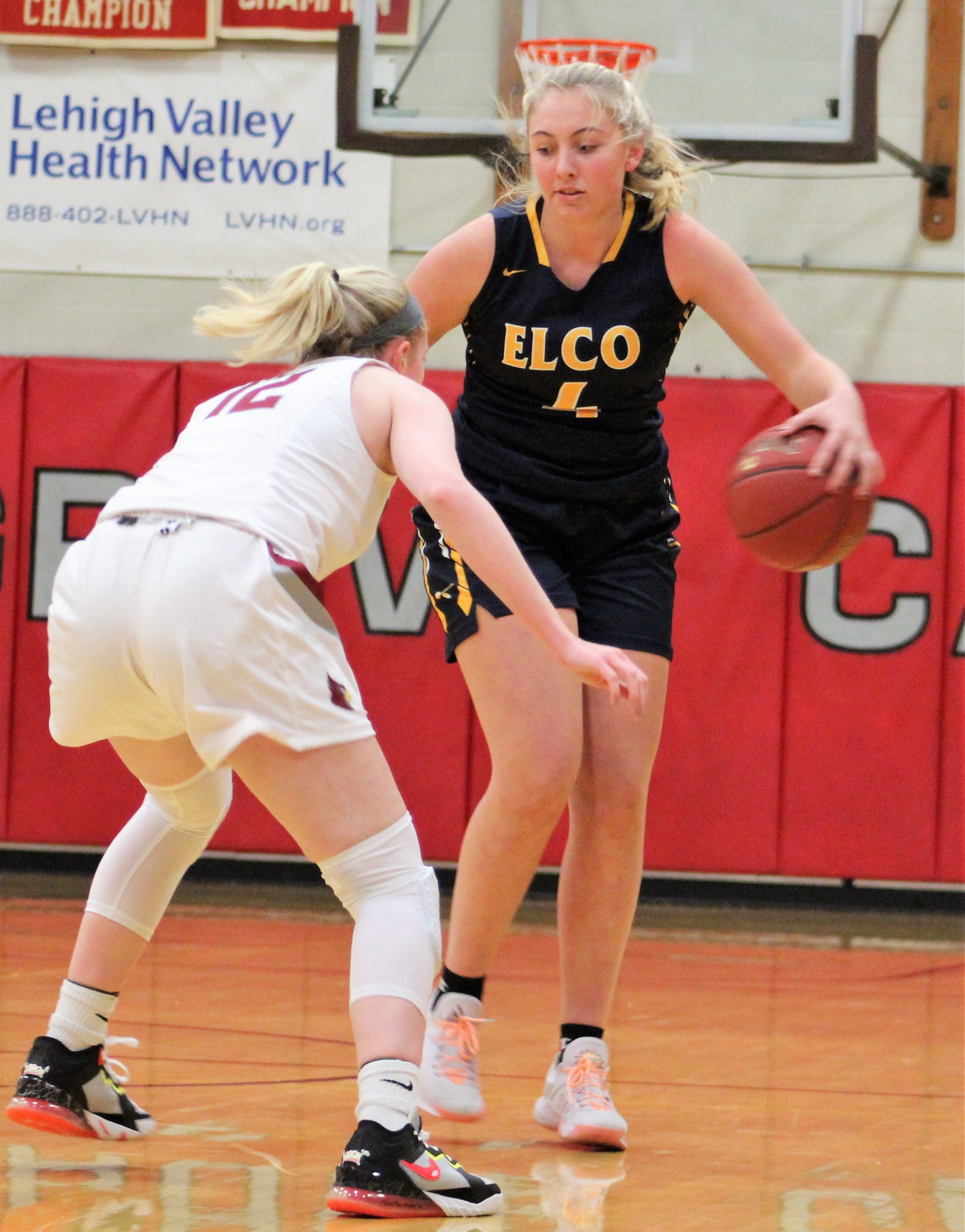 BY JEFF FALK
Editor
PINE GROVE – All comebacks have value, whether they're completed or not. Because they all demand intensity, character and pride.
Not only did this particular one require growth, it also ensured future growth.
On Monday afternoon, the Elco girls' basketball team could not complete its inspired comeback, but still gained plenty from a tough 31-30 road loss to Pine Grove, in the opening round of Cardinal Classic Holiday Tournament. After trailing by as many as 15 points in the first half, the Raiders enjoyed a number of modest leads in the third quarter, before the result slipped through their fingers down the stretch.
Lindsey Wolff's driving lay-in with 41 seconds remaining proved to be decisive for Pine Grove. Twenty seconds later, Elco's Sam Nelson misfired on a pair of free throws that could've won it or sent the contest to overtime.
The setback evened the Raiders' overall record at 3-3.
On Tuesday at noon, Elco will meet Allentown Allen in the consolation game of the Pine Grove Holiday Tournament. Later that same day, the Cardinals will take on Blue Mountain for the championship of the annual event.
"I think that one matters," said Elco head coach Ashli Shay, of her side's furious rally. "When you have a young team get down and things aren't looking good, and they come back, there are just too many positives. They (her players) had  the confidence to keep going and get back into the game. When you consider where we are experience-wise, you feel good that you got a chance at the end. We flipped the script and we were in control for a lot of the second half.
"I think they're still coming into their roles, but for the most part, they understand them," continued Shay. "I think we're ahead of the game in that sense. When you have kids who don't have experience at the varsity level, it is a process. We certainly played hard. We didn't quit. I think that will serve us well going forward."
A Nelson bucket with 1:22 left in the third quarter gave Elco a 28-27 edge, and her stick back 1:20 into the final period pushed the Raider advantage to 30-27. But those would prove to be Elco's last points of the afternoon.
"I thought we kind of gave it away at the end," said Shay. "Our inexperience showed a little bit. We panicked a little bit. But I'd say I was very proud of the comeback. When the game began, it didn't feel like we were going to score ten points.
"I thought we did a nice job of handling their pressure," added Shay. "Then it seemed like for a possession or two, we got out of synch. Then, there was a possession where we gave up multiple offensive rebounds. Before that, we weren't giving up offensive rebounds and we weren't turning the ball over in pressure situations. But they (the Cardinals) hit one more big shot than we did."
Still thriving on momentum they had created late in first half, the Raiders pieced together a 9-0 run early in the third stanza to turn a seven-point deficit into a 26-24 edge. Kailey Eckhart drained a three-point field goal, while Abigal Sargent, Sara Miller and Nelson all contributed deuces to fuel Elco's explosion.
"I think things turned when we started getting the ball inside," said Shay. "We were getting better ball reversal, and Sam had a little more of a mismatch inside. She got good position, she sealed well and we found her with some nice passes.
"Our defense was just a 2-3 (zone), and we were trying to cheat out on their shooters," Shay continued. "We felt like that was the best way to slow them (the Cardinals) down. I thought our backside kids came out on their shooters pretty well."
With ten points, Nelson was the lone Raider scorer to reach double figures. Elco connected on just three of its seven free throw attempts.
"It is a positive loss," said Shay. "I thought that we took a step in the right direction. But we had moments where we dug ourselves into holes. Now we just need to be consistent for 32 minutes."
Nursing an early 5-4 edge, Pine Grove held the Raiders without a score for a nine-and-a-half minute stretch and registered 14 unanswered points to assume a 19-4, second-quarter advantage. But thanks in part to a pair of three-pointers from Sargent and one from Emily Miller, Elco closed the first half on a 13-2 run to pull to within 21-17 of the lead.
"We looked so dead early," said Shay. "We weren't moving well. We weren't in the gym the last couple of days and we had some girls who were a little under the weather. But everyone is dealing with that."
To purchase images in this article please email jeff@lebcosports.com.
2021-22 Elco Girls' Basketball Schedule
| | | | | | |
| --- | --- | --- | --- | --- | --- |
| 2021-12-11 | H | vs | Boiling Springs(3) | W | 52-20 |
| 2021-12-14 | A | vs | Fleetwood(3) | L | 24-39 |
| 2021-12-15 | A | vs | Linden Hall(3) | L | 27-39 |
| 2021-12-17 | H | vs | Donegal(3) | W | 55-46 |
| 2021-12-21 | H | vs | Northern Lebanon(3) | W | 40-37 |
| 2021-12-27 | A | vs | Pine Grove Area(11) | L | 30-31 |
| 2021-12-28 | A | vs | Blue Mountain(11) | | 0-0 |
| 2022-01-03 | A | vs | Lower Dauphin(3) | | 0-0 |
| 2022-01-05 | H | vs | Hamburg(3) | | 0-0 |
| 2022-01-07 | A | vs | Lancaster Catholic(3) | | 0-0 |
| 2022-01-10 | A | vs | Pottsville(11) | | 0-0 |
| 2022-01-11 | A | vs | Cocalico(3) | | 0-0 |
| 2022-01-14 | H | vs | Manheim Central(3) | | 0-0 |
| 2022-01-18 | A | vs | Solanco(3) | | 0-0 |
| 2022-01-19 | H | vs | York Catholic(3) | | 0-0 |
| 2022-01-21 | H | vs | Lampeter Strasburg(3) | | 0-0 |
| 2022-01-25 | H | vs | Wyomissing(3) | | 0-0 |
| 2022-01-28 | A | vs | Donegal(3) | | 0-0 |
| 2022-02-01 | A | vs | Northern Lebanon(3) | | 0-0 |
| 2022-02-02 | H | vs | Conrad Weiser(3) | | 0-0 |
| 2022-02-04 | A | vs | Garden Spot(3) | | 0-0 |
| 2022-02-08 | H | vs | Lancaster Catholic(3) | | 0-0 |