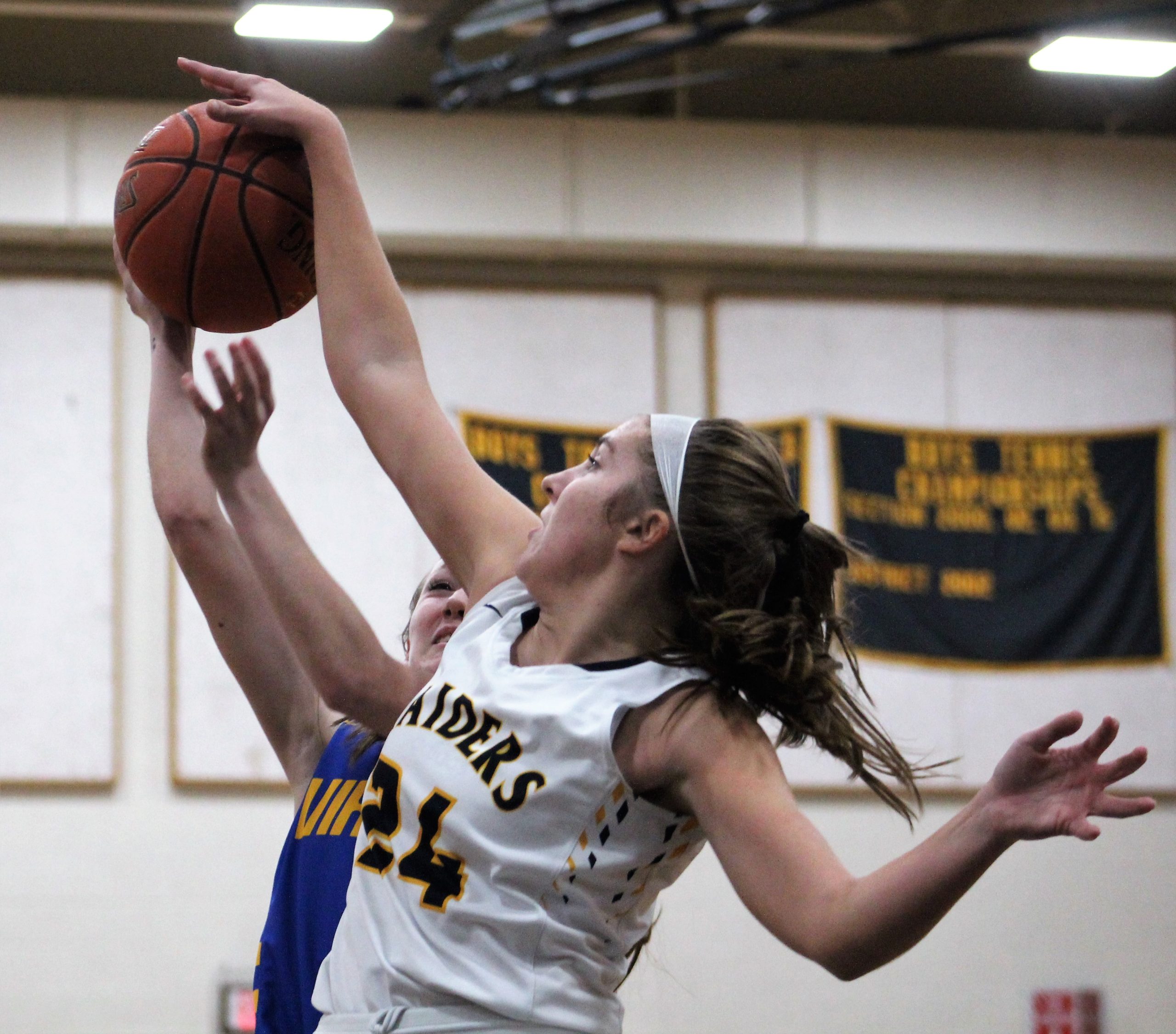 BY JEFF FALK
Editor
MYERSTOWN – Kind of like death, or taxes. The sun rising in the morning and the moon rising at night.
You can always count on the Elco girls' basketball team. Year in, year out.
The Raiders are good for double-digit win totals. They're always a threat to compete for the Lancaster-Lebanon Section Four championship and make a run at the District Three Class AAAA playoffs. You're never not going to get a good game out of Elco.
Competitive and consistent.
In that way, this version is shaping up to be no exception.
On Tuesday night at Elco High School, the current Raiders took another positive step in a familiar direction, as they edged Northern Lebanon 40-37 in an L-L Section Four affair. Following an uneven start, the Raiders established themselves in the third period, then made enough plays in the fourth to hold off the Vikings.
With the victory, Elco improved to 3-2 on the year and 2-0 in Section Four. Northern Lebanon, which slipped to 1-4 overall and 0-3 in the league, sports a similar program history, but may be a little behind the Raiders in this stage of its yearly development.
"It felt like we gained some experience," said Elco head coach Ashli Shay. "Right now, it feels like the process has been a little slow. These girls are only going to get better with experience. But it's very cyclical. You have your ups and downs, but you see it more with public schools. But I think we always compete. We always play hard.
"We want to be competitive every single night," continued Shay. "We have the athletes, but we have to turn them into basketball players. We don't have the luxury of getting kids in the gym 12 months a year. It's a matter of getting them basketball confident. We come to play. We don't give up."
"Elco is probably a lot like us," said Northern Lebanon head coach Ken Battistelli. "Just like us, Elco is young and improving. They're always long and fast and aggressive. You know what you're going to get from them, just like you know what you're going to get from us.
"We're working on getting that buy-in," Battistelli continued. "This has been a challenge for us so far. This team is not in the Northern Lebanon image yet. But we're going to fight to make it so, however long it takes. We're not a program that takes short cuts. We won't settle for anything other than teaching how to play basketball the right way."
The Raiders won the fight in the final quarter, but not in typical fashion.
Nursing a four-point lead, Abigail Sargent drained a three-pointer and Emily Miller converted a driving lay-in to push the Elco advantage to 40-31. But the Raiders did not score over the final 4:15 of action, and prevailed despite four Northern Lebanon points from Ashlyn Messinger and an Olivia Shutter hoop.
"It felt like we were in the twilight zone," said Shay of the fourth period. "We just needed the clock to run out. It never felt comfortable, ever, at any point. It was kind of ugly from start to finish. But it will certainly serve as a learning experience.
"Every single game is important," added Shay. "Any time you're playing a league game against someone who's been your rival for ten or 15 years, you've got to be ready. It's a section game. But we're just fortunate to have the ability to play."
"That goes to not understanding how to come back," said Battistelli of the ending. "We did not initiate our primary weapons down the stretch. That's something that comes from experience. We don't know that kind of stuff right now. That's not OK, but it's understandable."
Elco had gained that working margin with a 9-0 burst in the middle of the third stanza. Kailey Eckhart netted five of those points, Sargent scored on a put back and Sam Nelson maneuvered inside for a deuce, as the Raiders turned a 26-24 deficit into a 33-26 advantage.
"I thought we played better in the second half," said Shay. "I thought when we got the ball inside to the post, we were more effective. We need to be a little more versatile and we need to be a better passing team. I thought a lot of our turnovers were unforced. We were sort of our own worst enemy.
"We're still in the learning phases," Shay added. "We're looking to continue to improve every day. We need to compete at every practice. The only way to get better is repetition."
"We played better in the first half," said Battistelli. "We're very top-heavy in who we rely on. Inevitably, fatigue is a factor. We have a lot of areas you can game plan against. That happened more in the second half."
"Right now, there are no games of importance for us," continued Battistelli. "It's a game of us learning to play basketball on the varsity level. It's completely about Northern Lebanon, 100 percent. We're not ready to worry about being in a position to win. Nothing is significant beside, 'Are we moving in the right direction?'"
Eckhart posted 13 points for Elco, while Sargent collected ten points. Messinger struck for a game-high 18 points and combined with Shutter to account for 29 of the Vikings' total of 37.
On seven-of-ten shooting, the Raiders outscored the Vikings by three points at the charity stripe.
"Kailey is certainly one of our leaders on the floor," said Shay. "She's our most experienced player out there. But I think Sam Nelson has stepped up as well. We want to be versatile and not lean on one player all the time. Everybody needs to find their strengths.
"It feels like they're (the Vikings) similar to us," Shay continued. "We both return one starter, and have a lot of younger kids with not a lot of experience. Ashlyn and Kailey have been around for what feels like forever. But the other kids are trying to bring themselves along."
"In all honesty, I thought we took a step forward," said Battistelli. "It had been a pretty tough road the last couple of games. I thought we did some things better tonight. Before we start winning, we're going to lose close ones because we don't know how to win. But right now, we're not good enough to worry about that. Tonight, we were in it. We lost because of X, Y and Z, and that's OK, unless we lose by X, Y and Z the next time."
Messinger netted ten of her points in the opening period, which concluded with Northern Lebanon up 15-11. But with the Raiders facing a six-point hole, Sargent drilled a three-pointer to end the first half, before Eckhart nailed one of her own to open the third quarter, and tie the game at 22.
"It was certainly ugly," said Shay. "But I said to the girls that they found a way to weather adversity. We did not start the game well. But we found a way at the end. There was a lot of youth and inexperience out there.
"They (the Vikings) always play so smart, and they always play so well," added Shay. "They really slowed the game tonight. We like to speed it up, and they took us out of it. They made things awkward at the end."
"It's still way early," said Battistelli. "The one thing that was positive was that we lost the momentum, but instead of wasting away, we charged back a little bit."
To purchase images in this article please email jeff@lebcosports.com.
2021-22 Northern Lebanon Girls' Basketball Schedule
| | | | | | |
| --- | --- | --- | --- | --- | --- |
| 2021-12-10 | H | vs | Milton Hershey(3) | W | 53-36 |
| | | | | | |
| 2021-12-11 | H | vs | Palmyra(3) | L | 33-48 |
| 2021-12-15 | H | vs | Lancaster Catholic(3) | L | 14-58 |
| 2021-12-17 | A | vs | Manheim Central(3) | L | 27-55 |
| 2021-12-21 | A | vs | Eastern Lebanon County(3) | L | 37-40 |
| 2021-12-23 | A | vs | Susquenita(3) | | 0-0 |
| 2021-12-28 | A | vs | tournament() | | 0-0 |
| 2021-12-29 | A | vs | tournament() | | 0-0 |
| 2022-01-03 | A | vs | Tulpehocken(3) | | 0-0 |
| 2022-01-07 | H | vs | Donegal(3) | | 0-0 |
| 2022-01-11 | A | vs | Lampeter Strasburg(3) | | 0-0 |
| 2022-01-13 | H | vs | Cocalico(3) | | 0-0 |
| 2022-01-15 | A | vs | Pequea Valley(3) | | 0-0 |
| 2022-01-18 | A | vs | Garden Spot(3) | | 0-0 |
| 2022-01-20 | H | vs | Solanco(3) | | 0-0 |
| 2022-01-22 | H | vs | Kutztown(3) | | 0-0 |
| 2022-01-25 | A | vs | Lancaster Catholic(3) | | 0-0 |
| 2022-01-27 | H | vs | East Pennsboro(3) | | 0-0 |
| 2022-01-29 | A | vs | Hamburg(3) | | 0-0 |
| 2022-02-01 | H | vs | Eastern Lebanon County(3) | | 0-0 |
| 2022-02-04 | A | vs | Minersville(11) | | 0-0 |
| 2022-02-09 | A | vs | Donegal(3) | | 0-0 |
2021-22 Elco Girls' Basketball Schedule
| | | | | | |
| --- | --- | --- | --- | --- | --- |
| 2021-12-11 | H | vs | Boiling Springs(3) | W | 52-20 |
| 2021-12-14 | A | vs | Fleetwood(3) | L | 24-39 |
| 2021-12-15 | A | vs | Linden Hall(3) | L | 27-39 |
| 2021-12-17 | H | vs | Donegal(3) | W | 55-46 |
| 2021-12-21 | H | vs | Northern Lebanon(3) | W | 40-37 |
| 2021-12-22 | P | vs | York Catholic(3) | | 0-0 |
| 2021-12-27 | A | vs | Pine Grove Area(11) | | 0-0 |
| 2021-12-28 | A | vs | Blue Mountain(11) | | 0-0 |
| 2022-01-03 | A | vs | Lower Dauphin(3) | | 0-0 |
| 2022-01-05 | H | vs | Hamburg(3) | | 0-0 |
| 2022-01-07 | A | vs | Lancaster Catholic(3) | | 0-0 |
| 2022-01-10 | A | vs | Pottsville(11) | | 0-0 |
| 2022-01-11 | A | vs | Cocalico(3) | | 0-0 |
| 2022-01-14 | H | vs | Manheim Central(3) | | 0-0 |
| 2022-01-18 | A | vs | Solanco(3) | | 0-0 |
| 2022-01-21 | H | vs | Lampeter Strasburg(3) | | 0-0 |
| 2022-01-25 | H | vs | Wyomissing(3) | | 0-0 |
| 2022-01-28 | A | vs | Donegal(3) | | 0-0 |
| 2022-02-01 | A | vs | Northern Lebanon(3) | | 0-0 |
| 2022-02-02 | H | vs | Conrad Weiser(3) | | 0-0 |
| 2022-02-04 | A | vs | Garden Spot(3) | | 0-0 |
| 2022-02-08 | H | vs | Lancaster Catholic(3) | | 0-0 |

Lebanon Federal Credit Union