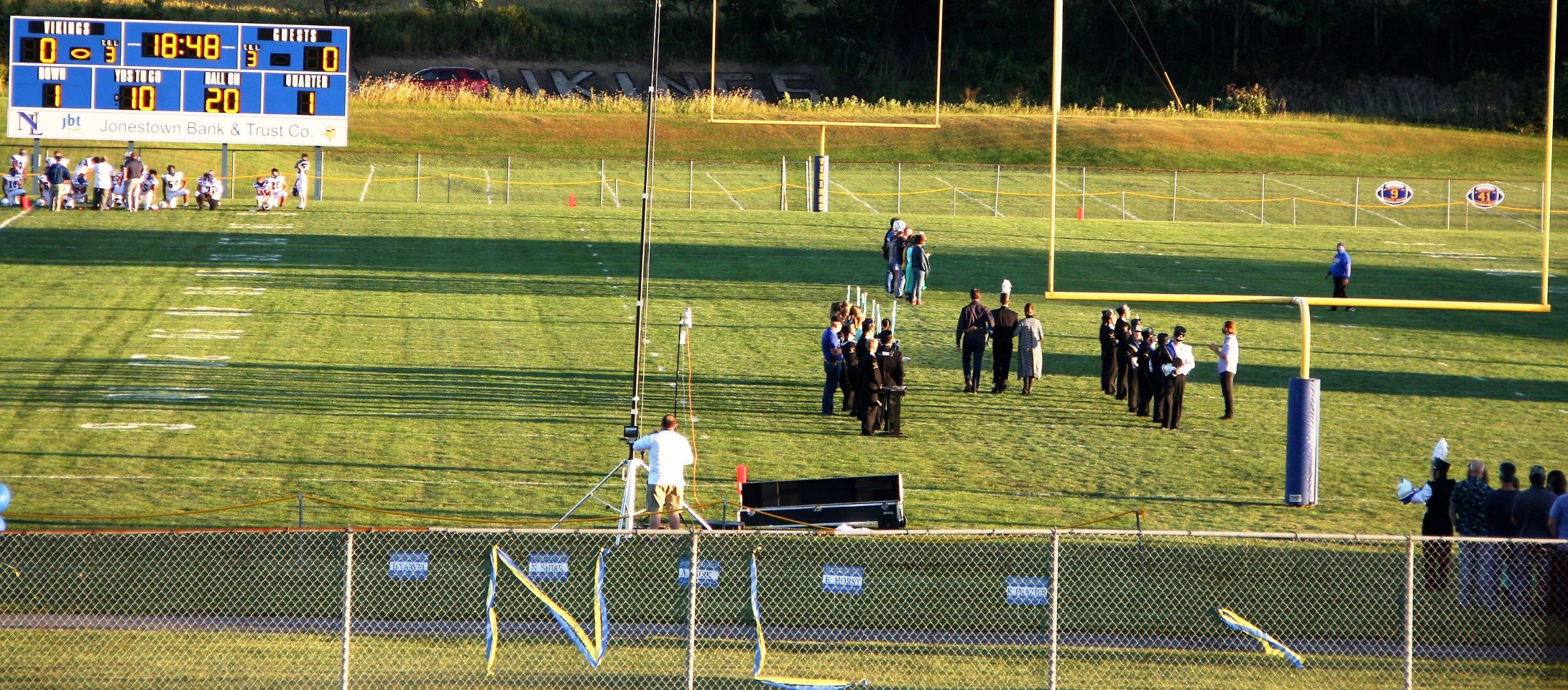 BY JEFF FALK
Editor
FREDERICKSBURG – Here's a little tidbit/factoid for you to chomp on. Please chew thoroughly before digesting.
Before retiring in 2003, Ed Ludwig was the athletic director at Northern Lebanon High School for 17 years. In the 18 years since then, the Vikings have employed eight different athletic directors.
8.
Rob Snyder, Zach Artz, Dave Yavoich, Zach Zerbe, Tim Biever, Julie Beidler, John Confer and John Rizzo.
Northern Lebanon has an AD problem. Now, some of the causes of that problem have been out of the Vikings' control, but some of the causes haven't been.
But it's a problem that's about to be corrected, at least the part of which Northern Lebanon can control. That's according to one of the greatest athletes the Vikings have ever produced, the same person who just happens to be the school district's superintendent, Gary Messinger.
"Some of those people were intentionally interim and some weren't," said Messinger. "I think part of the problem is that some were interested in getting into administration, but not interested in getting into athletics, and they sort of used it as a stepping stone. It was an opening, and sometimes that happens. I'm looking for someone interested in athletics and interested in staying in athletics. But while all this was going on, there were also changes at the top. There was a period where there was superintendent turnover as well.
"I would suggest that there hasn't been a superintendent at Northern Lebanon as interested in athletics as I am in a long time," continued Messinger. "I'm telling you the next (AD) hire is critical for us. Hopefully the successful candidate will have athletic ties, Northern Lebanon ties or Lebanon County ties. We've invested a lot of money into athletics recently. We're doing a lot of things to give our student-athletes great opportunities. We've got to have an athletic director who wants to be in that position for a while."
Northern Lebanon believed it had uncovered a solution to its athletic director problem when it promoted the sports-minded Rizzo recently. But less than a month into his duties, and somewhat out of the blue, Rizzo received an offer from Williams Valley to become that school district's next superintendent. It was an offer Rizzo could not refuse.
"If you hire someone who's good, they're going to get other opportunities," said Messinger. "And as a superintendent, I want that for my people. But I think some of this we have done to ourselves.
"I think as a district, there's been a philosophy of assigning people multiple roles," added Messinger. "I think it's difficult to run an organization on an interim basis. With our next athletic director, we're going to make sure they have the time and support to run the athletic department effectively. It's great to be able to have the AD available during the day, and there's room to have other duties. But it can't be a situation where athletics is an afterthought."
"It's really time-consuming," said Ludwig. "I think that one of the things that has changed is that very few school districts now have a structured athletic director position, just an athletic director as opposed to an assistant principal/athletic director. When I was the athletic director I did not have an administration certificate."
Certainly there is something to be said for stability and consistency at the top of athletic programs. Yet, it doesn't seem like Northern Lebanon's instability has affected its ability to compete on the playing field.
"I think the athletic director needs to clear the obstacles for coaches, so they can do their jobs," said Messinger. "Coaches shouldn't have to worry about certain details. They want to get to the game and worry about their team and the game plan. Athletic directors can be part of a school district's overall interest in athletics. They can be a liaison to the community and that can generate interest in the athletic program. There is a role for them to contribute to the overall success, but it doesn't have anything to do with Xs and Os.
"I think it's all about finding the right person who wants to do the job," Messinger continued. "If the emphasis in on the principal's side of the job, you probably won't keep that person very long. You have to dedicate a lot of time to it and you've got to like spending a lot of time here. You've got to be passionate about athletics."
"I think it's (stability) important in terms of the consistency of the programs," said Ludwig. "Things like how they comply with regulations and the relationships with parents. In terms of the quality of the product, wins and losses, I don't think it's very important. Generally, you don't fire coaches who aren't winning, if overall they're good for the kids."
The world has changed drastically over the last 18 years, and the scholastic sports world right along with it. There are just more things to do, and generally people seem more transient and less committed.
"I know Ed extremely well," said Messinger. "He was a phenomenal athletic director, and he also had other responsibilities. What I think has changed is this humongous component of technology. In the past, you didn't have to worry about things like live-streams and social media.
"There are definitely changes that have occurred, because the world has changed," Messinger added.  "Now, you're juggling gyms and facilities to an even great extent. All that requires additional time. It's not really a part-time job."
Currently, Northern Lebanon finds itself in a familiar position.
In order to identify and hire the right person for the open athletic director position, time and patience will be required. Until that happens, those AD duties will be tackled in committee-fashion, on an interim basis.
"The job is posted and it went up right away," said Messinger. "There has been some interest in the position. But we want a person who wants to be here, and stay here. That's going to come out in the interview process. We have some folks here who we think can help out in the meantime. We'll probably conduct interviews after the holidays. We'd love to have a name on the agenda for the January (school board) meeting. The ball is rolling. But we're not going to pick somebody just to pick somebody.
"I'm disappointed with the past history and the constant turnover," concluded Messinger. "But I could say that about more than just the athletic director's position. When you have instability at the top, you're going to have instability below it. We have a lot of areas to improve on. But athletics play a big role in the culture of our school."
To purchase images in this article please email jeff@lebcosports.com.

Lebanon Federal Credit Union